The Octane Fitness ZR8 Zero Runner is a hybrid of a treadmill and an elliptical, so you get the best of both – a correct running motion without the impact. It is a powerful tool that enables runners to manage repetitive impact forces better that, over time, can damage the body.
Replicate actual running motion by fully extending your lower leg and kicking up your heel – just like you do outside. Whether running outside or inside, one thing you get is the jarring impact. Run more competent on the Zero Runner by supplementing high impact outside runs with lower impact.
With the Zero Runner, you don't suffer from the high-impact running forces yet can enjoy the natural, free feeling of pure running. Treadmills do not offer a zero-impact running experience or the ability to help you learn more about your running.
The electronic personal training features are impressive. Through SmartLink, you have access to 35 training programs. These workouts are Endurance, Toning, and Active Recovery. These programs will automatically recalibrate if you get off track, thus, ensuring you benefit fully from each exercise.

Learn more in my complete review below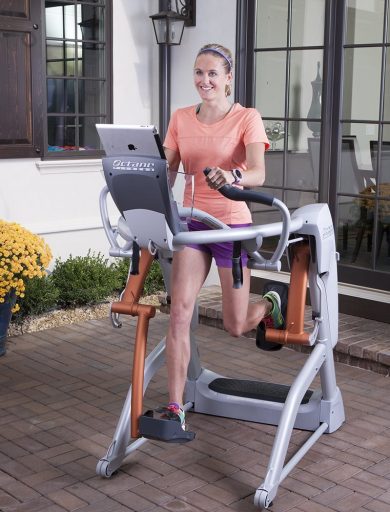 Product: Octane Fitness ZR8 Zero Runner
Price: For a great deal on this hybrid, merely go here on Amazon
Warranty: Frame lifetime / Parts 5 years / Labor 1 year
My rating: 10/10
Affiliate Disclosure: As an Amazon Affiliate Program participant, I earn commissions on purchases made through links in this post. Full disclosure
Details and Specifications
Assembled dimensions: 63L x 38W x 59.75H inches (160L x 97W x 152H cm)
Assembled weight: 191 lbs (87 kg)
Weight limit: 300 lbs (136 kg)
Stride: Dynamic max. 58″ (147 cm)
Resistance: Adjustable
Console: 4 onboard programs, Bluetooth 4.0, SmartLink Compatible
Warranty: Frame lifetime / Parts 5 years / Labor 1 year
ZR8 Frame
The Octane Fitness ZR8 Zero Runner combines several materials in its frame construction. For example, its sustaining sidebars are steel tubing; the moving legs are made of aircraft-grade aluminum, while the pedals and several other covers are heavy-duty ABS material. The pedals and the step-up element at the rear of the unit also have a rubberized surface to provide a non-slip contact.
All the steel parts in its construction are double-coated with a durable paint finish, corrosion-resistant. The aluminum legs also have a powder coating finish. The colors used are light gray for the steel parts and rust-brown for the aluminum bars.
The machine isn't as long as a front-drive elliptical trainer. However, it still has a footprint of 63″L x 38″W (160 x 97 cm). It's also advisable to assign a clearance of at least two feet all around the unit for safe access and operation.
Although it doesn't integrate a flywheel like other elliptical trainers, the Octane Fitness ZR8 is considerably heavy. With the frame fully assembled, it weighs approximately 191 lbs (87 kg). All this weight provides outstanding stability and overall sturdiness for the unit. But on the other hand, moving the machine isn't too tricky because its front base integrates a set of transport wheels.
The Octane ZR8 Zero Runner features several powerband anchor points. Two are at the lower ends of the rear leg stabilizers, two at the lower ends and two on the upper ends of the front leg stabilizers, and one attached to the curved stationary handlebar at the front.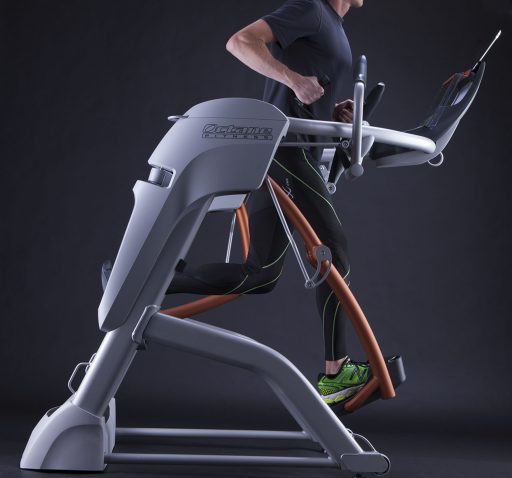 Accessories
In terms of accessories, this cross-trainer includes a set of performance grips that you can attach to the mid-bar anchor points and hold onto during running. You can opt for the elastic bands that offer the possibility to perform various other exercises. However, elastic bands do not come included with the machine.
Finally, the unit's front section that supports the console also integrates an ABS bottle holder to accommodate any water bottle.
ZR8 Handlebars
This Octane Fitness elliptical features a set of mobile handlebars and a curved handlebar, integrating pulse sensors. The portable arms offer a multi-grip design with rubberized handles for a comfortable grip. The mobile handlebars continue to move for as long as you are pedaling. They cannot be locked in place.
They aren't at an extreme height from the pedals, so most users should benefit from a natural grip and arm position during workouts. Shorter users under 5'0″ will hold a bit higher, close to their chest, but this shouldn't affect the overall workout quality.
Elliptical path, stride, and step-up height
First, the Octane Fitness ZR8 Zero Runner is equipped with a set of oversized and extra-strong pedals featuring a rubberized surface to improve foot adherence. Both the pedals and their supporting legs are durable enough to support users up to 300 lbs (136 kg).
The pedals and the joints of all the mobile bars integrate stainless steel, sealed ball bearings to deliver exceptionally smooth operation. They're all industrial-quality parts, so they should last a lifetime.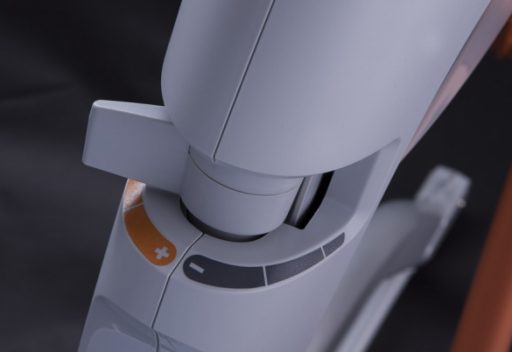 Considering that it is a free-motion trainer and not a trainer with a fixed elliptical path, the ZR8 allows you to lean forward or backward during pedaling. Therefore, you can change the angle of the elliptical path to focus on different muscle groups.
Also, the pedaling motion is impact-free since it eliminates the footstrike element from your running. Therefore, a workout on this machine will keep your joints in good shape, free from damage and pain.
This elliptical cross-trainer makes available a powerful stride with a length up to 58″ (147 cm). This is quite a plus, as you can benefit from a full range of motion regardless of your height.
The spacing between the pedals is 1.4″ (35 mm). Thus, your feet are positioned on the pedals naturally, and the pedaling motion eliminates any lateral stress on the knees and ankles.
Also, the step-up pedal height is approx — 5.2″ (13.2 cm), which is not too high. Plus, the rear rubberized step and the fixed handlebar provide safety and balance when you position your feet on the pedals.
ZR8 Resistance system
The Octane ZR8 elliptical machine doesn't have a conventional flywheel-based resistance system. Each one of its straight legs has a Stride Control Adjuster dial. For the ZR8 model, each dial has three "+" positions and three "-" positions.
Each Stride Control Adjuster changes the tension for its corresponding pedal. Therefore, to benefit from the same resistance on both pedals, you should select the same position for each dial.
The resistance is adjustable as you pedal with no problem. However, the strength does not change automatically. Also, the console does not play any role in the machine's resistance adjustment. It merely offers pointers on adjusting your stride or speed to get the most of each workout.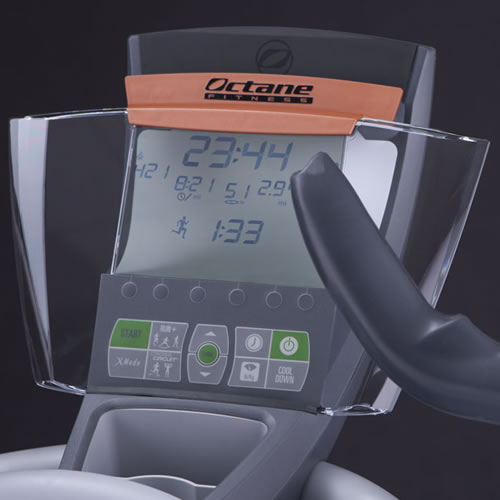 Console
The Octane Fitness ZR8 Zero Runner includes an advanced console featuring a multi-panel LCD that tracks your time, distance, speed, average pulse, pulse, calories, stride length, and pace. There are both English and metric unit options available for the display of speed and distance traveled.
The console can monitor your heart rate if you use the sensors in the stationary handlebar, but it's also telemetric. In other words, it can read your HR via a wireless ANT + or Polar chest strap. The Bluetooth / ANT+ HR Strap (is included).
The calorie reading is reasonably accurate as the console will prompt you to enter your weight. Depending on this personal data and the other workout data, it can calculate your overall calorie-burning much better than a basic console.
Although it's an advanced unit, the ZR8 Zero Runner console is relatively straightforward to operate. The Start, RUN+, X-MODE, and CROSS CiRCUIT programs have their keys. The Up/Down arrow keys serve to increase or decrease different values on your workout goals or other parameters, while the Enter key in the middle covers the confirmation function for them.
The Clock key can increase and decrease the time of your workout. The LB/KG key allows you to quickly switch measurements between English and Metric for weight, pace, distance, and stride length.
The CoolDown key covers the cooldown function, and finally, the Power button turns the console on or off. The unit is battery-powered. It uses 4 AA batteries, which (are included).
ZR8 Workout Modes
There are three workout modes available on the console. These are RUN+, X-MODE, and Cross CiRCUIT, plus the free stride mode. The RUN+ mode allows you to set up a series of one to six 15-second to 15-minute intervals of additional motions/activities to your exercise session, creating a different workout each time.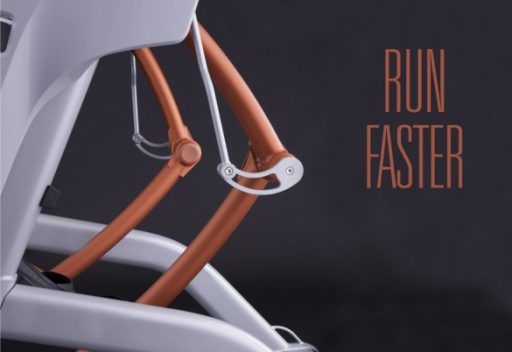 The X-MODE is a virtual personal trainer. The console will prompt you to vary your workout alternating between Run, Step, Lunge, Jog, and Ski in one-minute ranges.
And finally, the CROSS CiRCUIT program is the specific Octane Fitness cross-training workout. It combines cardio intervals on the Zero Runner with sets of strength and toning exercises off the machine using various other fitness equipment such as dumbbells, fitness balls, elastic bands, etc.
The unit also has a CoolDown function, which counts down a recovery period at the end of your workout.
The console is SmartLink compatible. In other words, you can sync it with your tablet or smartphone via Bluetooth for a superior user interface from the SmartLink app. Additionally, its online data tracking of your workouts, extra custom workouts and boosters, and many other features will make your training more entertaining and motivating.
ZR8 Assembly and Maintenance
The upright side parts come pre-assembled, but there are still quite a few other parts requiring assembly. For example, you will have to attach the front leg stabilizers, connect the pedal, the fixed handlebar, the mobile handlebars, the rear step, and the console.
This may take more than an hour, but the manual does provide pretty clear assembly instructions. Several Allen wrenches come included; however, you will also need an adjustable wrench and a Phillips screwdriver.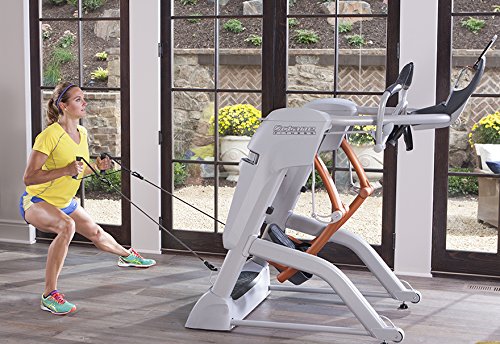 The ZR8 doesn't require too much maintenance after assembly. It's advisable to wipe off the sweat from the frame at the end of your training. A periodic check for loose parts and bolts is also a good idea. Also, in case its joints develop squeaky noises, lubrication or re-tightening can solve the problem.
Pros
Sturdy frame – can hold users up to 300 lbs;
Heavy-duty construction;
Aesthetic design;
Adjustable stabilizers with rubber caps;
Transport wheels included;
Articulated pedals and pedal bars, resulting in a zero-impact workout;
Adjustable resistance with several distinct tension settings;
Large, durable, and non-slip pedals with forefoot guards for extra stability;
Mobile and fixed handlebars;
Performance grips included;
Pulse sensors integrated into the fixed handlebar;
High-grade ball bearings in each mobile joint of the machine;
Several anchor points for elastic bands;
Dynamic stride and elliptical motion, with a length up to 58″;
Advanced console with a large display that keeps track of your workout data;
Four onboard workout applications, including Start, RUN+, X-MODE, and Cross Circuit;
The console unit is SmartLink compatible, an app that offers extra workouts and online workout data tracking;
Telemetric console – can read pulse via wireless transmitters;
An ANT+ chest strap transmitter comes included;
The bottle holder included;
Tablet holder included;
The batteries for the console come included;
Quiet operation;
Reasonably easy to assemble;
Almost no maintenance required;
Excellent warranty.
Cons
No sound system;
Elastic bands do not come included.
Octane Fitness ZR8 Zero Runner Summary
The Octane Fitness ZR8 Zero Runner is a free-motion cross-trainer offering sturdy construction, zero-impact workout possibilities, and adjustable resistance.
The ZR8 has an advanced console featuring a large display, SmartLink connectivity, and four stimulating and highly entertaining workout applications. Besides, SmartLink has 31 workout programs that ensure that you'll always be able to find a fun and different workout program to use.
It also has several anchor points for elastic bands, which can add diversity to your workouts. Finally, it's not one of the most affordable cross-trainers, but its durability, versatility, and overall quality match its price.
I hope you found this article helpful and informative. If you have anything you'd like to share or opinions about the content on my site, please speak up. I look forward to your comments, questions, and the sharing of ideas.