The Exerpeutic 1000XL Magnetic Elliptical is built around a sturdy frame, durable enough for cardio workouts at home, with a 300 lb capacity. If you're looking for an elliptical trainer on a budget, the Exerpeutic 1000XL will provide a useful exercise for both your upper and lower body muscle groups.
Apart from not having workout programs, the Exerpeutic 1000XL does include some advantageous features. When combined with the workout arms, the dual directional flywheel allows you to effectively train a wide range of upper and lower body muscle groups.  The 8 level magnetic tension resistance adjustments can provide the user with a more challenging workout.
Although there's no multi-colored LCD to show your progress around a virtual course, the vital workout information can still be displayed. This includes time, speed, distance, calories burned, and an odometer.
There's even the option to set some primary workout goals for your current session. The 'Mode' button lets you choose from time, distance, calories, and heart rate. While a few preset training programs would have been helpful, excluding these from the built-in computer is the reason why the price of the Exerpeutic 1000XL has been kept low.
Learn more in my complete review below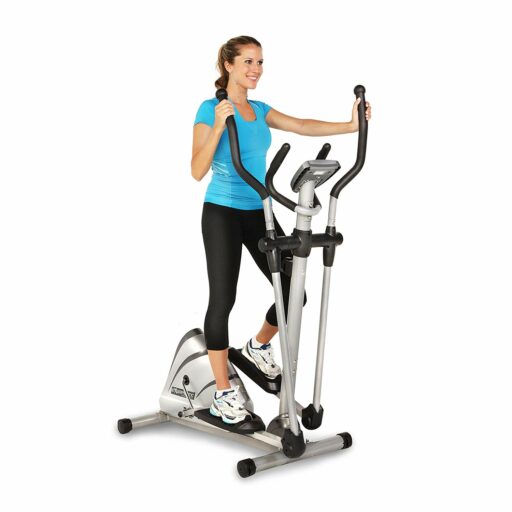 Product: Exerpeutic 1000XL Magnetic Elliptical
Price: For a great deal on this elliptical, merely go here on Amazon
Warranty: 3 years frame / 90 days labor and parts
My rating: 7.25/10
Amazon Affiliate Disclosure: I may earn commissions on purchases made through links in this post.
Details and Specifications
Assembled dimensions: 54L x 23W x 63H  inches (137L x 58.5W x 160H cm)
Product weight: 81 lbs (36.7 kg)
Supported weight: 300 lbs (136 kg)
Stride: 13 inches (33 cm)
Incline: No
Footplates: Standard, ribbed
Handlebars: Moving and stationary (with pulse sensors)
Brake system: Magnetic
Resistance: Adjustable, eight levels
Progress Tracking Console: Yes
Bottle/Cup holder: No
Warranty: 3 years frame / 90 days labor and parts
1000XL Frame
The 1000XL elliptical trainer has a solidly built, one- frame. Most of the structure is steel-made, except for the encasing of the drive and brake system, which is hard plastic. The front base of the frame is finished with transport wheels, to make the relocation of the machine easier.
The weight of the fully assembled Exerpeutic 1000XL is just about right for its dimensions and user-supported dimensions. It gives the machine excellent stability. This elliptical can support users up to 300 lbs weight. You can be sure that this trainer won't wobble or move, even if you undergo a higher intensity workout.
Compared with other ellipticals, the 1000XL elliptical from Exerpeutic has a lower profile and footprint. The length between the bases of the machine is only 48″ (122 cm), while the whole distance that the machine reaches, with the lateral legs at full extension is 54″ (137 cm). In width, it doesn't occupy that much either, only 23″ (58.5 cm).
Stride and Footplates
The stride is only 13″ (33 cm), which is quite a small extension for a taller person. Therefore, in terms of comfort and workout superiority, this exercising machine is recommended to users between 4'5″ (134 cm) and 5'8″ (172 cm). Of course, you can work out on this machine even if you are taller how.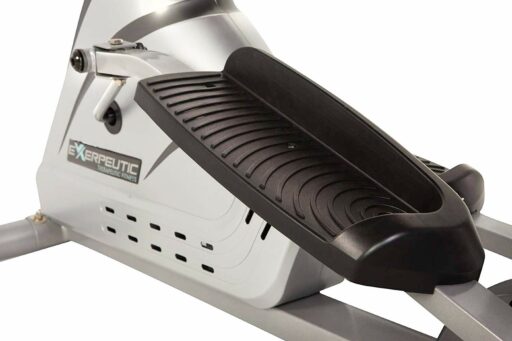 The height of the footplates doesn't reach very high. It will add a 20″ (51 cm) tops to your height. Therefore, by adding this dimension to your height, you will find out if the ceiling height of the room where the elliptical is to be stored, will fit you height-wise.
Footplates offer enough room even for users with bigger feet, up to size 13. They feature a ribbed design to prevent any foot slippage during exercise.
Belt and Drive Systems
The Exerpeutic 1000XL elliptical trainer features a belt drive system. A heavy-duty v-belt makes the connection between the crankset's pulley and the flywheel. This renders the ride smooth and quiet, supplying a natural, elliptical motion. The drive system is dual-direction, also allowing a backward movement, which expands your workout possibilities.
The brake system of this machine is magnetic-based, offering eight levels of resistance. The magnetic brake pad connects to the tension knob through a solid wire, which adjusts the distance between the pad and the flywheel, thus modifying the tension.
1000XL Handlebars
This elliptical machine includes both mobile and fixed handlebars. The mobile ones feature a smooth curve, to provide multiple grip angles for maximum comfort. The fixed handlebars incorporate pulse sensors, a great feature to have if you require always to keep an eye on your heart rate. Both types of handlebars are well-padded with rubber foam, offering a firm, yet comfortable grip.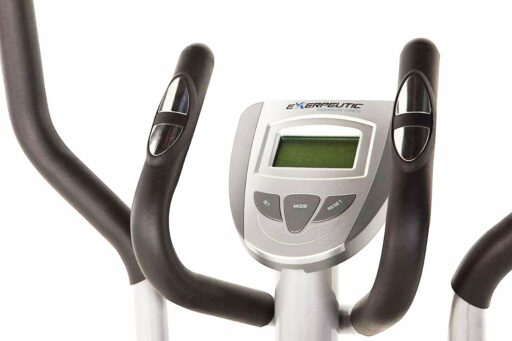 Console
The console of this Exerpeutic elliptical is pretty simple. First of all, it's battery operated requiring 2 AA-type batteries.
It tracks speed, time, distance, calories burned, heart rate, and provides an odometer function. It also has a time, distance, calories, or heart rate goal-tracking system.
You can select between the tasks that the computer can monitor, give it a specific value, and start exercising until you reach that particular value.
The odometer function indicates the accumulated distance from combined exercise sessions. The console auto shuts down after 3 minutes, if the machine is not in use, to save battery.
1000XL Assembly and Maintenance
The Exerpeutic 1000XL elliptical machine is relatively easy to assemble. The assembly part shouldn't take more than one hour. The box includes the tools for the assembly (two Allen wrenches and two Multi Hex tools), and the user's manual, which provides suggestive, step-by-step guidelines for the assembly process.
The core of the machine (i.e., the drive and brake system) comes already assembled and attached to the lower part of the frame. All you have to do is add the bases of the structure, the main handlebar post, and the mobile / fixed handlebars, the lateral foot bars, footplates, and console.
The attaching of the tension wire to the resistance knob is maybe the trickiest part of the assembly. The tension wire is pretty sturdy, so you can pull it as hard as you can. However, it if merely doesn't stretch enough, it has a small nut that you can loosen, attach the cable to the control, then re-tighten the nut.
Maintenance does not require much. The "insides" of the machine do not require any greasing. Also, since the resistance is magnetic, you don't have to worry about replacing the brake pad. It's wear-and-tear free since it does not come in contact with the flywheel. The v-belt is also extremely durable, and it should last as long as the machine itself.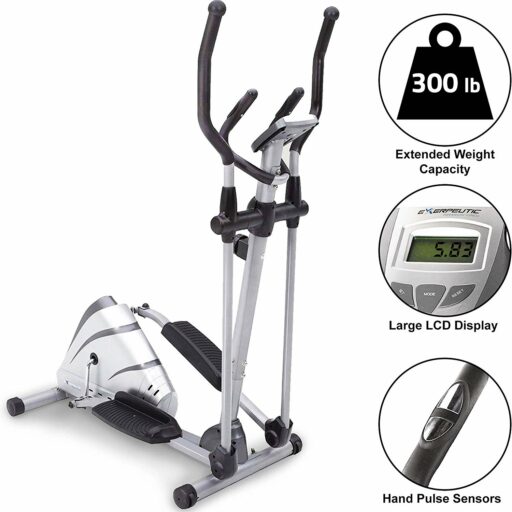 All you have to do for maintenance is remove any dirt or dust from the elliptical, keep the console moisture-free, and lubricate the joints if they become squeaky. Although this doesn't usually occur, it's a possibility.
Pros
Good and sturdy build quality with 300 pounds weight capacity.
Stability is excellent and does not sway while in use.
Easy to move around owing to the lightweight of the device and transportation wheels.
It provides a natural elliptical motion for stress-free workouts.
Dual Action Workout Arms helps in upper body toning.
Reverse pedaling capability.
Easy to see LCD for visuals of workout data feedback.
It has integrated pulse sensors for heart rate monitoring.
All primary data displays, such as distance covered, calories burned, speed, time, etc.
Quiet operation allows for constant usage.
Cons
Its assembling is a tedious job.
It requires a frequent maintenance schedule for smooth operation.
Exerpeutic 1000XL Elliptical Trainer Summary
The Exerpeutic 1000XL is an excellent elliptical trainer. It's not the best there is, but it also isn't the most basic model that you can find. It's a tremendous exercising machine for a full-body cardio workout, which offers a smooth and quiet ride, with minimal impact on the joints and back.
The XL1000 will surely help you improve your cardiovascular shape, tone your calves, hips, abs, and shoulders, and even lose some weight. It's also an affordable elliptical machine, with one of the best price/quality ratios.
I hope you found this article helpful and informative. If you have anything that you'd like to share or any opinions about my website, please do speak up. I look forward to your comments, questions, and the sharing of ideas.
Related articles: