The Body Champ BRB852 Recumbent Bike is perfect for people who prefer a low-impact workout. For example, suppose you have joint, mobility, or other similar health concerns. Then, riding on a recumbent bike can be an excellent low-impact workout that's gentler on your body than many other options.
Want to go a step further and make things even more comfortable on your body? A recumbent bike offers additional support and comfort while you ride. It has a compact design that makes it easy to accommodate anywhere in your home and easy to transport.
The BRB852 features a walk-through design with an easy-to-adjust seat slider. In addition, the recumbent bike provides comfort through a fully padded seat and backrest. Push yourself to achieve your goals with the help of the Body Champ BRB852 Recumbent Bike, which features eight magnetic resistance levels.
The Body Champ BRB852 Recumbent Bike includes HR pulse sensors integrated into the seat handlebars. In addition, the fitness monitor LCD tracks essential information such as heart rate, distance, speed, time, calories burned, and Odometer.
Learn more in my complete review below!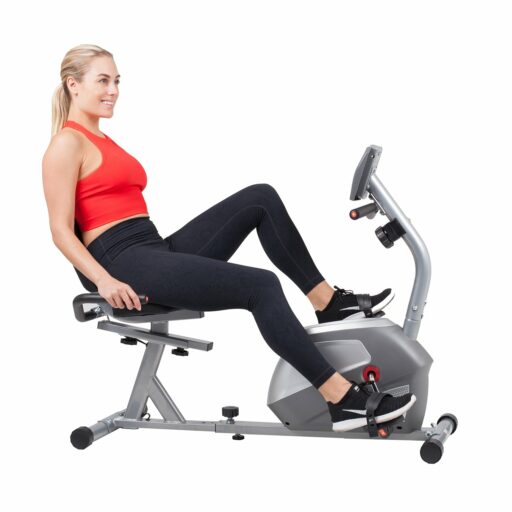 Product: Body Champ BRB852 Recumbent Bike
Price: For a great deal on this bike, merely go here on Amazon
Warranty: 1 year limited
My rating: is 8/10
Affiliate Disclosure: As an Amazon Affiliate Program participant, I earn commissions on purchases made through links in this post. Full disclosure
Details and Specifications
Assembled dimensions: 53L x 23.5W x 36H inches (135L x 60W x 91H cm)
Assembled weight: 52.8 lbs (24 kg)
Weight capacity: 250 lbs (113.3 kg)
Seat: Adjustable
Resistance: Magnetic, eight levels
Fitness Monitor: Time, distance, total distance (Odometer), speed, calories, pulse, SCAN
Warranty: 1 year limited
BRB852 Frame Construction
The Body Champ BRB852 recumbent bike features a two-piece frame. Therefore, the rear part of the structure, which holds the seat, requires a connection to the front section.
The lower bar of the rear frame part has several adjustment holes and can be locked closer or farther from the pedals. Thus, you can adjust the bike's length, not only the seat's position but also an individual adjustment system.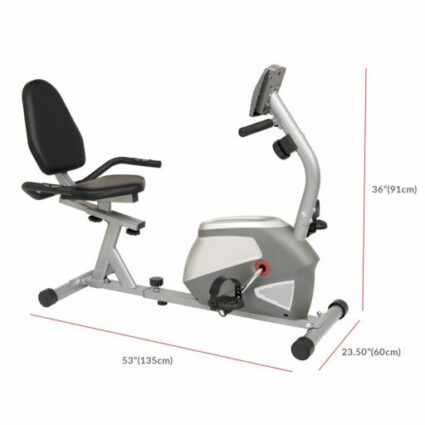 The bike's frame is cylindrical and ovalized steel tubing. It is durable enough to support users up to 250 lbs (113.3 kg). All the steel parts in its construction come with a corrosion-resistant silver paint finish. However, the guard elements that protect the internal flywheel and resistance system are ABS material.
The Body Champ BRB852 is not extremely large compared to other recumbent bikes. With the frame fully assembled, it is approx. 53″ (135 cm) long and 23.5″ (60 cm) wide, while its highest point is the top of the console, which reaches approx. 36″ (91 cm) above floor level.
It is advisable, though, to assign a usage area for the bike of at least 70″L x 50″W (178 x 127 cm) for safe operation and easy access to the seat.
The bike's frame features a step-through design. Therefore, you can easily take a seat or stand up and dismount the bike. Thus, it's a plus for users with disabilities.
Although the bike isn't hefty, only 52.8 lbs (24 kg), when fully assembled, offers excellent stability. In addition, its rear base features rotating polygonal caps that fulfill the role of stabilizers.
Simultaneously, the base frame's midsection, where the two parts connect, also has a small, rubberized stabilizer. The front base also has small wheels, facilitating the unit's relocation if needed.
Seat & Backrest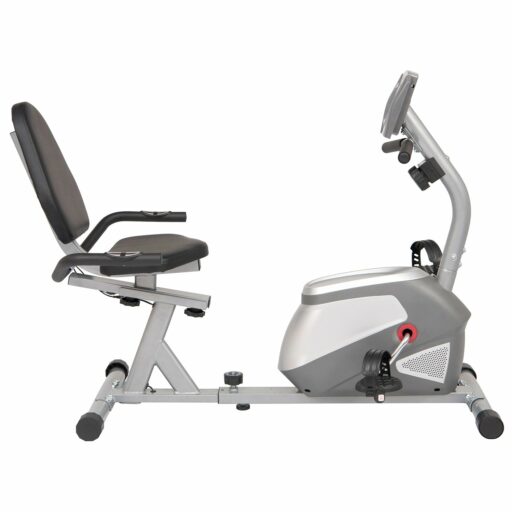 Although the bike's frame is length-adjustable, the seat is also attached to an adjustable rail system. As a result, it offers several inches of front-to-back travel, which along with the base adjustability, enables the bike to accommodate users between 4'10" and 6'3″ (147 – 190 cm), promoting a complete leg extension.
The whole seat assembly has a very durable base. It can support users up to 250 lbs (113.3 kg) without a problem.
The adjustment rail of the seat locks into position via two knobs. They provide extra security for the seat position, but you cannot adjust it while seated since the adjustment system doesn't involve a lever. It shouldn't be a significant inconvenience, though.
The seat and the backrest integrate 2″ of foam cushioning in terms of comfort. Their upholstery is durable, sweatproof vinyl material and can last a lifetime with proper care. If you're wondering, the surface of the seat is at approx. 17″ (43 cm) above floor level and is approx—16″ (40 cm) wide.
The backrest does not adjust independently from the seat. It doesn't recline, and you cannot move it up or down, like some other bikes, for example.
BRB852 Handlebars
This Body Champ BRB852 recumbent bike has two handlebars attached to the fitness monitor mast and one to the seat assembly. The front handlebars have a simple design, slightly curved towards the user. However, they're not too far from the seat, so if you decide to hold on to them, your posture won't be awkward for other recumbent bikes.
The recumbent handlebars connect to the seat's backbone via two bolts and cannot be adjusted independently from the seat. In addition, they also come with stainless steel pulse sensors. Furthermore, like the front handlebars, they have rubberized grips for extra comfort and hand adherence.
Drive System
The Body Champ BRB852 recumbent bike has a bi-directional flywheel, which means you can pedal in reverse if you want. Also, when pedaling in reverse, the exercise meter will continue to track your workout statistics.
The flywheel's weight is not specified, but considering that the bike's overall weight is only 53 lbs (24 kg), the wheel is probably between 8-12 lbs (3.6 – 5.4 kg).
The flywheel delivers a very smooth and steady pedaling motion. Since it's not extremely heavy, it doesn't generate very high inertia, so the bike is for recovery training.
The bike's internal transmission consists of a durable poly-v belt. The main advantages of a belt drive are the smooth and silent operation and the fact that you don't have to lubricate it periodically as a chain drive.
The bike has a standard set of pedals. In addition, they have a weighted design that enables them to always turn face-up when you remove your feet from them. Furthermore, they also come with adjustable straps and a non-slip surface, so you can correctly secure your feet.
BRB852 Resistance System
This Body Champ BRB852 recumbent bike features a standard manual magnetic resistance system. Therefore, you don't have to connect the cycle to a power source. Also, its console doesn't play any role in the resistance adjustment.
The bike's resistance system consists of a small magnetic brake connected to the tension dial on the fitness monitor mast through a steel wire.
As you adjust the resistance, the brake changes its position to the flywheel, increasing or decreasing the intensity of the internal magnetic field. Of course, this increases or reduces the pedaling difficulty.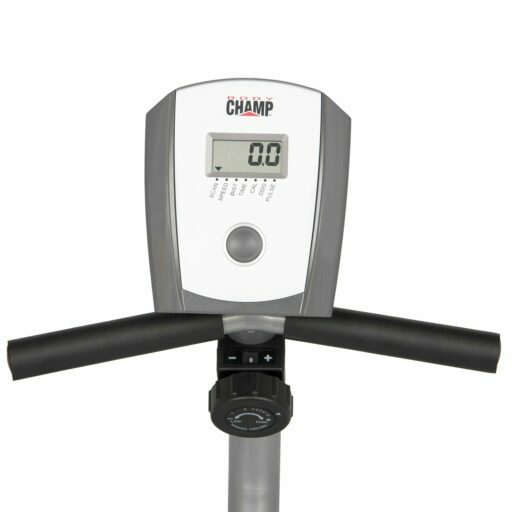 There are eight distinct levels of resistance marked on the tension dial. The first 1-3 settings deliver a light resistance, while the 8th does simulate a bit of a climb and will allow you to break a sweat. However, this exercise bike is not for highly intense cardio training or leg muscle strength as a general idea.
Fitness monitor
This Body Champ BRB852 recumbent bike has a fitness monitor without preset workout programs. Instead, it features an LCD that can track time, distance, total distance (Odometer), speed, calories, and pulse rate.
Unfortunately, the fitness monitor is not telemetric, so it cannot read your pulse via a wireless HR chest strap transmitter. Therefore, you must use the EKG sensors within the seat handlebars to benefit from a pulse reading.
The fitness monitor is easy to operate. It has only one button that toggles the SCAN function On and Off and serves as a Power On button and a Reset button.
When the SCAN function is on, the monitor will display each workout metric for several seconds, then move to the next, and so on.
By toggling the SCAN function Off, you can select any workout metrics to be shown on display all the time. To reset the monitor's workout metrics, you must press and hold the button for a few seconds.
The monitor is battery-powered. It also has a sleep mode that will enter after several seconds of inactivity on the bike. You can either press the button or begin pedaling to turn it on.
BRB852 Assembly & Maintenance
The front part of the bike with the drive and resistance systems' internal elements is already in one piece. Thus, for assembly, you only have to connect the two main sections of the frame and attach the seat, the console mast, the handlebars, the pedals, and the fitness monitor.
Consequently, it shouldn't take more than 30 minutes of your time. An essential toolkit required for the assembly comes with the bike. Also, the manual provides precise assembly instructions.
Since the bike features a magnetic resistance system, there isn't any maintenance required for the internal parts. So, the only thing to do in this matter is to periodically check for loose bolts and parts and retighten them if necessary.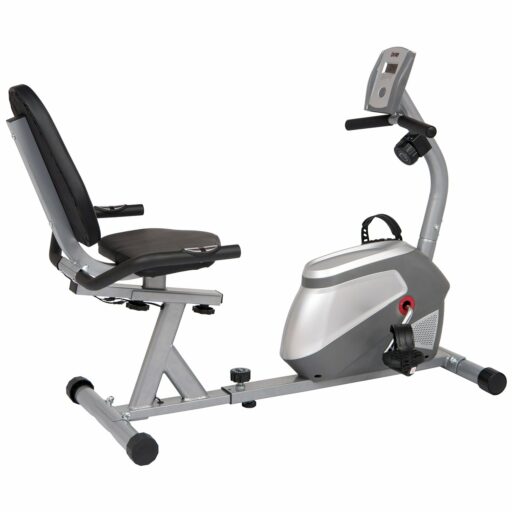 Pros
Durable frame for a light exercise bike – can hold users up to 250 lbs;
Adjustable frame length;
Step-thru frame design;
Transport wheels;
Adjustable base stabilizers;
Two sets of handlebars (other recumbent bikes don't have front handlebars);
Pulse sensors in the seat handlebars;
Foam-padded seat and backrest for maximum comfort;
Adjustable seat;
Durable vinyl upholstery on the seat and backrest;
Quiet magnetic resistance system;
Adjustable resistance offering distinctive eight levels;
Weighted pedals with adjustable straps and standard threads;
The fitness monitor comes included;
Easy to assemble and operate;
Lightweight, easy to handle;
Little to no maintenance is required.
Cons
There is no bottle holder;
There is no tablet holder;
The fitness monitor LCD doesn't have a backlight.
Body Champ BRB852 Recumbent Bike Summary
The Body Champ BRB852 is a recumbent exercise bike with a manual magnetic resistance system and a fitness monitor. Its frame is length-adjustable, and the seat is also adjustable. In addition, it features a comfortable, foam-padded seat and backrest, integrated HR pulse sensors in the seat handlebars, and sturdy construction.
Moreover, it's a bike for light to medium cardio workouts, endurance development, recovery training, muscle toning, and weight loss. And finally, it's a budget bike, currently available for a price lower than $200.
I hope you found this article helpful and informative. Would you please speak up if you have anything you'd like to share on the topic or any opinions about my website? I look forward to your comments, questions, and the sharing of ideas.
Please remember that you should consult your physician to determine if you have any medical or physical conditions that could risk your health and safety or prevent you from using the equipment properly. In addition, your physician's advice is essential if you are taking medication that affects your heart rate, blood pressure, or cholesterol level.