The Life Fitness C1 LifeCycle Upright Bike with Track Connect Console is the base model in the popular exercise bike series, offering the smooth ride and solid feel of the health club version at a more affordable price for the home gym.
It features an ultra-smooth eddy-current resistance system that is maintenance-free and very reliable. In addition, you get 20 different resistance levels to choose from, so you can challenge yourself from one workout to the next.
With two console choices (the Go console and the advanced Track Connect console), plenty of resistance levels, comfortable seats, and various built-in workouts, this is an excellent choice for those who want an affordable, easy-to-use commercial-grade exercise bike.
There are 12 built-in workouts and two custom programs on the Go console and 16 workouts with 12 custom on the more advanced Track Connect console. The latter costs about $500 more, but it can connect to your smartphone or tablet for workout tracking and app integration. It also gives you two additional user profiles.
Learn more in my complete review below!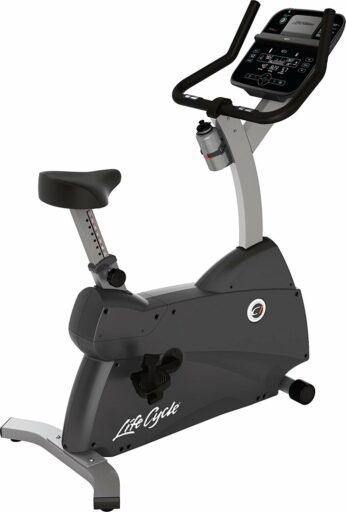 Product: Life Fitness C1 LifeCycle Upright Bike with Track Connect Console
Price: For a great deal on this bike, merely go here on Amazon
Warranty: Frame lifetime / Parts 3 years / Labor 1 year
My rating: is 8/10
Affiliate Disclosure: As an Amazon Affiliate Program participant, I earn commissions on purchases made through links in this post. Full disclosure
Details and Specifications
Assembled dimensions: 45L x 27W x 56H inches (115L x 69W x 143H cm)
Assembled weight: 105 lbs (48 kg)
Weight capacity: 300 lbs (136 kg)
Seat: 2-way adjustable
Resistance: Eddy current, 20 levels
Console: Track Connect, 16 workouts, 12 custom workouts, four user profiles, Bluetooth, USB port
Amenities: Tablet holder, bottle holder
Warranty: Frame lifetime / Parts 3 years / Labor 1 year
C1 Frame Construction
The Life Fitness C1 upright bike is constructed to meet commercial club standards. Its frame is heavy-duty steel tubing; the only PVC parts in its development are the side guards of its internal mechanism and the covers of the bases.
All the steel bars within the frame construction have double-coated corrosion and scratch-resistant paint, gray. Although the bike's paint finish is corrosion-resistant, it is only made for indoor use. By storing and using it outside, moisture may eventually damage the internal components.
This Life Fitness exercise bike is relatively heavy for an upright bike. It weighs 105 lbs (48 kg), and due to this fact, its transport may require two people. However, once it's assembled, its relocation can quickly be done as the front base caps rotate, fulfilling the role of transport wheels.
On the other hand, the bike's weight plays quite an essential role in its overall stability. It's approximately three times heavier than most road bikes, so even if you engage in the most demanding exercising routines, it won't wobble or rock. Its rear base is curved and comes with adjustable levelers, enhancing its stability.
This upright exercise bike isn't giant compared with other cardio training machines. Its footprint is only 45″L x 27″W (115 x 69 cm), while a treadmill has a larger footprint. Thus, the bike can fit well, even in a smaller room. But it is recommended to assign a workout area for it of at least 60″ x 50″ (152 x 127 cm).
Handlebars and seat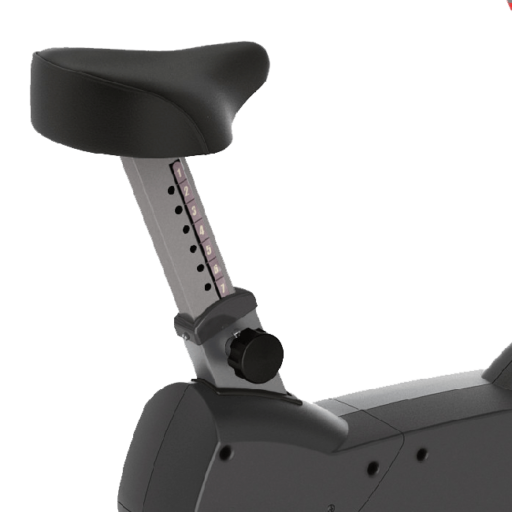 The Life Fitness C1 exercise bike comes with a non-adjustable handlebar. However, its multi-grip design allows you to adopt several exercising postures. In addition, its transversal section integrates two stainless steel grip pulse sensors; by holding on to them, the console can track your pulse.
It's also fully covered by a layer of high-density foam, which improves your grip and maximizes comfort.
The bike's seat is only 2-way adjustable (up, down), a minus for a commercial-grade bike. Other, less expensive models do offer a horizontal slider for the seat. But the bike's upright post is slightly oblique, which means that the higher you set up the seat, the longer the distance between it and the handlebars will be.
The seat's vertical post offers multiple adjustment positions; thus, the bike can accommodate users between 5'0″ and 6'5″ (153 – 196 cm) with no problem, promoting a healthy posture and a complete leg extension.
The saddle itself isn't extensive, such as for the Exerpeutic GOLD 500 XLS. However, it does integrate a thick layer of padding, delivering optimal comfort. In addition, its upholstery is highly durable vinyl, and with proper care, it can last a lifetime.
C1 Resistance system
The Life Fitness C1 upright bike features an eddy current resistance system. Unfortunately, this requires a connection to a power circuit for its console to become operational. In addition, its resistance is only adjustable from the console, so you can only get level 1 resistance without connecting it to a power outlet.
Also, since the resistance is motorized, the bike will adjust its resistance automatically, depending on the program you're using.
This Life Fitness exercise bike offers 20 levels of resistance. The first several levels provide a very light workout, great for users who require rehab training. Conversely, the last five levels of resistance offer the possibility to undertake intense workouts, simulating a steep climb. You can alternate intensity levels to put much diversity in your workouts, whether you use a custom or manual program.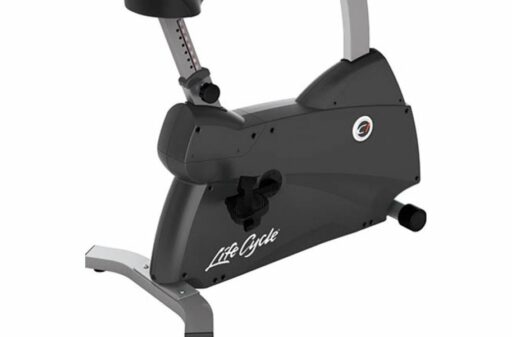 Drive system
Like most exercise bikes with a magnetic resistance system, the Life Fitness C1 LifeCycle upright bike features a belt drive system. It uses a high-grade poly V belt, delivering a smooth, almost silent pedaling motion. Also, as opposed to a chain drive, it doesn't require lubrication.
The internal flywheel is balanced and perimeter-weighted, which adds excellent stability and steadiness to the pedaling motion. It's not an extremely heavy flywheel, unlike most spin bikes. Its weight is not specified, but as an estimation, it should be something between 8 and 14 lbs, heavy enough to generate a consistent momentum.
The bike comes with a highly durable crankset with heavy-duty steel crank arms. Although it may support the user's weight, standing up while pedaling is not recommended, as it may cause damage to the internal parts. After all, this is an upright bike, not a spin bike.
The crank arms come with weighted, self-leveling pedals. In addition, they have a ribbed surface for extra adherence and adjustable straps for maximum foot stability.
C1 Console
My review is on the Life Fitness LifeCycle exercise bike with the Track Connect console. This unit features a custom-etched LCD VA Glass display with soft-touch controls. The display shows the essential workout metrics, including distance, time, speed, resistance level, calories burned, the current workout program's profile matrix, and heart rate. In addition, the distance displays in miles or kilometers, while speed is in MPH or km/h.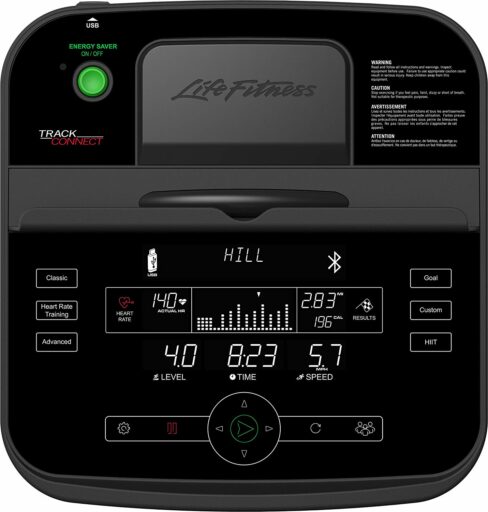 The console unit integrates a wireless heart rate receiver and can read your heart rate via a wireless chest strap, which (is included) with the machine. However, if you don't want to use the belt, you can always use the EKG grip sensors within the handlebars for your heart rate readout.
The console unit is Bluetooth-enabled. Therefore, you can sync it with your tablet or smartphone to directly access your free LFConnect account. LFConnect allows you to create custom workouts, save them in your workout library, and track your progress.
It's also compatible with various fitness apps, such as Nike+, Garmin, and MyFitnessPal through Wahoo's RunFit, Apple Health, Jawbone, and Fitbit. In addition, workout data transfer or software updates can be done via the USB port atop the console.
Workout Programs
If you don't want to use any of the online features of the machine's console, you're still covered. In addition, the unit has several onboard workout programs, including Manual, Random, Hill, Fat Burn, Cardio, Heart Rate, Heart Rate Interval, Extreme Heart Rate, Fit Test, Sports Training, EZ Resistance, Goal Workouts, and HIIT workouts.
It also offers the possibility to create your user profile, inserting personal data such as age and weight so that the unit will provide a more accurate calorie-burning readout. In addition, it can store four unique user profiles, a great feature if multiple persons use the machine.
Amenities
In terms of extras, the console only has a tablet holder (or reading rack). This accessory is above the unit's display to view your current workout readings and the tablet's screen. However, the Track Cycle console does not integrate a sound system or a cooling fan, such as the Schwinn MY17 170.
C1 Assembly and Maintenance
The main body of the bike, including the internal parts, motor, and resistance system, comes pre-assembled. However, you will still have to add the rear base, the seat post, the seat, the pedals, the console mast, the handlebar, and the console. All the necessary assembly instructions come included with the manual, so the task shouldn't take more than an hour—the tools required for the assembly (are also included).
This exercise bike doesn't require a lot of maintenance. You only have to keep it clean and periodically check for loose bolts and parts. In addition, the internal components are pre-lubricated from the factory and shouldn't require any further lubrication for an extended period.
Pros
Commercial grade construction;
Elegant design;
Weight capacity of 300 lbs (136 kg);
Small footprint;
Adjustable levelers;
Generously padded, ergonomic seat;
Automatic resistance system, 20 levels;
Silent belt drive;
Perimeter-weighted flywheel for a steady pedaling motion;
16 pre-set workouts;
12 custom workouts;
Four user profiles;
Bluetooth connectivity;
Compatible with LFConnect and other online fitness apps such as Nike+, Garmin, and MyFitnessPal through Wahoo's RunFit; Apple Health, Jawbone, and Fitbit;
EKG pulse sensors in handlebars;
Telemetric console;
Wireless HR chest strap included;
Tablet holder (or reading rack) included;
Bottle holder included;
Very little maintenance is required;
Excellent warranty.
Please note that the Smartphone displayed in the image does not come with the bike.
Cons
No sound system;
It doesn't have a cooling fan.
The seat doesn't have a horizontal slider adjustment.
Life Fitness C1 LifeCycle Upright Bike Summary
The Life Fitness C1 LifeCycle is an upright exercise bike featuring commercial construction, motorized magnetic resistance, and an advanced console with online connectivity. The Track Connect console is compatible with various online apps such as Nike+, Garmin, and MyFitnessPal through Wahoo's RunFit, Apple Health, Jawbone, and Fitbit, offering versatility to track your progress and create custom workouts.
It's an excellent bike for entry-level to advanced workouts, perfect for interval training, HIIT workouts, weight loss, endurance training, or a consistent daily cardio routine. It's not a cheap bike, but it does offer excellent value for the price.
I hope you found this article helpful and informative. Please speak up if you have anything you'd like to share on the topic or opinions about my website.? I look forward to your comments, questions, and the sharing of ideas.
Please remember that you should consult your physician to determine if you have any medical or physical conditions that could risk your health and safety or prevent you from using the equipment properly. In addition, your physician's advice is essential if you are taking medication that affects your heart rate, blood pressure, or cholesterol level.