The LifeSpan R5i Recumbent Bike is an excellent combination of comfort and durability, with the quality to support home and commercial use. The R5i lets you power through your workouts in complete comfort with the oversized molded seat bottom, ventilated seat back, and extra lumbar support.
The LIfeSpan R5i Recumbent Bike offers 16 levels of resistance with 40 workout options along with Bluetooth connectivity. In addition, providing a magnetic current resistance system helps the recumbent bike's smooth and quiet operation.
The R5i has a multi-color fitness monitor LCD with simultaneous readouts. The console readouts include the program name, date and time, workout time, calories, RPM, distance, heart rate, speed, resistance level, and watts. In addition, the unit can monitor your heart rate if you hold onto the EKG sensors incorporated into the armrests. Furthermore, it's also telemetrically enabled. Unfortunately, an HR chest strap is not included and sells separately.
Start moving toward a healthier you with the R5i stationary exercise bike from LifeSpan. Plus, this self-generating exercise bike produces power, making it green and convenient. So you can quickly move the bike around without concerns about wiring or locating it near a power outlet.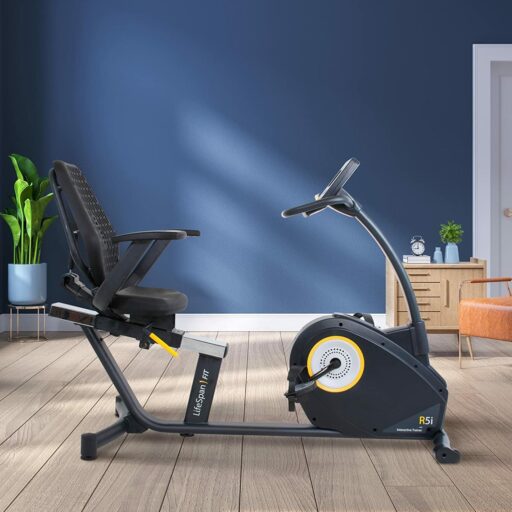 Learn more in my complete review below!
Product: LifeSpan R5i Recumbent Bike
Price: For a great deal on this bike, merely go here on Amazon
Warranty: Residential: Frame lifetime / Parts 5 years / Labor 2 years (see commercial warranty below)
My rating: 9.25/10
Affiliate Disclosure: As an Amazon Affiliate Program participant, I earn commissions on purchases made through links in this post. Full disclosure
Details and Specifications
Assembled dimensions: 70L x 27.5W x 44.5H inches (178L x 70W x 113H cm)
Assembled weight: 146 lbs (66.2 kg)
Flywheel weight: 18 lbs (8.1 kg)
Supported weight: 400 lbs (181.4 kg)
Seat: Adjustable
Backrest: Adjustable
Pedals: With adjustable straps
Resistance: Eddy current magnetic, 16 levels
Console: 34 preset programs, 4 Heart Rate Training Programs, and 2 Custom User Programs
Amenities: Tablet holder
Warranty:

LifeSpan R5i Recumbent Bike

Residential: Frame lifetime / Parts 5 years / Labor 2 years
Commercial: Frame 5 years / Parts 2 years / Labor 1 year
R5i Frame Construction
Since the LifeSpan R5i is a commercial-grade recumbent bike, it features a highly sturdy frame construction. It is built around a steel frame and has an impressive weight capacity of 400 lbs (181.4 kg). On the other hand, the bike is also considerably heavy, which is a plus as it enhances its overall stability.
On top of that, it has more full bases than other bikes and comes with adjustable, rubberized stabilizers, allowing you to level it flawlessly on any flooring.
The fully assembled bike weighs 146 lbs (66.2 kg). However, its transport shouldn't be too difficult because its front base bar features transport wheels. By lifting it from its rear base and using the wheels, you will handle half of its total weight when relocating it.
The frame has a step-thru design, which can be quite a plus for users with disabilities as it facilitates the user's positioning onto the seat. The console mast is also conveniently curved towards the rear, eliminating the postural awkwardness when exercising while holding onto the front handlebars.
Most of the metallic bars within the frame construction feature corrosion and scratch-resistant powder coating black. The seat adjustment rail has a chrome finish, though.
Compared to other recumbent bikes, the LifeSpan R5i is relatively large. It is 70″ (178 cm) long and 27.5″ (70 cm) wide, while the top of the console reaches a height of 44.5″ (113 cm) above floor level.
It's also advisable to keep at least two feet of clearance all around it for safe and unhindered operation. Therefore, the bike may not fit very well in a small room.
Seat and handlebars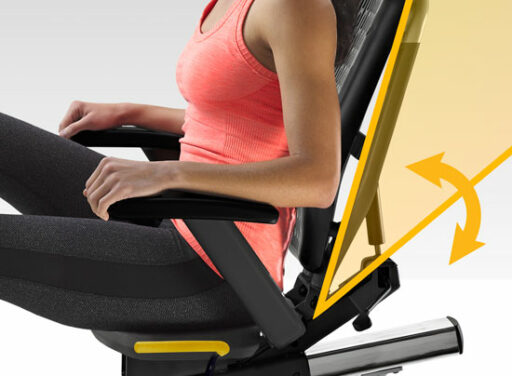 The LifeSpan R5i recumbent exercise bike excels in micro-adjustability. For example, the seat can be locked closer or farther to the pedals. In addition, it offers an adjustment span of 14″ (35.5 cm), which means that it can accommodate users comfortably up to 6'5″ (195 cm), promoting a complete leg extension.
The R5i has an adjustable backrest for proper ergonomic positioning and added chair-style armrests to support your arms. Thus, eliminating any stress on the neck and shoulders.
Plus, the office-chair-style armrests and adjustable backrests are perfect if you experience low-back pain. No matter your size or sitting preferences, the R5i can be adjusted to your ideal fit.
The seat itself is relatively large; it's 18″ (46 cm) wide and 11″ (28 cm) long. It features a generous layer of foam padding and has a contoured shape to adapt perfectly to the user. The backrest is made of heavy-duty PVC material and has a vented structure.
Therefore, promoting healthy blood flow during exercising and reducing overheating. Also, the seat mounts on a metallic frame, which enhances its sturdiness. The seat with its backrest has a maximum user capacity of up to 400 lbs (181.4 kg).
This LifeSpan recumbent bike features two handlebars, one attached to the seat's frame and the other to the console mast. The seat handlebars are similar to the armrests of an office chair. They also integrate metallic pulse sensors.
The front handlebar is "U" shaped and entirely covered by a rubber foam material for a secure and comfortable grip. None of the handlebars are adjustable. However, the armrest will move along the rail with the seat when you adjust its position.
R5i Drive and resistance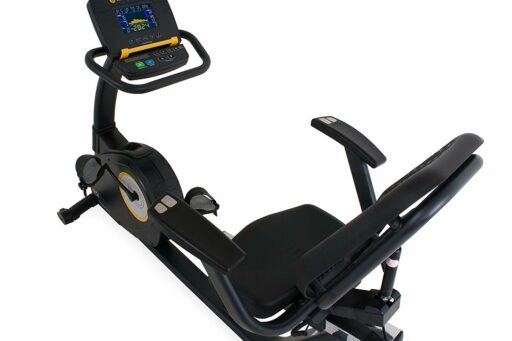 This LifeSpan exercise bike features a belt drive system using a heavy-duty, endurance-tested v-belt. Since it's not a chain, it doesn't require lubrication; it is also considerably quieter than a chain drive.
The crankset is a commercial-grade 3-piece part using solid steel crank arms. They come with oversized, self-leveling pedals with adjustable straps. The pedals have standard threads, so other compatible models are mostly available if you want to replace them.
The flywheel is relatively large for a recumbent bike; it weighs 18 lbs (8.1 kg) and is perimeter-weighted, generating a steady, smooth, and consistent momentum. In addition, considering that the cycle uses a belt, not a chain, the pedaling motion is almost silent.
Thus, the bike can be an excellent choice for apartment use if space is not an issue. In addition, you can be sure that its operation won't bother the neighbors or other family members.
The LifeSpan R5i recumbent bike features an eddy current resistance system. Unfortunately, it uses a motor-assisted brake, which means you must connect it to a power source to operate the console. As a result, the resistance is only adjustable from the console.
This recumbent exercise bike makes available 16 resistance levels. The 1-3 levels of resistance allow you to undertake relatively light workouts, perfect for users who require recovery training. Conversely, the 14-16 difficulty settings promote high-intensity exercises, which are great for obtaining a superior calorie burn.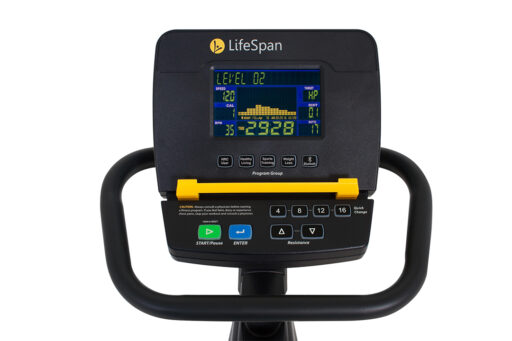 R5i Console
The console of the LifeSpan R5i recumbent exercise bike has an Intelli-Key feature. It prompts you through the console functions using intelligent lights on the buttons, which automatically flash when pressing. In addition, it has a large, multi-color LCD with an LED backlight.
The display covers the following workout metrics: speed, distance, time, RPM, calories, and pulse. The distance can be miles or kilometers, and the speed is either MPH or km/h.
The console monitors your heart rate if you hold onto the EKG sensors incorporated into the armrests. Furthermore, it's also telemetric and can read pulse wirelessly via an HR chest strap transmitter — unfortunately, this accessory does not come with the bike and sells separately.
The fitness console is easy to operate. It features Start/Stop buttons for pausing and resuming workouts and the manual mode's quick initiation. The resistance is adjustable from the Up/Down arrow keys, and there are also keys for quick resistance adjustment for the 4, 8, 12, and 16 difficulty settings. Also, each program category has a separate key.
The built-in Bluetooth connectivity helps the user sync the console's data with his smartphone. For example, this exercise data can be (synced) to the LifeSpan fitness app, where the user can track his/her goals and share his data with other users.
Best of all, the LifeSpan App is entirely free – no hidden fees or annual charges. The user can sync this exercise data to any app of their choice. However, the app needs to be supported by google fit or apple health.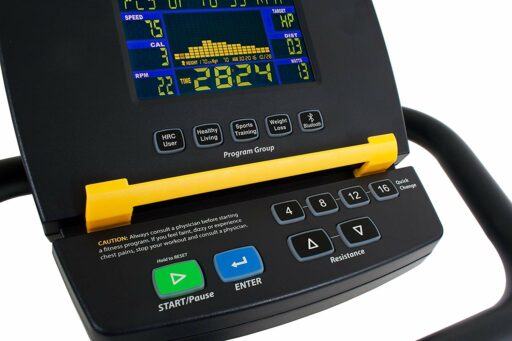 Workout Programs
The R5i recumbent bike includes a wide selection of easy-to-navigate exercise programs to help you meet your health and fitness goals. These programs are 10 Weight Loss, 14 Sports Training, and 10 Active Living.
Also included are two heart rate training programs; Interval Heart Rate and Constant Heart Rate. And if you want a program that doesn't come standard, you can set up your custom program with one of the two Customer User Program options.
Whether you want to lose weight, enhance your cardio fitness level, or add some activity, the R5i will fit your needs.
R5i Assembly and Maintenance
The LifeSpan R5i recumbent exercise bike is relatively easy to assemble because its drive and resistance elements are pre-assembled and attached to the mainframe.
Thus, you will only have to connect the base tubes for assembly, the seat with its backrest, the console mast, the console, and the pedals. Therefore, it shouldn't take more than one hour of your time. The manual provides all the instructions for the assembly, and the assembly tools come with the bike.
Maintenance doesn't require much. You must clean the bike, inspect loose bolts and parts, and retighten them as needed.
Pros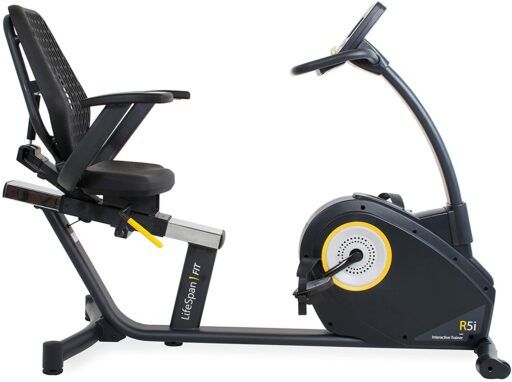 Commercial grade construction;
Great user capacity (400 lbs);
Aesthetic design;
Large, comfortable seat with a generous layer of foam padding;
Vented backrest;
Micro-adjustable seat and backrest;
EKG sensors integrated into the armrests;
Telemetrically enabled to use with an HR chest strap;
Automatic, eddy current resistance, with 16 available settings;
Very smooth, almost silent drive;
A large, multi-color LCD with LED backlight, which improves its readability;
The intelli-key function simplifies the console operation;
34 preset programs, two custom user profiles, 4 HR programs;
Bluetooth enabled;
Tablet holder included;
Little maintenance is required;
Consistent warranty plan.
Cons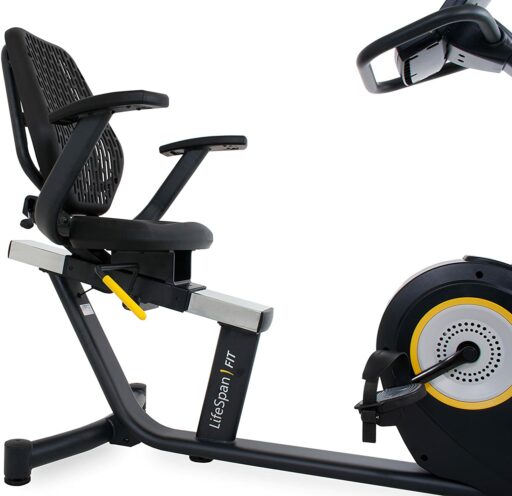 No bottle holder;
No cooling fan;
It doesn't have a sound system;
A tablet on the media holder will cover the console LCD and the program buttons.
LifeSpan R5i Recumbent Bike Summary
The LifeSpan R5i is a commercial-grade recumbent bike featuring an automatic eddy current resistance system with 16 difficulty levels. In addition, it offers 40 workout options and the possibility to transfer your workout data into your free LifeSpan Club account via USB.
It has an extremely sturdy construction, supporting riders up to 400 lbs. Furthermore, it also excels in comfort factors featuring an adjustable, padded seat and a reclining backrest.
Moreover, it's a fitness machine for users of all levels, great for recovery training, light cardio, high-intensity cardio, interval training, stamina development, and weight loss. Depending on the programs or resistance levels you use, you can burn up to 5-600 calories per hour on this machine.
And finally, it may not be one of the most affordable trainers. But considering its exceptional sturdiness and features, I can safely say that it offers excellent value for the price.
I hope you found this article helpful and informative. Would you please speak up if you have anything you'd like to share on the topic or any opinions about my website? I look forward to your comments, questions, and the sharing of ideas.
Please remember that you should consult your physician to determine if you have any medical or physical conditions that could risk your health and safety or prevent you from using the equipment properly. In addition, your physician's advice is essential if you are taking medication that affects your heart rate, blood pressure, or cholesterol level.