Sturdily built, the heavy-duty Merax RB1020 Recumbent Bike allows for a maximum user weight capacity of up to 380 lbs and is suitable for user heights ranging from 5' 2" tall up to 6' 5" tall. Ergonomically designed, the RB1020 features a step-through frame design that makes it easy to mount and dismount.
The Merax RB1020 Recumbent Bike features eight levels of manual magnetic resistance so you can adjust the intensity of your workout to progress at your own pace, putting you in total control of a more challenging or more manageable workout.  The tension is easy to adjust via a simple-to-use tension turn-knob located on the frame in front of you.
The Merax RB1020 comes with an LCD monitor that displays motivating workout stats as you cycle, including time, speed, distance, odometer, scan, calories, and heart rate. In addition, to help you stay within your target heart rate zone as you exercise, the Merax RB1020 features hand-pulse grip sensors in the handlebars by the side of the seat.
The large seat comes padded for comfort, and the backrest adds welcome support and ensures the correct posture as you cycle. The seat sits on a sliding seat rail system with an easy-to-use adjustment lever to adjust the seat's height and proximity to the pedals for a custom fit for different users.
Learn more in my complete review below!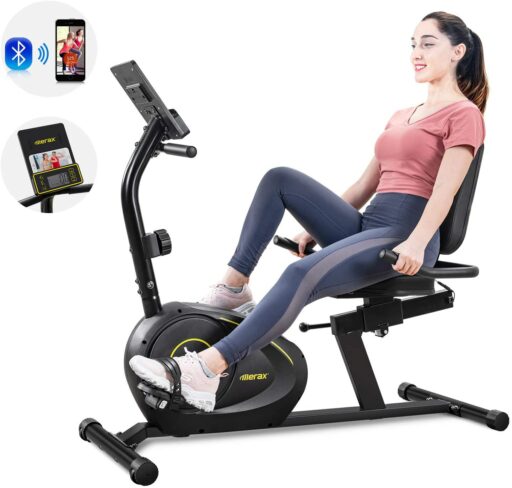 Product: Merax RB1020 Recumbent Bike
Price: For a great deal on this bike, merely go here on Amazon
Warranty: Frame 3 years / Parts 90 days
My rating: 8/10
Affiliate Disclosure: As an Amazon Affiliate Program participant, I earn commissions on purchases made through links in this post. Full disclosure
Details and Specifications
Assembled dimensions: 57.9L x 24.8W x 40.7H inches (147L x 63W x 103H cm)
Assembled weight: 51.1 lbs (23.1 kg)
Max. user weight: 380 lbs (172 kg)
Seat: Adjustable
Pedals: With adjustable straps
Resistance: Magnetic, eight levels
Console: Time, distance, speed, calories, odometer, SCAN
Bluetooth compatibility
Warranty: Frame 3 years / Parts 90 days
RB1020 Frame construction
According to the manufacturer, the Merax RB1020 features a steel tubing frame designed to support users up to 380 lbs (172 kg). However, I have my doubts about this claim. Most other exercise bikes with this type of frame construction have a weight capacity between 220 lbs (99 kg) and 275 lbs (125 kg), so I just wanted to point out my concerns and let the buyer beware.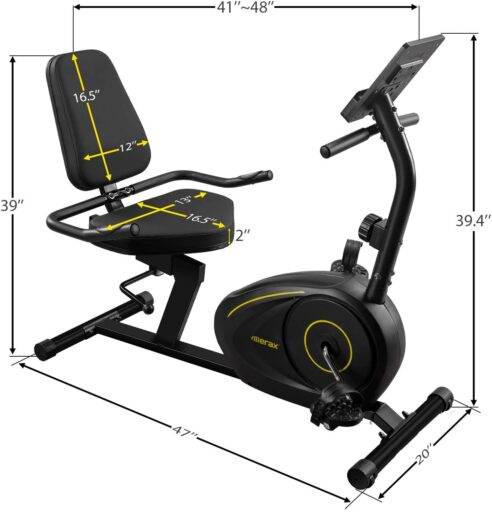 The fully assembled unit is not extremely heavy; it weighs approx. 51.1 lbs (23.1 kg), so assembly, transport, and handling shouldn't be too difficult for most users. Plus, its front base comes equipped with transport wheels, which considerably ease its relocation. The rear base features rotating polygonal caps, which serve as stabilizers.
This recumbent exercise bike isn't extensive. Its base measures approx. 48″L x 20″W (122 x 51 cm), but with the seat extended back, its total length reaches a length close to 58″ (147 cm).
Also, the width of the seat handlebars is approx—25″ (63 cm). On top of that, it's advisable to leave at least two feet of clearance all around it for easy entry and exit and safe operation.
One last aspect to mention, most of the steel bars within the frame construction feature a black powder coating, rust-resistant, and chip-resistant finish. The only metallic parts with a chrome finish are the crank arms.
Seat & handlebars
The Merax recumbent bike RB1020 has an ergonomic seat, featuring 2″ of foam cushioning on both the seat and the backrest. The upholstery is a durable vinyl material. The seat is relatively large; it is approx 16″ (41 cm) wide and 13″ (33 cm) long, designed to provide optimal comfort.
The whole seat assembly is adjustable; it slides on an oblique rail, and you can lock/unlock it with the lever on the right side.
The backrest doesn't recline, and you cannot adjust it in any way independently from the seat. It moves along the rail along with the whole seat frame. It's approx. 12″ (31 cm) wide and 16.5″ (42 cm) long, and provides excellent lumbar support.
This exercise bike has two handlebars, one at the front, on the console mast, and one attached to the seat assembly. The front handlebars have a simple straight design.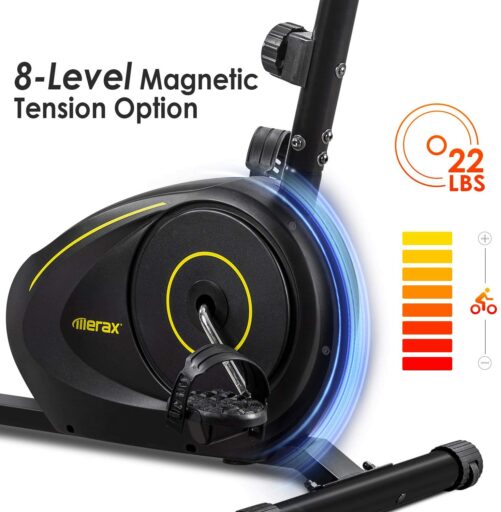 The seat handlebars come equipped with pulse sensors, so by holding on to them, the bike's fitness console can monitor your heart rate. In addition, a layer of rubber foam material covers both sets of handlebars to provide a secure grip and optimal comfort.
RB1020 Resistance system
The Merax RB1020 recumbent bike features a manual magnetic resistance system. This means you don't have to connect it to a power source. Instead, its resistance system consists of a small magnetic pad attached to the tension dial on the console mast through a steel cable.
By turning the dial, you can adjust the brake pad's position to the flywheel, which results in more or less pedal resistance. Since the brake system is magnetic, the magnetic field creates resistance; the brake pad and the flywheel don't touch, so there's virtually no wear and tear in-between them.
The bike offers eight levels of resistance. The first 1-2 levels deliver a light pedal tension, which is great for recovery training. But on the other hand, the top 7-8 resistance settings considerably improve tension, giving you the possibility to undergo a more intense workout, great for stamina and leg muscle strength development.
Drive system
Since this Merax exercise bike comes equipped with a magnetic resistance system, it uses a belt drive system. A heavy-duty, stretch-resistant rubber belt supports the transmission between the pulley and the flywheel. And since it's a belt-drive, not a chain drive, it generates less vibration during pedaling, it's tranquil, and does not require lubrication.
The bike integrates a perimeter-weighted flywheel. Its weight is not specified, but since the bike's overall weight is only 51 lbs, the wheel can't be too heavy. Therefore, its weight should be around 8-12 lbs (3.6 – 5.4 kg).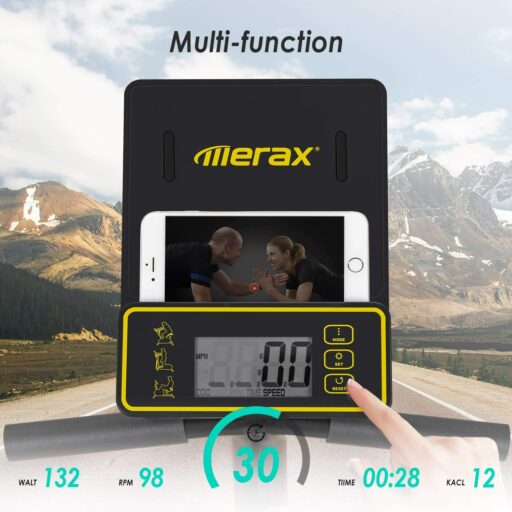 The flywheel is bi-directional; this means you can pedal in reverse if you want. This allows you to put some diversity into your workouts. When pedaling in reverse, the exercise meter should continue to count your workout stats, and the resistance should not change depending on the setting you have selected on the dial.
This exercise bike comes equipped with a 3-piece crankset. It features solid steel crank arms with weighted, self-leveling pedals. Each pedal has an adjustable strap for maximum foot stability and a non-slip surface.
RB1020 Console
This Merax exercise bike is a basic model, so the fitness console supplied is also a basic unit. It can track time, speed, distance, odometer, calories, and pulse. And now, for 2020, the console is Bluetooth compatible. The distance is counted in miles, while the speed is in miles per hour.
It would be best to hold on to the sensors incorporated into the seat handlebars; the unit cannot read pulse via Polar HR chest strap transmitters.
There is no user data input available on the console. In other words, you can't input your weight or age, so the calorie consumption displayed by the unit depends strictly on the number of flywheel rotations. Thus, it is not too accurate.
A countdown function for time, distance, and calories is also available. You can set up a target value for these workout metrics, so the unit will begin to count down from it until it reaches 0.
The unit uses a "SCAN" function to rotate the workout stats, displaying each one for a few seconds. It starts up when it detects pedal movement or when you press one of the buttons. Also, it shuts down automatically after several minutes of inactivity on the bike. It uses a set of two AAA batteries, which come included with the bike.
Note: Smartphone shown in the image sells separately.
RB1020 Assembly and Maintenance
The bike's base frame, along with the drive and resistance components, comes already assembled. Therefore, you only need to attach the console mast, the seat, the backrest, the seat handlebars, the console, and the pedals.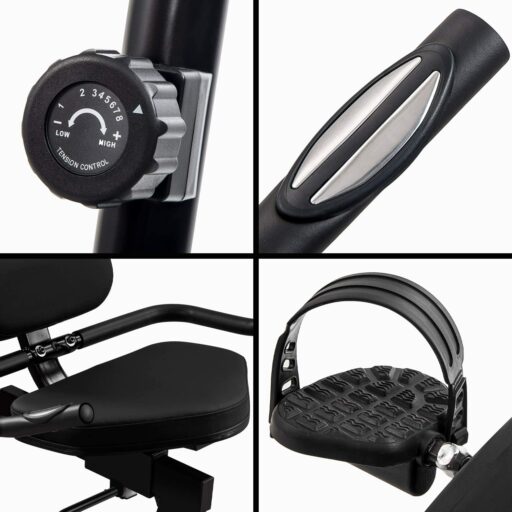 This shouldn't take more than an hour. The manual provides clear step-by-step assembly instructions, and an essential toolkit for assembly is (included) with the bike.
Maintenance requires checking the machine's bolts and joints periodically and re-tighten them if necessary. The internal parts come pre-lubricated and shouldn't need any lubrication for an extended time.
Pros
Sturdy, steel frame;
Transport wheels;
Adjustable base stabilizers on the rear base;
Step-through frame design;
Both front and seat handlebars (other recumbent bikes don't have front handlebars);
Pulse sensors in the seat handlebars;
Padded seat and backrest for maximum comfort;
Quiet magnetic resistance system;
Adjustable resistance offering distinctive eight levels;
Weighted pedals with adjustable straps;
Fitness console that can track time, distance, total distance, speed, pulse, and calories;
Bluetooth compatibility;
Batteries for the console included;
Easy to assemble;
Lightweight, easy to handle;
Little to no maintenance is required.
Cons
No bottle holder;
It doesn't have a tablet holder;
No backlight on the LCD;
Calories reading is not too accurate.
Merax RB1020 Recumbent Bike Summary
The Merax RB1020 is a basic recumbent exercise bike meant for home use. It offers eight manual magnetic resistance levels, a fitness console with Bluetooth compatibility, an adjustable seat with two inches of foam padding, a large backrest, and sturdy frame construction.
It's an exercise bike for beginners, great for light cardio workouts, stamina training, recovery training, and weight loss. It's also one of the most affordable recumbent bikes and does offer excellent value for the price.
I hope you found this article helpful and informative. Please speak up if you have anything you'd like to share or any opinions about my website. I look forward to your comments, questions, and the sharing of ideas.