The Schwinn 130 Upright Bike MY16 provides an excellent cardiovascular workout to help you stay in shape and lose weight if that is your goal. It also helps strengthen a user's core muscles to help stabilize a rider's position on the bike. In addition, the bike's sturdy frame holds up to 300 pounds, so various people can use it to get or stay in shape.
Resistance for the Schwinn 130 pedals comes from a 13-pound flywheel with magnetic braking. You can choose from 20 resistance levels with digital controls, including Quick-set buttons. The handlebars and saddle have foam cushioning for comfort. You can swap out the bike seat; the bike seat position is adjustable up/down with a pin.
The Schwinn 130 Upright Bike has a fitness console with a two-window LCD to show time, RPM, distance traveled, current speed, calories burned, resistance level, pulse, heart rate zone, and goal achievement. In addition, the console has 22 workout programs. You can choose from "Quick Start" (manual mode), 19 workout routines, and two fitness tests.
The console provides a reading rack or a mobile device holder to help keep you entertained while working out. The bike also has a USB port with a charger and MP3 speakers. The bike has a built-in water bottle holder and a three-speed fan to keep you cool and fresh. Transport wheels provide for a smooth relocation.
Learn more in my complete review below!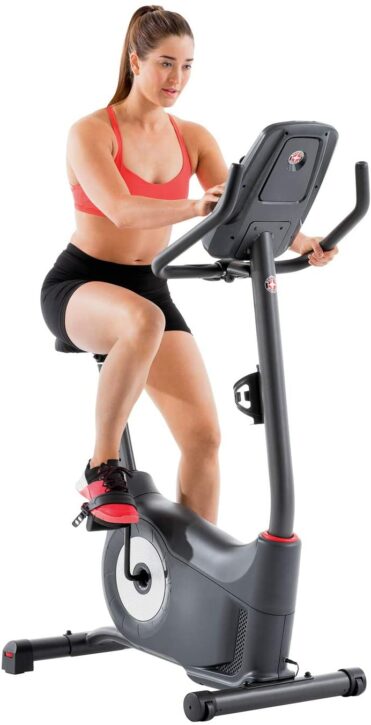 Product: Schwinn 130 Upright Bike MY16
Price: For a great deal on this bike, merely go here on Amazon
Warranty: Frame 10 years / Mechanical 2 years / Electrical 1 year / Labor 90 days
My rating: 8.5/10
Affiliate Disclosure: As an Amazon Affiliate Program participant, I earn commissions on purchases made through links in this post. Full disclosure
Details and Specifications
Assembled dimensions: 41.3L x 21.4W x 55.6H inches (105L x 54W x 141H cm)
Product weight: 58.4 lbs (26.5 kg)
Supported weight: 300 lbs (136 kg)
Handlebar: Adjustable, with pulse sensors
Seat: Adjustable
Pedals: With straps
Brakes: Eddy's current
Resistance: Adjustable, 20 levels
Progress tracking console: Yes, 22 workout programs
Bottle holder: Yes
Speakers: Incorporated in the console
Fan: 3-speed, incorporated into the console
Warranty: Frame 10 years / Mechanical 2 years / Electrical 1 year / Labor 90 days
130 Frame
The Schwinn 130 features a robust steel-made frame designed to support users up to 300 lbs. It's far from being a giant exercise bike and can easily be accommodated even in a smaller room. It has about half the weight of your average spinning bike and is relatively easy to transport. It's not a foldable bike, but it shouldn't take too much of your storage space due to its small footprint.
Both rear and front bases of the frame feature stabilizers, offering the possibility of a stable and secure ride, even on uneven flooring. The frontal base also includes transportation wheels, which make the relocation of the bike much more manageable.
The console's power cord connects above the frontal leveling base in front of the frame. It plugs into a standard electrical outlet on a 110V-120V circuit. The box includes a 120V 60Hz AC Input, 9VDC, and 1.5A output AC power adapter.
Seat and Handlebars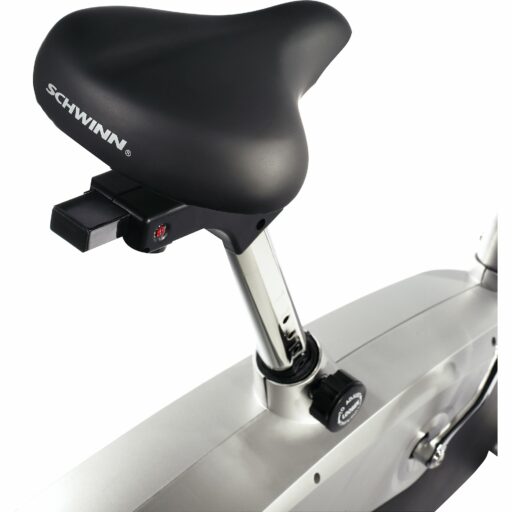 This bike provides a comfortable seat, wide enough to support even heavier users without generating back pain or soreness. Plus, since it's a pretty standard seat, you can replace it with a wider one if you think it's the case. Or add a gel seat on top of it.
The seat is adjustable vertically, allowing a maximum user height of 6'5″ (195.5 cm) and a minimum user height of 4'10" (147 cm). The distance between the seat and the floor at its maximum setting is roughly 41″ (104 cm), permitting a 38″ (96.5 cm) leg extension.
The main post of the handlebar is stationary; thus, the handlebar does not allow vertical adjustment. However, the handlebar angle can be adjusted, offering the possibility of multiple workout postures. In addition, it's padded with rubber foam for a good grip, even if your hands become sweaty.
But the best part about the handlebar is the integrated pulse sensors, which connect to the central console. Thus, you won't need to use an additional pulse/heart-rate strap.
130 Drive and brake system
The Schwinn 130 features an eddy brake system. In other words, the drag force of the braking system is via an electromagnetic field. Therefore, it results in a very smooth and quiet workout.
The bike features 20 levels of resistance, making it a great exercise bike for beginners and even advanced users. The flywheel is perimeter weighted for high inertia and high speed.
The bike features a one-piece crank, with standard pedals enforced with toe straps. The crank is solid, supporting a heavier user's total weight.
However, this is not an indoor cycling bike, and the design of the frame does not offer a good position for standing completely up while exercising.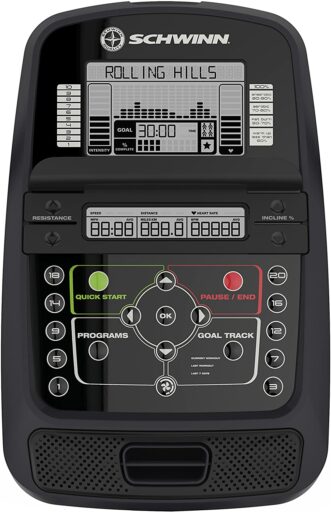 Console
The Schwinn 130 upright bike's progress tracking computer is not your average, basic progress tracker. However, it's quite a multifunctional unit, and there's much it can do for you.
First of all, the resistance levels are controlled exclusively through the console. There are ten buttons for quick resistance adjusting if you want to jump from 7 to 16, for example, quickly. 
The unit displays and tracks time, RPM, distance traveled, current speed, calories burned, resistance level, pulse and heart rate zone, intensity meter, and goal achievement.
A goal-tracking function allows you to set the desired goal in time, calories, and distance. This function also shows the percentage completed toward the set goal.
The console offers 22 workout programs. Nine automatically adjust the resistance while you ride. In addition, there are eight heart rate programs, one quick start program, two fitness test programs, and two custom programs. The two user profile functions are great for saving different exercise settings, and these settings do not reset after unplugging the machine.
Amenities
The console features a USB port. In addition, you can save and export your workout data to Schwinn Connect or MyFitnessPal. These sites allow you to analyze your progress differently, track your accomplishments weekly, and make every calorie loss matter.
The capabilities of this bike's console don't end here, though. It also comes with a pair of acoustic chamber speakers. These come with a standard earphone jack, allowing your device (phone, tablet, iPod, MP3 player, etc.) to play music through the speakers. The sound rendered is pretty good and clear. They are most definitely not cheaply made speakers.
This device can take care of your cooling, as well. It comes equipped with a 3-speed fan, placed right between the speakers, and is a great feature when working out during hot summer days.
Last but not least, this console's elementary yet handy feature is the tablet tray. You can place your tablet on the console's display, watch your favorite movie, browse the internet, or catch up on your reading.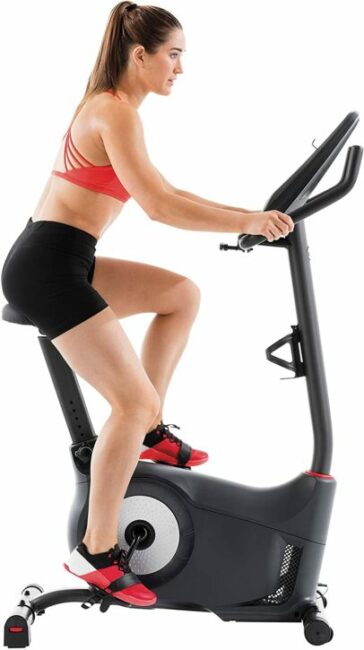 130 Assembly and Maintenance
This bike is pretty straightforward to assemble. Its drive system is already pre-assembled and secured. Next, you need to add the bases, pedals, posts, seat, handlebar, and console, then adjust them for your desired workout routine. Assembly shouldn't take more than 30 minutes. The box includes a user's manual and the tools required for the assembly part.
When it comes to maintenance, the Schwinn 130 is maintenance-free. All you need to do is periodically check for loose components and retighten them in place, and remove dirt and dust if it's the case. Also, wipe any drops of water or sweat from the console. It's not waterproof.
Pros
The bike comes with an unmatched price/quality ratio;
The bike's console is quite an advanced multifunctional unit;
Progress tracking console: Yes, 22 workout programs;
Integrated stainless sensors in the handlebars for pulse reading;
It offers 20 eddy magnetic resistance levels;
The handlebar is angle-adjustable;
The bike supplies a lot of comfort;
It does not occupy much space;
It's tranquil;
Maintenance-free;
3-speed cooling fan;
Water bottle holder;
The console has a charging USB port;
It comes with standard earphone jacks;
A pair of acoustic chamber speakers;
Compatible with a phone, tablet, iPod, MP3 player, etc
Cons
The crank arms are a bit narrow. However, merely replace the bike's pedals with wider ones.
Schwinn 130 Upright Bike MY16 Summary
The Schwinn 130 is among the few upright bike models that offer high-end quality at a very affordable price. So if you are looking for a decent bike, consider this one. It's an excellent combination of comfort, durability, and sturdiness, a bike that offers a wide range of progress tracking and training possibilities for users of all levels.
Unlike other bikes that focus on muscle toning and a healthy cardiovascular system, this model offers higher-intensity training, helping you lose weight. In addition, it can help you burn up to 6-700 calories per session. All in all, it's a fantastic stationary bike, an investment you won't regret.
I hope you found this article helpful and informative. Would you please speak up if you have anything you'd like to share on the topic or any opinions about my website? I look forward to your comments, questions, and the sharing of ideas.
Please remember that you should consult your physician to determine if you have any medical or physical conditions that could risk your health and safety or prevent you from using the equipment properly. In addition, your physician's advice is essential if you are taking medication that affects your heart rate, blood pressure, or cholesterol level.