The advanced folding frame design and multi-seating positions of the XTERRA Fitness FB350 Foldable Exercise Bike maximize your use of space while providing a comfortable and effective workout. With folded dimensions of only 20.5″ x 20″ and built-in transport wheels, you can store it away when not in use and free up some valuable floor space.
The bike has a robust, X-frame design, both minimal and efficient. The frame is thick steel tubing that provides the necessary durability and strength for your exercise, and the FB350 has a maximum user weight capacity of up to 225 lbs (102 kg).
A fully functional, 2″ x 1″ LCD fitness monitor helps you keep track of the essential workout metrics, including the speed; distance covered, elapsed time, calories burned, and pulse via the handlebar-mounted hand-held HR pulse sensors.
The XTERRA Fitness FB350 Foldable Exercise Bike is a well-rounded bike that offers a comprehensive list of features, even for its minimal price tag. It offers eight levels of manual magnetic resistance, giving you ultimate control over varying your workout intensity. The magnetic resistance also provides the machine's smooth, fluid, and noiseless operation.
Learn more in my complete review below!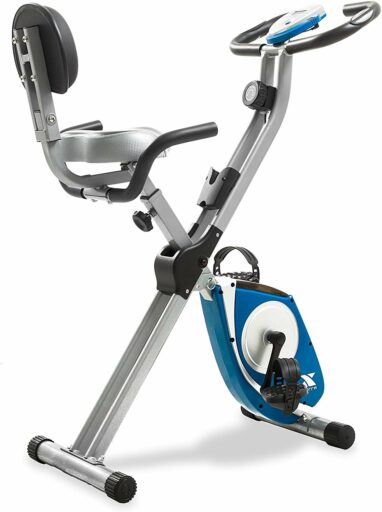 Product: XTERRA Fitness FB350 Foldable Exercise Bike
Price: For a great deal on this bike, merely go here to XTERRA Fitness.com
Warranty: Frame 1 year / Parts 90 days
My rating: is 9/10
Affiliate Disclosure: As an XTERRA Fitness Affiliate Program participant, I earn commissions on purchases made through links in this post. Full disclosure
Details and Specifications
Assembled dimensions: 40.5L x 21W x 48H inches (103L x 53W x 121H cm)
Assembled weight: 42.3 lbs (19.2 kg)
Flywheel weight: 3.3 lbs (1.5 kg)
Supported weight: 225 lbs (102 kg)
Seat: 2-way adjustable
Pedals: With straps
Resistance: Magnetic, eight levels
Fitness Monitor: Time, distance, odometer, speed, calories, pulse, scan
Warranty: Frame 1 year / Parts 90 days
FB350 Frame Construction
The XTERRA Fitness FB350 exercise bike features a durable X-type steel tubing frame. Its central part consists of two parallel tubes slightly curved at the top where the handlebar attaches. The seat bar goes through these two similar tubes and connects them in the middle. The drive and resistance elements are attached to the bottom section of the seat tube.
All the steel parts in the bike's frame are powder coated with a corrosion-resistant light gray paint finish. The covers of the drive system are made of ABS material, their colors being blue & gray.
The bike has a folding design. The two main frame elements can be folded from the middle and locked in a folded or unfolded position via a pop-pin. With the frame folded, the unit's footprint is approx. 20″ x 21″ (51 x 53 cm), while its height reaches approx—50.5″ (128 cm).
Conversely, with the frame unfolded, the bike isn't giant either. Its base takes approx 31″ x 21″ (79 x 53 cm), but the unit's entire length from the backrest to the front grips of the handlebar is approximately 40.5″ (103 cm). Therefore, the bike should fit a minimum usage area of 60″ x 50″ (152 x 127 cm).
The fully assembled bike isn't too heavy, either. It weighs approximately 42.3″ (19.2 kg). Therefore, one person can transport and build the bike. Once completed, its relocation is quick and easy via its front transport wheels.
One last aspect to note regards the unit's weight capacity. This XTERRA exercise bike has a maximum user weight of 225 lbs (102 kg). Unfortunately, it's also for seated workouts only; it does not support spin workouts or standing on the pedals.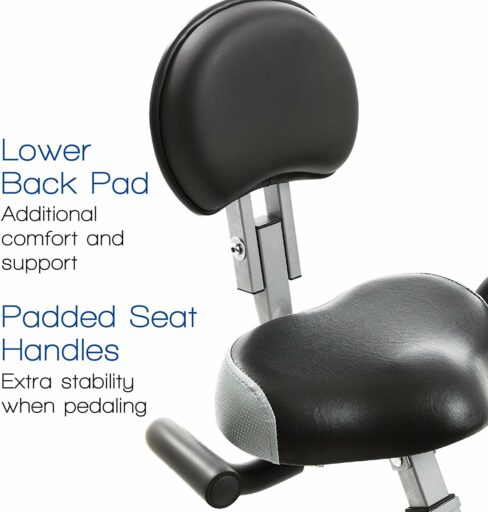 Seat and handlebars
The bike's saddle is similar to the one on the FB150 model. It is approx. 14″ (35 cm) wide and has a contoured surface to provide optimal comfort. It does not integrate air-cell cushioning, such as the seat on the Exerpeutic 4000. However, it does have an internal layer of foam padding. Its top is made of durable vinyl material with a synthetic mesh patch at the rear.
The backrest is attached to a durable dual bracket. It's not extremely large but has a thick foam padding layer. It provides excellent lumbar support and folds over the seat when the bike is stored.
The seat is 2-way adjustable (up, down). Its post features seven adjustment notches. It accommodates users between 4'10" and 5'10" (147 – 178 cm) and up to a weight of 225 lbs (102 kg).
The bike's handlebar is non-adjustable. It attaches directly to the front part of the mainframe element via two bolts. A layer of rubber foam material covers its side sections to provide a comfortable and secure grip. It offers the possibility to adopt several grips, including a parallel grip, close grip, or front grip.
The side grips of the handlebar come with metallic pulse sensors. Therefore, the fitness monitor can track and display your pulse rate if you hold onto them when pedaling.
FB350 Drive system
Since it's a light-capacity exercise bike, the XTERRA Fitness FB350 doesn't have a super-heavy flywheel. It weighs approx. 3.3 lbs (1.5 kg) and a balanced design provide a smooth pedaling motion.
It is also bi-directional, which means it can pedal in reverse. However, you cannot coast on the bike; when pedaling in reverse, the resistance remains constant.
The bike's internal drivetrain uses a v-belt. Moreover, the pedaling motion is almost entirely silent. It also does not require lubrication as a chain transmission.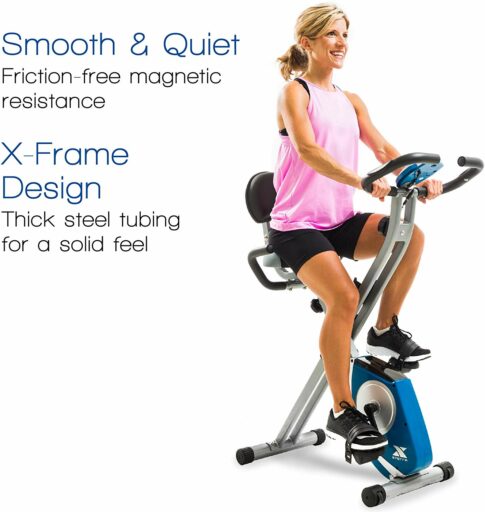 The crankset features strong steel arms. The included pedals have a metallic core and a durable, non-slip ABS surface. They're weighted and also equipped with adjustable straps so that you can secure your feet.
Although the crankset is durable, standing up on the pedals is not advisable. It may lead to excessive internal wear. However, the position would also be very awkward due to the frame design and loss of balance.
The bike has a pretty narrow Q-Factor (spacing between the pedals). Its exact dimension is not specified but should be between 6 and 6 inches (150-160 mm). As a result, your feet are placed on the pedals naturally. As a result, there isn't any additional lateral stress on the knees and ankles during pedaling as for bikes with a wider Q-Factor.
Resistance system
The XTERRA FB350 exercise bike features a mechanical, magnetic resistance system. Therefore, it does not require an external power source. Also, the fitness monitor plays no role in the resistance adjustment.
The bike's resistance system consists of a small magnetic brake attached to the dial at the top of the front part of the frame through a steel wire. The brake moves closer to the flywheel by turning the dial clockwise, which results in an increased pedaling difficulty.
The bike makes available eight levels of resistance. The first one is light, great for recovery training or warming up. But conversely, the 8th level does provide a distinguishable increased pedal tension, giving you the possibility to reach a higher cardiovascular rate in a shorter time.
FB350 Fitness monitor
The fitness monitor offers the same feature range as the one included with the Sunny SF-B2721. In addition, it features an LCD with significant digits, which tracks the essential workout metrics, including time, distance, total distance, speed, calories, and pulse. Furthermore, the speed displays in miles per hour, while the distance is in miles.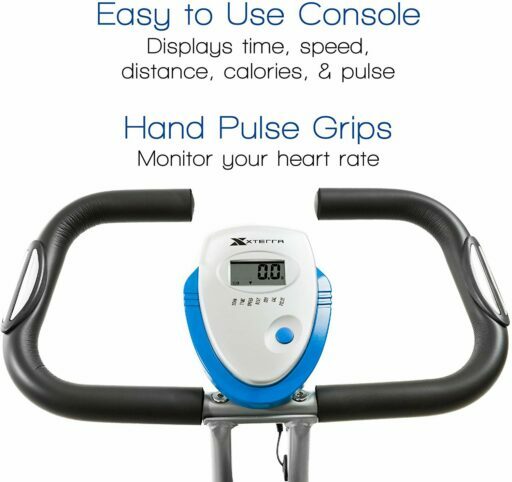 The fitness monitor is not telemetric. Thus, it can only read your pulse through the integrated stainless steel sensors. In addition, it cannot communicate with Polar or other HR chest strap or armband transmitters.
Unfortunately, the monitor is incompatible with online fitness apps and has no preset programs. It also does not have goal setting. It only features one button, which covers all of its functions. You can select the desired workout metric on display by pressing the button repeatedly.
The Scan Mode rotates all the metrics showing each one for four seconds. It also covers the Reset function; by pressing and holding it for a few seconds, you can clear all the meter values to zero.
The fitness monitor requires two AA batteries (included) as a power source. It starts up when you press the button or when you begin pedaling. It also has a sleep mode to enter after four minutes of inactivity on the bike.
FB350 Assembly and Maintenance
The two main parts of the frame are already attached, while the drive and resistance elements are also pre-assembled. Therefore, you only need to connect the bike's base tubes, the seat, the backrest, the handlebar, the pedals, and the fitness monitor.
Consequently, it shouldn't take more than an hour of your time. The manual provides clear, step-by-step assembly instructions and the necessary tools that come with the bike.
Once assembled, maintenance doesn't require much. You must check for loose bolts and parts and retighten or replace them. The internal components should not require lubrication or care for an extended time.
Pros
Fairly sturdy frame – can support users up to 225 lbs;
Foldable, great for a small apartment;
Small footprint when fully assembled;
Transport wheels included;
Oversized seat for optimal comfort, offering 2-way adjustability;
Padded backrest for extra lumbar support;
Multi-grip handlebar with pulse sensors;
Weighted pedals with adjustable straps;
Narrow Q-Factor for zero lateral stress on the knees and ankles;
Smooth and quiet operation;
Fitness monitor that can track time, distance, total distance, calories, speed, and pulse;
Accessory holders included;
Easy to assemble;
Very little maintenance is required.
Cons
No tablet holder;
The fitness monitor LCD does not have a backlight.
XTERRA Fitness FB350 Foldable Exercise Bike Summary
The XTERRA Fitness FB350 is a semi-recumbent upright bike featuring a folding frame, a quiet belt drive, and a manual-magnetic resistance system with eight distinct levels. It also includes a fitness monitor that tracks the essential workout metrics.
Moreover, it's a bike for light cardio training, muscle toning, stamina development, and weight loss. It's also an affordable exercise bike, offering excellent value for the price.
I hope you found this article helpful and informative. Would you please speak up if you have anything you'd like to share on the topic or any opinions about my website? I look forward to your comments, questions, and the sharing of ideas.
Please remember that you should consult your physician to determine if you have any medical or physical conditions that could risk your health and safety or prevent you from using the equipment properly. In addition, your physician's advice is essential when taking medication that affects your heart rate, blood pressure, or cholesterol level.