The Schwinn Airdyne AD7 is a top-rated fan bike for home gyms. This model is an extraordinary value, as it's light commercial quality yet priced around $899. The AD7 can handle heavy use, adapts for all strengths and workout intensities, and adjusts to let almost anyone train comfortably. It holds up to 350 pounds and fits riders up to 6' tall.
Of the three Airdynes for home use, the AD7 is most advanced in various ways. It's the only model with a powder-coated frame so that it can look new for longer. It sports an extra-large fan wheel for smooth air resistance, and it's the only Airdyne with multi-grip moving handlebars to optimize upper-body exercise.
The Airdyne AD7 is the only Schwinn home air bike with workout programming beyond manual mode. Its LCD monitor lets you select from nine options that include interval workouts, heart rate zone monitoring, and riding for targets of distance, time, and calories. These programs can't control the bike's resistance or speed, but they show feedback to guide your exercise intensity.
It's rare to find a club-quality trainer like the Airdyne AD7 for under $1,000. Exercise bikes that use air resistance fall into this category, but most other types of fitness machines can't deliver the same quality in this price bracket.
Learn more in my complete review below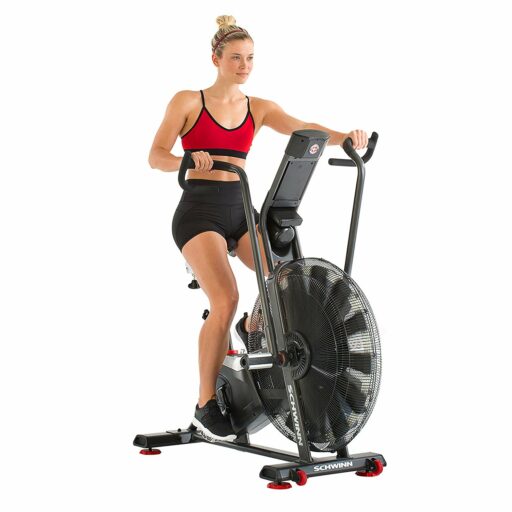 Product: Schwinn Airdyne AD7 Fan Bike
Price: For a great deal on this bike, merely go here on Amazon
Warranty: Frame 10 years / Parts 2 years / Electronics 2 years / Labor 6 months
My rating: 8.75/10
Amazon Affiliate Disclosure: I may earn commissions from purchases made through links in this post.
Details and Specifications
Assembled dimensions: 53L x 26.5W x 53H inches (137L x 67W x 137H cm)
Assembled weight: 113 lbs (51.3 kg)
Supported weight: 350 lbs (159 kg)
Handlebars: Mobile
Seat: 4-way adjustable
Drive: Belt
Resistance: Air
Fitness console: 4 programs
Included accessories: Bottle holder
Warranty: Frame 10 years / Parts 2 years / Electronics 2 years / Labor 6 months
AD7 Frame & parts
The Schwinn AD7 Airdyne features a heavy-duty steel frame that meets commercial standards. It combines ovalized with rectangular bars with precision-welded connection points. It's double-coated with a corrosion-resistant paint finish dark gray, except for the seat post and slider, which have a chrome finish.
The bike not only has a pretty low center of gravity, but it also weighs over 100 lbs, which means that it provides outstanding stability. Plus, both its bases come with adjustable stabilizers that have large rubberized pads. The bike is also easy to move and handle as it's front base has transport wheels.
This Schwinn exercise bike isn't huge compared to other fitness machines. Its fully assembled length is approx. 53″ (137 cm) while its width is 26.5″ (67 cm). However, Schwinn recommends assigning a usage surface for this bike of at least 74.5″L (189 cm) x 101″W (256 cm), for safe access and unhindered operation.
The section above the bike's crank system features a full step-up pad. Not all air resistance bikes or upright bikes have this feature, so this is quite a plus. Not only that, it helps you with taking a seat, but it can also serve as stretching support or as a step-up, step-down element that can be useful for specific cycling workouts.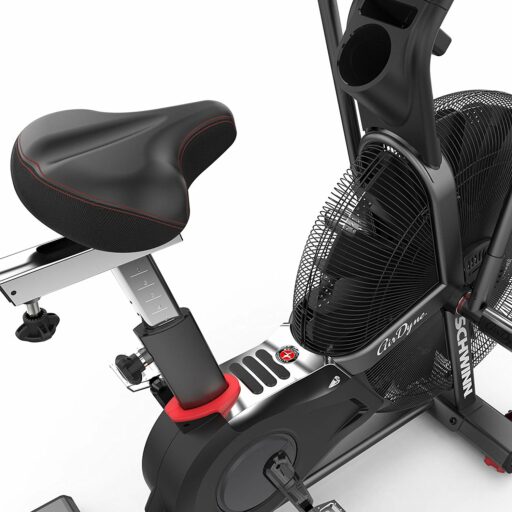 The bike also has leg resting pegs attached to the front fork. This gives you the possibility to keep your feet stationary while only using the bike's mobile arms. Therefore, you can alternate exercises.
Seat & handlebars
The Schwinn AD7 Airdyne comes with a large and cushioned seat. It's approx. 11″ (27 cm) wide and 10.5″ (26 cm) long providing plenty of contact surface. It integrates a generous layer of foam padding, promoting an even weight dispersion. It also has a longitudinal groove to improve breathability and overheating.
The seat is four-way adjustable (up, down, backward, and forward). Its upright post features ten adjustment notches with approx — 1″ (2.5 cm) in between. Also, the seat's horizontal slider offers several extra inches of front to back adjustment.
Therefore, the bike is designed to accommodate users between 5'0″ and 6'7″ (153 – 201 cm) while offering a complete leg extension.
Unlike upright magnetic bikes, the Schwinn Airdyne AD7 doesn't have stationary handlebars, only its moving arms. They feature a multi-grip design and rubber-foam handles for a secure and comfortable grip.
AD7 Drive & resistance
As its name suggests, the Schwinn Airdyne AD7 is an air resistance exercise bike. It has a 26-blade flywheel-fan which combines ABS and metallic elements. It's perimeter-weighted for an easy start-up and a smooth ride.
The bike's fan is the only resistance generator. The bike doesn't include a magnetic brake. It also doesn't need to be connected to a power source to generate resistance. When you begin pedaling or moving the handlebars, the fan produces a dynamic response. In other words, the resistance depends on how fast you pedal and move the handlebars.
An important aspect that needs mentioning here is that the pedals and the handlebars cannot move independently. The handlebars will always be in motion when you pedal; conversely, the pedals will continue to spin even if you rest your feet on the front footrest, while only moving the handlebars.
Just like any other fitness machine with an air resistance system, this Schwinn Airdyne exercise bike does generate a moderate level of noise. But it's not extremely loud. As a general idea, the noise produced when you pedal at high speed resembles the sound of an electric fan.
The bike's transmission involves a heavy-duty rubber belt. Thus, you don't have to lubricate it, and it generates less vibration than a chain.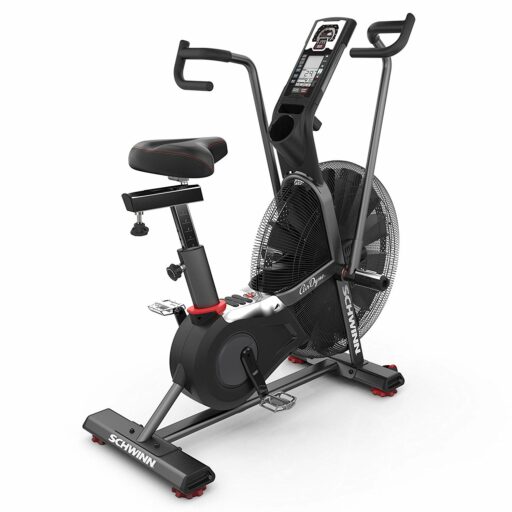 The bike comes with a heavy-duty crankset. Its crank arms and pedals are durable enough to support users up to 350 lbs (159 kg). The pedals are a durable metallic alloy. They do not integrate SPD elements like spin bikes, and they also don't have toe cages. However, they have standard threads, so compatible options are widely available.
Console
This Schwinn exercise bike has a two-display console. The top one is a Tachometer Display divided into 60 segments to show calories-per-minute and Watts. It also indicates RPMs and speed.
The lower one is the Program Data Display; it shows the timer for the interval programs, the round of each interval, sprint and recover data, cumulative metrics (calories/kJ or distance in miles or km). Also, the heart rate metrics, battery indicator, and a volume indicator.
There are three main interval programs on the console. The first two are standard 20/10 and 30/90, while the 3rd one is Custom, giving you the possibility to create your interval workout.
The 4th program is for heart rate. There are three preset HR intervals available, 65%, 75%, and 85%. The unit is telemetric. It can monitor your heart rate via an uncoded HR strap from Polar Electro or an uncoded Polar compatible model. This accessory (is not included), though.
The console also offers the possibility to create a workout target for time, calories, and distance. If you select a target for any of these metrics, the display will count down from the chosen value rather than showing the elapsed value.
An important aspect that needs mentioning here regards the console calibration. The unit has a built-in temperature and pressure sensor, which automatically calibrates the resistance output for differences in air pressure (such as altitude).
Also, the console provides a manual calibration procedure. The Calibration procedure adjusts the console's calculations of resistance for differences in belt tension and bearing friction. Therefore, the unit can provide entirely accurate readings for your overall calorie consumption.
Last but not least, the console is battery-powered. It takes two D batteries, which (are included). Also, it can be powered via an AC adapter, Rated 120V 60Hz Input, 9VDC, 1500mA.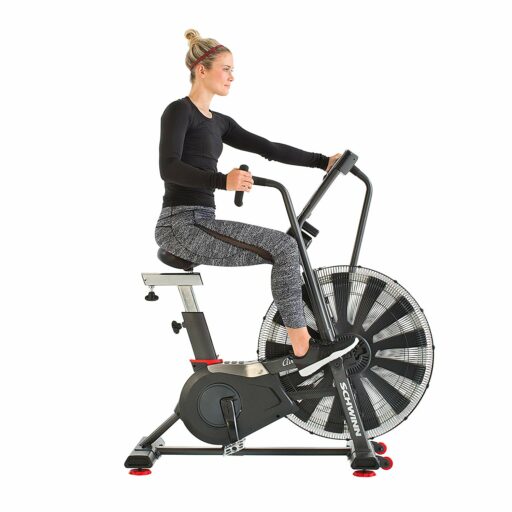 AD7 Assembly & Maintenance
Most of the bike comes pre-assembled. The flywheel, the crankset, and the belt are already attached to the mainframe. Therefore, all you need to assemble is the base bars, the moving arms, the seat, the pedals, and the console.
This may take up to one hour. However, the manual provides precise assembly instructions. Also, some of the tools required for the assembly (are included).
Once it's fully assembled, the bike doesn't require too much maintenance. All you need to do is vacuum the dust that may accumulate on the fan, and periodically check for loose bolts and parts.
Pros
Extremely sturdy frame – can hold users up to 350 lbs;
Professional-looking design;
Adjustable levelers on both bases;
Transport wheels;
Footstep pad frame element included;
Foot resting pegs included;
Mobile arms with multi-grips for a wide variety of workouts;
Ergonomic, cushioned seat;
4-way adjustable seat;
Highly durable pedals, which can support the full weight of the user;
Air resistance system offering a dynamic response;
Advanced console with two main displays, one for the tachometer and one for the workout programs data;
Telemetric console – can read pulse via an HR Polar transmitter;
Three main interval programs;
Three preset HR intervals;
Target setting functions;
Maintenance-Free;
Easy to assemble;
Excellent warranty.
Cons
No online connectivity;
HR chest strap not included;
Power adapter for the console (is not included) but works with batteries which (are included);
No straps on the pedals.
Schwinn Airdyne AD7 Summary
The Schwinn Airdyne AD7 is an air resistance bike featuring extremely sturdy construction, able to hold riders up to 350 lbs. It excels in comfort and micro-adjustability. It comes with a highly accurate console that keeps track of all your essential workout data and offers three interval programs, target value settings, and HR intervals.
It's an exercise bike for users of all levels, perfect for high-intensity interval training, but also recovery training. It's great for endurance building, muscle toning, and weight loss.
Finally, it's not the most affordable trainer, but its price-quality ratio is quite exceptional. So far, this Schwinn exercise bike has gathered an impressive amount of 5-star reviews from most users.
I hope you found this article helpful and informative. If you have anything that you'd like to share or opinions about the content on my website, please do speak up. I look forward to your comments, questions, and the sharing of ideas.
Recommended articles:
Please follow and like us: