The Sole E25 Elliptical Trainer is the most affordable elliptical machine in Sole's lineup, combining low prices with moderate force and high quality. A natural-feeling, well-designed elliptical footpath supports joint-friendly exercise for the whole body.
The Sole E25 elliptical offers the advantage of incline training. While ellipticals from many other brands provide a single forward-and-back footpath, the Sole E25 offers 20 incline levels to help you target specific muscle groups. For user convenience, incline controls integrate into the handlebars.
Workout programming displays on a 6.5″ LCD built into your mobile device's console running the Sole Fitness app. As for heart rate monitoring, the Sole E25 has got you covered. It has built-in touch pulse sensors and wireless chest strap compatibility and includes an HR chest strap with the purchase.
The E25 offers ten workout programs. Two of these are heart rate; they adjust the E25's Incline and resistance to help you exercise in your desired heart rate zone. Five of the programs are classics for elliptical trainers: Cardio, Fat Burn, Hill, Interval, and Strength. The other options are manual mode and two custom user-designed routines.
Learn more in my complete review below!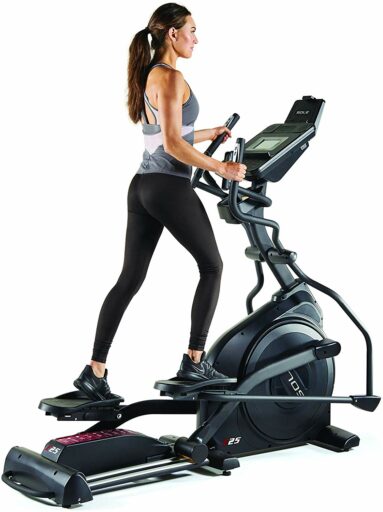 Product: Sole E25 Elliptical Trainer
Price: For a great deal on this elliptical, merely go here on Sole Fitness.com
Warranty: Frame lifetime / Parts 3 years / Electronics 3 years / Labor 1 year
My rating: 9.25/10
Affiliate Disclosure: As a Sole Fitness Affiliate Program participant, I earn commissions on purchases made through links in the post. Full disclosure
Details and Specifications
Assembled dimensions: 70L x 24W x 64H inches (178L x 61W x 163H cm)
Assembled weight: 212 lbs (96 kg)
Flywheel weight: 20 lbs (9 kg)
Supported weight: 350 lbs (159 kg)
Stride: 20 inches (51 cm)
Incline: Automatic, 20 levels
Resistance system: Eddy current, 20 levels
Console: 10 workout programs, Bluetooth
Extras: Sound system, cooling fan, USB charging port, tablet holders, bottle holder
Warranty: Frame lifetime / Parts 3 years / Electronics 3 years / Labor 1 year
E25 Frame
The Sole E25 elliptical machine features a durable steel frame with multiple ABS covers. All the steel parts in its structure are powder coated with a chip-resistant and corrosion-resistant paint finish. The color used is black, this being the only color available for this trainer so far. The only exceptions are the aluminum pedal rail covers, which have their natural polish.
The fully assembled trainer is relatively large; it is approx. 70″ (178 cm) long and 24″ (61 cm) wide, while the top of the console reaches approx. 64″ (163 cm) above floor level. It is also advisable to leave at least two feet of clearance around the elliptical for easy access and unhindered operation.
The machine is also pretty heavy. It weighs approx. 212 lbs (96 kg), so it is recommended to carry and assemble by two persons. However, once completed, it can easily be moved by only one person as its front base is equipped with transport wheels while the back support features a lifting handle.
The machine's 212 lbs (96 kg) weight plays an essential role in its overall stability and sturdiness. You can be sure that it won't rock or move even if you train at the fastest pace. Plus, all three base bars come with adjustable stabilizers.
Pedals and Handlebars
The Sole E25 elliptical trainer features a set of articulating pedals. They have a 2° inward slope to provide a natural foot positioning and minimize the stress on your ankles and knees. The pedal trays are a heavy-duty ABS material with a non-slip surface and front guards for superior foot stability.
The pedals are attached to two heavy-duty bars. They support users up to 350 lbs (159 kg), which is impressive for a machine made for home use only. The lower pedal bars come with dual rollers that slide on double rails.
This dual rail system offers superior stability and generates a sure-foot feel when you exercise on the elliptical. The rollers integrate industrial-grade ball bearings for a smooth pedal motion and outer rubberized covers to minimize noise and vibration.
The machine comes with two sets of handlebars, one fixed and one mobile. The fixed handlebars are directly attached to the console mast. They integrate pulse sensors. The moving arms of the machine have a multi-grip design. Also, they integrate incline and resistance controls.
E25 incline, stride, and step-up height
The Sole E25 elliptical trainer has an automatic incline system. Thus, the unit requires a connection to a power source to use the incline. Also, the console can automatically adjust the slope, depending on the user program.
The unit's incline system is at the rear of the elliptical. It consists of a small motor and a lift that elevates the dual rail system. The machine makes available 20 levels of incline. The incline increments are 1%.
The E25 doesn't have quick controls for selecting the desired incline level at once, and it only controls for gradual incline adjustment. Instead, incline controls are integrated into the left moving arm and on the left side of the console.
Although this Sole elliptical has a front-drive system, its elliptical path is horizontal. When you add incline, the elliptical path becomes slightly elevated at the front leading to a sensation of climbing a soft hill. The E25 provides maximum comfort and a natural gait, while the pedaling motion eliminates almost all the impact on your joints.
The E25 offers a standard 20″ (51 cm) stride. Therefore, it can accommodate users up to 6'5″ (196 cm), offering a complete range of motion. Also, the minimum height of the pedal is approx. 14″ (35 cm) above floor level.
Plus, if the incline is maximum, the pedals will gain a few extra inches in height. Thus, using this elliptical cross trainer in a room with a ceiling at least 25″ (63 cm) higher than your height is advisable.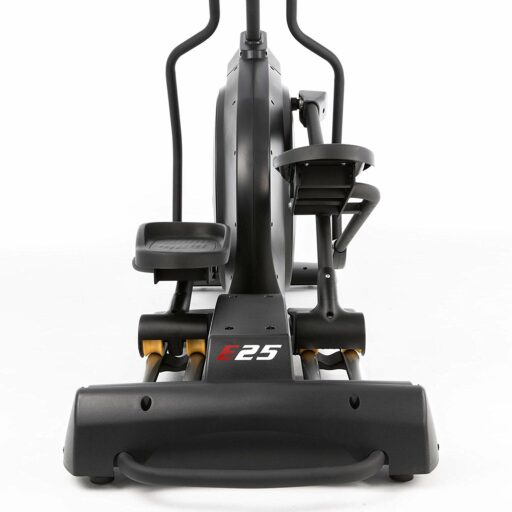 Resistance and drive
The Sole E25 elliptical cross trainer comes with an automatic resistance system. Therefore, the machine requires an external power source to make available the resistance adjustment. Also, the console can automatically adjust the pedal resistance depending on the user program.
The machine's resistance system consists of an internal servo motor and a magnetic brake. When you adjust the resistance, the servo motor changes the magnets' pull, which results in more or less pedaling difficulty.
This trainer offers 20 levels of resistance. The first few levels deliver little pedal tension, which is excellent for low-intensity cardio workouts or rehab training. The top 18-20 levels, on the other hand, provide considerably more resistance, perfect for anyone who wants regular exercise and extra fat-burning possibilities.
The Sole E25 features a 20-lb (9 kg) flywheel, slightly lighter than the Horizon 7.0 AE wheel. In addition, the flywheel features a balanced design to provide a steady pedaling motion.
It is also bi-directional. Therefore, you can pedal in reverse to diversify your workouts. But, of course, when pedaling in reverse, the resistance remains the same (depending on the selected level) while the console continues to monitor your calories burned, distance traveled, etc.
The unit's drive system is belt-based. It uses a solid poly-v belt. This type of transmission comes with a few advantages. First of all, it doesn't need periodic lubrication. And second of all, the pedaling motion is very smooth, quiet, and vibration-free.
E25 Console
The Sole E25 elliptical comes with a 6.5-inch multi-function console. To begin with, it has an LCD with an LED backlight and significant digits for superior readability. It tracks time, distance, total distance, speed, RPM, watts, and pulse. For speed and distance, you can select either Metric or English units. The distance also is shown as a 1/4 mile race track with a lap count reading.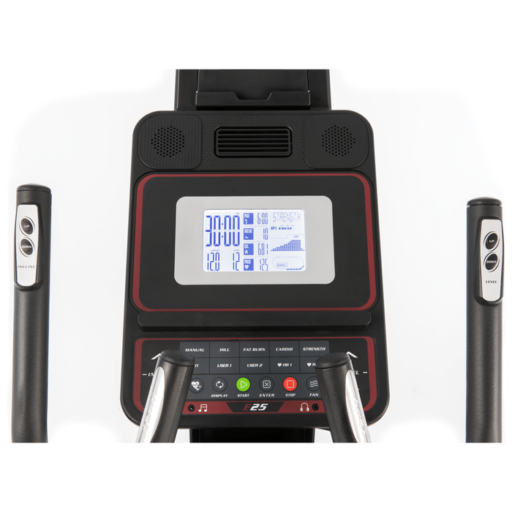 The machine has integrated sensors in its fixed handlebars for the pulse reading function. However, the console is also telemetric. It can read your pulse through a wireless HR chest strap transmitter, and this accessory comes with the elliptical.
The console has Bluetooth connectivity. Thus, you can sync it with your smartphone or tablet via the free Sole Fitness App (Android and iOS). This app allows you to track your progress online and transfer your workout data to other apps like Apple Health, FitBit, MapMyRun, or Record.
Workout Programs
The console unit makes available ten workout programs. The first program is Manual. If you choose this program, you can manually adjust the integrated controls' workload (incline and resistance). It also allows you to set up a goal for a time.
The following five programs are preset. These are Hill, Fat Burn, Cardio, Strength, and HIIT. As their names suggest, each one offers a specific type of workout. In addition, all the programs automatically adjust both the resistance and incline.
The console also has 2 User Defined programs and 2 Heart Rate programs. Each user profile allows you to create a custom program, save it, and re-use it anytime you want. Also, each user can input their age and weight for better data analysis.
The 2 Heart Rate programs are preset for 60% max. HR, and respectively 80% max. HR. If one of these programs is selected, the machine will auto-adjust the resistance to help you keep your heart rate close to the chosen percentage.
Amenities
I count the USB port, the sound system, the cooling fan, and the two tablet holders, among other notable console features. Unfortunately, the USB port is only a charging port. Therefore,  it serves the purpose of charging your smartphone or tablet via cable; you cannot save your workout data on a USB stick.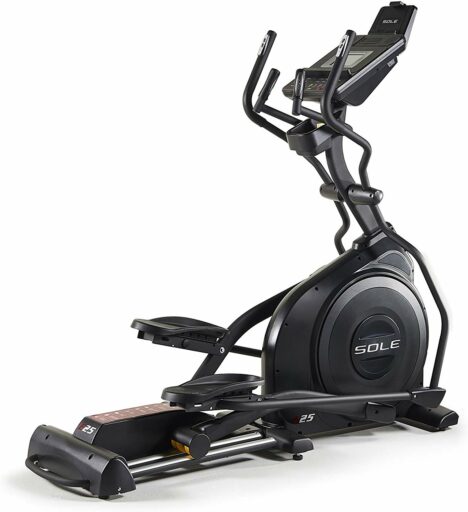 The sound system consists of two speakers placed at the top of the console. An AUX port and a headphone port are also available on the unit. Therefore, you can connect your smartphone or MP3 player via cable to play your music through the unit's console. The unit's sound system can also function via Bluetooth.
The cooling fan is between the two speakers. It's not extremely large but does provide a reasonably decent breeze during a more intense workout. And finally, one tablet holder is placed at the top of the console, while the second consists of a small shelf under the console LCD.
E25 Assembly and Maintenance
The machine requires some assembly. First, you will have to connect the rear base with the incline rails to the front base with the drive system and add the console mast, the moving arms, the console, and multiple small covers.
Therefore, it may take up to two hours of your time. However, the manual provides clear step-by-step assembly instructions and suggestive diagrams. Also, all the necessary tools for the assembly come with the elliptical.
Maintenance doesn't require much. All you have to do is keep the incline rails clean to prevent any damage to the wheels, lubricate the unit's joints if necessary, and periodically check for loose bolts and parts and retighten or replace them as needed.
Pros
Sturdy frame with a weight capacity of 350 lbs;
Aesthetic design;
Adjustable stabilizers on all base bars;
Lifting handle integrated into the rear base;
Transport wheels on the front base;
Ergonomic pedals;
Dual rails for extra stability;
Smooth and quiet belt drive;
Automatic incline, 20 levels;
Automatic (ECB) resistance system, 20 levels;
Incline and resistance controls integrated into the mobile handlebars;
Pulse sensors integrated into the fixed handlebars;
HR chest strap included;
The LCD, LED-backlit, offers excellent readability;
Ten workout programs;
Each program has its button;
Bluetooth connectivity;
Compatible with the free SOLE Fitness App;
USB charging port;
Sound system included, Bluetooth capable;
Cooling fan included;
Tablet holders included;
The bottle holder comes included;
Little maintenance is required;
Excellent warranty.
Cons
No quick selection buttons for resistance and incline;
The cooling fan is not too overpowering.
Sole E25 Elliptical Trainer Summary
The Sole E25 is a heavy-duty elliptical trainer equipped with a 20-level eddy current resistance system, automatic incline, and a console with ten workout programs and Bluetooth connectivity. In addition, it offers superior ergonomics and an impressive weight capacity of 350 lbs.
It's an excellent machine for light to intense cardio workouts, interval training, stamina training, and weight loss. And finally, even though it's not exactly one of the most affordable cross-trainers, it is one of the best available in this price range.
I hope you found this article helpful and informative. Would you please speak up if you have anything you'd like to share on the topic or any opinions about my website? I look forward to your comments, questions, and the sharing of ideas.
Please note you should consult your physician to determine if you have any medical or physical conditions that could put your health and safety at risk or prevent you from using the equipment properly. In addition, your physician's advice is essential if you are taking medication that affects your heart rate, blood pressure, or cholesterol level.