The Sole Fitness E95S Elliptical Machine stands out with its power-adjustable stride. The variable stride ranges between 18″ to 24″ and lets this trainer fit the whole family and allows everyone to target different muscle groups. This fitness machine also has a high-quality drive to accommodate a wide range of body weights and skill levels.
This durable trainer has a very natural-feeling elliptical stride. Tension is controlled magnetically for smooth and quiet operation, and for targeted muscle toning, you can shorten or lengthen the path length with digital controls.
The console area comes with a large 10.1″ TFT LCD that gives you the essential workout readouts, along with ten built-in workout programs that include six standard programs, two custom programs, and two heart rate programs. The E95S allows you to monitor your heart either wirelessly with the included chest strap or using the pulse grip sensors built into the stationary handlebars.
The E95S is specifically for multiple users, with tons of customizable options that many other elliptical trainers lack. With so many flexible options and comfort features, it is effortless to get in a good workout on this model, no matter your height, size, or skill level.
Learn more in our complete review below
Product: Sole Fitness E95S Elliptical Machine w/Adjustable Stride Length and Bluetooth Capability
Price: For a great deal on this elliptical, merely go here on Sole Fitness.com
Warranty: lifetime frame / 5-years on electronics /  5-years on parts / 2-years in-home labor
My rating: 9.4/10
Affiliate Disclosure: As a participant of the Sole Fitness Affiliate Program, I earn commissions on purchases made through links in the post. Full disclosure
Details and Specifications
18-24″ Adjustable Stride Length
10 Workout Programs
Polar Chest Strap and Wireless Heart Rate
MP3 jack + speakers
Cushioned, Slip-Resistant Pedals
400 lb. user weight capacity
Bluetooth tracking
Dimensions/Weight: 84″x 70″x 32″ – 265 pounds
Eddy current brake system
10.1″ TFT LCD Console
Warranty – Lifetime frame, 5 yrs parts, and electronics, 2 yrs labor
Frame construction
The Sole E95s elliptical is built with heavy 38mm steel construction, making it very durable and similar to high-end machines you'd find in your gym. Therefore, it can support up to 400 pounds, which you don't typically see in a sub $2000 ellipticals. So this one is built to last, no matter how intense your workouts are.
The E95S is not compact at all. It's 84 inches long, 32 inches wide, and 70 inches high, which means you'll need space for it. It's also heavy, weighing in at 265 lbs (120 kg).
However, it has transport wheels, making the elliptical super easy to move around so you can find the perfect spot for it at home. This elliptical is not foldable, so you won't be able to put it away quickly by folding it up and putting it in a closet.
It's also important to note that because the pedals have a 14-inch step-up height and can elevate you up to 22 inches high, you'll need your ceiling to be a minimum of 8 feet tall, so you don't have an issue using the E95S.
Overall, the Sole E95S elliptical is a great machine. It's very sturdy and accommodates users of different body types. This means it's a perfect commercial and household exercise equipment because many users will be able to use it and love it.
It's not difficult to adjust to one's body, and it's a comfortable yet powerful elliptical that will allow you to reach your goals!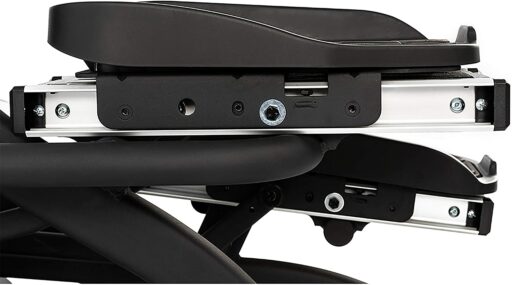 Pedals and Handlebars
The Sole E95S features multi-grip handlebars, and they're pretty significant, so you'll have an easy time finding the perfect grip position for you. This allows you to enjoy an upper body workout and a lower body workout because multi-grip handlebars will enable you to target upper muscles differently.
The handlebars also have built-in controls to help you adjust your stride and more. There are also stationary handlebars that you can use for stability when working on your lower body.
As for pedals, the Sole E95S features 15-inch oversized foot pedals with a 2-degree inward angle. The pedals were designed with a physiotherapist's guidance to naturally position your body and take the stress off of your joints.
What the inward slope does is mimic your body's natural running motion, so your hips, knees, and joints don't suffer during your workouts. The handlebars and pedals on the E95S add to the elliptical comfort and safety because you won't have any issues with aches and pains or unnecessary strain on your body.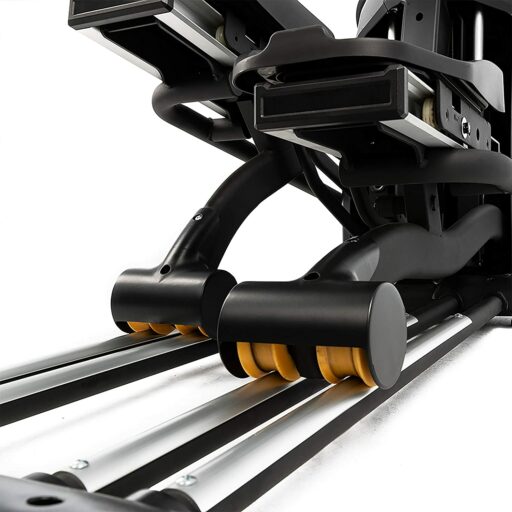 Another essential thing to note is there are pulse sensors integrated on the stationary handlebars so you can keep track of your heart rate zone if you want. The pedals are also cushioned and slip-resistant so that you can feel confident during your workouts.
Overall, the handlebars and pedals on the Sole E95S add to this exercise machine's overall comfort and effectiveness. They're one of the many features that make this elliptical worth your money!
Stride and incline
As mentioned earlier, the Sole E95S offers an ideal stride length adjustable from 18 inches to 24 inches. Because the stride is adjustable, it will fit users of different heights, which is an excellent advantage if you're not the only one working out at home.
But that's not all! Because the stride length is so adjustable, you'll be able to target different muscle groups and enjoy a more effective cross-training workout.
As far as the incline goes, the Sole E95S comes with a fixed (non-adjustable) incline system simply because it's not possible (as far as I know) to have electronically adjustable incline and adjustable stride together.
If the incline adjustment is something you fancy, you should consider the Sole E95; it has 20 incline levels that can add to the challenge.
This elliptical machine offers one of the best stride lengths on the market. Stride length refers to how far the foot pedals can move front to back while you're using them. The standard for home ellipticals is a 20-inch stride, allowing most people to find the perfect fit in the machine.
However, the E95S goes above and beyond with an up to 24-inch stride length. Thus, enabling you to work out without suffering or discomfort. Overall, the stride length is exceptional on the E95S, which is why it's such an excellent option for home gyms!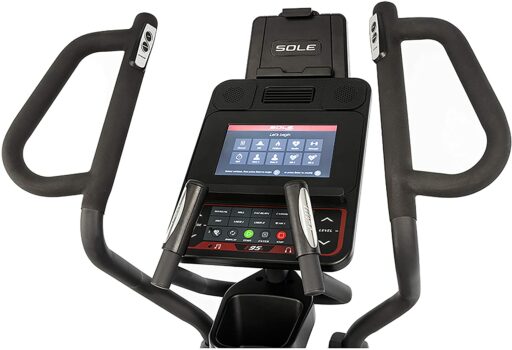 Console
The Sole E95S comes with a 10.1-inch TFT backlit LCD monitor that tracks speed, time, distance, resistance level, calories burned, and pulse.
When it comes to heart rate monitoring, you have two options: the Sole E95S, a wireless chest strap, and contact pulse sensors on the handlebars. These will allow you to keep track of your heart rate zone if you like to do something.
The console also provides ten different preset workouts to enjoy. Out of these preset workouts, 6 are standard elliptical workout programs, 2 make use of heart rate control, and two are fully customizable by the user. The ten preset workout programs will allow you to challenge yourself and redefine your limits regarding fitness.
You'll also be happy to know this elliptical is Bluetooth-enabled, and you'll be able to use the Sole Fitness App. It's also compatible with fitness apps such as MyFitnessPal, Map My Fitness, Fitbit, iHealth, and Record, as well as other open-source training apps.
You'll also be able to track your progress thanks to the Bluetooth connectivity, and you'll be able to use your favorite fitness app to do so, which is excellent!
The E95S is also packed with Bluetooth audio speakers so you can enjoy your music and other entertainment. There's also an audio plug-in, a USB charging port for your phone, one large water bottle holder, an accessories cup, and a built-in cooling fan.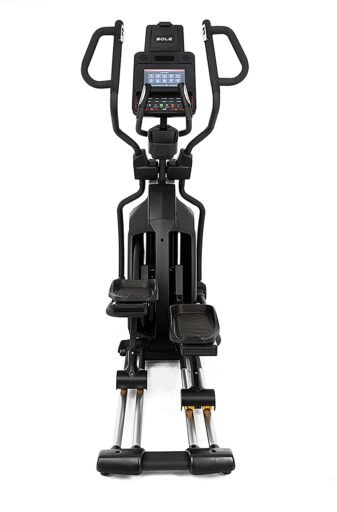 Assembly and Maintenance
When it comes to assembly, putting this elliptical together is not difficult. Sole Fitness provides a complete assembly manual. It takes a couple of hours to assemble the E95S. They provide images of the hardware you'll use for each step; they do this for all the steps before starting the process. It would be better to provide the images for each step and provide a continuous sequence for you to follow.
However, if you don't have an issue paying attention to detail, you will be able to assemble your E95S without too much trouble. It would be better if you have an extra pair of hands, though, because this is a large and heavy machine and many parts are involved.
As for tools, you'll need a couple of wrenches, a screwdriver, and an Allen wrench, which are not difficult to find if you don't already have them at hand. If you don't want to do this on your own, you can pay a professional to assemble the machine for you.
Maintenance doesn't require much. You'll need to wipe down the machine after each use and pay particular attention to the tracks that the pedals roll on. You'll want to keep them clean so that the machine runs smooth and quiet. Also, inspect for loose nuts and bolts or damaged parts and replace or retighten as necessary.
Pros
Front-drive system;
Heavy-duty flywheel:  30 lbs;
Adjustable ECB magnetic resistance;
Whisper-quiet, smooth & natural motion;
Power Adjustable Stride:  maximum stride length of 18-24;"
Pedals: oversized 15" custom foot pedals with 2 degrees inward slope;
Power Incline;
Dual-action handlebars:  static & moving;
Static handlebars:  feature pulse heart-rate grips;
Moving handlebars:  feature multi-position handgrips & Quick Keys for changing resistance;
Easy-to-use console;
10.1" TFT LCD;
Track time, speed, distance, calories, heart rate;
Ten workout programs:  6 standards, two custom, two heart-rate;
Heart-rate monitor:  pulse grip & chest-strap compatible (HR chest strap included);
Bluetooth Technology: transfer data from elliptical machine to your smart device;
Free Sole app to download & track data;
Ability to transfer data to other fitness apps:  Fitbit, Record, Mapmyrun, or Apple Health;
Sound system:  built-in speakers with MP3/iPod compatibility;
Built-in cooling fan;
Built-in water bottle holder;
Frame:  heavy-thick steel;
User weight capacity:  up to 400 lbs.
Cons
It does not have an incline.
Sole Fitness E95s Elliptical Machine Summary
The E95s continues Sole's tradition of providing well-built, well-designed ellipticals at an affordable price. Although at the higher end of Sole's offerings at just over $2000, you get a high-quality machine with an impressive adjustable stride, wireless heart rate monitoring, and a beautiful array of built-in workouts.
Now that they added Bluetooth capability to this machine as they did on all of the others, it's even better than before as you can sync your workouts with the Sole app or a few other favorite fitness apps, which helps you keep track of your progress. The Sole E95s is an impressive and welcome addition to the lineup. It's a solid elliptical that will last for a long time.
I hope you found this article helpful and informative. If you have anything you'd like to share or opinions about the content on my website, please speak up. I look forward to your comments, questions, and the sharing of ideas.