The Sunny ASUNA 8730 Treadmill (or 8730G) from Sunny Health and Fitness is a slim, modern treadmill that offers functionality and portability with a compact, foldable, and space-saving design. The 8730G model is gold-colored, and the 8730 model is silver. The total user weight capacity is 220 pounds (100 kg) on its durable and robust frame.
With the powerful 2.5 horsepower motor, you can walk, jog or run at up to 8 mph speed on its low-impact running deck with shock absorption that won't hurt your joints or knees. In addition, it will be safer and much more comfortable than running on hard surfaces like concrete.
The Sunny ASUNA 8730 features a thoughtful, modern LED-backlit touch capacitive display console with four windows and quick select touch buttons with the standard indicators of current speed, calories burned, total distance, and time exercised. In addition, you can view your exercise progress in real-time.
The gold or silver Sunny Asuna 8730 Treadmill measures 40 H x 30.5 W x 59 L inches as assembled and 4.5 H x 30.5 W x 64 L inches as folded. And the running deck measures 49 L x 17.75 W inches. In addition, two sets of multifunctional transportation wheels on the Asuna Treadmill let you move it right, left, forward, or backward after folding flat.
Learn more in my complete review below!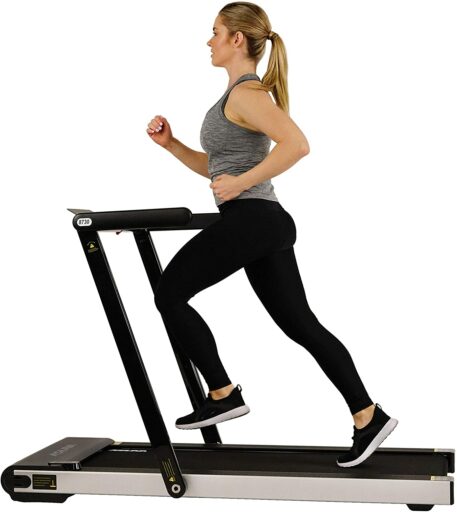 Product: Sunny ASUNA 8730 Treadmill
Price: For a great deal on this treadmill, merely go here to Sunny Health & Fitness.com
Warranty: Frame 5 years / Parts 180 days
My rating: 8.5/10
Affiliate Disclosure: As a Sunny Health & Fitness Affiliate Program participant, I earn commissions on purchases made through links in the post. Full disclosure
Details and Specifications
Assembled dimensions: 59″L x 30.5″W x 40″H (150L x 77W x 101H cm)
Tread belt dimensions: 49″L x 17.75″W inches (125L x 45W cm)
Assembled weight: 108 lbs (49 kg)
Weight capacity: 220 lbs (100 kg)
Motor: 2.5 HP (peak), 0.6 – 8.0 MPH speed range
Incline: No
Console: Time, distance, step count, speed, calories burned
Amenities: Sound system, tablet holder
Warranty: Frame 5 years / Parts 180 days
8730 Frame
The Sunny ASUNA 8730 treadmill features a steel frame. Its deck is sturdy enough to support users up to 220 lbs (100 kg). All the steel parts in its construction have a black paint finish resistant to rust and abrasion.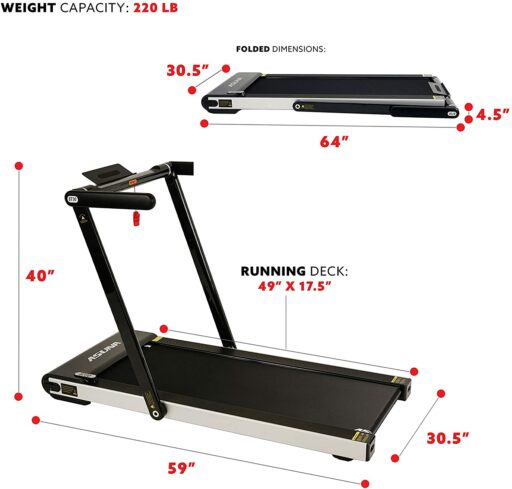 The deck's side covers are aluminum-made; they don't have a paint finish featuring their natural light gray color. The top sections of the side rail covers come rubberized to provide extra foot adherence when you rest on them. The protection of the motor is also ABS plastic.
Although it has a very slim construction, the unit is not exactly light; it weighs approximately 108 lbs (49 kg), which means two persons should transport it. However, once the unit is unboxed and set up, it can be relocated quickly using the small wheels integrated into its front base.
This Sunny Health & Fitness treadmill features a folding design. As a result, its side support bars can fold alongside the deck while the console folds above it. With the sidebars and the console in a folded position, the unit's height is approx—4.5″ (11.4 cm).
Therefore, you can even store it under your bed if there is a clearance of at least 5″. The machine can also be stored upright, leaning against a wall.
The complete setup isn't massive. It is approx—59″ (150 cm) long and 30.5″ (77 cm) wide. Also, with the sidebars unfolded, its height reaches approx. 40″ (101 cm) above floor level. It is advisable to leave at least two clearance feet on each side of the unit and at least three clearance feet at the deck's rear.
Deck
The Sunny ASUNA 8730 treadmill deck provides a running surface of 49″L x 17.75″W (125 x 45 cm). Therefore, it should be enough for users up to 6'5 ″ (196 cm), considering it's a treadmill for walking or light jogging.
In addition, the deck integrates several sets of shock absorption elements. Therefore, a walk or jog on this machine reduces your joints' stress.
Unfortunately, the ASUNA 8730 treadmill does not have an incline system. Therefore, placing anything under the deck's front side is not advisable to give it inclination. The deck should always be on a flat, hard surface when the machine is in use.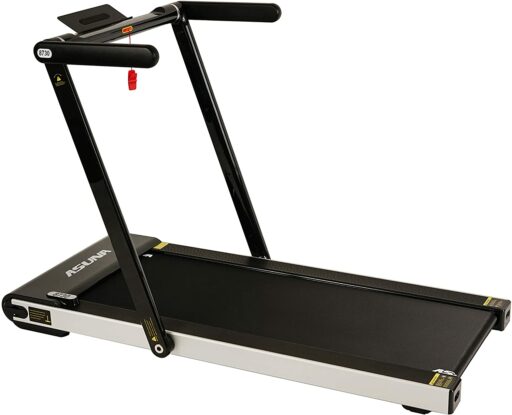 8730 Drive motor
The Sunny ASUNA 8730 treadmill comes equipped with a 2.5 HP (1.25 CHP) drive motor, which is more than enough for walking or jogging workouts.
It is powerful enough to support up to 220 lbs (100 kg) users for prolonged exercise without overheating or losing performance. Its front section integrates a small flywheel, stabilizing the belt's motion and reducing vibration.
The speed offered by this motor ranges between 0.6 MPH and 8.0 MPH. Also, the console provides buttons for gradual and quick speed adjustment. In addition, the incremental speed adjustment controls (+, -) allow you to adjust the speed in increments of 0.1 MPH.
These have a double function; a short press adjusts the rate by 0.1 MPH, but you can also press and hold them for a steady and continuous speed increase or decrease. Finally, the quick selection controls allow you to directly change the machine's speed to either 2.0 MPH or 4.0 MPH.
In terms of generated noise, the motor isn't too loud. For example, your cadence barely makes a sound during a walking workout. However, if running at 8.0 MPH, you will hear your rhythm, and the unit will become louder, but it's not loud enough to cover your TV's sound in a moderate volume setting.
Also, since the motor isn't precisely a mighty one, you won't have to worry about high electricity bills even if you use the machine daily.
Console
The Sunny ASUNA 8730 treadmill has a minimalistic console featuring four LED displays. The four screens indicate distance, time/step count, calories burned, and speed from left to right: the time and step count readings on the 2nd display, alternatively, each one for 5 seconds.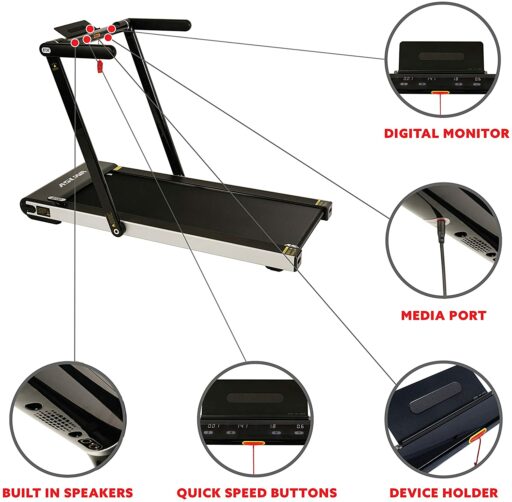 The distance displays in miles, while speed is in miles per hour. Unfortunately, the console does not have a pulse reading function, so you must use a separate device to watch your heart rate during your workout.
The console does not have any preset programs or goal settings. However, it is straightforward to use. It has a Start/Pause button, which allows you to begin and pause your workout without clearing the displays' values. The Stop button turns off the machine.
The +/- buttons allow you to gradually adjust the speed, while the "2" and "4" buttons allow you to select a belt speed of 2 MPH quickly and, respectively, 4 MPH.
The sound system and the tablet holder are two other notable features of the ASUNA 8730 console. The sound system consists of two speakers and a 3.5 mm AUX port. Therefore, you can connect your smartphone, tablet, or MP3 player via the included cable to the treadmill's console to listen to music through the incorporated speakers.
If you're wondering, the console does not have Bluetooth capabilities. Lastly, the tablet holder is foldable; it is large enough to accommodate any tablet and features a non-slip element in the middle, which provides extra adherence for your tablet.
8730 Assembly and Maintenance
The Sunny ASUNA 8730 treadmill comes already assembled. Therefore, you must unbox it, unfold its sidebars, lock them upright, and plug it in. The manual provides clear instructions for all these steps, and a tool for locking/unlocking the two bars comes with the machine.
The unit's deck is pre-lubricated, so you won't have to lubricate it before the first use. After that, however, periodic lubrication is required, and a bottle of silicone oil comes with the machine. Besides this, keeping the tread belt clean is advisable to prevent any objects, dirt, or textile fibers from being caught in the rollers or motor.
Pros
Sleek, low profile design – 4.5″ – can store under a bed;
Comes fully assembled;
Folding side arms and console;
Durable deck – can support users up to 220 lbs (100 kg);
Two sets of transport wheels on the front base;
Shock absorption elements integrated into the deck;
Speed range between 0.6 – 8.0 MPH;
Speed increments of 0.1 MPH give you the possibility to find the perfect pace for your workout;
2.5 HP motor;
Easy-to-use LED-based console which tracks time, distance, step count, calories, and speed;
Quick speed selection controls for 2 MPH and 4 MPH;
The sound system included;
Tablet holder included;
AUX cable for the sound system;
Little maintenance is required;
Excellent warranty.
Cons
The console does not have a pulse reading function;
The console has no programs or goal settings.
Sunny ASUNA 8730 Treadmill Summary
The Sunny Health & Fitness ASUNA 8730 is a walking treadmill with a slim design and high portability. It comes with a 2.5 HP motor and offers up to 8.0 MPH speed settings. In addition, the console is LED-based and tracks time, pace, distance, calories, and speed. Accordingly, it's an excellent treadmill for light to medium-intensity cardio workouts, muscle toning, speed-walking, building stamina, and losing weight.
I hope you found this article helpful and informative. Would you please speak up if you have anything you'd like to share on the topic or any opinions about my website? I look forward to your comments, questions, and the sharing of ideas.
Please remember that you should consult your physician to determine if you have any medical or physical conditions that could risk your health and safety or prevent you from using the equipment properly. In addition, your physician's advice is essential if you are taking medication that affects your heart rate, blood pressure, or cholesterol level.