The JOROTO XM15 Indoor Cycling Bike is a professional indoor cycling bike with Magnetic Resistance and Belt Drive for home cardio or gym workout. With a solid build and widened thickened frame, this indoor bike supports a maximum user weight of 280 lbs.
The magnetic resistance provides an exceptionally smooth and quiet riding experience and is changeable by turning the knob, gradually increasing or decreasing the resistance. In addition, it comes equipped with bi-directional pedals and a flywheel; the JOROTO XM15 exercise bike suits both beginners, seniors, and professional athletes.
The XM15 features an LCD for tracking your fitness. All the critical information displays, including time, speed, RPM, distance, and calories burned. Unfortunately, it doesn't have preset programs; it cannot adjust the bike's resistance and online connectivity. It's also battery-powered.
You can adjust the JOROTO XM15 seat vertically and horizontally by turning the appropriate knobs and sliding the poles into position. In addition, the handlebars provide an even greater range of grip options, including an overhead grip, extended grip, and time trailing grip.
Learn more in my complete review below!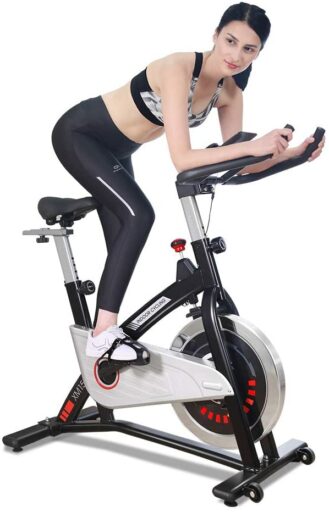 Product: JOROTO XM15 Indoor Cycling Bike
Price: For a great deal on this bike, merely go here on Amazon
Warranty: 1 year limited
My rating: 8.25/10
Affiliate Disclosure: As an Amazon Affiliate Program participant, I earn commissions on purchases made through links in this post. Full disclosure
Details and Specifications
Assembled dimensions: 41.3L x 20.8W x 47.2H inches (105L x 53W x 120H cm)
Assembled weight: 79 lbs (35.8 kg)
Flywheel weight: 30 lbs (13.6 kg)
Supported weight: 280 lbs (127 kg)
Seat: 4-way adjustable
Drive mechanism: Belt
Resistance: Magnetic
Fitness console: Time, speed, RPM, distance, calories, scan
Warranty: 1 year limited
XM15 Frame construction
The JOROTO XM15 indoor cycle features a durable frame made of steel tubing. It has a triangular design for improved sturdiness. All bars in its construction are oval, and the central tube curves for superior aesthetics.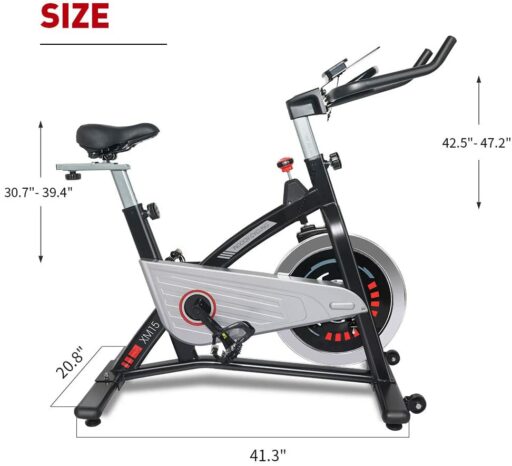 All the steel parts in the bike's construction come coated with a corrosion-resistant paint finish. The colors used are black for the mainframe and gray for the seat and handlebar posts. The flywheel has a chrome finish and has ABS side panels. Also, the only other major ABS component is the belt cover.
The fully assembled bike isn't as heavy as a commercial-grade model. However, it weighs approximately 79 lbs (35.8 kg), roughly the most on-road bikes' weight. All this weight reflects the bike's overall stability. Plus, both its base bars come equipped with adjustable levelers, so you can correctly stabilize your bike on any floor.
Similar to other spin bikes, the JOROTO XM15 doesn't have a large footprint. It takes approx. 41.3″ (105 cm) x 20.8 (53 cm) of floor space.
It is advisable, though, to assign a usage area for it of at least 70″L x 50″W (177 x 127 cm) for safe usage and ease of access. Also, the bike's maximum height is approx—47″ (120 cm) when the handlebar is all the way extended.
The bike doesn't have a folding design. However, its front base comes equipped with transport wheels, so you can quickly relocate the fully assembled unit once you have finished your workout.
Seat and handlebars
The JOROTO XM15 includes a cushioned ergonomic saddle. Its top integrates a generous layer of cushioning; it's also contoured, with a central groove for extra breathability. Plus, its rear section features two suspension springs. These allow the seat to adapt its shape to the movement of the user during workouts.
The bike's saddle is a bit larger than the average race seat. It is 10.6″ (27 cm) long and 8.3″ (21 cm) wide. Therefore, it provides an optimal contact surface and reduces workout-related pain or discomfort even during prolonged workout sessions.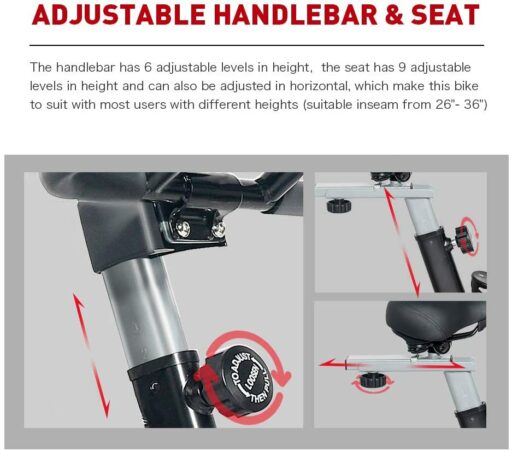 It's also important to mention here that the saddle has a standard (collar-based) attachment system. This means there are many compatible types of seats for this bike. So, if you ever need or want to replace it, you should be able to find one that fits in almost any bike shop.
The bike's seat is four-way adjustable (up, down, forward, backward). Its upright post provides an adjustment span between 26″ and 36″ (66 – 91 cm), while its horizontal slider allows several extra inches of front to back adjustment.
Therefore, the bike should accommodate users up to 6'3 ″ (190 cm) with no problem. It can also support users up to 280 lbs (127 kg).
The bike's handlebar is only two-way adjustable (up, down). It offers an adjustment span between 42.5″ and 47.2″ (108 – 120 cm). It attaches to its upright post via two screws, and its angle is not adjustable either.
The handlebar has a pretty standard design. However, it offers multiple grip possibilities, including a hook grip, a close grip, and an overhand front grip. It also has a loop bar in the center, which offers a close parallel grip.
The bike doesn't have a pulse reading function. The handlebar does not integrate pulse sensors, and the included fitness console cannot read pulse.
XM15 Drive and resistance
The JOROTO XM15 comes equipped with a 30 lbs (13.6 kg) flywheel. In addition, it has a perimeter-weighted structure for improved inertia, which is excellent for spin workouts.
It is also bi-directional. Therefore, you can pedal in reverse. But as opposed to many road bikes, it doesn't allow coasting. So, when pedaling backward, you will get the same pedal resistance as when pedaling forward.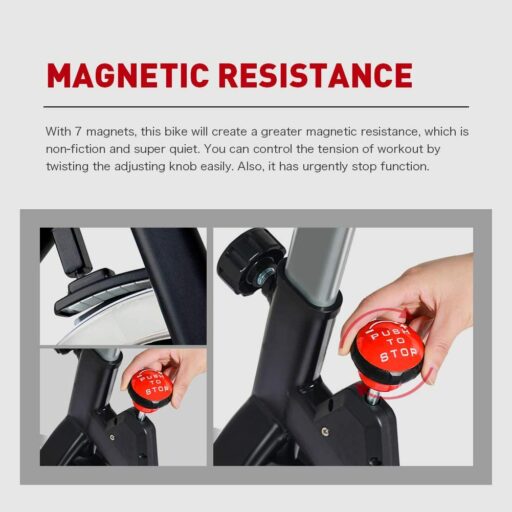 The bike integrates a belt drive system. This means the pedaling motion is tranquil and generates considerably less vibration than a chain drive. Plus, the belt doesn't require periodic lubrication.
Since it's a bike designed for spin workouts, the JOROTO XM15 features a heavy-duty crankset. In addition, it has thick steel crank arms and aluminum alloy pedals to support any user up to 280 lbs (127 kg) in a standing-up position.
The pedals don't have SPD elements for spin shoes but do have adjustable toe cages if you need a bit of extra thrust or extra foot stability.
The pedal Q-Factor (spacing between the pedals) is pretty narrow; it measures approx 7.3″ (185 mm), similar to most road bikes. Therefore, the positioning of your feet on the pedals is natural. Thus, eliminating any lateral stress on your knees and ankles.
The JOROTO XM15 comes equipped with a magnetic resistance system with manual action. This means the bike doesn't require an external power source or a power adapter. But on the other hand, the bike computer does not have preset programs and cannot adjust the pedal resistance.
The bike's resistance system consists of a 7-magnet brake, which is attached to the resistance knob. Therefore, when you turn the knob clockwise, the brake moves closer to the flywheel, increasing the magnets' pull and implicitly the pedaling difficulty.
As opposed to other magnetic resistance bikes, the XM15 does not have pre-determined tension settings. Instead, you turn the knob until the magnets provide the tension you desire. Also, the tension knob has an emergency brake function. You can press it down to instantly stop the flywheel from spinning.
Console
As I've mentioned earlier, the JOROTO XM15 comes equipped with a fitness console. Unfortunately, it doesn't have preset programs; it cannot adjust the bike's resistance and online connectivity. It's also battery-powered.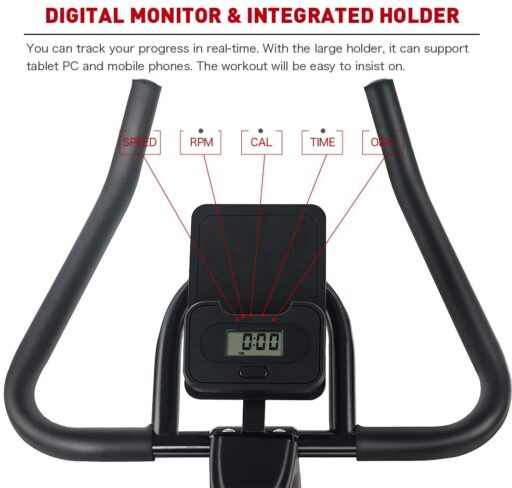 The fitness console features an LCD that tracks time, total distance, speed, RPM, and calories burned. It's relatively easy to use; it features only one button. By pressing the button repeatedly, you can select one of the metrics mentioned above to view the display.
Or, you can choose its Scan Mode, which enables it to rotate all the metrics, showing each one for a few seconds. Also, the button covers the reset function. So you can press and hold it for a few seconds to clear all the data to zero.
The fitness console starts up when it detects flywheel movement or when you press the button. However, it also has a sleep mode function; after several minutes of inactivity on the bike, it will automatically turn off to save battery life.
One last notable feature to mention here is the tablet holder. The fitness console integrates a small shelf with a large pad at the top to support almost any tablet or smartphone. Unfortunately, it does not have a USB port or an AUX port to connect the tablet to the bike.
XM15 Assembly and Maintenance
The bike's main body comes pre-assembled. The flywheel, the belt, the crankset, and the brake system are already attached to the frame as well. So you only need to connect the two base bars, the seat post, the seat slider, the saddle, the handlebar post, the handlebar, the console, and the pedals.
This shouldn't take more than an hour of your time. The task is pretty straightforward, and all the necessary tools and hardware are (included) with the bike.
Since the bike is belt-driven, its transmission does not require lubrication. Therefore, a periodic check for loose bolts and parts is the only maintenance you will need to carry out once fully assembled.
Pros
Sturdy steel frame – can support users up to 280 lbs;
Adjustable stabilizers on both bases;
Transport wheels on the front base bar;
4-way adjustable seat;
High-comfort cushioned saddle;
Multi-grip handlebar;
Smooth and silent belt drive;
Bi-directional, 30-lbs flywheel for a consistent momentum;
Durable metallic pedals with adjustable toe cages and standard 9/16″ threads;
Zero friction magnetic resistance;
Fitness console included – it can track time, distance, speed, RPM, and calories burned;
Tablet holder included;
Easy to assemble;
Little maintenance is required.
Cons
The fitness console doesn't have a pulse reading function;
No backlight on the LCD;
No bottle holder.
JOROTO XM15 Summary
The JOROTO XM15 is an indoor cycling bike made for home use, and it offers a weight capacity of 280 lbs and can support most spin workouts. In addition, it comes equipped with a magnetic resistance system, a belt drive system, a four-way adjustable seat, and a fitness console. As a result, it's an excellent stationary bike for medium to high-intensity workouts, muscle toning, stamina development, and weight loss.
I hope you found this article helpful and informative. Would you please speak up if you have anything you'd like to share or any opinions about my website? I look forward to your comments, questions, and the sharing of ideas.