The ECHANFIT CBK 1901 Indoor Cycling Bike's anti-corrosive coated steel frame is strong enough to hold up 297 pounds (124.7 kg) maximum user weight capacity. Moreover, its overall construction puts it in one of the best top-selling entry-level indoor bike categories.
The CBK 1901 has a belt drive system. This drive system comprises a heavy-duty belt, pulleys, solid crankset and crank-arms, the flywheel, and the pedals. Together, these elements provide a smooth and near-silent operation.
Indoor cycling bikes usually come with either a friction resistance system or a magnetic resistance. Most entry-level bikes, such as the ECHANFIT CBK 1901 Indoor Cycling Bike, come equipped with a friction resistance system. However, this bike comes equipped with a manual magnetic resistance system, which puts it in a favorable position among its contemporaries.
The ECHANFIT CBK 1901 is an entry-level bike, so, understandably, it has a simple console. It features a non-backlit LCD monitor and a single navigation button.  The monitor keeps track of time, speed, distance, calories, and heart rate.
Learn more in my complete review below!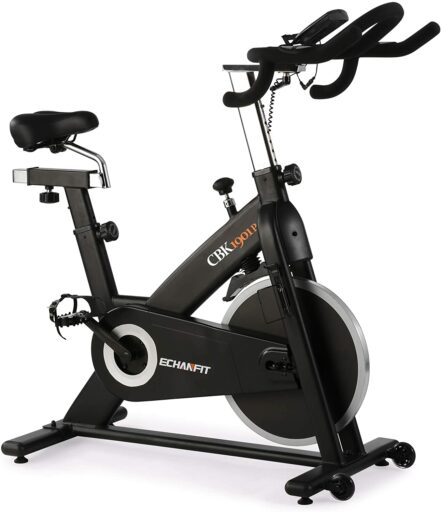 Product: ECHANFIT CBK 1901 Indoor Cycling Bike
Price: For a great deal on this bike, merely go here on Amazon
Warranty: 2 years
My rating: 8.75/10
Affiliate Disclosure: As an Amazon Affiliate Program participant, I earn commissions on purchases made through links in this post. Full disclosure
Details and Specifications
Assembled dimensions: 47.8L x 21.6W x 50.8H inches (121L x 54W x 129H cm)
Shipping weight: 91.5 lbs (41.5 kg)
Flywheel weight: 30 lbs (13.6 kg)
Weight capacity: 297 lbs (135 kg)
Seat: 4-way adjustable
Drive: Belt
Resistance: Magnetic
Fitness console: Time, distance, speed, calories, pulse, scan
Extras: Bottle holder, tablet holder
Warranty: 2 years limited
CBK 1901 Frame construction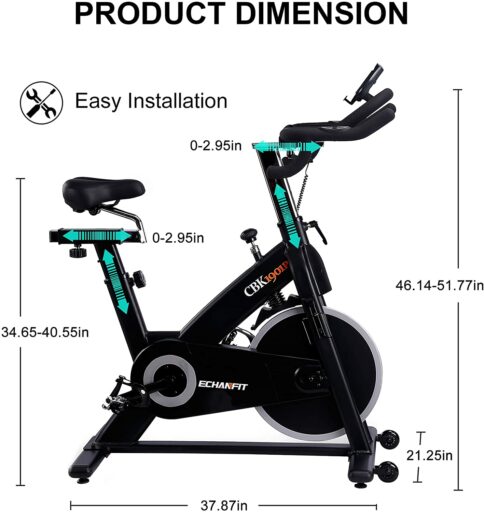 The ECHANFIT CBK 1901 features a heavy-duty triangular frame made of durable steel tubing. The bars in its structure are oval, while the main oblique tube is considerably thicker and slightly curved for improved aesthetics and sturdiness. The only notable non-steel part in the bike's construction is the belt cover, durable ABS material.
Most of the bike comes coated with a corrosion-resistant and chip-resistant paint finish. The only exceptions are the handlebar upright post and the seat horizontal slider. These have a chrome plating finish.
The fully assembled bike is slightly larger than other models, but it's not a very large fitness machine. It is approx 47.8″ (121 cm) long and 21.6″ (54 cm) wide. Therefore, it shouldn't need a usage area larger than 90″L x 70″ (228 x 177 cm). Its maximum height, with the handlebar fully extended, is approx — 50.8″ (129 cm).
The bike is also fairly heavy. It weighs more than 90 lbs (41 kg), so the boxed unit's transport may require two people. However, it can be easily transported by only one person once assembled as its front base features two large wheels. All this weight reflects in its overall stability. Plus, both its base bars come equipped with adjustable levelers.
The ECHANFIT bike features a step-up bar element (the small horizontal bar that unites the seat tube and the frame's main tube). This element allows for easy entry and exit and serves as a stretching point, improving the frame's overall sturdiness. Not all spin bikes have this feature, so it is quite a plus as you can perform specific spin workouts that require you to mount and dismount to engage more muscle groups repeatedly.
Seat and handlebars
The saddle included with the ECHANFIT CBK 1901 indoor cycling bike is a pretty standard model. It features a PU top that is slightly larger than the average spin seat. Its surface is contoured, with a central groove to provide extra breathability.
It's important to mention that the seat connection system to its slider is standard, collar-based. This means it is replaceable if needed, and compatible options are widely available; you can find one in any bike shop.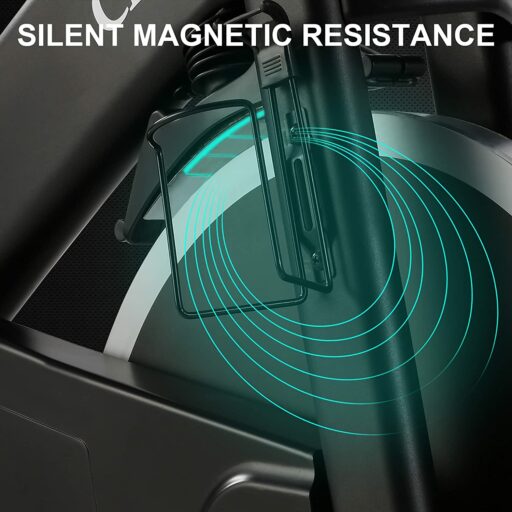 The seat is four-way adjustable (up, down, forward, backward). In addition, its upright post offers nine adjustment positions, while its horizontal slider adds several front-to-back inches of adjustment. Therefore, the bike can accommodate users between 5'1″ and 6'8″ (155 – 203 cm). It is also sturdy enough to support users up to 297 lbs (135 kg).
The ECHANFIT CBK 1901 indoor cycling bike comes equipped with a handlebar with a multi-grip design featuring two side drop-down grips and two aero bars in the middle.
A layer of rubber foam material covers the whole handlebar assembly to provide a secure grip. The main side grips integrate stainless steel EKG pulse sensors, and the included fitness console can monitor your heart rate.
Unlike the seat, the bike's handlebar is only two-way adjustable (up, down). It has seven adjustment positions. The adjustment increments are approx — 1″ (2.5 cm). The adjustment for both the seat and the handlebar is easy and takes less than a minute.
CBK 1901 Drive system
The ECHANFIT CBK 1901 indoor cycling bike comes equipped with a manual magnetic resistance system. Therefore, the bike doesn't require an external power source. But on the other hand, the included console does not offer automatic resistance adjustment and preset programs.
The bike's resistance system consists of a magnetic brake pad connected to the tension knob on the frame's top tube. By turning the knob clockwise, the magnetic brake moves closer to the flywheel. This increases the magnets' pull and adds difficulty to the pedaling motion.
Unlike many other exercise bikes with a manual magnetic resistance system, the CBK1901 cycle does not have pre-determined tension levels on the adjustment knob. Instead, you turn it until you get the desired pedaling motion.
As a general idea, if you turn the knob to its maximum, the bike provides quite a tremendous pedaling difficulty, simulating a steep climb.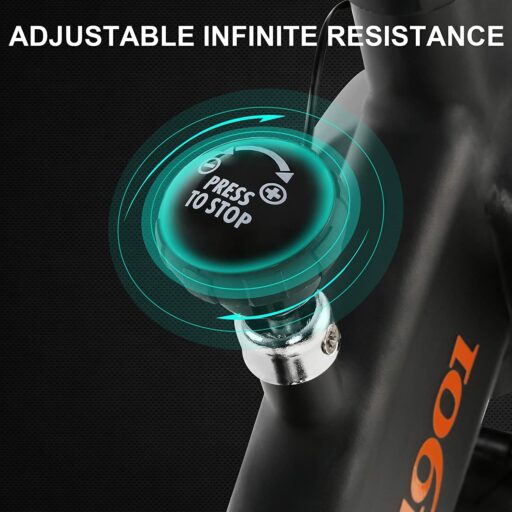 The tension knob also acts as an emergency brake. It has an internal spring, and when pressed down, you can instantly stop the flywheel.
Resistance system
Although the bike features a magnetic resistance system, it also has a reasonably heavy flywheel. It weighs 30 lbs (13.6 kg) and has a perimeter-weighted design for enhanced inertia.
The bike's flywheel is bi-directional. In other words, it allows reverse pedaling. However, since the bike's drive system is simple, you cannot coast on it. Also, when pedaling in reverse, you will get the same pedaling difficulty as when pedaling forward.
The bike's drive system is belt-based. The cycle uses a heavy-duty poly-v (spec 5PK52). Therefore, you don't have to worry about lubricating the bike's transmission; belts don't need lubrication. It also delivers a very smooth and quiet pedaling motion.
This ECHANFIT CBK 1901 indoor cycling bike will support any spin workout. Thus, its crankset supports the whole weight of the user. Therefore, as long as you don't exceed the specified 297 lbs (135 kg) weight limit, you can stand up while pedaling with no problem.
The pedals are aluminum alloy, and they're pretty durable as well. They come equipped with toe cages and adjustable straps. They don't have SPD elements for spin shoes. Their threads are standard 9/16, so replacements are widely available if you want to replace them with SPD pedals.
CBK 1901 Console
The ECHANFIT CBK 1901 indoor cycling bike includes a simple fitness console. The unit features an LCD that tracks time, distance, speed, calories burned, and pulse.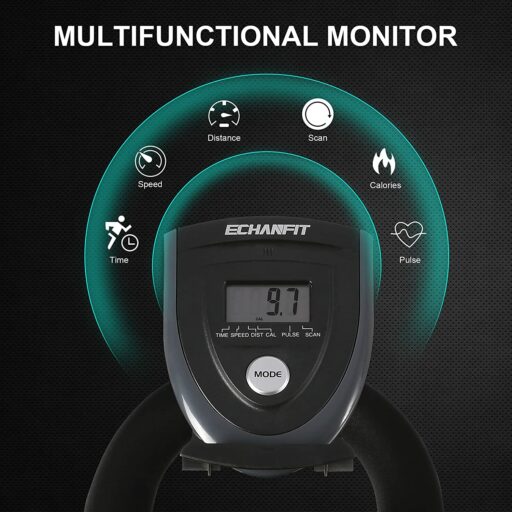 It can only read your pulse through the sensors integrated into the handlebars regarding its pulse reading function. It is not telemetric and cannot communicate with wireless HR transmitters.
The console is straightforward to use. It only has one button. By pressing this button repeatedly, you can scroll through the workout metrics and select the one you want to view.
The unit also has a Scan Mode, which you can also choose by repeatedly pressing the button. When the Scan function is selected, the unit automatically rotates all the metrics, showing each one for a few seconds.
Another function of the unit's button is "reset." By pressing and holding it for a few seconds, you can clear all its values to zero.
The console is battery-powered, and the batteries for it are (included) with the bike. It starts up when you press the button or when you begin pedaling. It also has a sleep mode; if it doesn't detect any activity on the bike for a few minutes, it automatically shuts off to save battery life.
CBK 1901 Assembly and Maintenance
The bike's main body with the flywheel, the resistance system, the crank, and the belt come pre-assembled. Then, you only have to attach the base bars, the seat post, the seat, the handlebar post, the handlebar, the fitness console, and the pedals.
This may take up to an hour of your time, but the task is far from complicated. The included manual provides all the necessary assembly instructions. Also, all the tools needed for the bike's assembly come with the cycle.
For maintenance, you only have to keep the bike clean and periodically check for loose parts. Also, since it has a belt drive system, you don't have to lubricate it.
Pros
Sturdy construction – can support users up to 297 lbs;
Aesthetic design;
Adjustable stabilizers on both bases;
Transport wheels on the front base;
Stepping bar above the crankset;
4-way adjustable seat;
Multi-grip handlebar with drop-down grips and aero grips;
Silent belt drive;
Bi-directional, perimeter-weighted flywheel;
Frictionless magnetic resistance;
The fitness console included – it can track time, distance, speed, pulse, and calories burned;
Tablet holder included;
The bottle holder comes included;
Easy to assemble;
Little maintenance is required.
Cons
No backlight on the LCD;
The pulse reading function is not too accurate.
ECHANFIT CBK 1901 Indoor Cycling Bike Summary
The ECHANFIT CBK 1901 is an indoor cycling bike designed for home use. It comes equipped with a manual magnetic resistance system, a 30-lb flywheel, and a multi-grip handlebar with drop-down and aero grips; and it has heavy-duty construction and can support any spin workout.
It also includes a fitness console with goal settings for time, distance, and calories burned. It's an excellent trainer for medium and high-intensity cardio workouts, muscle toning, stamina development, interval training, and weight loss.
I hope you found this article helpful and informative. Would you please speak up if you have anything you'd like to share or any opinions about my website? I look forward to your comments, questions, and the sharing of ideas.