Sunny SF-T4400 Folding Treadmill from Sunny Health and Fitness is a simple, budget-friendly treadmill ideal for someone looking for a walking or jogging treadmill. While this entry-level treadmill is simple to use, it uses various fitness features that aren't always available on budget treadmills in this price range.
The SF-T4400 comes with three incline options, which go from 0% to 2% and 4.37% so that you can add resistance to your workout sessions and make them even more helpful. But it lacks the functionality to shift through its various inclination modes dynamically. So, you need to get off the treadmill, set its incline level manually, then you can resume your workout with incline.
The large and easy-to-read LCD screen displays your workout information regarding speed, distance covered, the time elapsed, calories burned, and heart rate. With the backlit screen, you can stay on track with your workout, though if you use the media shelf on the console, the display is covered up.
The SF-T4400 treadmill offers nine preset workout programs in addition to the manual mode. In this area, the SF-T4400 excels from its competitors. These programs are straightforward to understand and use for the convenience of the user.
Learn more in my complete review below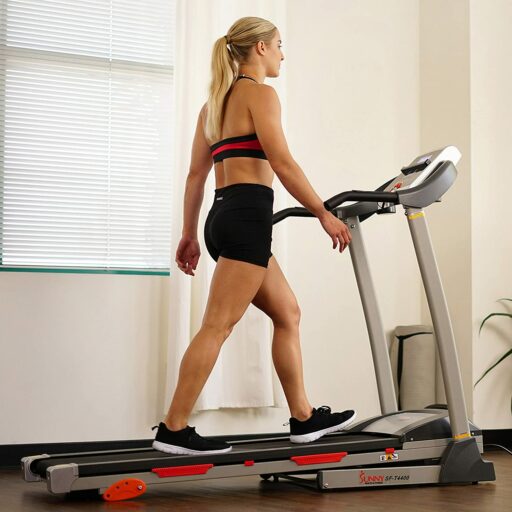 Product: Sunny SF-T4400 Folding Treadmill
Price: For a great deal on this treadmill, merely go here on Amazon
Warranty: Frame 1 year / Parts 90 days
My rating: 8/10
Amazon Affiliate Disclosure: I may earn commissions on purchases made through links in this post.
Details and Specifications
Assembled dimensions: 62.2L x 26.8W x 47.3H inches (158L x 68W x 120H cm)
Tread belt dimensions: 48.82L x 15.75W inches (124L x 40W  cm)
Product weight: 103 lbs (46.7 kg)
Supported weight: 220 lbs (100 kg)
Motor: 2.20 HP
Incline: Manual, 3 levels, 0%, 2%, 4. 37%
Speed levels: 10 (0.5-10 MPH).
Training programs: 9 preset, one manual mode
Pulse sensors: Built-in handlebars
Performance monitor: Yes
Warranty: Frame 1 year / Parts 90 days
SF-T4400 Frame construction
This treadmill features a steel frame, powder-coated with anti-corrosive paint. There are, however, several hard plastic parts on it, such as the joints of the primary arms of the machine, the casing of the motor, the treadmill's dashboard, and the incline feet.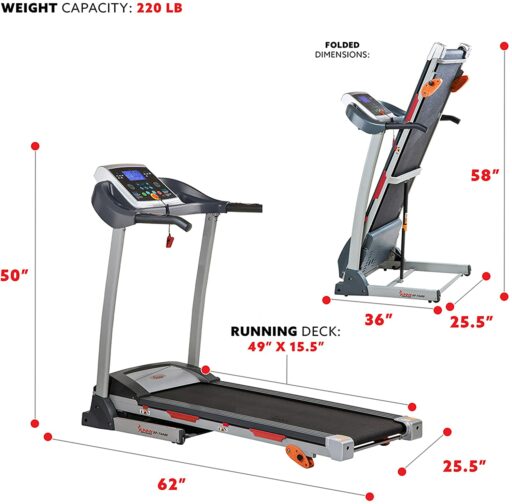 The frame is foldable, with a soft-drop hydraulic folding system. The deck lifts to the point where it almost touches the dashboard to occupy less space, length-wise.
Compared to other treadmills in this price range, this particular model features a slightly smaller footprint. It takes about 27″ W x 62″ L, which makes it an ideal choice for apartment use or for someone who doesn't have too much space available.
The bases of the frame come with leveling rubber feet to supply maximum stability. Also, the rear base of the structure (not of the deck) is equipped with transport wheels to ease the folded machine's moving.
Deck and running surface
The deck of this treadmill is a little bit slimmer. Nonetheless, it has a sturdy build, supporting users up to 220 lbs (100 kg), walking and jogging, and running sessions.
The deck does have a basic cushioning system, which will absorb at least 10% of the impact on your knees and ankles. Therefore, running on this treadmill is better for your health than running on asphalt or concrete.
The running surface supplied by this treadmill is not the longest available. But at 48.82″L x 15.75″ W, it should accommodate users up to 6' (182 cm) tall without any problem. Of course, taller users should also use this treadmill, but they might find the running surface a little small for their maximum stride.
The tread belt supplied with this treadmill is a heavy-duty, double-layered one designed to resist stretching. It also has an anti-slip finish, made to ensure maximum adherence when walking or running.
Although this Sunny treadmill does not supply an automatic incline system that is adjustable from the console during your workout, it does have a manual one. This adds quite a bit to the diversity of workout possibilities that you can obtain.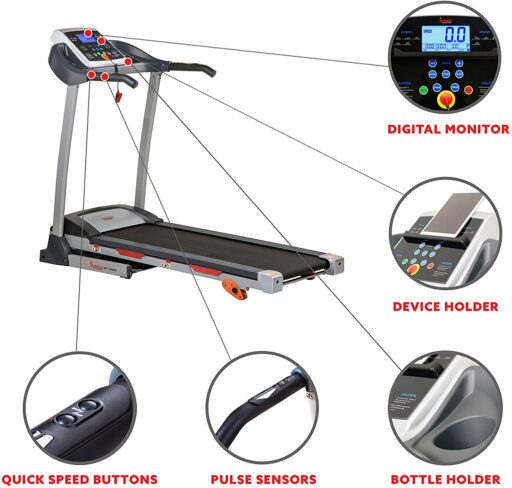 The treadmill's incline system consists of two folding feet attached at the rear part of the deck. Each foot features three adjustment holes, providing three manual options for adjusting incline levels (0%, 2%, 4. 37%).
To adjust the deck's slope, you must remove the pins in each foot, change the angle to the desired setting, and then reinsert the pin into the opposite hole to maintain that particular incline level.
SF-T4400 Motor
The Sunny SF-T4400 treadmill is a motorized type. The motor isn't exactly the most powerful one, but it does offer 2.20 HP. It's a motor made to resist prolonged workouts without overheating. It supplies speeds between 0.5 MPH and 10 MPH, which is just about enough for regular exercise.
Since it's a 2.20 HP motor, its power consumption shouldn't exceed 1.5 KWHrs. Therefore, if you're wondering, even if you're going to use it daily for at least one hour, the addition to your energy bill will still be negligible.
The machine comes with a power cord, not an adapter. It requires a connection to a standard 110v power circuit. Also, the motor does have an ON / OFF power switch.
Console
When it comes to the console of this treadmill, it's not exactly the most advanced one, but it does offer several functions more than a basic one. For starters, it can indicate speed, time, calories burned, distance, and heart rate.
The console features speed adjustment digits (+,-), each speed level adding 0.5 MPH to the current speed, up to 10 MPH.
It also offers nine preloaded workout programs, which automatically change the speed of the belt, alternating between different speed levels. There are direct digits for some of the programs on the console.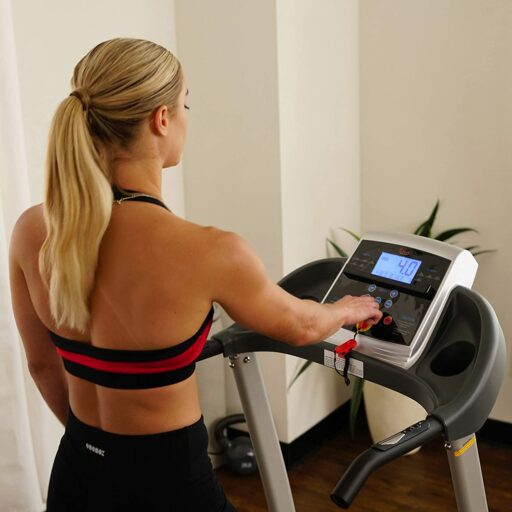 It also features a Pause button, great to have if you want or need to take a short break without completely stopping the treadmill. Last but not least, the console has a safety key feature pretty much required by any treadmill.
The dashboard of this Sunny treadmill model is plastic-made, featuring two bottles or accessory holders, one on each side. It's finished with two simple handlebars, covered with rubber foam padding for a comfortable grip.
The handlebars incorporate heart rate sensors and controls for speed, start, and stop. The dashboard also offers the possibility to fit a phone or tablet onto it, as it comes with a media tray.
SF-T4400 Assembly and Maintenance
This treadmill is one of the easiest to assemble machines. Most of it comes already pre-assembled. Therefore, all you have to do is add and tighten the two posts, the dashboard on top of them, and of course, connect the wires of the console.
As for maintenance, the belt requires lubrication from time to time with a silicone-based lubricant. Besides that, make sure to keep the deck and belt clean of any dirt or debris, adjust it if it's the case, and make sure you don't spill water on the console.
Pros
Excellent price/quality ratio;
A 2.20 HP motorized treadmill;
Speeds between 0.5 MPH and 10 MPH;
Low electric consumption;
Extremely quiet;
Durable, steel frame;
Small footprint, great fit for apartment use, or small rooms;
Foldable deck, with low-drop hydraulic mechanism;
Three levels of (manual) incline;
Handrails with built-in heart rate sensors, start, stop and speed controls;
Accessory and bottle holders;
Fitness console with nine preloaded training programs;
Low maintenance.
Cons
The fitness console is not HR chest strap compatible;
Not the best choice for users over 6' tall;
It only supports a maximum user weight capacity of 220 lbs.
Sunny SF-T4400 Folding Treadmill Summary
The Sunny Health & Fitness SF-T4400 treadmill is most definitely an excellent exercising machine for cardio exercising, a great full-body workout, toning leg muscles, and weight loss. Thirty minutes of moderate exercise on this treadmill can help you burn up to 4-500 calories.
Although it's not a gym-rated treadmill designed for professional runners, it makes a perfect choice for any home user who wants to exercise daily. All in all, it's a good treadmill for an affordable price.
I hope you found this article helpful and informative. If you have anything you'd like to share or any opinions about my website, please speak up. I look forward to your comments, questions, and the sharing of ideas.