The Tunturi Performance E60 Upright Bike is fully equipped and is ideal for light commercial or home use. The E60 features a robust & durable frame. In addition, it has a maximum user weight capacity of 300 lbs (136 kg).
The 30.9 lb (14 kg) flywheel and 32 different resistance levels ensure that you will be able to challenge yourself every time you sit on the E60. The magnetic braking system controls the resistance. Switch the resistance level mid-workout with the responsive wheel controls found on the LCD. This makes it easier than ever to make mid-workout adjustments.
The tilting handlebar and adjustable seat ensure that you are consistently exercising in the correct position. In addition, the secure pedals, with quick-adjust straps and the padded seat, are designed to make your workout as comfortable & reliable as possible.
The Tunturi Performance E60 comes with 20 unique training programs to offer a challenge for every athlete. The 5.5″ LCD is easy to read because of the big, precise numbers. These show your speed, distance, and heart rate. In addition, you can track your heart rate with the integrated pulse sensors in the handlebars or an optional HR chest belt.
Learn more in my complete review below!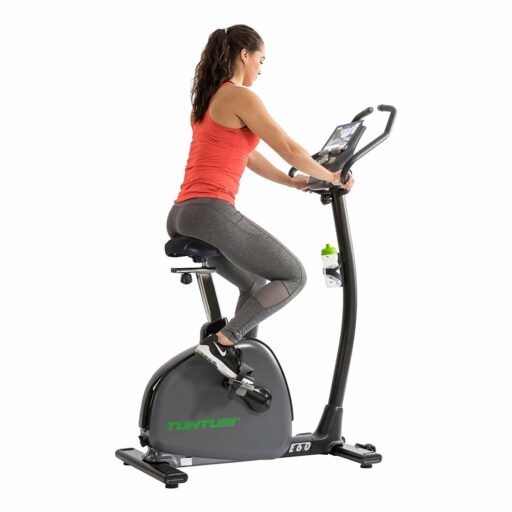 Product: Tunturi Performance E60 Upright Bike
Price: For a great deal on this bike, merely go here on Amazon
Warranty: 3 Years
My rating: 9/10
Affiliate Disclosure: As an Amazon Affiliate Program participant, I earn commissions on purchases made through links in this post. Full disclosure
Details and Specifications
Assembled dimensions: 40.2L x 23.6W x 62.2H inches (102L x 60W x 158H cm)
Assembled weight: 105.2 lbs (47.7 kg)
Flywheel weight: 30.9 lbs (14 kg)
Weight capacity: 300 lbs (136 kg)
Seat: 4-way adjustable
Resistance system: Eddy current, 32 levels
Drive system: Belt
Console: 20 programs, Recovery, BMI, Bluetooth
Warranty: 3 years
E60 Frame
The Tunturi Performance E60 features a sturdy construction for a home-use bike, supporting users up to 300 lbs (136 kg). Its frame is made of steel tubing, while the shrouds that conceal the flywheel and the resistance system are durable ABS material. In addition, all the steel tubes within the bike's frame come with a rust-resistant and chip-resistant paint finish. The color used is black except for the seat post and slider, which are chrome plated.
Like most upright bikes, the Tunturi E60 isn't a huge fitness machine. Its assembled footprint is approx. 40″L x 24″W (102 x 60 cm). However, Tunturi recommends leaving at least 40″ (100 cm) of clearance all around the unit for ease of access.
The bike's frame has a step-through design. This particular construction allows much more accessible entry and exit, which can be a plus for users with specific disabilities.
The fully assembled unit is relatively heavy for an upright bike, primarily due to the extra-heavy internal flywheel. We'll cover this particular part in detail in one of the sections below. The unit weighs approximately 105 lbs (47.7 kg). This weight reflects its overall stability. You can be sure that it won't rock or move even when you pedal faster. Plus, both its bases come with adjustable rubberized stabilizers.
Despite its weight, the bike isn't difficult to move once assembled. Its front base has two large transport wheels, which facilitate its relocation.
Seat and handlebars
The Tunturi E60 offers excellent ergonomics. It includes a mid-sized saddle featuring a high-density foam top, which provides optimal cushioning and comfort. In addition, it has a longitudinal groove, which helps with extra breathability.
Its attachment system to the horizontal slider is standard, collar-based, which makes it easy to replace. Also, compatible replacements for the saddle are widely available if you will ever need to replace it.
The seat is 4-way adjustable (up, down, backward, forward). Its upright post offers an adjustment span of approx — 11″ (28 cm).
Its horizontal slider also provides a few inches of front-to-back adjustment for the saddle. Therefore, the unit should be able to accommodate users between 5'0″ and 6'3″ (153 – 190 cm). The seat assembly is also durable enough to support users up to 300 lbs (136 kg).
The bike's handlebar is also adjustable. It attaches to the front mast via a turn knob, which allows you to change its angle. In other words, you can tilt it forward, backward, or down.
The handlebar has a multi-grip design featuring extended, rubberized grips. Its lower section integrates pulse sensors, one for each hand. Therefore, if you hold on to them, the bike's console can monitor your pulse.
E60 Resistance System
The Tunturi Performance E60 comes with a reasonably heavy flywheel for an upright bike. It weighs approximately 31 lbs (14 kg), close to a spin bike flywheel's average weight. This means the cycle provides a consistent momentum, and due to the perimeter-weighted structure of the wheel, pedaling is very smooth and steady.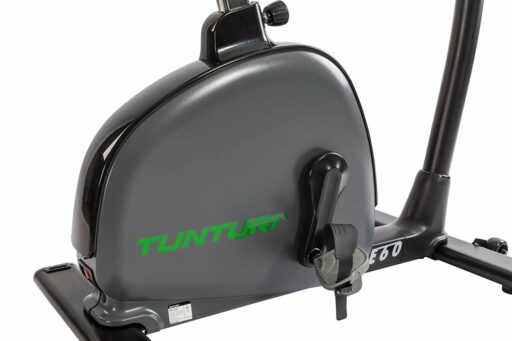 Reverse pedaling is also possible on this bike. However, it does not allow you to coast. When pedaling in reverse, the resistance remains constant, given by the selected level from the console.
This Tunturi exercise bike features an automatic magnetic resistance system that consists of an eddy current brake and a small servo motor. Depending on the selected tension level, the brake's magnets move closer or farther from the flywheel, increasing or decreasing the pedaling difficulty.
The resistance is only adjustable from the console, and the bike needs a connection to a power source. A power adapter with cable is (included).
The bike makes available 32 tension levels. The first few levels deliver a relatively light pedaling difficulty; they're great for anyone who requires recovery training or has joint problems. Conversely, the top resistance levels provide considerably more pedal tension simulating a steep climb, promoting a higher burn and superior cardio training.
Drive System
Like any other exercise bike with a magnetic resistance system, the Tunturi E60 has a belt drive system. Its transmission uses a heavy-duty polygroove rubber belt. This means you don't have to lubricate it, and the pedaling motion is tranquil, almost entirely silent.
The bike's crankset is quite durable, featuring solid steel crank arms. However, since this is an upright bike, not a spin bike, standing up while pedaling is not recommended.
The included pedals integrate weight elements. These enable them always to turn face-up if you remove your feet from them. Furthermore, they are durable nylon material, and they have a non-slip surface and adjustable straps.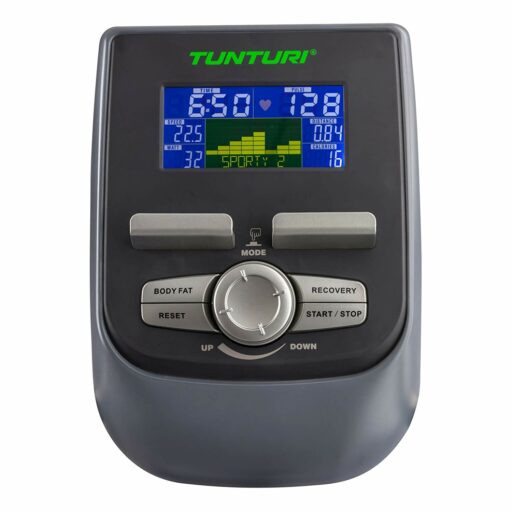 E60 Console
The console unit included with this Tunturi bike is similar to the E50-R recumbent bike model that I've already reviewed here. It features a 5.5″ LCD with an LED backlight and significant digits, offering excellent readability.
It tracks the essential workout metrics, including time, distance, speed, RPM, calories, watts, and pulse. For speed and distance, there are both metric and imperial unit settings available. For pulse reading, you can use the sensors integrated into the seat handlebars. However, you can opt for a 5 – 5.4 kHz wireless chest strap transmitter.
The bike's console is straightforward to use. It has one large double function turn knob in the middle, covering its Mode function, the value adjustment functions, and the program selection.
The top side buttons offer quick access to the Recovery and BMI programs. The left bottom button allows you to clear all the console values to zero, while the low right button covers the Start/Stop functions.
Last but not least, the console integrates a table holder. It is placed below the console display and can accommodate any smartphone or tablet. However, the console does not have a sound system, a cooling fan, or a USB charging port for your tablet.
Workout Programs
The console unit has Bluetooth connectivity. Therefore, you can sync it with your tablet or smartphone and use one of the compatible fitness apps for iOS or Android.
These apps are i-Console+, Fit Hi-Way, and Kinomap, and they offer many extra features, such as tracking your progress online, competing with other users, or even riding your cycle on a virtual trail-based on Google Maps.
Nonetheless, if you don't want to use any online apps, the console has workout programs to keep you motivated. These are 20 in number, from which 17 are preset. These are 4 Beginner, 4 Advanced, 4 Sportive, 4 Heart Rate, 1 Watt. When one of the preset programs is in use, the bike adjusts its resistance automatically.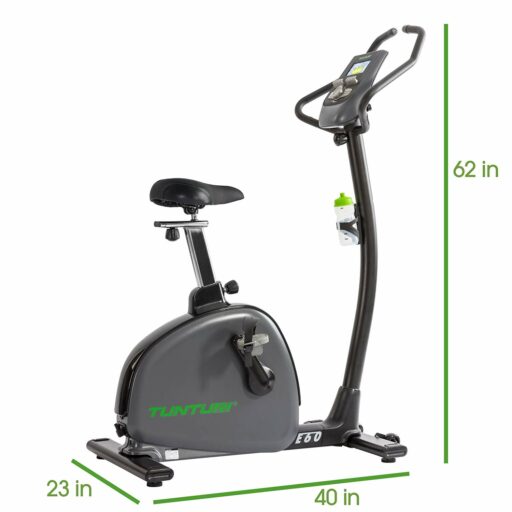 The other three programs are the Manual Mode, the Recovery Function, and the BMI calculator. The Manual program allows you to pedal freely, adjusting the resistance you like for the workout duration.
The Recovery program measures the time required by your heart to bring your pulse to be healthy after the workout. The result will provide you with a rating between F1 (Outstanding) and F6 (Poor).
This way, you can give an idea of your current fitness level. The BMI function determines your body fat percentage based on your height, weight, gender, and age.
E60 Assembly and Maintenance
The mainframe section of the bike comes pre-assembled. Therefore, you only have to attach the base bars, the console mast, connect the wires, secure the console, and then the seat post, the saddle, and the pedals. This may take up to an hour. The manual provides clear, step-by-step instructions for assembly, and all the necessary tools come with the bike.
Maintenance doesn't require much. However, you should periodically dust the bike, keep liquids away from the console, and check for loose bolts and parts before each workout.
Pros
Sturdy frame – can support users up to 300 lbs;
It comes with rubberized, adjustable stabilizers on both base bars;
Transport wheels on the front base;
4-way adjustable seat;
Cushioned and contoured saddle for optimal comfort;
Multi-grip and angle adjustable handlebar;
Pulse sensors integrated into the handlebar;
Extra-heavy 31 lbs flywheel for a steady pedaling motion and a consistent momentum;
Weighted pedals with adjustable straps;
Quiet belt drive;
Eddy current, automatic resistance system – 32 distinct levels (up to 440 watts);
Multi-window LCD console;
17 preset programs;
Recovery program;
BMI program;
Telemetric console – can read pulse from a 5-5.4 kHz chest strap;
Bluetooth connectivity;
Compatible with the i-Console+, Fit Hi-Way, and Kinomap apps for iOS and Android;
Goal settings for time, distance, and calories;
Tablet holder included;
Bottle holder included;
Little maintenance required;
Easy to assemble;
Decent warranty.
Cons
No USB port;
No sound system;
The HR chest strap does not come included;
A tablet placed on the tablet holder will cover the LCD.
Tunturi Performance E60 Upright Bike Summary
The Tunturi E60 Performance is a mid-range upright bike designed for home use. For this purpose, It features an eddy current resistance system with 32 available settings. Additionally, It has a sturdy construction and can support users up to 300 lbs. Additionally, it also offers superior micro-adjustability and ergonomics for its seat and handlebars.
Moreover, it's an exercise bike for light to medium intensity cardio workouts, muscle toning, weight loss, stamina development, and recovery training. And finally, it's not exactly one of the most affordable upright bikes, but it offers excellent value for the price.
I hope you found this article helpful and informative. If you have anything you'd like to share or any opinions about my website, please speak up. I look forward to your comments, questions, and the sharing of ideas.