The WaterRower M1 HiRise Rowing Machine has an easy-to-mount seat height of 20″ compared to the LoRise model, which is 12″. In addition, it offers infinitely variable resistance using water flywheel technology. The water tank uses drag paddles or impellers to provide resistance against the water.
There are no knobs to adjust tension; you control the amount of resistance by your stroke rate. Therefore, you can feel the resistance increase as you row faster or decrease as you row slowly. Additionally, you can adjust the tank's water amount from 9 to 17 liters to alter the resistance.
A precision spring clutch is engaged instantly, so you don't experience any dead spots or jarring at the start of each stroke. In addition, the blades' smooth pull and constant fluid resistance against the water ideally simulate rowing a boat's natural dynamics.
Other features on the WaterRower M1 HiRise include a contoured seat, a maintenance-free and nearly silent drive strap made of high-density polyester webbing, floating heel footplates with straps, and a fabricated tubular steel frame.
Learn more in my complete review below!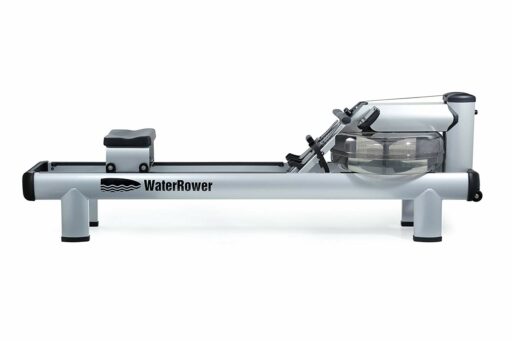 Product: WaterRower M1 HiRise Rowing Machine
Price: For a great deal on this rower, merely go here on Amazon
Warranty: Frame 5 years / Parts 3 years
My rating: 9.5/10
Affiliate Disclosure: As an Amazon Affiliate Program participant, I earn commissions on purchases made through links in this post. Full disclosure
Details and Specifications
Assembled dimensions: 88L x 22.25W x 27.6H inches (223.5L x 56.5W x 70H cm)
Product weight: 120 lbs (54.4 kg) w/o water; 157 lb (71.5 kg) w/ water
Supported weight: 700 lbs (317 kg)
Frame: Steel
Footrests: Size-adjustable, with straps
Resistance type: Water
Fitness Monitor: S4
Warranty: Frame 5 years / Parts 3 years
M1 Frame
The M1 HiRise WaterRower structure is steel-made, offering an extremely sturdy construction to support users up to 700 lbs. One of the aspects that puts this rower into the commercial-grade class. The frame's metallic parts are double-coated with corrosion-resistant paint for a sleek, rust-free finish. In addition, several PVC parts are within the structure's construction, including the rear and front end pads or the feet caps.
Like most rowing machines, the M1 HiRise model is not extremely large width-wise but does take some space for its length. At full setup, its footprint is 82.25″L x 22.25″W (209L x 57W cm), the water tank giving its widest point.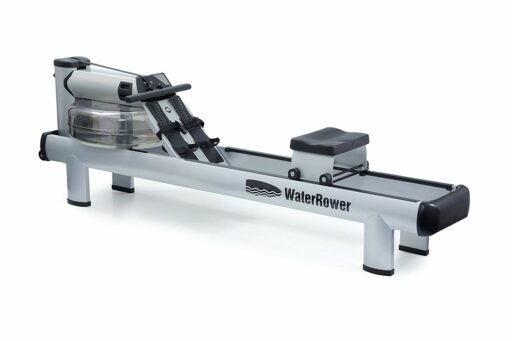 The frame doesn't have a folding design; it stores resting on the water tank guard, features two tiny feet, and it's a front-end pad. In vertical position, its footprint is relatively small, 20″L x 22.25″W x 82.25″H (51 x 57 x 209 cm).
Handling and storing the rower isn't difficult, as you can easily lean it on its front wheels. In addition, water can remain in the tank for storage when the machine is vertical.
The rower's bases aren't adjustable, and the machine is pretty heavy and won't wobble as you row. However, you will still need to place it on a plane surface or a mat.
The taller feet of the HiRise rower put the user at about 20″ (51 cm) above floor level. Thus, offering much easier mounting/dismounting possibilities makes it a better choice for physically impaired users.
Seat and Footrests
The seat supplied with this water-resistance rower features a contoured, synthetic leather top. In addition, it incorporates a thin layer of foam cushioning, which reduces the user's weight for more comfortable seating. However, the cushioning is not extreme, and the seat is slightly firm.
The seat has four wheels, offering stability when using the rower. The wheels use high-grade stainless steel ball bearings. But their exterior coating is made of PVC material. The rail extrusions (the slides of the rails) are also an industrial-grade, tested plastic material.
Thus, it is a plus because this material is more tolerant of tiny particles that fall onto the glides. Also, the seat gliding is much smoother and emits much less noise. Finally, both seat rollers and extrusions are durable and won't wear out quickly.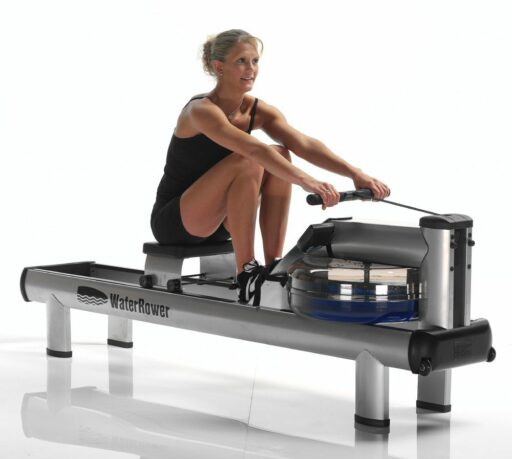 The rower's rails are long enough to accommodate users with an inseam of 40″ (102 cm). Therefore, users up to 6'7″ (201 cm) or even taller should benefit from an entire leg stretch while using this rower.
The footrests are not angle-adjustable, but they do have adjustable feature straps. In addition, they're wide enough to accommodate feet of all sizes.
M1 Water tank and resistance system
The WaterRower M1 HiRise comes with a water tank made from highly durable polycarbonate material. The walls of the tank have a gray hue. The tank's water can be colored blue or just about any color by adding the required colorant.
The machine's resistance system involves a 2-paddle water flywheel connected to a network of heavy-duty bungee cords and pulleys. As you pull the handle, the wheel begins to spin into the water tank, generating resistance.
The tank's maximum capacity is five gals (19 l), but the total amount of water is 4.5 gals (17 liters). There are markings on the tank which indicate the water level.
Since this rower uses a water-based resistance principle, the rowing feel is smooth and natural. The resistance level generates by the strength you put behind each pull. In other words, the harder you pull, the more resistance you should obtain. Also, instead of rowing machines with air resistance, the resistance picks up immediately after the catch.
The rower's overall resistance is to the amount of water inside the tank. In other words, if you want the maximum total resistance intended for professional use, fill up the tank at its maximum allowed capacity. If you want less resistance, reduce the water level in the tank. Unfortunately, you can't adjust the water level inside the tank as you use the rower.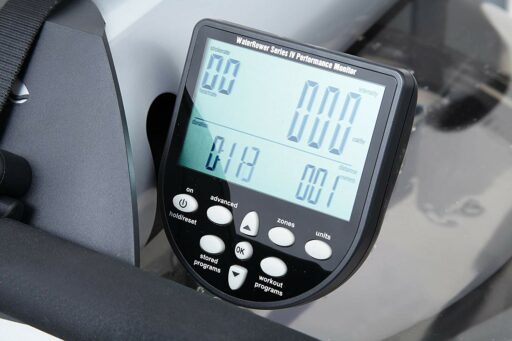 S4 Fitness monitor
The M1 HiRise rower comes with the S4 fitness monitor, which is battery-powered, requiring 4-AA batteries. In addition, the monitor features nine built-in advanced rowing programs. Interval workout settings for distance and intensity are available as well.
But one of the best aspects is that its PC interface is capable via a monitor cable. In addition, there are several apps, such as WaterCoach Fit, We-Row, and WebRacing. They offer you to join online rowing communities, compete with others, track your progress, or customize your workout.
The S4 monitor can indicate time, distance, intensity, strokes per minute, KCalories, watts, and heart rate. It can read energy in meters per second (m/s), miles per hour (mph), time per 500 meters (t/500m), and time per 2 km (t/2km). You can set up the distance in meters, kilometers, and miles.
The rower does not have any pulse sensors built into the handle. Therefore, the S4 monitor can only read pulse via an HR chest strap transmitter, ANT+ or Polar. Unfortunately, this accessory does not come included with the rower.
M1 Assembly and Maintenance
This WaterRower model doesn't come assembled. Its assembly is far from complicated, but it may take up to an hour. First, you will need to connect the two rails with the rear end cap. Additionally, you'll need to connect the water tank, add the seat, and footrests, connect the bungee cord and fitness monitor and finally add water to the tank. Tools and assembly manuals are included.
For maintenance, you should frequently clean the seat slides. Any dirt, sand, pebbles, or other small particles can damage them and the seat's wheels. Also, a chlorine pill should be added to the tank every few months to prevent algae formation.
Note: One important aspect to mention here regards the machine's warranty. Initially, the rower comes with a full, 1-year warranty. But once you register your unit with WaterRower, the warranty extends to 5 years for the frame and three years for parts.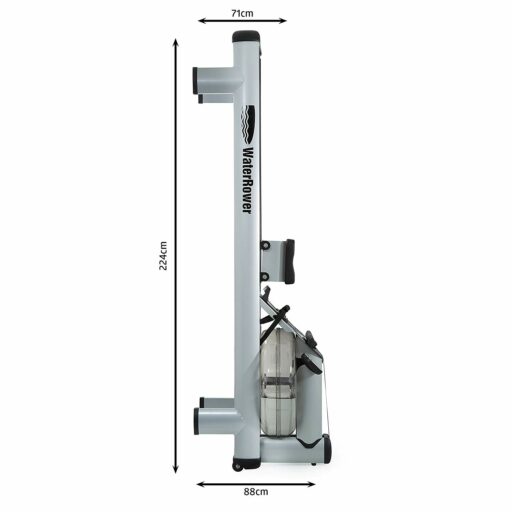 Pros
Maximum user capacity up to 700 lbs;
Superior aesthetics, solid steel frame;
20″ elevation from floor level, easy to mount and dismount;
Storable in an upright position;
Easy to handle and transport;
Water-resistance system, providing the most natural rowing feel that you can get;
Contoured, padded, and ergonomically designed seat;
Advanced fitness monitor, PC compatible and
HR strap compatible;
Its operation is smooth and quiet;
Rowing machine for users of all levels;
Little maintenance is required;
Easy to put together;
Excellent warranty.
Cons
HR chest strap does not come included;
The footpad angle is not adjustable.
WaterRower M1 HiRise Summary
The WaterRower M1 HiRise is a high-capacity rowing machine with a solid construction, offering a rowing feel as close as it gets to the rowing of a real boat. It's an excellent choice for elderly and physically impaired users, as it stands taller from the ground, making mounting and dismounting more convenient.
It's a professional rower that supplies the training setting for users of all levels. Even though it's not exactly a cheap rowing machine, its quality stands up to the price. Therefore, it's safe to say that this fitness machine has an excellent price/quality ratio.
I hope you found this article helpful and informative. Would you please speak up if you have anything you'd like to share on the topic or any opinions about my website? I look forward to your comments, questions, and the sharing of ideas.
Please remember that you should consult your physician to determine if you have any medical or physical conditions that could risk your health and safety or prevent you from using the equipment properly. In addition, your physician's advice is essential if you are taking medication that affects your heart rate, blood pressure, or cholesterol level.