One of the things that I like about the ProGear 555LXT Magnetic Recumbent Bike is its 14 different magnetic tension levels. For an entry-level recumbent bike, having 14 levels of resistance is quite impressive, making it ideal for advanced cardio enthusiasts. The adjustment dial controls the magnetic tension on this recumbent bike.
Moreover, the magnetic tension used here is very smooth and quiet. It provides you with constant and steady resistance that is so quiet that you can easily watch television using the ProGear 555LXT Magnetic Tension Recumbent Bike.
The ProGear 555LXT Magnetic Tension Recumbent Bike features an excellent fitness monitor. The monitor is well-placed, bright, and easy to read. In addition, the fitness monitor does a fantastic job of keeping track of speed, distance, calories burned, RPM, and more. The 555LXT also comes with three workout goal settings that you can choose from speed, distance, and calories.
The backrest provides lower back support, and the slider seat provides infinite position adjustments. The oversized pedals feature a foot strap to keep your feet secure and the soft grip handlebars for pushing through intense workouts. In addition, it comes with transportation wheels for easy relocation the adjustable floor stabilizers for leveling to prevent the cycle from rocking or tipping.
Learn more in my complete review below!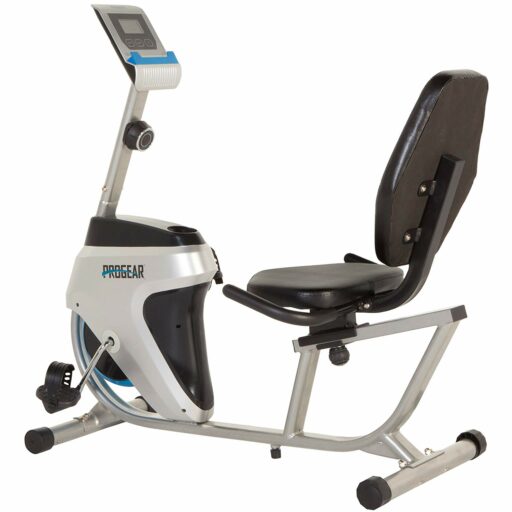 Product: ProGear 555LXT Magnetic Recumbent Bike
Price: For a great deal on this bike, merely go here on Amazon
Warranty: 1 year limited
My rating: 8.25/10
Affiliate Disclosure: As an Amazon Affiliate Program participant, I earn commissions on purchases made through links in this post. Full disclosure
Details and Specifications
Assembled dimensions: 49L x 22W x 43H inches (125L x 56W x 109H cm)
Assembled weight: 60 lbs (27.2 kg)
Weight capacity: 250 lbs (113.3 kg)
Seat: Adjustable
Pedals: With straps
Resistance: Magnetic, 14 levels
Fitness Monitor: Time, distance, speed, calories, RPM, odometer, goal functions
Amenities: Tablet holder, bottle holder
Warranty: 1 year limited
555LXT frame
The ProGear 555LXT magnetic recumbent bike features a one-piece steel frame, durable enough to support users up to 250 lbs (113.3 kg). In addition, the structure and seat are very sturdy and would support users even more substantially than the specified 250 lbs weight capacity. However, the seat locking system may not hold too well if the user exceeds this weight limit.
Unlike other recumbent bikes, this particular model is not extremely large. It has an assembled footprint of 49″L x 22″W (125 x 56 cm). Therefore, this specific recumbent bike model may be an excellent choice over other models if storage space is an issue.
The frame does not have a folding design. However, it's not extremely heavy, featuring an assembled weight of approx — 60 lbs (27.2 kg). Its front base stabilizer also integrates transport wheels; thus, if you need to relocate the bike after your workout, its transport is relatively easy.
By leaning it forward on its transport wheels, you will be handling less than 1/2 of the bike's total assembled weight. In addition, both bikes' bases feature rotating plastic caps on their ends, which serve as stabilizers. Thus, it's unnecessary to place this exercise bike on a mat.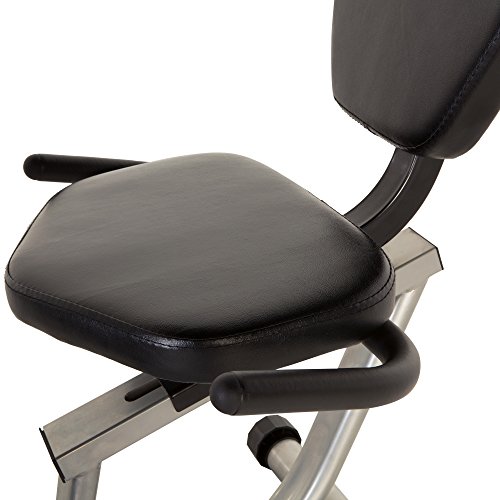 The bike's frame is steel-made, but some parts, such as the protective shrouds of the bike's drive mechanism, are made of heavy-duty PVC material. In addition, all steel parts in the frame are powder coated with corrosion-resistant gray paint.
Finally, the frame features a step-thru design, making it easier for persons with disabilities to sit and use the bike.
Seat and handlebars
Since it's an inexpensive recumbent exercise bike, its seat is not overly sophisticated. However, it does have 2″ (5 cm) cushioning on both the seat and backrest, offering excellent comfort and lumbar support. In addition, the whole seat assembly is adjustable.
Its adjustment mechanism allows you to change its position on the pedals. The bike can accommodate users between 5′ and 6'3″ (152 – 190 cm). You can still use the bike; however, you may not benefit from a complete leg extension.
The backrest itself does not offer any adjustability. Instead, it attaches to its bar via four bolts and moves backward or forward along with the seat as you adjust its position.
The handlebars are also attached to the seat, and they are not adjustable. Instead, they have a thin sheet of rubber foam material to provide a more comfortable grip. However, they do not integrate pulse sensors like the handlebars of most recumbent bikes in this category. Unfortunately, the fitness monitor also doesn't track pulse.
555LXT Resistance System
The ProGear 555LXT comes with a manual magnetic resistance system. In other words, the resistance mechanism involves a small magnetic plate attached to the frame, close to the bike's metallic flywheel. A steel wire connects the magnetic plate and the resistance knob on the console tube. Thus, by turning the knob, the magnetic plate will adjust its position to the flywheel, increasing or decreasing drag.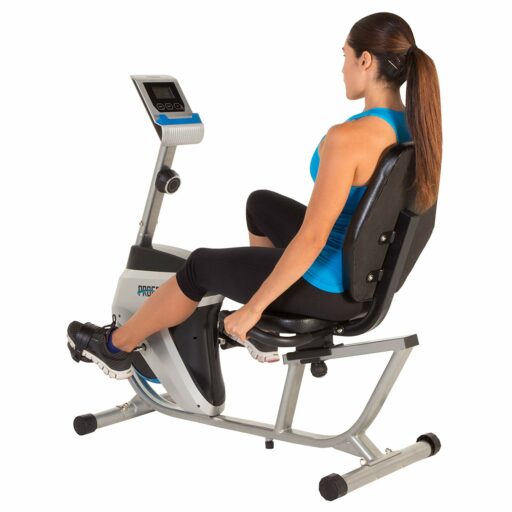 Since the resistance system does not integrate a servo motor, being completely manual, the bike doesn't require a connection to a power source. Also, the fitness monitor is battery-powered and does not control the bike's resistance.
The bike's resistance knob features 14 "clicks," or differently put, 14 resistance settings. The top resistance settings supply quite a bit of tension, offering the possibility to undergo a more intense workout. But as a general idea, since it's a recumbent bike, it's made for light to medium intensity cardio workouts.
Since the resistance is magnetic, the resistance elements do not touch, such as a bike with a felt-pad brake. Therefore, the wear and tear of the resistance parts are inexistent.
Drive System
This ProGear exercise bike features a belt drive system with several advantages. First of all, the bike's operation is quiet. You can barely hear a soft whirring sound when pedaling. Second, the transmission (the belt) doesn't require any lubrication as a chain would.
The flywheel is perimeter weighted, which means that the pedaling motion is exceptionally steady, not jerky, even if you use one of the top resistance settings. As a result, the flywheel is not too heavy but does offer a pretty consistent momentum.
The bike permits reverse pedaling, and you will still benefit from the current resistance setting. Also, the fitness monitor will continue to track the distance and speed of all the other workout indicators.
The bike comes with a durable steel crankset. The pedals are nylon-made, featuring adjustable straps.
555LXT Fitness monitor
The fitness monitor supplied with the ProGear 555LXT magnetic recumbent bike features a 3.5″ LCD with significant digits, easy to read. It tracks speed, time, distance, calories burned, and RPM. A SCAN function automatically cycles through the values, displaying each on-screen for several seconds. However, you can select any of the metrics to be on the screen at all times.
It also has an Odometer function, displaying the distance traveled up to the present moment. And finally, this fitness monitor allows you to set up goals for distance, time, and calories, which places it a bit above the basic bike computer unit.
The fitness monitor is easy to operate. It has only three keys: RESET, MODE, and SET. MODE is used for navigation, SET for selecting values, and RESET for resetting metrics. The monitor uses 2 AAA-type batteries, which come included with the bike.
The tablet holder integrated into the monitor in terms of amenities is the first to mention. This element is wide enough to support any tablet. Also, the bike features a bottle holder molded into the top part of the drive mechanism enclosure.
555LXT Assembly and Maintenance
The drive and resistance mechanisms come ready-assembled and attached to the main chassis of the bike. However, there's still some assembly required. You will have to attach the base tubes to the mainframe, assemble the seat, add the console post, connect the tension wire, and add the fitness monitor and the pedals.
Assembly is far from being complicated and shouldn't take more than 30-40 minutes of your time. The manual supplied provides step-by-step assembly instructions, and assembly tools come with the bike.
When it comes to maintenance, there's very little required. However, you'll have to periodically check to ensure that the bolts still hold correctly in their places and re-tighten them if necessary.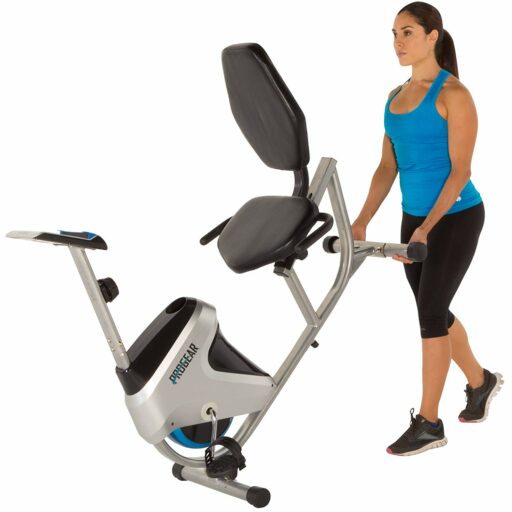 Pros
Solid frame for a light recumbent bike;
Adjustable seat position for users between 5″ – 6'3″;
Padded seat and backrest, providing excellent comfort;
Quiet magnetic brake system;
14 levels of magnetic resistance;
Pedals with adjustable straps;
Fitness monitor that tracks speed, distance, time, RPM, and calories burned;
SCAN, odometer, and goal setting functions;
Tablet holder included;
The bottle holder comes included;
Easy to assemble and operate;
Lightweight, easy to handle;
Little to no maintenance is required.
Cons
No pulse sensors – monitor doesn't track pulse;
No front handlebars;
A tablet placed on the holder will cover the fitness monitor LCD.
ProGear 555LXT Magnetic Recumbent Bike Summary
The ProGear 555LXT is a recumbent exercise bike with manual magnetic resistance, offering 14 exceptional tension levels. In addition, it features a solid frame construction, with a step-thru design, padded seat, backrest for maximum comfort, and a fitness monitor offering several more features than the most basic fitness meter units.
It's an excellent bike for light to medium cardio workouts, muscle toning, and stamina building. It can also help you lose weight. Depending on how fast you pedal and the resistance settings, you can burn 4-500 calories per hour on this bike. And finally, considering that it costs less than $300, it's pretty safe to say it offers excellent value for the price.
I hope you found this article helpful and informative. Would you please speak up if you have anything you'd like to share on the topic or any opinions about my website? I look forward to your comments, questions, and the sharing of ideas.
Please note: Before starting any exercise program, you should consult your physician to determine if you have any medical or physical conditions that could put your health and safety at risk or prevent you from using the equipment properly. In addition, your physician's advice is essential if you are taking medication that affects your heart rate, blood pressure, or cholesterol level.