The newer processor makes the Apple Watch SE more relevant in 2020 and the future. For example, the Series 3 doesn't support Apple's new Family Setup plan that lets you set up an Apple Watch for your child, with parental controls for messaging and location tracking. The Apple Watch SE does.
Then there's the display and body. The Watch SE has a Retina display that's 30% larger than the Series 3. That said, neither has the always-on display found on the Series 6. The SE comes in silver, space gray, and gold, whereas the Series 3 is available in just silver and space gray.
The SE also supports features like fall detection and noise monitoring and comes in cellular and noncellular models. Apple only sells the Series 3 in a non-cellular version. However, you might be able to find the Series 3 cellular version through other retailers.
The SE also has a compass, an always-on altimeter (the Series 3 has an altimeter, but it's not always on), a second-generation optical sensor (the Series 3 has a first-generation one), and a W3 chip for connecting accessories like AirPods. The Series 3 has a W2 chip.
Learn more in my complete review below
Product: Apple Watch SE
Price: For a great deal on this smartwatch, merely go here on Amazon
Warranty: 1 year limited
My rating: 9.25/10
Amazon Affiliate Disclosure: I may earn commissions on purchases made through links in this post.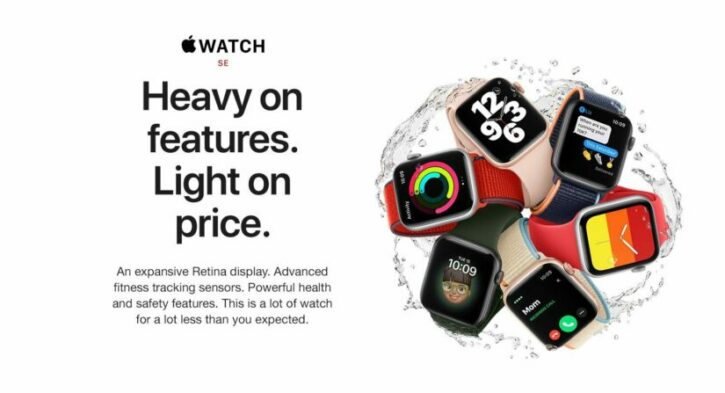 SE Design and hardware
I've never liked smartwatches with rectangular faces, but out of all of them, the Apple Watch has the nicest build. The SE looks nearly identical to Series 5 and 6, so if you're familiar with those, you'll know what to expect.
Its display is larger than the Series 3, though you can still buy for $179+. The SE is small, light, and feels like a high-end machine neatly crammed into a dainty 40mm or 44mm case. I may have to live with a squarish watch, but at least this looks classy. Fitbit's $329 Sense has a slightly heavier squatter square case and doesn't feel dense or premium.
Shape aside, the Watch SE's OLED Retina display is crisp, bright, and colorful. App icons, Memojis, and pictures my friends sent all looked sharp. Apple's digital crown has a lower profile and keeps the watch small and light.
It's worth noting that the Watch SE uses the same Ion-X glass display as on the aluminum models of the Series 6 and older, not the sapphire crystal on the stainless steel and titanium editions.
This year, Apple introduced a new band; it's calling the "Solo Loop." It's one continuous strap with no buckles, clasps, or any other fasteners. You put it on the way you would a rubber band: Stretch it over your knuckles, then push it onto your wrist.
Because it doesn't have different options for adjusting the fit, the solo loop's sizing is crucial. You'll have to pick from nine sizes when you buy the watch. Apple provides guides on how to use household objects to figure out what's right for you.
I love this band. It's effortless to take off, and you can even get it back on with just one hand. Some people have reported having trouble with the fit. Especially since the silicone bands seem a bit tighter than the woven options, so you'll want to be careful when taking your measurements.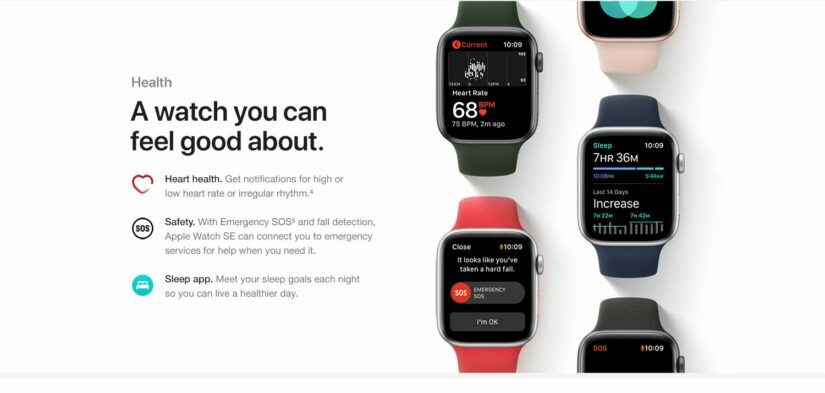 If you've used an Apple Watch before, most of the SE's features will be familiar. The knob is a handy way to scroll through notifications, apps, and volume controls, and together with the button, it offers several nifty shortcuts. Long pressing the digital crown triggers Siri while pressing the button below shows the power menu. Double-tapping that pulls up your default card on Apple Pay.
Navigating the interface is the same as before. If you've already set up your favorite apps in the dock, they'll carry over when you set up the new device. As an Android user, I found it odd that a swipe right doesn't bring me back a page. I also prefer Samsung's Tizen OS for its simpler navigation, where my favorite widgets and apps are just a spin away.
What's new with the Watch SE are mostly updates from watchOS 7, like the new Fitness app, sleep tracking, and automatic hand washes detection and countdown. There are also new shareable watch faces with support for multiple complications from the same app.
Tapping any of these complications pulls up the respective app. It was easy to summon my activity rings to see how far I was from closing them. In watchOS 7, you can set individual targets for each of the three circles instead of one overall goal.
Apple also added four new workouts you can track with watchOS 7 — dance, core training, functional strength training, and cool down. Dance and cool down are intriguing additions. But, I honestly couldn't tell the difference in tracking these activities versus a generic "other exercise" session.
Apple said it uses the watch's sensors to figure out how your arms and legs are moving as you dance to predict body movement. It then uses that data along with your heart rate in its algorithm to determine your calories burned. It's nice to have theoretically more accurate information on your calorie expenditure. Still, the report you'll get looks very similar to what you get for other activities at the end of the day.
I wouldn't say I like wearing a watch to bed; however, the Apple Watch SE is the one I minded the least. Sadly, it also delivers the least insightful data. While Fitbit and Samsung use the heart rate monitor to figure out whether you're in REM, light, deep or restorative sleep, Apple only considers accelerometer data.
It does track your heart rate overnight but doesn't use that to tell what sleep zone you're in. The Watch SE also wasn't as accurate at detecting when I fell asleep either. It assumed  I had gone to bed at the time I had set in my Wind Down sleep schedule. I had gone to bed an hour later.
Another new watchOS 7 feature is hand-wash detection, which is particularly relevant during the pandemic. The Watch will automatically recognize, based on the way your hands are moving, if you've started to wash them. It'll then turn on the microphone to listen for sounds of water and soap suds to confirm and launch a 20-second timer to make sure you're scrubbing for the recommended duration.
SE Performance and battery life
While most of the new watchOS 7 features are underwhelming, I'm pretty happy with everything else the Watch SE provides. Siri responds instantly, and voice dictation is quick and accurate. Even with noise in the background.
Since these voice-based tasks are processed on the watch, they're understandably faster than before. The SE's S5 chipset (or System-in-package, as Apple likes to call it) is the same as the one on the Series 5, so you'll find similarly speedy performance. However, the Series 6 has a new S6 SiP that is up to 20 percent faster than the S5.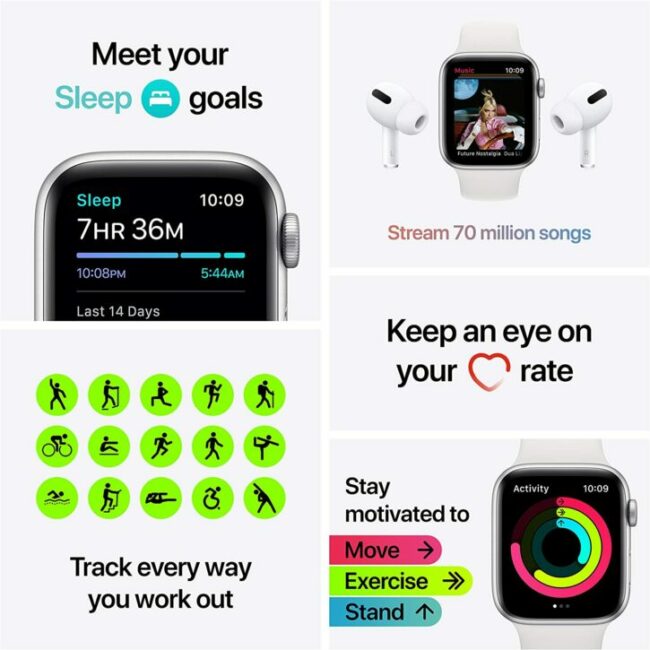 Apple also does some things better than Samsung or Fitbit. When you get a message on your watch, you can reply with more options. Such as your voice, a handwriting keyboard, emoji, suggested responses, Memoji stickers, or a Digital Touch.
Pictures that come in your notifications also appear and take up the whole screen. The watch's camera app acts as a remote viewfinder for your phone. Tizen offers versions of some of these features, either in limited form or via third-party apps. Still, Apple's system feels snappier and more thoughtful.
The Watch SE is also more intuitive when it comes to guided breathing sessions. Instead of simply vibrating once to prompt you to start breathing the way Fitbit does, the Watch SE vibrates in a pattern that mimics a balloon stretching as it fills with air — quicker at first, then slower as it approaches capacity.
I was also pleased with how quickly the Watch SE connected to GPS on my outdoor walks, and Apple Maps effectively guided me to a nearby bakery. Its new cycling directions thoughtfully include guidance on bike paths and the steepness of slopes along the route. I also appreciate how the Watch SE's always-on altimeter includes the changes in elevation on my workout reports when I've finished a walk, bike ride, or hike.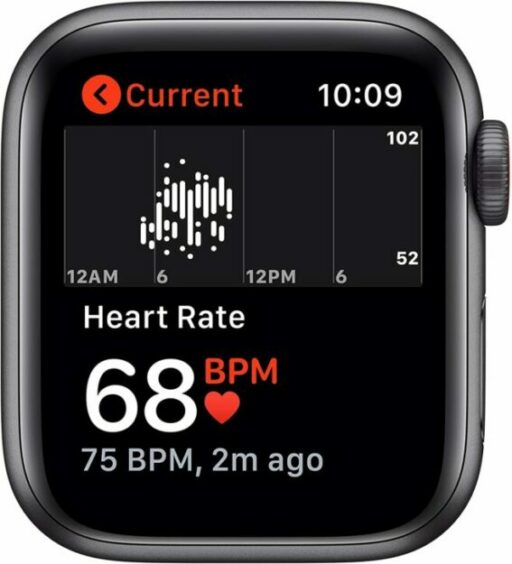 There are other features like fall detection, emergency SOS, and high or low heart rate notifications. In late 2020, Fitness+ will be available, and those who bought a Watch SE will get three months of free access to the interactive on-demand platform.
If you're setting up the SE for someone else in your family, you'll no longer need a separate iPhone for them to use the watch. The new Family Setup feature lets you configure your device from your phone. Also, you can keep track of their metrics remotely too.
That's a feature you'll miss if you choose to get the cheaper Series 3 since Family Setup requires a cellular Watch. Not only is the Series 3 not available with LTE, but it also uses older sensors like the heart rate monitor and accelerometer. Thus,  it won't support features like fall detection. Plus, the Series 3 uses a smaller display and a slower processor than the SE.
Apple estimates you'll get about 18 hours of battery life on the Watch SE, and that seems pretty accurate. Since there isn't an always-on display, it's not surprising that I got about 18 hours. That battery life is similar to the Galaxy Watch 3, better than the, Watch Active 2, and slightly shorter than the Fitbit Sense.
Apple Watch SE Summary
For $279, the Apple Watch SE packs more features than you'd expect. While the Fitbit Sense does offer a ton of health-tracking tools for $329, it's not as good at being a smartwatch as the Watch SE.
Though Apple's sleep-tracking lags behind Fitbit and Samsung's likes, it beats them by simply being better at integrating with the iPhone. Anyone on iOS will have a hard time finding a better smartwatch (apart from the Series 5 or Series 6).
Those who don't need advanced health features like ECG or blood oxygen monitoring won't miss much. People contemplating their first smartwatch will find the Watch SE a polished, well-rounded introduction to the category.
I hope you found this article helpful and informative. If you have anything you would like to share or any opinions about my website, please speak up. I look forward to your comments, questions, and the sharing of ideas.
Related articles: