AtivaFit IC-702 Indoor Cycling Bike has a premium look and feel and will look nice even in the middle of your living room. It carries up to 275 pounds of user weight on its reliable and durable steel frame. In addition, the seat and the handlebars are conveniently adjustable to accommodate users of different heights.
It will feel almost like a real road experience thanks to the 35 lb. heavy-duty flywheel with the felted pure wool brake that is both sturdy and runs quietly. It offers a great range of resistance for different levels of real challenge. In addition, you can press the tension knob in case of an emergency to stop the bike immediately.
The small LCD fitness monitor shows the time, distance, total distance, speed, and calories burned. However, it does not have an RPM function and cannot track pulse. Nevertheless, you can monitor your performance stats in real time during your ride and also choose target goals to achieve during your workout.
Learn more in my complete review below!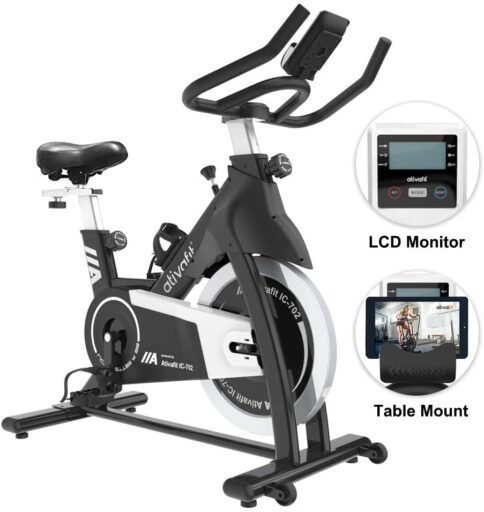 Product: AtivaFit IC-702 Indoor Cycling Bike
Price: For a great deal on this bike, merely go here on Amazon
Warranty: Return for any reason within one year / Lifetime free parts replacement
My rating: 8/10
Affiliate Disclosure: As an Amazon Affiliate Program participant, I earn commissions on purchases made through links in this post. Full disclosure
Details and Specifications
Assembled dimensions: 39L x 19W x 48H inches (99L x 48W x 122H cm)
Shipping weight: 84.6 lbs (38.3 kg)
Flywheel weight: 35 lbs (15.8 kg)
Weight capacity: 275 lbs (125 kg)
Seat: 4-way adjustable
Drive: Belt
Resistance: Friction
Fitness Monitor: Time, speed, distance, odometer, calories, scan, goals
Extras: Bottle holder, the device holder
Warranty: Return for any reason within one year / Lifetime free parts replacement
IC-702 Frame construction
The Ativafit IC-702 indoor cycling bike features a heavy-duty steel frame, which is close to a light-commercial spin bike. It is a thick, ovalized steel tubing double-coated with a corrosion-resistant black paint finish. The color for the frame is black, gray for the handlebar, and seat posts, while the flywheel is chrome plated.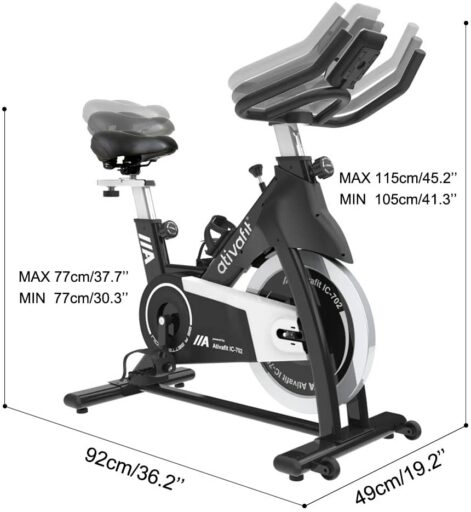 The bike also integrates several ABS plastic parts, but these are mostly covered or for cosmetic purposes. Among them, we can count the brake pad cover, the drivetrain cover, and the flywheel side covers.
The bike's frame features a standard triangular shape for improved sturdiness, with slightly curved fork bars that improve its overall aesthetics. It's also important to mention that the structure integrates a step-up bar, a feature that many spin bikes don't have.
This is the small bar at the base of the seat tube. Not only that, it can serve as mounting support, it also allows you to perform leg stretches and perform multiple spin workouts that require repeated mounting and dismounting or stepping up and down from the frame.
Similar to many other spin bikes, the Ativafit IC-702 is a reasonably small fitness machine. With all the parts assembled, it is approx 39″ (99 cm) long and 19″ (48 cm) wide.
However, it is advisable to leave at least two feet of clearance on each side of the bike and at least one foot at the front and rear for ease of access. Therefore, the cycle does not take much space and should fit pretty well, even into a small room or apartment.
The fully assembled bike is not as heavy as a commercial-grade spin bike but weighs 80 lbs (36 kg). This weight considerably improves its overall stability. Plus, both its base stabilizing bars are equipped with adjustable levelers, while its front base features transport wheels for easy relocation.
Seat and handlebars
The Ativafit IC-702 indoor cycling trainer comes with a saddle designed for maximum comfort, considerably more extensive than the average spin or rage seat, and integrates a thick layer of foam cushioning.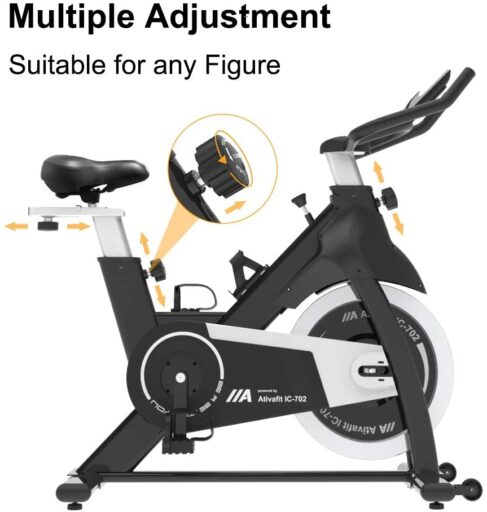 Its top is durable, double-stitched faux leather. It has a median cutout for improved breathability. It also incorporates a set of springs in its rear section, which allows it to adapt to your movement as you pedal.
Another vital aspect with regards to the bike's saddle is its connection system. This saddle has a standard collar attachment system, which can be quite a plus if you ever want to replace it. Most bike shops should have at least one or two saddle models compatible with this Ativafit exercise bike.
The bike's seat is four-way adjustable (up, down, front, back). Its upright post has multiple adjustment positions offering an adjustment span of approx 7.4″ (18.7 cm), from 30.3″ above floor level to 37.7″ (76.9 – 95.7 cm). Its horizontal slider also adds several extra inches of front-to-back adjustment.
Thus, the bike comfortably accommodates users between 5'0 ″ and 6'5 ″ (153 – 196 cm) with no problem. Also, the bike has a maximum user weight capacity of 275 lbs (125 kg).
The Ativafit IC-702 exercise bike comes equipped with a pretty standard, multi-grip handlebar. In addition, it makes available a climbing grip, a regular grip, and a racing grip. Plus, it has a small loop bar in the middle, which permits a close grip. The fitness console also attaches to this little bar.
The bike's handlebar is only two-way adjustable (up, down). It offers an adjustment span of approx 4″ (10 cm). A layer of high-density foam fully covers it for an improved grip. However, it does come equipped with pulse sensors, and the fitness console monitor cannot track pulse.
IC-702 Resistance system
The bike comes equipped with a standard friction resistance system with manual action. This means you don't need an adapter or an external power source for it.
On the other hand, the bike cannot automatically adjust the resistance, and the included fitness monitor does not have workout programs.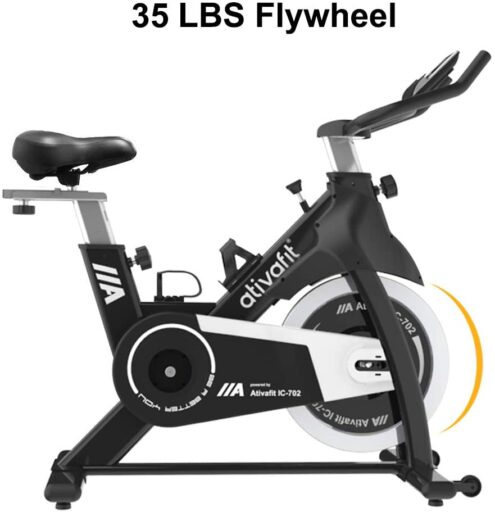 The bike's resistance system consists of a wool felt brake attached to the frame above the flywheel and connected to the tension dial on top of the mainframe tube. When you turn the dial, the brake pad applies more or less friction to the flywheel, increasing or decreasing the pedaling difficulty.
The bike's tension dial does not have pre-determined resistance settings (or clicks) like magnetic bikes. Instead, you tighten the pad on the flywheel until you get the desired pedaling difficulty. The tension dial also has an emergency brake; you can press it down to instantly stop the flywheel from spinning.
Drive system
The Ativafit IC-702 indoor cycling bike comes equipped with a 35-lb (15.8 kg) flywheel. It's not as heavy as the flywheels of commercial bikes, which most weigh over 40 lbs, but it has a perimeter-weighted construction designed to improve inertia. Thus, the flywheel provides a very consistent momentum great for spin workouts.
The bike's flywheel is bi-directional, so you can pedal in reverse if you want. But as a general idea, coasting or free-wheeling is not possible on the bike. So when pedaling in reverse, you will get the same pedaling difficulty as when pedaling forward.
This Ativafit exercise bike comes equipped with a belt drive system. It integrates a heavy-duty poly-v belt. Therefore, you don't have to worry about its lubrication. The belt also delivers an extraordinarily smooth pedaling motion as it generates less vibration than a chain drivetrain.
The Ativafit IC-702 exercise bike is for spin workouts. It comes with a durable 3-piece crankset and metallic pedals. Thus, as long as you don't exceed the specified 275 lbs (125 kg) weight capacity, you should be able to pedal while standing up with no problem.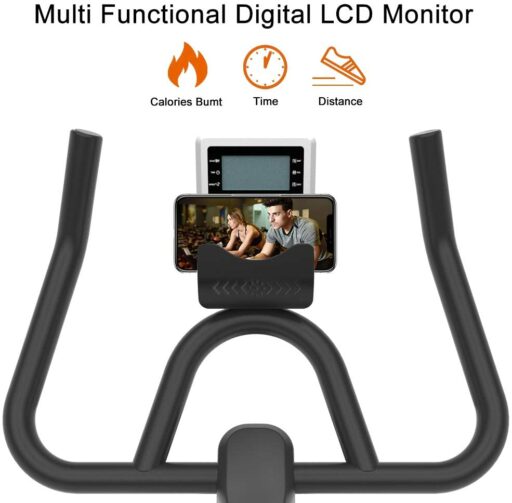 The included pedals do not have SPD elements for spin shoes, but they do have adjustable toe cages if you need to secure your feet in place. They also have standard 9/16 threads, so replacements for them are widely available.
IC-702 Fitness Monitor
The fitness monitor included with the Ativafit IC-702 bike offers a bit more than the average simple monitor. First of all, it features a large LCD that tracks time, distance, total distance, speed, and calories burned. Unfortunately, it does not have an RPM function and cannot track pulse. However, it offers the possibility to create goals for your workout.
The monitor is straightforward to use. It features three buttons; these are Mode, Set, and Reset. The Mode button allows you to scroll through the workout metrics and select the one you want to view. Similarly, you can choose its Scan Mode, which rotates all the workout metrics, showing each one for a few seconds.
The Set button allows you to select a workout goal for time, distance, or calories. After choosing a goal, the monitor will count down from the specified value until it reaches zero. And finally, the Reset button clears all the metrics on the monitor to zero, except the odometer.
The fitness monitor is battery-powered, and it requires two AAA batteries, which do not come with the bike. It starts up when you begin pedaling or press the Mode button, and it also turns off automatically after approx. 4 minutes of inactivity on the bike.
Last but not least, the monitor integrates a small device holder. Therefore, you can place your phone or a small tablet on it. However, it does not have any connection ports for your device.
IC-702 Assembly and Maintenance
Most of the bike comes pre-assembled, but several parts do require user assembly. For example, you will have to attach the two base stabilizers, the seat post, the handlebar post, the handlebar, the fitness monitor, the pedals, and several small covers.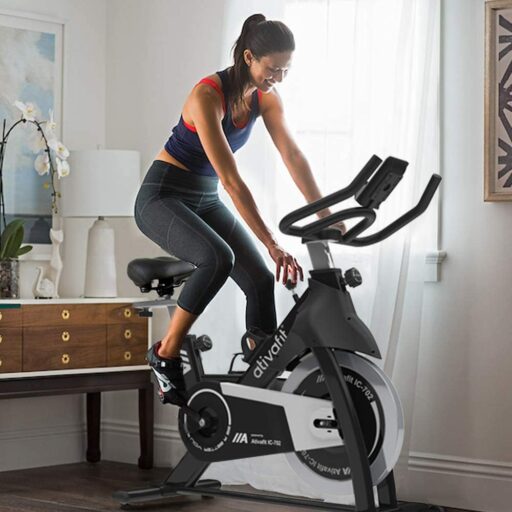 The task is pretty simple, though, and shouldn't take more than 20-30 minutes of your time. Also, all the necessary tools for the assembly come included with the bike.
For maintenance, the bike's brake pad may need lubrication and replacement after it completely wears out. Other than this, you only need to keep the cycle clean and periodically check for loose bolts and parts and retighten as needed.
Pros
Sturdy construction – can support users up to 275 lbs;
Small footprint;
Adjustable levelers on both base bars;
Transport wheels on the front base bar;
Four-way adjustable seat;
High-comfort saddle with thick foam cushioning and a center cropping for improved breathability;
Multi-grip handlebar;
A solid crankset can support just about any spin workout;
Perimeter-weighted (35-lb) flywheel for improved inertia;
Metallic pedals with toe cages and standard threads;
Quiet belt drive;
Standard friction resistance;
Fitness monitor included – it tracks time, distance, total distance, speed, and calories burned;
Goal setting function for a time, distance, and calories;
Device holder included;
The bottle holder comes included;
Little maintenance required;
Easy to assemble;
All of the assembly tools come with the bike.
Cons
No pulse reading function;
Batteries for the fitness monitor do not come with the bike.
AtivaFit IC-702 Indoor Cycling Bike Summary
The Ativafit IC-702 is an indoor cycling bike made for home use. It features a heavy-duty steel frame designed for spin workouts. In addition, it comes equipped with a perimeter-weighted (35-lb) flywheel, a friction resistance system, a 4-way adjustable high-comfort seat, and a fitness monitor that tracks the essential workout metrics.
Moreover, it's an excellent bike for high-intensity cardio workouts, muscle toning, stamina and strength development, interval training, and weight loss. It's a considerably more affordable alternative to a commercial spin bike and offers excellent quality for the price.
I hope you found this article helpful and informative. If you have anything you would like to share or any opinions about my website, please speak up. I look forward to your comments, questions, and the sharing of ideas.