The Doufit EM-01 Elliptical Machine features a heavy-duty integrated steel frame to achieve a stable and safe workout while being a lightweight machine. It combines cylindrical and rectangular tubes in its construction, all coated with a durable, corrosion-resistant paint finish. The maximum user weight capacity is up to 250 lbs (113 kg).
There are eight adjustable magnetic resistance levels, so you can achieve different training intensities as needed by the entire family. The high-quality flywheel provides a smooth and quiet workout. The EM-01 elliptical is excellent for exercising your arms, legs, calves, hip, abdominal muscle, and waist but is safe for the knees. It is a perfect option for a home workout.
The Doufit EM-01 display screen is smaller than most but has everything you need. All your workout data is right in front of you. It monitors speed, duration, distance, calories, and heart rate throughout your workout. In addition, the integrated pulse sensors in the handlebars collect your heart rate at regular intervals. Thus, ensuring you stay within an optimal workout range.
The EM-01 comes equipped with textured and oversized pedals that increase your shoes' friction to secure your foot during the workout. Also, dual-action workout arms will provide an upper body workout to tone the whole body.
Learn more in my complete review below!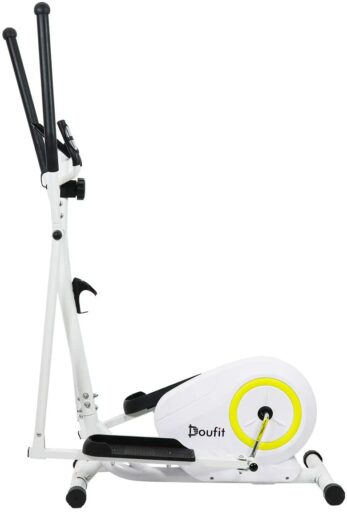 Product: Doufit EM-01 Elliptical Machine
Price: For a great deal on this elliptical, merely go here on Amazon
Warranty: Not specified
My rating: 8/10
Affiliate Disclosure: As an Amazon Affiliate Program participant, I earn commissions on purchases made through links in this post. Full disclosure
Details and Specifications
Assembled dimensions: 36″L x 20″W x 62″H (91L x 51W x 157H cm)
Assembled weight: 58.4 lbs (26.5 kg)
Supported weight: 250 lbs (113 kg)
Stride: 12 inches (30 cm)
Incline: No
Resistance: Manual magnetic, eight levels
Fitness console: Time, distance, speed, calories, pulse, scan, goals
Extras: Device holder, bottle holder
EM-01 Frame construction
The Doufit EM-01 elliptical machine features a frame made of steel tubing. The only non-metallic parts in its construction cover the drive and resistance elements, the pedal trays, and the performance monitor. The machine combines cylindrical and rectangular tubes in its construction, all coated with a durable, corrosion-resistant paint finish. The color used is white, this being the only color available for this model.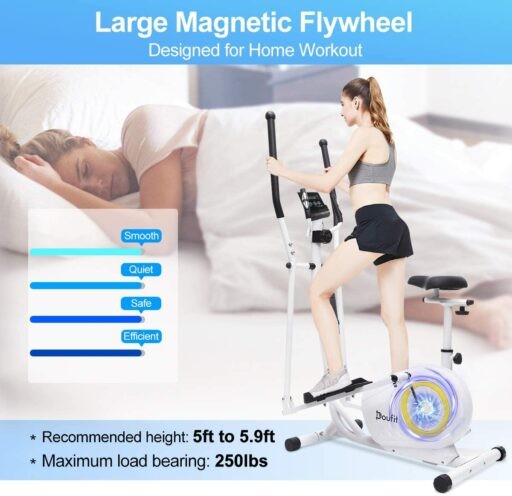 This Doufit elliptical trainer does not fold, but on the other hand, it doesn't take too much floor space. Its footprint is 36″L x 20″W (91 x 51 cm), but its pedals extend forward by about 10″ (25 cm). Therefore, it is advisable to leave at least two feet of clearance all around it for easy access and correct usage.
The fully assembled unit is not too heavy, either. Its net weight is only approx 58 lbs (26.5 kg). Therefore, one person can build the machine. For relocation, it has small wheels incorporated into its front stabilizer. Also, its rear stabilizer features polygonal caps, which can be rotated and used as levelers.
Like most other elliptical trainers, the Doufit EM-01 features two sets of handlebars, one mobile, one fixed. The mobile handlebars have extended, rubberized grips, with ball grips at the top. They reach approx. 62″ (157 cm) above floor level.
The fixed handlebars have shorted grips. They attach directly to the front mast of the machine, so they're non-adjustable. They also integrate metallic pulse sensors.
Elliptical path, stride, and step-up height
First of all, the Doufit EM-01 does not have an incline system. This means that the position of its elliptical path and the length of its stride is non-adjustable. Instead, its elliptical path is slightly inclined forward (by 1-2 degrees).
Therefore, the pedaling motion resembles a descent on a soft ramp. This can be a plus as the pedaling motion offers a better workout for the glutes and thighs.
Due to the small size of this elliptical, its stride is also pretty short. The machine only offers a stride of 12″ (~30 cm). Thus, it is not for users taller than 5'9 ″ (175 cm). Taller users may not benefit from a complete and satisfying range of motion, but they can still use the machine.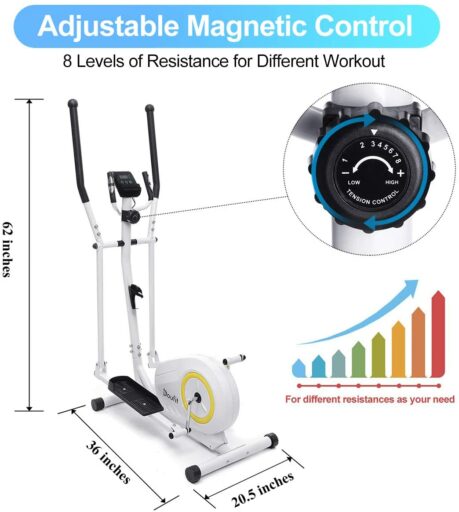 The pedal trays are heavy-duty thermoplastic material. They are attached to steel bars, and they have a maximum user weight capacity of 250 lbs (113 kg). This also stands for the machine's crankset. The pedals don't have any additional cushioning or articulations, but they have a non-slip, textured surface and front guards for improved foot stability.
The step-up pedal height is approx. 6″ (15 cm), while the highest point reaches a height of approx. 12″ (31 cm) above floor level. Therefore, it is advisable to use the machine in a room with a ceiling at least 15″ (38 cm) higher than your height.
EM-01 Drive and resistance
The Doufit EM-01 elliptical trainer comes equipped with a standard magnetic resistance system with manual action. This means you don't need an adapter for it or an external power source. But on the other hand, its console cannot automatically adjust the resistance.
The machine's resistance system consists of a magnetic brake connected to the tension knob on the frame's front upright bar. By turning the knob, the brake changes its position to the internal flywheel, which adds or reduces the pedaling load.
There are eight tension settings marked on the elliptical's tension knob. The first 1-3 settings generate light resistance excellent for low cardio, stamina development, and recovery training. Although the top 7-8 settings don't provide extreme tension like commercial machines, they still offer the possibility of achieving a more intense cardio workout.
The Doufit EM-01 elliptical has a belt drive system for smooth and quiet operation. This type of transmission offers a few advantages over a chain drive. For example, it does not require periodic lubrication. It also delivers a smooth pedaling motion with less vibration than a chain.
The elliptical has an internal flywheel. Its exact weight and diameter are not specified. However, considering that the cross trainer only weighs approx. 58 lbs (26.5 kg), the flywheel itself probably doesn't weigh more than 20 lbs (9 kg).
The flywheel is perimeter-weighted to provide a more consistent momentum. It is also bi-directional. Therefore, you can alternate forward pedaling sessions with backward pedaling sessions to focus on different muscle groups. When pedaling in reverse, the resistance remains constant, given by the selected tension level.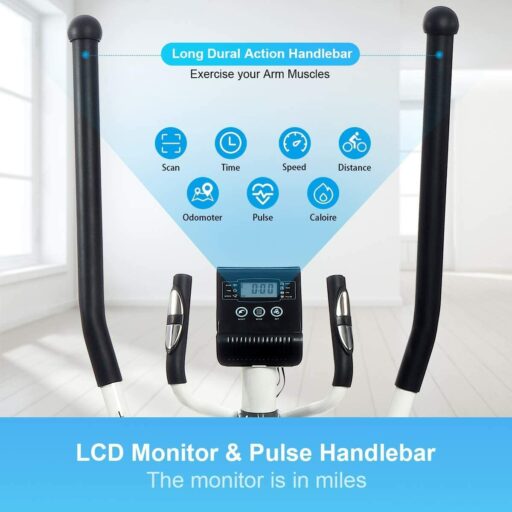 Console
The Doufit EM-01 elliptical comes with a performance monitor. It features an LCD that tracks time, speed, distance, total distance, calories, and pulse. Speed and distance are in metric units (kmh, kilometers), and unfortunately, English units (mph, miles) are not available.
Also, the monitor unit is not telemetric. This means it can only track your pulse if you hold on to the integrated sensors. It cannot read your pulse from a wireless HR chest strap.
The performance monitor unit does not have Bluetooth, pre-set programs, or online connectivity. However, it does offer target settings for time, distance, and calories. When a target for any of these gets chosen, the monitor will show the remaining value until it reaches zero.
The monitor unit features the standard three-button configuration. The buttons are Mode, Set, and Reset. The Mode button allows you to scroll through the values and select the one you want to view. This way, you can also select the Scan Mode, which automatically rotates all the values.
The Set button is for selecting workout goals, and finally, the Reset button clears all the values on the performance monitor unit to zero.
The console is battery-powered. It requires two AAA batteries as its power source, which comes included with the machine. It starts when you begin pedaling and automatically turns off if it does not detect any movement on the elliptical.
EM-01 Assembly and Maintenance
The main body of the machine with all the drive and resistance elements comes pre-assembled. However, the rest of the parts do require user assembly. You will have to attach the two base stabilizers, the pedals, the front mast, the moving arms, the fixed handgrips, and the console. This may take up to an hour of your time, but the task is relatively simple. The manual provides clear assembly instructions, and all the necessary tools come included with the machine.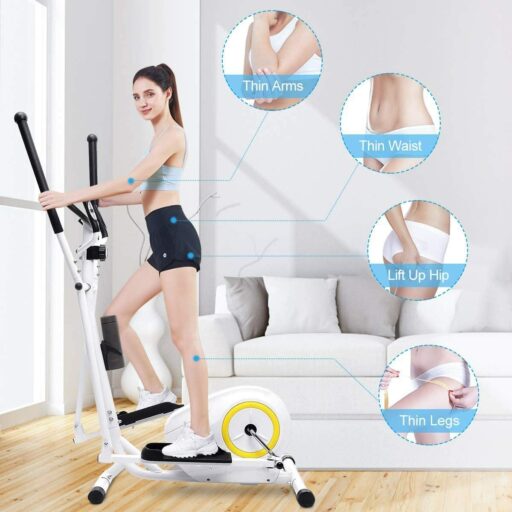 The internal parts of the machine do not require lubrication. So, you only have to check for loose bolts and nuts and lubricate the joints if they begin to squeak in terms of maintenance.
Pros
Fairly sturdy frame – can support users up to 250 lbs;
Adjustable stabilizers on the rear base;
Transport wheels on the front base;
Mobile arms with an ergonomic design and ball grips at the top;
Fixed grips with pulse sensors;
Smooth and quiet belt drive system;
Oversized pedals with three adjustment positions;
Eight levels of magnetic resistance;
LCD console that can track time, distance, calories, pulse, speed, and odometer;
Goal setting functions for time, distance, and calories;
Device holder included;
The bottle holder comes included;
Quiet operation;
Easy to assemble;
Little maintenance is required.
Cons
The LCD doesn't have a backlight;
A tablet placed on the device holder will cover the LCD.
Summary
The Doufit EM-01 is an elliptical trainer made for home use. It features a manual magnetic resistance system with eight difficulty levels, a set of oversized pedals, a weight capacity of 250 lbs, and a console that can track time, distance, total distance, speed, calories, and pulse.
It's a fairly decent machine for light to medium-intensity cardio workouts, interval training, muscle toning, and weight loss. It's also an affordable cross trainer, offering excellent value for the price.
I hope you found this article helpful and informative. If you have anything you would like to share or any opinions about my website, please speak up. I look forward to your comments, questions, and the sharing of ideas.