Step up to the Body Power StepTrac BST800 Elliptical/Stepper Trainer with Curve-Crank Technology for the ultimate workout. This machine delivers a smooth exercise with the ease of an elliptical and a vertical stepper.
Curve-crank technology allows for a more efficient motion, which means you'll get more out of your cardio workout. With dual-action handlebars and an elliptical and vertical climber motion, this machine can exercise both leg and arm muscles for a total upper- and lower-body workout.
More than just a cardio machine, this stepper provides a full-body workout in the comfort of your own home. It features different resistance levels to customize any training to your ability level. In addition, an ergonomic resistance knob positioned conveniently on the center of the bike's body allows you to quickly and safely adjust the resistance level while still exercising.
This machine includes a 12-minute workout video displayed on the machine's LCD screen. In addition, this fitness monitor LCD screen also displays the distance, time, speed, RPM, calories burned, and pulse heart rate. Pulse monitoring is via the integrated HR pulse sensors on the fixed handlebars.
Learn more in my complete review below!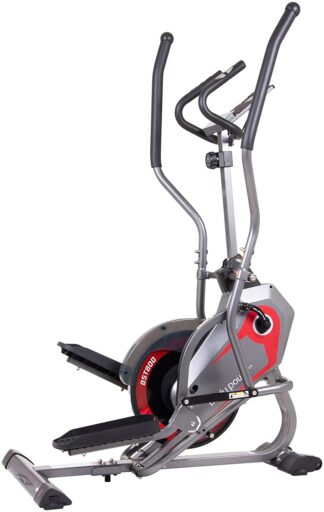 Product: Body Power StepTrac BST800 Elliptical/Stepper
Price: For a great deal on this hybrid, merely go here on Amazon
Warranty: Frame 1 year/parts 90 days
My rating: is 8/10
Affiliate Disclosure: As an Amazon Affiliate Program participant, I earn commissions on purchases made through links in this post. Full disclosure
Details and Specifications
Assembled dimensions: 42L x 24W x 62H inches (107L x 61W x 157H cm)
Assembled weight: 88 lbs (40 kg)
Supported weight: 250 lbs (113 kg)
Adjustable incline: No
Resistance: Manual magnetic, eight levels
Fitness Monitor: Time, distance, odometer, RPM, speed, calories burned, and pulse
Extras: Tablet holder
Warranty: Frame 1 year /parts 90 days
BST800 Frame Construction
The Body Power StepTrac BST800 elliptical/stepper features a steel frame with pretty heavy construction. Once assembled, it weighs approx 88 lbs (40 kg). Therefore, it is advisable to be carried by two people. On the other hand, one person can assemble the trainer. Also, once completed, its relocation is quickly done by only one person. Its front base has wheels, while its rear base bar integrates a small lifting handle.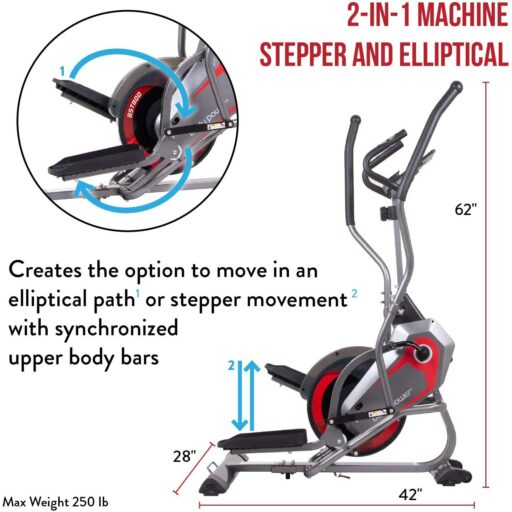 Its rear base is equipped with adjustable stabilizers, while its front base rests on rubber pads that improve its grip on any floor.
The machine is relatively compact compared to a regular, front-drive elliptical trainer. It is only 42″ (107 cm) long and 24″ (61 cm) wide. Therefore, it doesn't take up too much space. But on the other hand, it is advisable to leave at least two feet of clearance all around it for easy access and safe usage.
The machine combines cylindrical, rectangular, and triangular bars to improve aesthetics and sturdiness. In addition, all the steel parts come coated with a corrosion-resistant paint finish. The color used for most of the components is metallic gray.
The unit also integrates several ABS parts in its construction. For example, the covers of the drive elements, the pedal trays, and several other small covers are ABS-made.
Like most front-drive elliptical trainers, the Body Power StepTrac BST800 has two handlebars, one fixed and one mobile. The fixed handlebars are directly attached to the front mast of the trainer. They're non-adjustable; they feature rubberized grips and metallic HR pulse sensors. Therefore, the fitness monitor can monitor your pulse when holding the sensors.
The moving handlebars of the machine feature extended, rubberized grips. Unlike the fixed bars, they don't integrate HR pulse sensors. However, they have ball grips at the top, a feature not all ellipticals offer.
Elliptical path, stride, and step-up height
First, the Body Power StepTrac BST800 does not have an incline system. However, since it's an elliptical-stepper hybrid, its pedal track system is oblique, not horizontal. In addition, it's at an angle of approx—40 °. Therefore, the unit's elliptical path is also inclined, and the pedaling motion combines the feel of a stepper and an elliptical.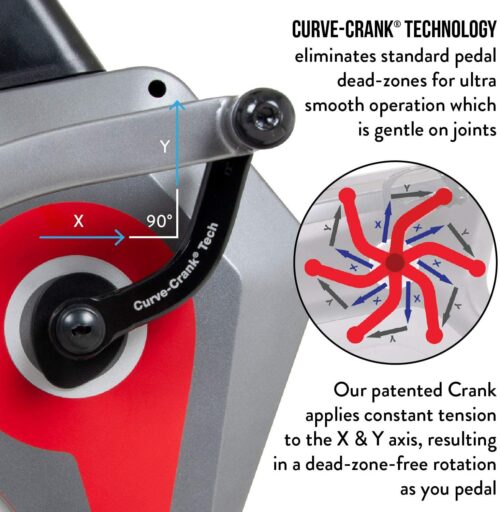 The machine's pedal bars are steel-made, while the pedal trays are made of durable ABS material. They have a user weight capacity of 250 lbs (113 kg). Unfortunately, they don't have extra cushioning or articulation elements like the expensive ellipticals.
However, they have a textured, non-slip surface and side guards for extra foot stability. They're also pretty significant, approx. 13″ (33 cm) and can accommodate athletic shoes of all sizes.
The pedal bars integrate large wheels (one each) with a rubberized outer layer and an internal ball bearing. Furthermore, the tracks on which these wheels slide feature stainless steel covers to prevent wear and tear. Thus, the motion of the pedals is smooth and quiet.
The exact stride length made available by the Body Power StepTrac machine isn't specified. However, it is comparable with similar trainers, such as the ProGear 9900. Therefore, it should be somewhere between 10″ and 13″ (25 – 33 cm).
Therefore, the machine does not provide the ample movement that a regular elliptical with a 20″ (51 cm) stride offers. But on the other hand, depending on your posture, resistance setting, and several other factors, you can still benefit from a very consistent workout.
The step-up pedal height is approx—5″ (12 cm). In addition, when at the lowest position, the pedals are slightly inclined backward, making stepping on them much more comfortable, especially when coming from the back of the machine.
Conversely, the pedals are approximately 16″ (40 cm) at their highest point. Therefore, it is advisable to use the machine in a room with a ceiling that is at least 20″-25″ (51-63 cm) higher than the tallest users height.
BST800 Drive and resistance
The Body Power StepTrac BST800 has a slightly different drive system than other elliptical trainers. It has a large flywheel, similar to spin bikes. However, the wheel is only partially covered. In addition, it is also perimeter-weighted, adding inertia and consistency to the pedaling motion.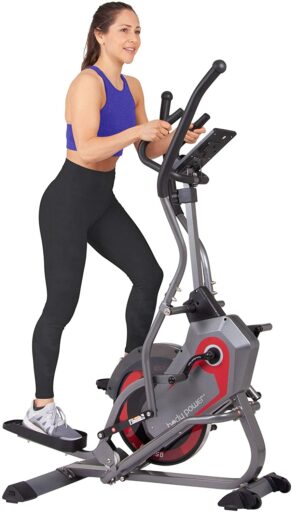 The flywheel's exact weight is not specified, but given its size, it is probably similar to the average weight of a spin bike flywheel (between 30-40 lbs / 13-18 kg). It is also bi-directional; therefore, the machine allows pedaling in reverse.
The BST800 elliptical/stepper comes equipped with a manual magnetic resistance system. Therefore, you don't have to connect it to an external power source. Unfortunately, this also means that its fitness monitor cannot automatically adjust the resistance.
The machine's resistance system consists of an internal magnetic brake connected to the tension dial on the front upright bar. The brake moves closer to the flywheel by turning this dial clockwise, increasing the pedaling difficulty.
The unit provides eight distinct tension levels. The lowest one offers a relatively light pedal tension, powered only by the flywheel's weight. Conversely, the 8th tension level delivers considerably more resistance, exceptional for achieving a higher cardiovascular rate in a shorter time, and provides a more intense workout.
The Body Power BST800 elliptical/stepper features a belt drive system. Therefore, you don't have to worry about internal lubrication, as would be for a machine with a chain drive. Also, the belt delivers a very smooth and quiet motion.
Fitness Monitor
The fitness monitor included with the Body Power StepTrac BST800 elliptical/stepper does not have preset workout programs and cannot control the resistance adjustment. It also does not have Bluetooth or online connectivity; it's just a fitness monitor.
The monitor has a 3.5″ LCD, which tracks time, distance, total distance, speed, RPM, calories, and pulse. The speed and distance are in mph and miles.
The metallic HR pulse sensors integrated into the machine's fixed handlebars provide the pulse rate. Unfortunately, the monitor does not have an internal HRC receiver and cannot communicate with an HR chest strap, armband, or smartwatch.
The monitor is pretty easy to use. It has four buttons: Mode, Reset, and Up/Down selection arrows. For example, the Mode button allows you to scroll through the workout metrics and select the one you want to view on display.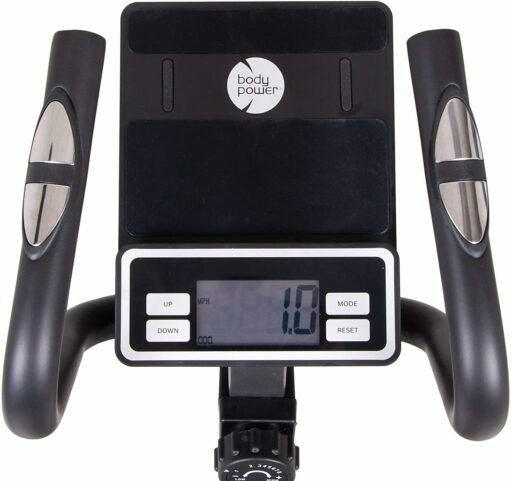 However, the monitor also has a Scan Mode, which, if elected, automatically rotates all the metrics showing each one for a few seconds.
The Up/Down arrows allow you to select time, distance, and calorie targets. And finally, the Reset button will enable you to clear all the unit values to zero.
The fitness monitor is battery-powered, and the batteries come with it. It starts up when you press the mode button or begin pedaling. It also automatically shuts down after a few minutes of inactivity on the machine to save battery life.
One last notable feature regarding the machine's monitor is the tablet holder. This accessory consists of a small shelf right above the LCD. Also, the monitor's top section has two layers of non-slip material, so your tablet or smartphone won't slide off.
BST800 Assembly and Maintenance
Although the main body with the flywheel, belt, and resistance elements comes pre-assembled, the rest still require user assembly. Therefore, you must attach the unit's base bars, the pedals, the front mast and tension cable, moving arms, fixed handlebars, and the fitness monitor.
Therefore, it may take up to two hours, but the manual provides precise assembly instructions. Also, all the necessary tools for assembly come with the machine.
As I've mentioned earlier, the machine's internal parts shouldn't require any maintenance for an extended time. Therefore, you only need to check for loose parts, retighten them as needed, and lubricate the joints if necessary.
Pros
Solid frame with a low center of gravity for extra stability;
Compact design – does not take too much space;
Adjustable stabilizers on the rear base;
Transport wheels on the front base;
Durable, non-slip pedals;
Fixed and mobile handlebars;
Ball grips on the moving handlebars;
Pulse sensors integrated into the fixed handlebars;
Heavy, perimeter-weighted flywheel;
Inclined elliptical path, combining the motion of a stepper with the one of an elliptical trainer;
Zero-friction magnetic resistance system with eight difficulty levels available;
LCD fitness monitor which can track time, distance, total distance, speed, RPM, calories, and pulse;
Batteries for the monitor come with the machine;
Tablet holder included;
Silent operation;
Reasonably easy to assemble;
All the assembly tools included;
Minor maintenance is required.
Cons
The fitness monitor LCD does not have a backlight;
There is no bottle holder.
Body Power StepTrac BST800 Summary
The Body Power StepTrac BST800 is a 2-in-1 elliptical and stepper trainer. It features eight manual magnetic resistance system levels, a heavy flywheel for consistent momentum, and a fitness monitor to track essential workout metrics. It's an excellent machine for light to intense cardio workouts, recovery training, stamina development, muscle toning, and weight loss.
I hope you found this article helpful and informative. Would you please speak up if you have anything you'd like to share on the topic or any opinions about my website? I look forward to your comments, questions, and the sharing of ideas.
Please remember to consult your physician to determine if you have any medical or physical conditions that could risk your health and safety or prevent you from using the equipment properly. In addition, your physician's advice is essential if you are taking medication that affects your heart rate, blood pressure, or cholesterol level.