You don't need to be an expert to understand why leading consumer reports rave about the Body-Solid StrengthTech EXM2500S Home Gym. This home gym option gives you a perfect mix of functionality and affordability.
The Body-Solid StrengthTech EXM2500S has many exercises; it is stable and durable, has a few comfort features, and is comparatively small for a high-end home gym. The exercise options include a chest press, pec station, leg extension/leg curl, lat pulldown, seated row, ab crunch, and many more.
Maximum performance, simple design, and a minimum price are the blueprints for developing this top home gym. In addition, Body-Solid stands behind its home gym with an unbelievable lifetime warranty.
The StrengthTech EXM2500S Home Gym comes fitted with a 210 lb weight stack and can perform your most demanding strength routines. In addition, each precision-built, biomechanically designed station provides muscle growth and definition much faster than other home gyms. Therefore, it is more than worth the investment.
Learn more in my complete review below!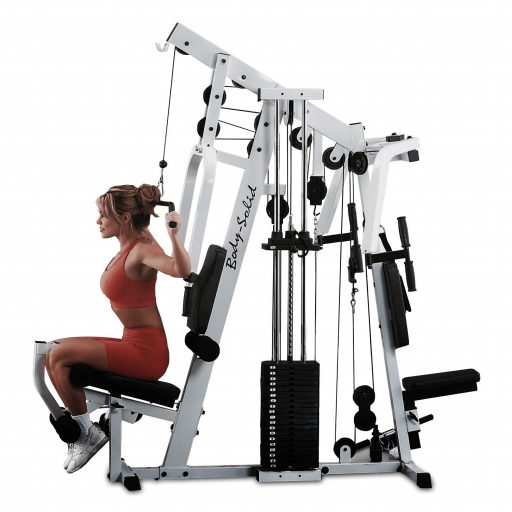 Product: Body-Solid StrengthTech EXM2500S Home Gym
Price: For a great deal on this gym, merely go here on Amazon
Warranty: Lifetime (excludes normal wear and tear and limited to original owner)
My Rating: 8.8/10
Affiliate Disclosure: As an Amazon Affiliate Program participant, I earn commissions on purchases made through links in this post. Full disclosure
Details and Specifications
Assembled dimensions: 83L x 51W x 83H inches (211L x 130W x 211H cm)
Assembled weight: 420 lbs (190.5kg)
Weight resistance system: Cast iron plate stack
Weight resistance: 210 lbs (95.2 kg)
Possible exercises: 30+
Warranty: Lifetime
EXM2500S Frame
The EXM2500S from Body-Solid is a medium-sized home gym system. It has a footprint of 83″L x 51″W (211 x 130 cm), its height being 83″ (211 cm) as well. Thus, it should fit in a room with a seven-foot (213 cm) ceiling, but as you can see, it would be quite a tight fit.
Therefore, it's best to place it in a room with a higher ceiling to avoid any issues. It's also a relatively heavy item of fitness equipment. However, its overall assembled weight is over 400 lbs, so it's exceptionally sturdy and stable once completed.
The frame is steel tubing, 2 x 4″, 12-Ga. It's incredibly durable and coated with white or black corrosion-resistant paint. In addition, it comes with 22 fiberglass reinforced pulleys, which integrate sealed ball bearings for prolonged use.
The cables over the pulleys are 2,200 lbs tested steel ropes coated with a thin sheet of PVC material designed to keep the lifts from scratching. However, even if the PVC sheets on the cables will wear out after a while, the pulleys should still withstand consistent daily wear for many years of use.
The frame's base tubes do not integrate adjustable stabilizers, but the machine's stability has no issues due to its total weight. Nevertheless, placing it on a rubberized mat is advisable to prevent floor damage.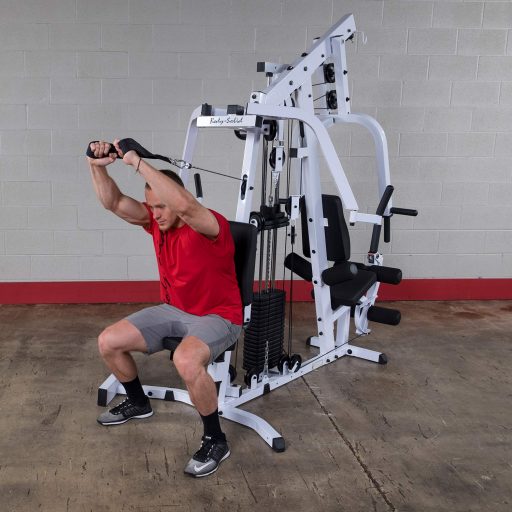 The bases also do not have any holes drilled in them to anchor the floor or pavement. Instead, all tubes have simple, heat-injected plastic caps at their ends for safety and cosmetic purposes.
Seats
The machine comes with two seats, one for the chest press and one for the pec fly station. The seat on the chest press features seven height adjustment positions, with approx — 1/2 inches in between them, and the seat on the pec fly has only five adjustment holes.
The backrests of these seats are non-adjustable. Both seats with their backrests are foam-cushioned, with approx — 2″ of padding. The upholstery is a durable vinyl material in black color.
The leg attachment station and the bar under the backrest are equipped with 4″ (10 cm) foam rollers, providing the correct comfort for the related exercises. In addition, the package includes an ab/triceps strap with two handles, an ankle strap, and the lat bar.
EXM2500S Workout stations
The Body-Solid StrengthTech EXM2500S gym system integrates six workout stations:
Pec fly station –
It's a bi-functional station that provides workouts for the rear deltoids and pectoral muscles. This element includes dual overhead cams with six increments per arm for accurate tuning and pre-stretch with optimal biomechanical movement.
Chest press –
It's a station that targets the development of pectoral, back, and shoulder muscles. It comes equipped with single-grip handles padded with rubber foam.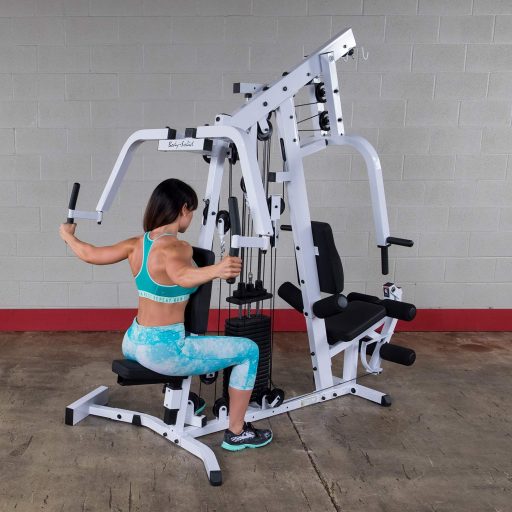 High-pulley –
It comes with a lat pulldown bar, and it's the station that promotes exercises for the back and shoulders, indispensable for a home gym.
Mid-pulley –
This station offers the possibility to perform ab crunches or twists for the core muscles.
Low-pulley –
This workout station is under the fly station's seat, offering the chance to perform seated rows, one-leg curls, or any other exercises involving the low pulley.
Leg developer –
This workout station is under the press arm station, and its pulleys can't be used as low pulleys like other machines. But, as its name suggests, it promotes exercises for the leg muscles.
Weight Resistance
The Body-Solid EXM2500S comes with a cast-iron weight stack with 210 lbs (95.2 kg). It includes 21 weight plates, 10 pounds (4.5 kg) each. However, this weight stack is not upgradable—optional adapter plates for adjusting the weight in 2.5 or 5 lb increments. WSA2-5 and WSA5 are their number names if you want to opt for them.
The weight plates are black, but there are also red-painted, premium plates compatible with this machine. A set of stickers specifying the plates' weight comes with the machine. They're supposed to be on the plates in ascending order, top-to-bottom.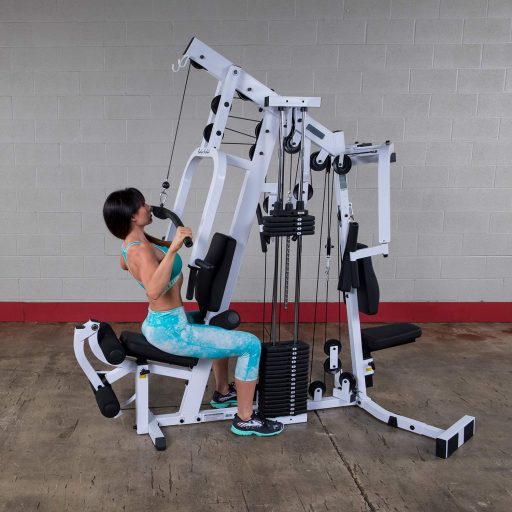 EXM2500S Possible Exercises
Ab Crunch
Bench Press
Biceps Curl (standing)
Bent-Over Row
Close Grip Front Lat Pulldown
Core Twist
Deltoid Raise
Dip
Glute Kick
Inner Thigh Adduction
Leg Curl
Leg Raise
Oblique Bend
Outer Thigh Abduction
Pec Fly
Leg Extension
Pull Over
Reverse Fly
Shoulder Press
Seated Row
Shoulder Shrug
Tricep Press Down
Upright Row
Wide Grip Front Lat Pulldown
Note: A leg press station is not available for this machine; therefore, you won't be able to perform any leg press exercises.
EXM2500S Assembly and Maintenance
As mentioned above, this weight machine is quite heavy and comes packaged in several boxes, weighing approx. 423 lbs in total. It ships in 7 boxes, 3 for the frame and 4 for the weight plates. Therefore, it's advisable to have 2-3 people receive the package, unbox, and assemble it.
Although a straightforward process, an assembly can take 5-7 hours as there are many parts and pieces. An assembly manual comes included, which supplies pretty comprehensive step-by-step assembly instructions.
Tools for assembly do not come with the gym; therefore, you will need an adjustable wrench, a Phillips screwdriver, and a rubber mallet.
Maintenance requires greasing the pulleys if they begin to squeak. In addition, it's best to check the machine's bolts and nuts from time to time, ensure they hold tight in place and re-tighten them if required.
Pros
Sturdy and heavy all-steel frame;
Durable upholstery on seat and back support., with 2″ thick padding for optimal comfort;
Highly durable pulleys with sealed bearings;
4″ roll-pads and stoppers for leg exercises and lat pulldowns;
Adjustable seats;
Cast iron weight plates, with a total weight of 210 lbs, are great for beginner to intermediate users;
Six workout stations, including press station, lat pulldown station, leg attachment, fly station, low pulley station, and mid pulley station;
Over 30 exercises available;
Relatively small footprint for a home gym system;
Quiet operation;
Easy to set up;
Great warranty plan.
Cons
Heavy items of fitness equipment are somewhat difficult to move once assembled;
Tools for assembly do not come with the gym;
Weight ratios for each workout station are not specified.
Body-Solid StrengthTech EXM2500S Summary
The Body-Solid StrengthTech EXM2500S is a home gym system for beginners and intermediate users. It features a cast-iron weight stack with 21 weight plates, 10 lbs each, and six distinctive workout stations, and it has a solid steel frame with fiberglass-reinforced pulleys and steel cables tested for 2,200 pounds.
It's an excellent strength, stamina, and cardio training machine, offering all muscle group training possibilities. On the other hand, it's not exactly one of the most affordable gyms. Still, considering the quality of its components, the number of workout stations, and the weight stack, I can safely say its value/price ratio is reasonably decent.
I hope you found this article helpful and informative. Would you please speak up if you have anything you'd like to share on the topic or any opinions about my website? I look forward to your comments, questions, and the sharing of ideas.
Please remember that you should consult your physician to determine if you have any medical or physical conditions that could risk your health and safety or prevent you from using the equipment properly. In addition, your physician's advice is essential if you are taking medication that affects your heart rate, blood pressure, or cholesterol level.