The ECHANFIT 2901 Upright Bike features a built-in solid X-frame structure, allowing you to have a safe and comfortable cycling experience at home; the folding magnetic upright exercise bike has a maximum user weight of 270 pounds, suitable for most riders.
The 2901 folding magnetic upright exercise bike has 16 adjustable resistance levels, ensuring you have a wide range of exercise intensity options. Experience a smooth, frictionless, and silent ride with silent magnetic resistance, which allows you to adjust your training intensity without interrupting your workout or anyone around you.
The ECHANFIT 2901 includes a fitness monitor allowing you to maximize your ride's efficiency with real-time feedback on speed, distance, time, calories, pulse, and odometer. Unfortunately, the included monitor does not have preset workout programs nor does it have online connectivity.
The 2901 upright bike comes equipped with advanced-designed handlebars with a tablet holder that deliver a comfortable ride and allows for multiple hand positions, supporting you in watching a video and listening to music while exercising. The 2901 exercise bike also comes with adjustable arm training bands to work on cardio and upper body strength simultaneously.
Learn more in my complete review below!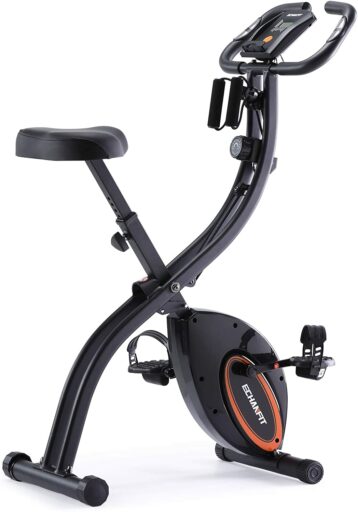 Product ECHANFIT 2901 Upright Bike
Price: For a great deal on this bike, merely go here on Amazon
Warranty: 1 year limited
My rating: 8.5/10
Affiliate Disclosure: As an Amazon Affiliate Program participant, I earn commissions on purchases made through links in this post. Full disclosure
Details and Specifications
Assembled dimensions: 25.78L x 15.89W x 44.24H inches (65L x 40W x 112H cm)
Assembled weight: 38.5 lbs (17.4 kg)
Supported weight: 270 lbs (122 kg)
Seat: 2-way adjustable
Resistance: Magnetic, 16 levels
Fitness Monitor: Time, distance, odometer, speed, calories, pulse, scan
Extras: Resistance bands, phone holder
Warranty: 1 year limited
2901 Frame construction
The ECHANFIT 2901 upright bike features an X-type frame with a folding design of two main pieces connected in the middle. One of the two supports the seat tube and the drive/resistance elements. The other part consists of two curved and parallel tubes supporting the handlebar, monitor, and resistance bands.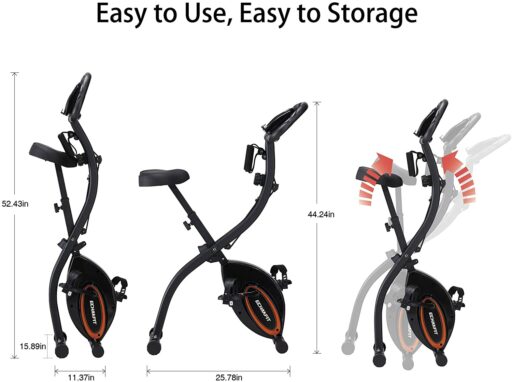 All the bike's steel bars are powder-coated with an abrasion-resistant and corrosion-resistant paint finish. The color used is black, this being the only color available for the moment. The ABS covers the drive, and the resistance elements are also black, with the white/orange "ECHANFIT" logo.
Like other folding exercise bikes, the ECHANFIT 2901 model also has a small footprint. With the frame fully extended, it is approx 25.7″ (65 cm) long and 15.8″ (40 cm) wide. Therefore, leaving at least two feet of clearance around it is advisable.
Also, its height reaches approx. 44.2″ (112 cm) above floor level. Conversely, with the frame folded, the bike's dimensions are 11.37″L x 15.89″W x 52.43″H (29 x 40 x 133 cm).
The bike is also relatively light. It weighs approx 38.5 lbs (17.4 kg). Therefore, it can easily be carried and assembled by only one person. Plus, its front base comes equipped with small wheels that facilitate its relocation.
As I've mentioned earlier, the ECHANFIT 2901 bike includes a set of resistance bands for arm exercises. For instance, this is a plus, as many other folding upright bikes do not have this feature. In addition, each band features a standard D-handle with a foam grip.
These resistance bands are attached to the frame's front section and go through small pulleys. Therefore, it results in smoother usage and better control.
Seat and handlebars
The ECHANFIT 2901 comes equipped with an extra-large seat. It is approx. 13″ (33 cm) wide and 10″ (26 cm) long, so it provides plenty of contact surface. In addition, its top is contoured and approx. 3″ (7 cm) thick for improved comfort.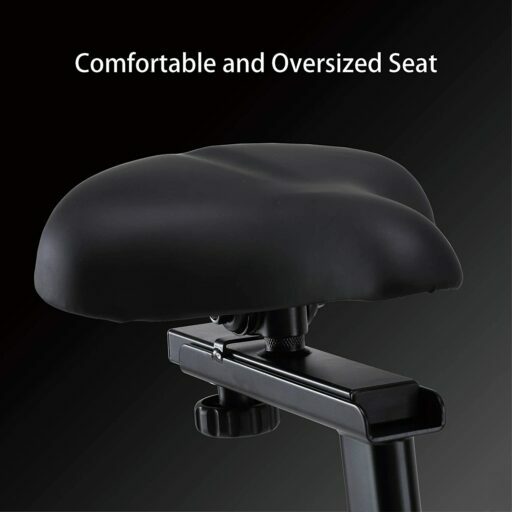 Most folding upright exercise bikes have only a 2-way adjustable seat (up, down), and this model doesn't make an exception. The seat post has several adjustment positions so that the bike can accommodate users up to 6'3 ″ (190 cm).
Its construction is durable enough to support users up to 270 lbs (122 kg), which is not bad for a folding bike made for home use.
One last aspect of the bike's seat that I must mention here regards its attachment system. The seat adjustment post has a triangular plate; the seat attaches to it via three screws. Therefore, if you ever need to replace it, you will have to find a similar seat model.
The bike comes equipped with a multi-grip handlebar. In addition, a layer of rubber foam material covers its side grips to provide extra comfort. Also, its side grips integrate pulse sensors, and the included fitness monitor can track your pulse.
It's important to mention that the bike's handlebar is non-adjustable. It attaches to the top front section of the frame via two bolts/nuts. Therefore, you cannot adjust its height or its angle.
2901 Resistance system
The ECHANFIT 2901 upright exercise bike has a manual magnetic resistance system. Therefore, it does not require a power adapter or an external power source. Unfortunately, on the other hand, it does not offer automatic resistance adjustment.
The resistance system's main elements are a magnetic brake, a small internal lever, a steel cable, and the tension knob visible on the frame's front section. The brake is attached to the knob through the steel cable.
Therefore, when you turn the knob, the brake moves closer or farther from the internal flywheel, increasing or decreasing the workout load.
As opposed to other similar exercise bikes, the ECHANFIT 2901 offers extra micro-adjustment possibilities. For example, its tension system has 16 levels of adjustment. The first few levels deliver little resistance, which is excellent for warm-ups or light workouts.
Conversely, the 16th level of resistance simulates a hill climb and provides enough pedaling tension for stamina development and muscle toning.
Drive system
The weight of the internal flywheel is not specified. However, given the bike's lightweight, it can't be too heavy. It probably doesn't weigh more than 10 lbs (4.5 kg) but does provide a smooth and quiet pedaling motion.
The flywheel allows reverse pedaling. Also, it's important to mention that when pedaling in reverse, the resistance is maintained. For instance, if you select the 10th tension level, you will benefit from the same workout load whether you pedal forward or backward.
The bike's transmission uses a poly-v belt. Therefore, the pedaling motion is tranquil and vibration-free. Also, as opposed to a chain drive, it doesn't require lubrication. So, you don't have to worry about taking the bike's drive unit apart to lubricate the transmission.
Last but not least, the bike has a durable 3-piece crankset. It uses slightly longer and thicker crank arms, but it is not for standing on the pedals or other spin workouts since it is an upright bike. In addition, the included pedals are weighted (self-leveling). Furthermore, they have a non-slip surface and adjustable straps for extra foot stability.
2901 Fitness monitor
As I've mentioned, the ECHANFIT 2901 bike does not have automatic resistance control, so the included fitness monitor does not have preset workout programs. Unfortunately, it also doesn't have online connectivity. So it's pretty much only a fitness monitor.
The fitness monitor features an LCD that tracks time, distance, total distance (odometer), speed, calories, and pulse. The speed and distance are in Imperial units (MPH and miles). There is no possibility of changing them to Metric units. Unfortunately, the monitor is not telemetric. Therefore, it can only track your pulse if you hold on to the EKG metallic sensors integrated into the handlebar.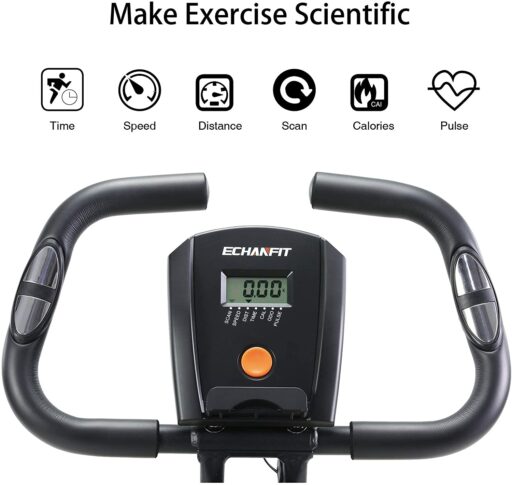 The fitness monitor is straightforward to use. It only has one button, which covers all its functions. For example, by pressing it repeatedly, you can select the workout metric you want to view on display.
This way, you can select the Scan Mode; when you set the Scan Mode, all the workout metrics are displayed in a sequence, each appearing on display for a few seconds.
A reset function is available as well. You can press and hold the button for a few seconds, and all the values reduce to zero.
Last but not least, the fitness monitor has a self-shutdown function. When it does not detect any activity on the bike for a few minutes; it will automatically turn off to save battery life.
2901 Assembly and Maintenance
The two main components for the frame come pre-assembled. Also, all the drive and resistance elements are pre-assembled. So you only need to add the two base bars, the seat post, the seat, the handlebars, the pedals, and the fitness monitor.
Consequently, this shouldn't take more than one hour of your time. The task is straightforward, and the manual provides pretty clear assembly instructions. Also, all the necessary tools come with the bike.
Once assembled, you don't have to do much maintenance. All the internal components are pre-lubricated from the factory, and since the bike has a belt drive system, it doesn't require any lubrication. You'll have to wipe the dust from the frame and periodically check for loose parts and bolts.
Pros
X-type frame, folding design;
Fairly sturdy frame – supports riders up to 270 lbs;
Small footprint;
Transport wheels included;
Highly comfortable, oversized seat, offering 2-way adjustability;
Multi-grip handlebar with rubberized grips;
Pulse sensors integrated into the handlebar;
Heavy-duty crankset with weighted pedals;
Smooth and quiet operation;
16 levels of magnetic resistance;
Fitness monitor included – it tracks time, distance, total distance, speed, calories, and pulse;
Phone holder integrated into the monitor;
Elastic bands with pulleys included;
Easy to assemble;
Very little maintenance is required.
Cons
There is no bottle holder;
The fitness monitor LCD does not have a backlight.
ECHANFIT 2901 Upright Bike Summary
The ECHANFIT 2901 is a folding upright exercise bike made for home use. It features a 16-level magnetic resistance system, a quiet internal belt drive, a large comfortable seat with multiple adjustment positions, and a fitness monitor that tracks essential workout metrics. It also includes a set of resistance bands for arm exercises.
In addition, it's an excellent bike for light cardio workouts, muscle toning, improving stamina, and losing weight. Furthermore, it's also affordable, offering reasonably decent value.
I hope you found this article helpful and informative. Would you please speak up if you have anything you'd like to share on the topic or any opinions about my website? I look forward to your comments, questions, and the sharing of ideas.
Please note you should consult your physician to determine if you have any medical or physical conditions that could risk your health and safety or prevent you from using the equipment properly. In addition, your physician's advice is essential if you are taking medication that affects your heart rate, blood pressure, or cholesterol level.