The Sunny SF-RW5713 Water Rower comes equipped with a steel frame that is strong and sturdy, which lends to its maximum user weight limit of 300 lbs. The sweat, slip-resistant handlebars, oversized slip-resistant pedals, and nylon straps make it safe. In addition, it's got an ergonomic and ergo-efficient design.
Each stroke on the Sunny SF-RW5713 Water Rower meets with infinite resistance. It has 16 hydro blades that help to make it mimic authentic rowing. Furthermore, they harmoniously interact with the water, providing smooth resistance.
The SF-RW5713 comes equipped with the R2 Fitness Monitor. The monitor tracks all essential workout metrics such as Total Time, 500m Split Time, Strokes per Minute (SPM), Total Strokes, Distance, Calories, Heart Rate, and Room Temperature. It tracks enough data to keep a user engaged during a workout while monitoring overall progress.
The seat on the SF-RW5713 comes padded for comfort, and it also sits 17″ above floor level. Thus, you can get on and off of it without unnecessarily bending or straining your back. The 49-inch slide rail is also suitable for tall people with long legs. It's easy to store and move with non-marking rubber wheels.
Learn more in my complete review below!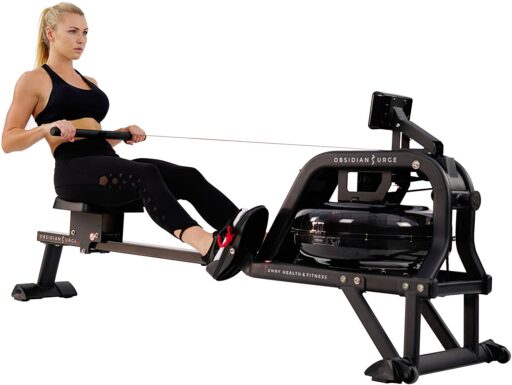 Product: Sunny SF-RW5713 Water Rower – Obsidian Surge
Price: For a great deal on this rower, merely go here to Sunny Health & Fitness.com
Warranty: Frame 3 years / Parts 180 days
My rating: 8.5/10
Affiliate Disclosure: As a Sunny Health & Fitness Affiliate Program participant, I earn commissions on purchases made through links in the post. Full disclosure
Details and Specifications
Assembled dimensions: 78.7L x 22W x 33.4H inches (200L x 56W x 85H cm)
Assembled weight: 81.6 lbs (37 kg)
Supported weight: 300 lbs (136 kg)
Frame: Steel
Footrests: Pivoting, with adjustable straps
Resistance type: Water
Fitness Monitor: Total time, 500m time, distance, SPM, total strokes, calories, heart rate, race program, recovery
Warranty: Frame 3 years / Parts 180 days
SF-RW5713 Frame Construction
The Sunny SF-RW5713 rower features an all-steel construction. However, it's not a commercial-grade machine; the steel tubing in its development is lighter than commercial-grade rowers. With water in the tank, this Sunny rowing machine weighs approx. 81 lbs (~37 kg).
Once fully assembled, its relocation shouldn't be a problem for anyone. Its front base has a set of wheels that facilitate its relocation. The front base rests on two rubber pads, which provide a good grip on the floor, while the rear base features two adjustable stabilizers.
With the frame fully assembled, this trainer isn't huge. Its footprint is approx. 79″L x 22″W (200 x 56 cm), while some other models are about 7-8 inches longer. Its rail offers plenty of travel for the seat; thus, the machine can accommodate users up to 6'3 ″ –  6'6″ (190 – 193 cm). Its maximum user weight capacity is 300 lbs (136 kg).
Regarding the unit's usage space, Sunny Health & Fitness recommends leaving a clearance of at least two feet on each side of the machine and at the rear.
The Sunny SF-RW5713 is storable vertically; the steel assembly around the water tank features a small stabilizer at the front. When stored in a vertical position, the unit's footprint becomes 22″ x 33″ (56 x 85 cm). When held vertically, the water can remain in the tank.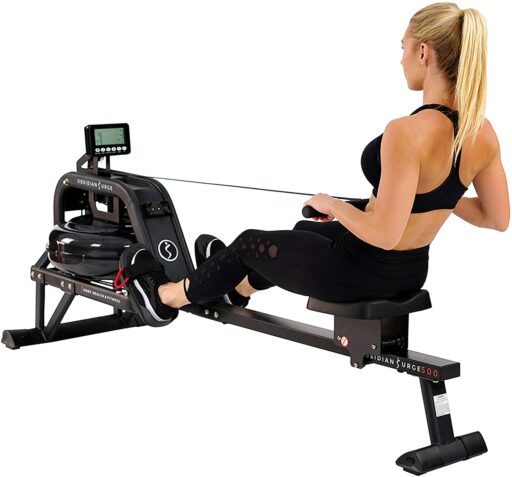 One last aspect to note here regards the unit's paint finish. The Sunny SF-RW5713 rower features a black paint finish for all its steel components. This type of coating is corrosion-resistant and scratch-resistant; however, although the frame has protection from rust, it's still advisable to keep the unit indoors.
Seat, Footrests, & Pulling Handle
The SF-RW5713 comes equipped with a seat that excels in ergonomic factors. It has a contoured surface and integrates a layer of foam padding. Its dimensions are 10″D x 12.5″W (25.4 x 32 cm), providing plenty of contact surface for the user.
Its surface also offers excellent adherence, preventing the user from sliding off it during rowing. It's 17″ (43 cm) above floor level to facilitate entry and exit.
The seat slides on three wheels equipped with ball bearings for smooth use and a prolonged lifespan. The lateral metallic frame of the seat conceals the wheels to maximize safety.
The machine's footrests have a pivoting design. Therefore, they offer more freedom to the feet and ankles during each rowing motion, which results in less overall stress. In addition, they feature a non-slip surface, heel guards, and adjustable velcro straps to provide maximum foot stability.
The unit's pulling handle is a simple, straight metallic bar with rubberized grips for optimal comfort. In addition, the handle connects to an abrasion-resistant mesh belt designed to resist the stress of repeated pulling for a long time.
The handle doesn't have integrated pulse sensors. Therefore, you will have to use an HR chest strap (sold separately) to have your heart rate read.
SF-RW5713 Water tank and resistance system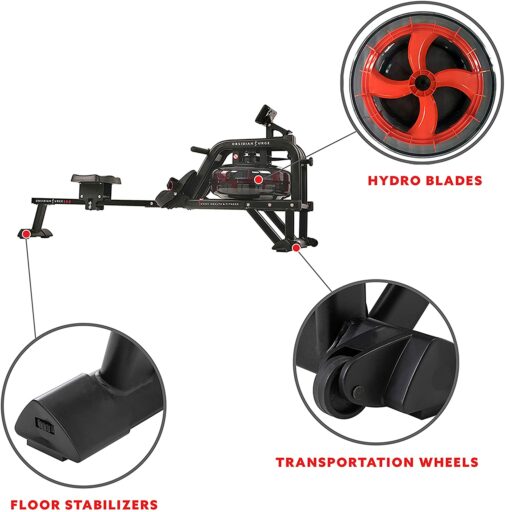 The Sunny SF-RW5713 rowing machine features a water resistance system similar to the WaterRower models. The water tank is a durable polycarbonate material but smaller than the WaterRower models.
Its capacity is not specified, but it has six markings, and it is advisable not to fill it with water over the 6th level.
Since it's a water resistance rower, it provides a dynamic response during rowing. For example, the resistance depends on how hard or fast you pull the handle. The water tank comes equipped with 16 hydro blades made of stainless steel.
However, unlike some First Degree Fitness models, the tank doesn't have an adjustable resistance system. If you want to adjust the overall resistance, you can manually add or remove water from the tank.
Like any other water resistance rower, the water in the tank requires periodic treatment. Therefore, one packet of water purification chlorine pills comes with the machine.
You don't have to change the water in the tank periodically, but adding a purification tablet every six months is advisable. A funnel and a small siphon pump come with the rower for filling or emptying the water tank.
Fitness monitor
The fitness monitor included with the SF-RW5713 rower is a mid-range one. Unfortunately, it doesn't have online capabilities and isn't compatible with any online fitness apps. However, it does have two main workout modes, Manual and Race, and a recovery function.
The Manual Mode has two options. One, you can start rowing, and the monitor will count the values of your workout. And two, you can set up target values for time, distance, strokes, calories, and pulse, and the monitor will count down from there.
The Race mode has 15 levels of difficulty. For level 1 (L1), the Time/500m is set at 8:00, while level 15 (L15) is at 1:00.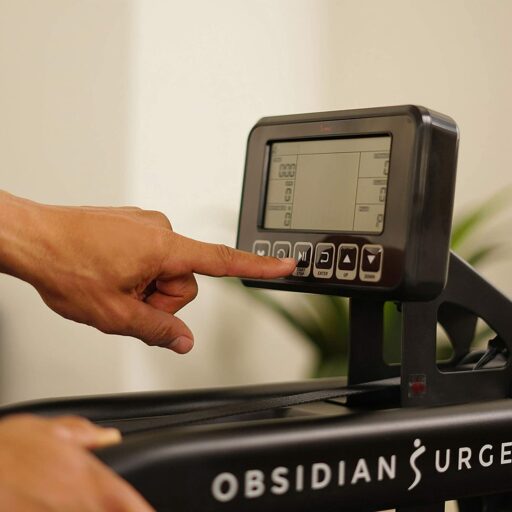 The fitness monitor features an LCD, which tracks the time, time/500m, SPM, strokes, distance, calories, and pulse. However, the distance displays in meters only.
The machine doesn't have pulse sensors, so the monitor can only read your pulse via a wireless chest strap. The monitor should work with any 5.3 kHz HR chest strap transmitter. Unfortunately, the HR chest strap does not come with the rower.
There's also a Recovery function on the monitor that allows you to calculate your fitness level. At the end of the workout, the heart rate will provide a fitness rating between F1 (Excellent) and F6 (Poor).
Along with the workout mentioned above metrics, the rower's monitor also displays room temperature, clock, and calendar. It uses two AA batteries that come with the rower. In addition, it has a sleep mode which will enter after four min. of inactivity on the machine.
SF-RW5713 Assembly and Maintenance
The rower's water tank, the other drive system elements, and footrests come ready-assembled with its protective frame. Therefore, the assembly only requires connecting the rail, the seat, the front and rear bases, and the fitness monitor.
All the tools needed for the assembly come with the machine. In addition, the manual provides straightforward assembly and tank-filling instructions. Consequently, the task shouldn't take more than one hour of your time.
It is advisable to add a water purification tablet to the water tank every six months for maintenance. In addition, the rail should be kept clean and free of any objects that may damage the seat's wheels. Also, it's advisable to periodically check for loose bolts and parts and re-tighten them if necessary.
Pros
Pretty sturdy steel frame which can support users up to 300 lbs (136 kg);
Great aesthetics;
It can store vertically, and the water doesn't need removal;
Transport wheels for easy relocation;
Rear base adjustable stabilizers;
Contoured and padded seat;
The seat's top is 17″ above floor level for easy entry and exit;
Water-resistance system which provides a dynamic response during rowing and a natural feel;
Mid-range fitness monitor which indicates time, time/500m, SPM, strokes, distance, calories, and pulse;
Two workout modes – Manual and Race;
Clock, calendar, and room temperature reading function on the meter;
Recovery function;
Smooth and quiet operation;
Chlorine tablets for water purification included;
Batteries for the console included;
Tools for assembly included;
Little maintenance is required;
Easy to assemble.
Cons
The fitness monitor LCD doesn't have an LED backlight;
An HR chest strap does not come with the rower (it requires 5.3 kHz HR straps).
Sunny SF-RW5713 Water Rower Summary
The Sunny Health & Fitness SF-RW5713 Obsidian Surge is a water-resistance rower with a durable steel frame and a mid-range fitness monitor that can track time/500m, SPM, strokes, distance, calories, and pulse. It's not a commercial-grade machine but does offer an excellent, full-body aerobic workout.
Moreover, it's great for interval training, light to intense cardio training, building stamina, and losing weight. And finally, it's one of the most affordable rowing machines with water resistance. It costs at least a few $100s less than other models and delivers excellent quality.
I hope you found this article helpful and informative. Would you please speak up if you have anything you'd like to share or any opinions about my website? I look forward to your comments, questions, and the sharing of ideas.
Please remember that you should consult your physician to determine if you have any medical or physical conditions that could risk your health and safety or prevent you from using the equipment properly. In addition, your physician's advice is essential if you are taking medication that affects your heart rate, blood pressure, or cholesterol level.