The Endurance ESB250 Exercise Bike is another excellent exercise product from Body-Solid that can give you the benefits of building up your endurance and improving your cardiovascular system. The oversized 2″ x 5″ steel frame is rock solid even during extreme workouts and has a maximum user weight capacity of 350 lbs (159 kg).
Its features are micro-adjustable handlebars, dual-sided pedals, a super-quiet drive system, a seat pad that ensures the exact fit for any size user, and a precisely balanced 44-pound flywheel. Thus, it promises to give you great cardiovascular workouts right in the comforts of your home.
Designed to perform like a road bike, the ESB250 is for your home or a heavy-use group facility. The ESB250 provides uncompromising quality and function at a fantastic price. The top-down brake/resistance mechanism has a leather pad for increased durability.
You will not find a commercial-grade spin bike at under $1500 that can hold a candle to this bike! This Endurance ESB250 Exercise Bike will help you achieve a rapid path to good health, physical health, and the body you desire.
Learn more in my complete review below!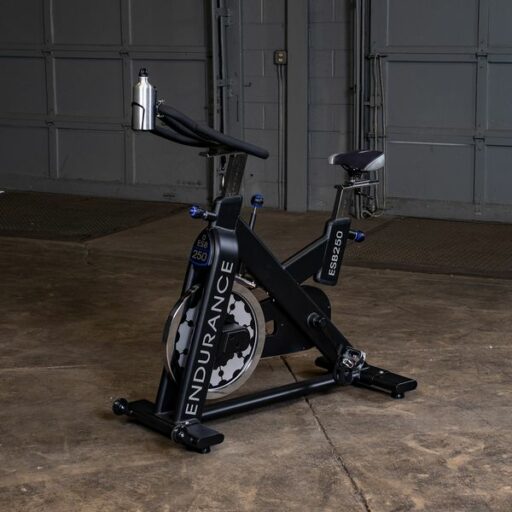 Product: Endurance ESB250 Exercise Bike from Body-Solid
Price:  For a great deal on this bike, merely go here on Amazon
Warranty: In-home: Frame lifetime / Parts 5 years / Labor 1 year
My rating: is 9/10
Affiliate Disclosure: As an Amazon Affiliate Program participant, I earn commissions on purchases made through links in this post. Full disclosure
Details and Specifications
Assembled dimensions: 52L x 21W x 52H inches (132L x 53W x 132H cm)
Assembled weight: 145 lbs (65.7 kg)
Flywheel weight: 44 lbs (20 kg)
Supported weight: 350 lbs (159 kg)
Handlebars: 4-way adjustable
Seat: 4-way adjustable
Drive mechanism: Belt
Resistance: Friction, top-down leather pad
Fitness console: No
Warranty:
– In-home: Frame lifetime / Parts 5 years / Labor 1 year
– Commercial: Frame 3 years / Parts 3 years / Labor 1 year
ESB250 Frame Construction
The Endurance ESB250 features a heavy-duty V-frame with a much higher weight capacity; it can hold users up to 350 lbs (159 kg). Its frame has thick, ovalized steel bars with precision-machined welding points. Its mainframe section is one-piece; the only other frame parts that need attaching with screws are the base bars.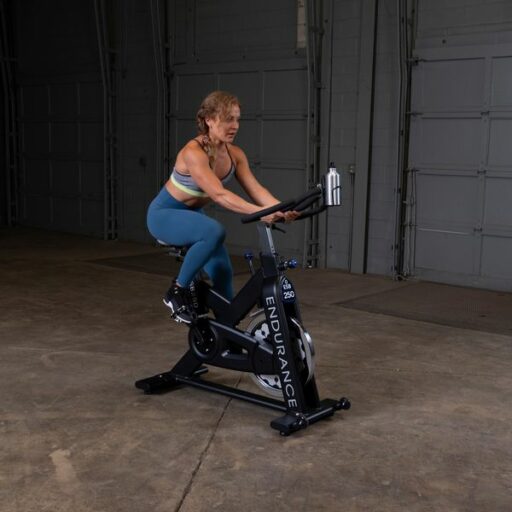 Like most commercial-grade spin bikes, the ESB250 is quite a heavy unit. With all the frames and parts fully assembled, it weighs 145 lbs (65.7 kg), almost four times the average mountain bike's weight.
All this weight considerably improves its sturdiness and stability. Therefore, even if you're close to its maximum weight load capacity, you can be sure that the bike won't wobble or move when you pedal.
Compared to other spin bikes, the Endurance ESB250 is a bit larger. However, it's not an extremely large fitness machine; it's not the size of a commercial treadmill or elliptical. It takes approximately 52″L x 21″W (132 x 54 cm) of floor space. Therefore, it is advisable to leave at least two feet of clearance all around it for safe operation.
The bike's frame and base bars are double-coated with a corrosion-resistant and scratch-resistant paint finish. The color used is gray, with the Endurance logo painted blue, these being the only colors available for it. The seat and handlebar posts, as well as the flywheel, feature a chrome coating.
Seat and Handlebars
The Endurance ESB250 features a 4-way adjustable seat (up, down, front, back). It also allows a bit of tilting back and forth, if necessary. In addition, its horizontal slider offers a few inches of adjustment, while its straight adjustment bar has more than ten adjustment positions.
The seat adjustment system allows the bike to accommodate users from 5'0″ (153 cm) and up. In addition, the seat assembly is durable enough to hold users up to 350 lbs (159 kg).
The saddle itself is not comfortable and does not provide the utmost comfort. It's slimmer than most upright bike seats. It integrates a layer of foam padding, though thicker at the rear.
Furthermore, it also has a longitudinal groove for improved air circulation during exercise. However, it's a standard seat, and compatible options are widely available if you want a different one.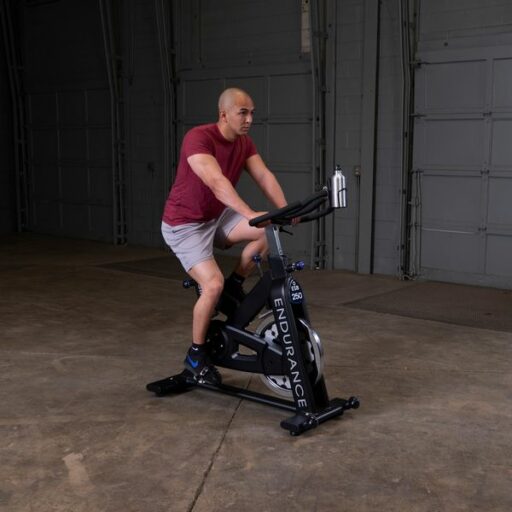 The handlebar is also 4-way adjustable, just like the seat. Its upright bar offers seven adjustment positions. It features a multi-grip design, with a loop aero bar in the middle, which is pretty long, providing plenty of space to rest your elbows during a cycling trip.
The handlebar has a layer of rubber foam material that provides a secure and comfortable grip.
ESB250 Resistance system
The Endurance ESB250 features a manual, top-to-down friction resistance system like most bikes. Therefore, you don't have to connect the cycle to a power source.
The resistance system's main elements are a large rubber/leather pad attached to the frame's central tube and the tension dial on top of this tube. Therefore, as you turn the dial, the pad applies more or less friction to the flywheel, increasing or decreasing the resistance.
Since it's a standard friction resistance system, it doesn't have distinct tension levels. Instead, you can turn the knob until the brake pad delivers the tension you want. As a general idea, you can tighten the pad to the point you can barely pedal.
The bike's tension knob also fulfills the role of an emergency brake. You can press it down to immediately stop the flywheel from spinning. This feature is necessary as the pedals continue to turn for as long as the wheel is spinning.
It's also important to mention that the bike's brake pad may generate a squeaking noise when in contact with the flywheel. However, a little silicone lubricant applied on the edge of the wheel will take care of the sound.
The pad will also wear out after a while, requiring replacement. However, replacement options are widely available since it's a standard pad.
Drive System
The first aspect that I will focus on here is the flywheel. The Endurance ESB250 has an extra-heavy, 44 lbs (20 kg) flywheel, perimeter-weighted, to deliver highly aggressive inertia. Thus, it gives consistent momentum, but the pedaling motion is stable and smooth.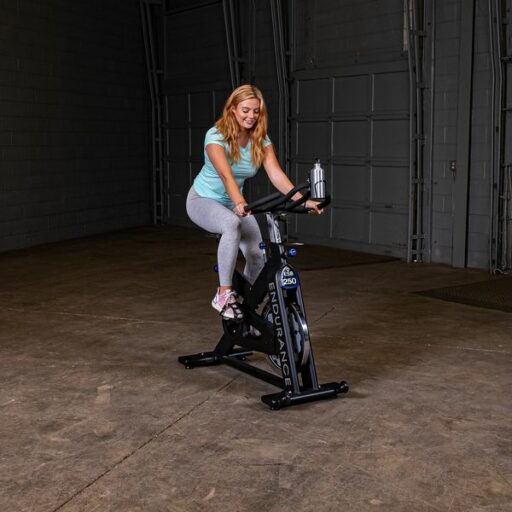 The bike is equipped with a belt drive system, using a heavy-duty poly-v belt, which provides superior traction. Just like any belt drive, it offers three main advantages. First, it generates less vibration than a chain; second, it doesn't require lubrication; third, the pedaling motion is whisper-quiet.
The crankset is another essential element of the bike's drive system that we must cover here. As noted earlier, the cycle can support users up to 350 lbs (159 kg), which also stands for its crank and pedals. So, even if you weigh this much, you should be able to pedal while standing up on the pedals without a problem.
The pedals included with the bike are dual-sided, with toe cages and straps for regular athletic shoes on one side and pro-style clipless elements for spin shoes on the other. They also feature standard threads (9/16), so you can easily find replacements for them if needed.
One last aspect is the bike's Q-Factor (spacing between the pedals). Although this dimension is not specified in the manual or on the official website, it is evident that this indoor cycling trainer features a very narrow Q-Factor.
Specifically, this means your feet are positioned on the pedals naturally, without being too far apart, and this way, there is no additional lateral stress on the knees and ankles.
ESB250 Assembly and Maintenance
The Endurance ESB250 exercise bike comes partially assembled. The flywheel, the brake, the belt, and the crankset are pre-assembled and attached to the frame. Therefore, you only have to connect the bike's bases, the seat, and the handlebars. The manual provides step-by-step assembly instructions, and an essential toolkit is also (included).
Since the bike has a belt drive, it doesn't require lubrication. However, the brake pad may need a silicone lubricant if it generates a squeaking sound when in contact with the flywheel. It is also advisable to inspect the bike for loose parts and bolts periodically and retighten them if necessary.
Pros
Heavy-duty, 2″ x 5″ steel frame – can support users up to 350 lbs;
Small footprint;
Transport wheels;
Adjustable stabilizers;
4-way adjustable, multi-grip handlebar;
4-way adjustable seat;
Spin saddle with rear cushioning and a longitudinal groove for extra airflow;
Long aero bar;
Smooth and almost silent belt drive, which makes the bike perfect for apartment use;
44 lbs flywheel, inertia-enhanced and bi-directional;
Friction resistance, which offers tension up to the point you can barely pedal;
Dual-sided pedals – toe cages on one side, clipless on the other;
Easy to assemble;
Little maintenance is required.
Cons
There is no fitness monitor;
The water bottle is not included.
Endurance ESB250 Exercise Bike Summary
The Endurance ESB250 from Body-Solid is a commercial-grade bike that supports any spin workout. Accordingly, it features a 44 lbs flywheel and a standard friction resistance system. In addition, it excels in micro-adjustability and offers an impressive 350 lbs weight capacity.
Besides, it's excellent for mid-range to high-intensity workouts, interval training, endurance and strength development, muscle toning, and weight loss. In particular, it's an exceptional indoor cycling trainer, offering excellent value for the price.
I hope you found this article helpful and informative. Would you please speak up if you have anything you'd like to share on the topic or any opinions about my website? I look forward to your comments, questions, and the sharing of ideas.
Please remember that you should consult your physician to determine if you have any medical or physical conditions that could risk your health and safety or prevent you from using the equipment properly. In addition, your physician's advice is essential if you are taking medication that affects your heart rate, blood pressure, or cholesterol level.