Push yourself to become stronger, faster, and better with Sunny SF-B1805 SMART Indoor Cycling Bike. Experience a high-intensity workout with the bike that supports multi-hand grips and high-interval training. Feel secure on the heavy-duty steel frame supporting up to 300 lbs maximum weight.
With virtually no maintenance, micro-adjustable resistance creates an unbelievably smooth ride that makes multiple levels of riding for enthusiasts. Intensify cardio with the 44 lb flywheel. Strengthen your legs with a higher-weighted flywheel and enjoy an incredibly smooth, nearly silent, and stable ride.
The Sunny SF-B1805 SMART Indoor Cycling Bike is fully adjustable with a 4-way adjustable seat and handlebars for proper form and a perfect fit. So strap in your preferred shoes, flip the pedal, and clip in with your riding shoes. Clipless pedals maximize the power and efficiency of every pedal stroke and help you get the most out of your riding sessions.
The all-new SunnyFit APP takes your Sunny workouts to the next level! View your live metrics displayed in real-time as you tour the world with real location maps. Get the results you want with customized workout plans. Explore 100+ workout videos that fit your schedule and goals. Compare your results on the exercise bike leaderboard, share your fitness experiences, get workout tips, and much more!
Learn more in my complete review below!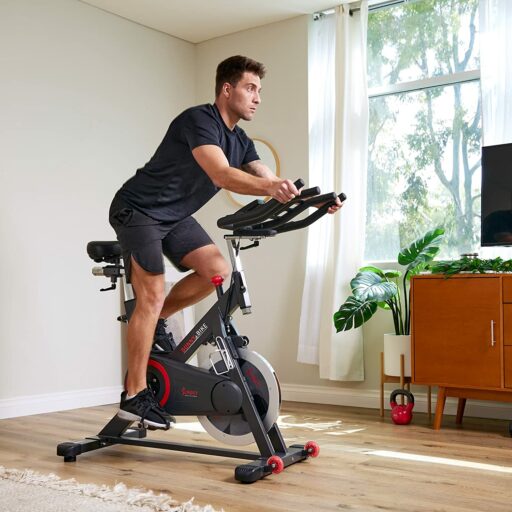 Product: Sunny SF-B1805 SMART Indoor Cycling Bike
Price: For a great deal on this bike, merely go here to Sunny Health & Fitness.com
Warranty: Frame 3 years, Parts 180 days
My rating: 9.5/10
Affiliate Disclosure: As a Sunny Health & Fitness Affiliate Program participant, I earn commissions on purchases made through links in the post. Full disclosure
Details and Specifications
Assembled dimensions: 50.8L x 23.4W x 47.6H inches (129L x 59W x 121H cm)
Assembled weight: 125.7 lbs (57 kg)
Flywheel weight: 44 lbs (20 kg)
Supported weight: 300 lbs (136 kg)
Drive: Belt
Resistance: Manual magnetic
Fitness monitor: Speed, average speed, max speed, cadence, average cadence, max cadence, time, distance, calories, pulse, race program
Accessories: Bottle holder, tablet holder, Bluetooth, compatible with the SunnyFit app
Warranty: Frame 3 years, Parts 180 days
SF-B1805 Frame Construction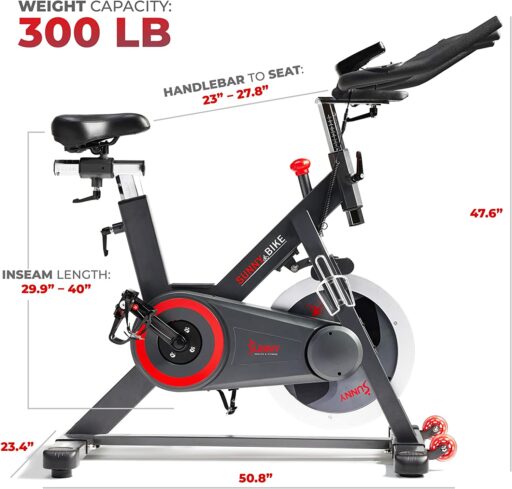 The Sunny SF-B1805 SMART indoor cycling bike features a heavy-duty steel frame made mostly of rectangular tubing. Although it's not rated for commercial use, it has the sturdiness and construction of at least a light-commercial bike.
The frame has a triangular design for maximum durability. It also integrates a step-up bar, the small horizontal tube at the base of the seat tube, right above the crank. Not only does this bar help with mounting and dismounting, as well as in specific spin workouts, but it also improves the frame's structural sturdiness.
The main frame comes double-coated with a rust-resistant and chip-resistant black paint finish. The only exceptions are the seat post and slider, the handlebar post with its slider, and the flywheel. These have a chrome finish.
This Sunny Health & Fitness exercise bike is not too large compared to other fitness machines. It is approx—50.8″ (129 cm) long and 23.4″ (59 cm) wide. In addition, you'll have to allow at least two feet of clearance all around it for easy access and safe usage.
The bike is relatively heavy, weighing approximately 125.7 lbs (57 kg). Therefore, two people should carry and assemble the bike. However, once completed, one person can move the bike without difficulty. Its front base has large silicone wheels, and both base bars have large adjustable levelers.
Seat and handlebars
The Sunny SF-B1805 SMART indoor cycling bike has a saddle designed for superior comfort. First, it is pretty extensive, approx. 10″L x 8″W (25 x 20 cm), so it provides plenty of contact surface.
It integrates a thick layer of foam padding (approx. 3″) and has a durable faux leather cover that is moisture-proof and easy to maintain.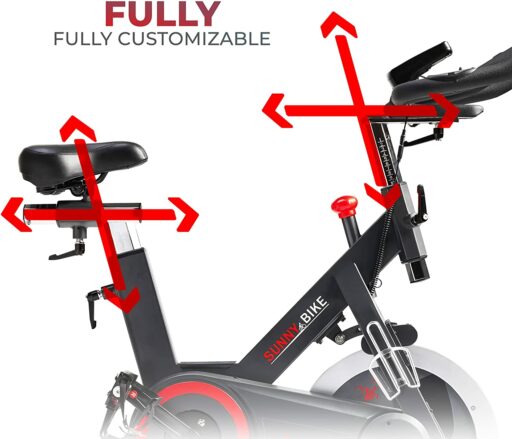 In addition, it has a median groove for improved breathability. Furthermore, it has suspension springs in the rear, so it can easily bend and adapt to your movement.
Another critical aspect of the saddle regards its attachment system. It is collar-type, so you can easily remove it if necessary. In addition, compatible options are widely available at most bike shops if you ever want or need to replace them.
The seat is four-way adjustable (up, down, front, back). Its vertical post has multiple adjustment positions with an applicable user inseam length between 29.9″ and 40″ (79 – 101 cm).
Furthermore, the horizontal slider adds a few inches of front-to-back adjustment. Thus, the bike comfortably accommodates users between 5'1″ – 6'7″ (155 – 201 cm). It also has a maximum user weight limit of 300 lbs (136 kg).
This Sunny exercise bike comes with a multi-grip handlebar. It offers the possibility to adopt a climbing grip, an aero grip, a cruising grip, an off-road grip, and a close grip. Furthermore, it integrates HR pulse sensors, while the older model doesn't have this feature.
In addition, it is also four-way adjustable, its highest point being 47.6″ (121 cm), while the distance between it and the seat is adjustable between 23″ and 27.8″ (58 – 70 cm).
SF-B1805 Resistance system
The Sunny SF-B1805 SMART indoor cycling bike has a manual magnetic resistance system. Therefore, you don't have to connect it to a power source and don't need a power cord or adapter. Unfortunately, on the other hand, the included fitness monitor cannot adjust the resistance automatically.
The bike's resistance system consists of a magnetic brake attached to the frame and the bike's tension knob. Therefore, when you turn the knob to the right, the magnets cover a more significant portion of the flywheel, which results in a more incredible pedaling difficulty.
In addition, the brake also integrates a small leather pad, and you can press the knob down if you need to stop the flywheel from spinning safely.
The bike's magnetic resistance system has several advantages over a standard friction resistance system. First, the magnets do not touch the flywheel, there is no friction, and the flywheel spins freely and quietly. And second, the magnets do not require lubrication and won't wear out.
The brake doesn't have pre-determined settings like other exercise bikes with a magnetic resistance system. For instance, turn the knob left or right until you find the set you want. As a general idea, the maximum resistance level simulates a steep hill climb and is quite challenging, even for the most seasoned cyclists.
Drive system
The Sunny SF-B1805 SMART indoor cycling bike has a reasonably heavy flywheel weighing 44 lbs (20 kg). It is chrome-plated and has protective ABS side panels. In addition, it is perimeter-weighted and provides consistent momentum, which is excellent for spinning workouts. Furthermore, it is bi-directional so that you can pedal reverse.
The crankset features thick steel arms, while the pedals are aluminum alloy. Therefore, you should be able to perform any spin workout as long as you don't exceed the maximum specified user weight limit (300 lbs).
In addition, the pedals have toe cages and SPD elements for spin shoes. Finally, their threads are 9/16″, so you can easily find replacements for them if needed.
The bike's Q-Factor (spacing between the pedals) is 186mm, which is not too wide, which means that your feet are\ positioned naturally on the pedals without being too far apart. Therefore, it leads to a comfortable ride without extra lateral stress on the knees and ankles.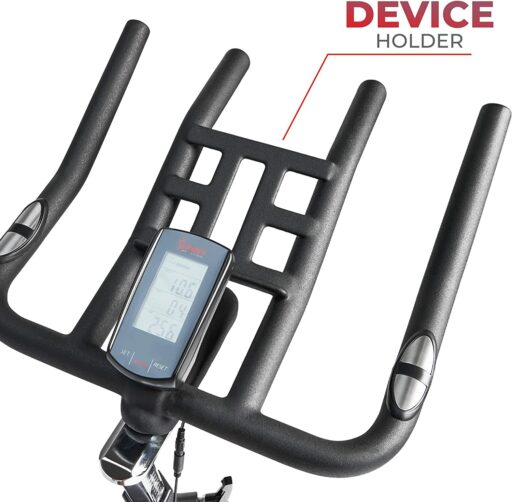 The bike's drivetrain uses a poly-v belt, not a chain. This type of transmission comes with a few advantages as well. First, you don't have to worry about its lubrication or stiff chain links. And second, the belt generates less vibration than a chain, contributing to the overall smoothness of the ride.
SF-B1805 Fitness monitor
The bike comes with a fitness monitor similar to the one included with the Sunny SF-B1852. In addition, it features an LCD that divides into four sub-sections. The top covers the Race program, and the 2nd window covers speed and cadence. The 3rd window shows distance and watts, and the bottom window covers time and pulse.
The speed and distance are in imperial units. In addition, the pulse reading function is grip only. Thus, the monitor can't read your pulse from a heart rate chest strap. Therefore, you have to hold the sensors to get an HR reading.
The monitor has a Race program and allows the selection of workout goals. The Race program is a Cadence goal program. If you pedal slower, the Cadence bar will fall under the chosen Cadence target, so you'll know that you have to pedal faster. Conversely, if the Cadence bar exceeds the target Cadence, you should pedal slower.
The other goal settings are more straightforward. You can select a target for time, distance, and calories. After choosing a target, the monitor will count down from the target until it reaches zero.
The monitor uses two AAA batteries, which come with the bike, as its power source. Furthermore, it starts up when you press the Mode button or when you begin pedaling. It also has a self-shutdown function which initiates if the sensor does not detect any input on the bike.
In particular, the bike also has Bluetooth connectivity. Next, you scan the provided QR code with your phone to install the SunnyFit app.
This app is available for both iOS and Android devices. It opens new features, including multiple workout videos and scenic rides based on various locations in the world that sync with the bike's speed, challenges, and the possibility to track your progress online.
Assembly and Maintenance
The bike's mainframe, with the flywheel, the magnetic brake, the crankset, and the belt, comes pre-assembled. Therefore, you only need to attach the two base bars, the pedals, the seat post, the saddle, the handlebar post, the handlebar, the fitness monitor, and the bottle holder.
Consequently, this shouldn't take more than an hour of your time. The manual provides clear assembly instructions and schematics; an essential toolkit comes with the bike.
For maintenance, you must clean the bike, periodically check for loose parts, and retighten them as required. In addition, the drivetrain doesn't need any lubrication.
Pros
Durable steel frame – can hold users up to 300 lbs;
Aesthetic design;
Adjustable levelers on both bases;
Transport wheels on the front base;
4-way adjustable seat;
4-way adjustable handlebar;
Cushioned and contoured saddle with a large groove in the middle for extra breathability;
Multi-grip handlebar;
Pulse sensors integrated into the handlebar;
Perimeter-weighted, 44 lbs flywheel;
Heavy-duty crank made for standing-up spin workouts;
Metallic alloy, dual-sided pedals, with toe cages on one side, and SPD clips for spin shoes on the other;
Frictionless, wear-free, magnetic resistance system;
Smooth and quiet belt drive, great for apartment use;
Fitness monitor included – it tracks time, distance, speed, cadence, calories, and pulse;
Goal settings for time, distance, and calories;
Race program;
Bluetooth connectivity;
Compatible with the SunnyFit app;
Bottle holder included;
Device holder included;
Easy to assemble;
Little maintenance is required;
Excellent warranty.
Cons
The fitness monitor doesn't have a backlight.
Sunny SF-B1805 SMART Indoor Cycling Bike Summary
The Sunny SF-B1805 SMART is an indoor cycling bike made for home use. It features a manual magnetic resistance system, a high-comfort saddle, superior micro-adjustability, dual-sided pedals, and a fitness monitor with target settings and a race program.
In addition, the bike is also Bluetooth-enabled and compatible with the SunnyFit app. Accordingly, it's a complete exercise bike, great for high-intensity cardio and spin workouts for users of all levels.
I hope you found this article helpful and informative. Would you please speak up if you have anything you'd like to share on the topic or any opinions about my website? I look forward to your comments, questions, and the sharing of ideas.
Please remember that you should consult your physician to determine if you have any medical or physical conditions that could risk your health and safety or prevent you from using the equipment properly. In addition, your physician's advice is essential if you are taking medication that affects your heart rate, blood pressure, or cholesterol level.