The Niceday 206 rowing machine is perfect for home workouts. It fully considers the needs of home users, with features of a higher resistance range, faster fat-burning, quieter, and easy to move and store. So if you are looking for a home-use rowing machine, Niceday 206 is an excellent choice!
The 206 rower offers 16 different resistance choices, which meet the requirements for both beginner and advanced players. Meanwhile, the high-density magnets double the resistance value on every level, making you burn calories and lose weight faster. Niceday rowing machine belts are twice as thick as standard belts on the market. The belt will not deform even after a million pulls.
The Niceday 206 rowing machine digital fitness monitor helps track rowing time, count, distance, speed per minute, and calories burned. The extra-large screen makes it easier to see data even during high-speed rowing. In addition, the monitor and phone bracket are 8 inches higher than the rowing belt. As a result, the belt won't block your view when watching entertainment or the LCD.
The Niceday rower features a high elastic seat with a large size that significantly improves workout comfort. In addition, the 3D surface ensures you always sit on the seat instead of slipping out of it. The thickened pedals are oversized to accommodate shoe sizes up to 13. The 18-inch-long Velcro strap will help to keep your feet on the pedal.
Learn more in my complete review below!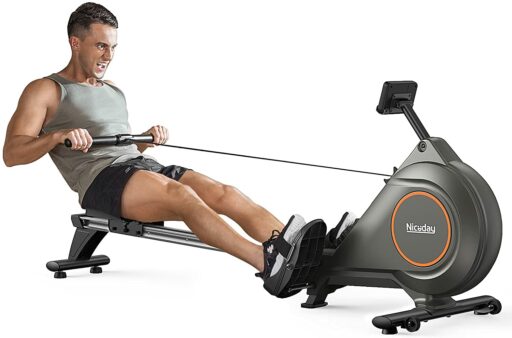 Product: Niceday 206 Rowing Machine
Price: For a great deal on this rower, merely go here to Amazon.com
Warranty: Parts lifetime
My rating: 9.25/10
Affiliate Disclosure: As an Amazon Affiliate Program participant, I earn commissions on purchases made through links in this post. Full disclosure
Details and Specifications
Assembled dimensions: 77.56L x 21.85W x 30.12H inches (197L x 55W x 67H cm)
Shipping weight: 77 lbs (34.9 kg)
Weight capacity: 300 lbs (136 kg)
Frame: Steel & aluminum
Footrests: Pivoting, with straps
Resistance type: Magnetic, 16 levels
Fitness Monitor: Time, count, distance, strokes per minute, calories, goals, scan
Extras: Phone holder
Warranty: Parts lifetime
206 Frame construction
The Niceday 206 rowing machine combines steel and aluminum elements in its frame construction. For example, its front frame section holds the resistance system and the rear stabilizer, and the core part of the rail is steel tubing.
The side sections of the rail are extruded aluminum. In addition, all the steel parts in the machine's construction come coated with a corrosion-resistant black paint finish.
This rowing machine also integrates several plastic parts. The most notable ones are the covers of the drive and resistance elements, the base bar caps, and the casing of the fitness monitor.
The Niceday 206 rower is not a super large fitness machine. However, it does take 77.5″L x 21.85″W (197 x 55 cm) of floor space. In addition, it is advisable to allow at least two feet of clearance on each side of it and at the rear, to be able to execute the rowing motion correctly. Its rail is foldable, and with it folded up, the machine's footprint becomes 35″L x 22″W (89 x 55 cm).
The unit's rail is approx. 46″ (116 cm) long. Therefore, the machine should comfortably accommodate users between 4'9″ and 6'3″ (145 – 190 cm). Furthermore, it has a maximum user weight limit of 300 lbs (136 kg) which is not bad for a home-use machine.
The rower is not super-heavy weighing 77 lbs (~35 kg). Therefore, one person can carry and assemble the rowing machine. Once completed, you can move it more easily as its front base features wheels.
Seat and other parts
The Niceday 206 rowing machine comes equipped with a pretty standard seat. Its top is approx. 12″ (30 cm) wide, providing plenty of contact surface. In addition, it has contours for extra comfort. Finally, it has padding but not thick cushioning, so it's pretty firm.
The base of the seat is steel-made. It integrates three sets of wheels that pass through the grooves of the aluminum side sections of the rail assembly. In addition, they have miniature internal ball bearings and a rubber layer on the outside for smooth motion and reduced noise.
It's also important to note that the machine's rail is not perfectly horizontal. For instance, this is a plus, as the rower provides a better leg workout. In addition, the highest point of the seat is approx—12″ (30 cm) above the floor level.
The rower has a set of oversized footrests, and they're made of a durable thermoplastic material. In addition, they have a textured surface and adjustable straps, as well as heel guards, for improved foot stability.
The unit's footrests are not size-adjustable but large enough to accommodate athletic shoes of all sizes. Furthermore, they have a pivoting design so you can adjust the angle of your feet slightly during each stroke. They do have stoppers at the heel so that they won't tilt backward past an angle of approx. 60°.
The machine's pulling handle has an ergonomic design. It curves slightly towards the user and has rubber foam sleeves for improved contact. Unfortunately, it does not have integrated pulse sensors or other controls. In addition, it attaches to a heavy-duty nylon strap highly resistant to abrasion.
206 Resistance system
The Niceday 206 rowing machine comes with a manual magnetic resistance system which is similar up to a point to the resistance of a magnetic exercise bike. However, the rower is not motorized, so you don't need to connect it to an external power source. Therefore, the only power source needed is a set of batteries for its fitness monitor.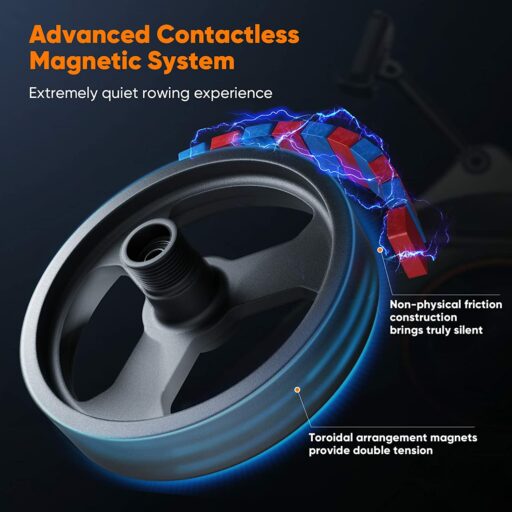 The main elements of the machine's resistance system are a magnetic brake, a tension knob, and a metallic flywheel. The front guards of the machine conceal the brake and the flywheel. In addition, the brake connects to the tension knob via a steel wire.
Therefore, when you turn the knob clockwise, the magnets move closer to the flywheel, which increases the rowing difficulty. Conversely, if you turn the knob to the left, the magnets move away from the flywheel, which leads to a lower rowing difficulty.
The unit's magnetic resistance system comes with a few advantages. For example, the brake does not touch the flywheel, there is no internal fan, and there is no friction between the braking system elements. Therefore, the rowing motion is very smooth and quiet. The unit generates a maximum of 26 dB during usage.
Furthermore, since there is no internal friction, the brake sustains virtually no wear and tear, so it should never need replacement or maintenance.
The machine offers 16 levels of resistance which is not bad, as most magnetic rowers in this price range only offer 8. In addition, the device delivers a reasonably low difficulty level on the lowest setting, which is great for recovery training or muscle toning. Conversely, the 16th tension level is a challenge even for the most seasoned users but great for stamina development and weight loss.
It's also important to note that the machine does not provide a dynamic response like water resistance or air resistance rower. For example, the resistance does not increase if you pull faster. It strictly depends on the selected magnetic tension level. Nonetheless, the rower still provides a consistent full-body cardio workout even if the rowing feel is slightly different.
Fitness monitor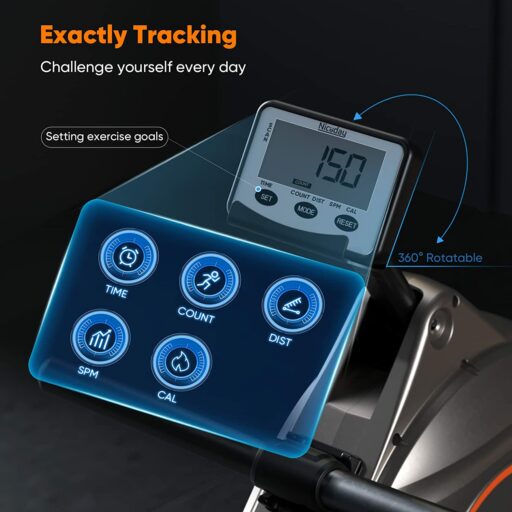 The Niceday 206 rowing machine has a pretty simple fitness monitor. It has an LCD that displays the time, stroke count, strokes per minute (SPM), distance, and calories burned. Unfortunately, it does not have a pulse reading function. In addition, it also does not have a split time (time/500 m) function.
Unfortunately, the monitor is not compatible with any fitness apps, nor does it not have any pre-set workout programs. However, it allows selecting workout goals for time, count, and calories burned.
After choosing a goal for any of these metrics, it will count down from the selected value until it reaches zero. This way, you can keep track of your progress and push your limits from one workout session to the next.
The monitor is straightforward to use. It has three buttons: Set, Mode, and Reset. The Set button covers the goal-setting function. The Mode button allows you to select the workout metric you want to view on display.
There is also a scan mode; in scan mode, the display shows each workout metric for approx. Six seconds and rotates them. And finally, the reset button clears all the values on the monitor to zero.
The fitness monitor is battery-powered, and it requires two AA batteries which come with the rower. In addition, it integrates a device holder, which consists of a small shelf right under the buttons on which you can place your phone. However, you cannot connect or sync your phone with the rower's fitness monitor.
206 Assembly and Maintenance
The front unit of the machine with the drive and resistance elements comes pre-assembled. You only need to attach the front stabilizer, connect the rail to the front section of the rower, add the seat, close the rail with the rear stabilizer, then add the footrests and the fitness monitor.
Consequently, this may take up to an hour, but the task is pretty simple. Plus, the manual provides step-by-step assembly instructions and all the necessary tools for the rowing machine.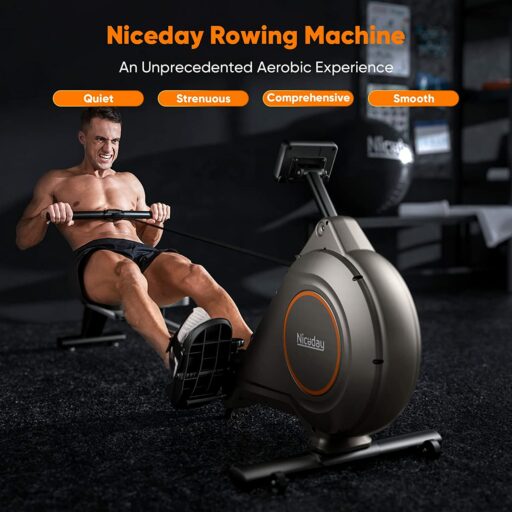 For maintenance, it is advisable to keep the machine clean, especially the rail, to prevent damage to the seat's wheels. However, the internal parts should not need any maintenance for an extended time. Other than this, it would be best to periodically check for loose bolts and parts, retighten them as required, and ensure the machine still functions properly.
Pros
Fairly decent construction – can hold users up to 300 lbs;
Folding rail, space-saving design;
Transport wheels on the front base;
Adjustable levelers on the front and rear stabilizers;
Large, padded, and contoured seat for improved comfort;
Steel rail reinforced with extruded aluminum side beams;
Pivoting footrests with adjustable straps;
Quiet magnetic resistance with 16 distinct levels;
Fitness monitor included – it tracks time, count, SPM, distance, and calories burned;
Workout target function;
Device holder included;
Easy to assemble;
Little maintenance is required.
Cons
The fitness monitor does not have a pulse reading function;
The fitness monitor does not have a split-time function;
The fitness monitor does not have a backlight.
Niceday 206 Rowing Machine Summary
The Niceday 206 is a rowing machine made for home use. It has a 16-level magnetic resistance system, a 46-inch rail, a comfortable seat, and a fitness monitor that tracks time, distance, count, SPM, and calories.
In addition, the rail is also foldable and offers a reasonably decent 300-lb maximum user weight limit. Accordingly, it's a machine for a full-body cardio workout, stamina development, muscle toning, and weight loss.
I hope you found this article helpful and informative. Would you please speak up if you have anything you'd like to share on the topic or any opinions about my website? I look forward to your comments, questions, and the sharing of ideas.
Please remember that you should consult your physician to determine if you have any medical or physical conditions that could risk your health and safety or prevent you from using the equipment properly. In addition, your physician's advice is essential if you are taking medication that affects your heart rate, blood pressure, or cholesterol level.