Combine high-quality performance and superior folding capabilities with the Sunny SF-T7718 SMART Folding Treadmill with a 20″ Wide LoPro Deck by Sunny Health & Fitness. Unlike traditional treadmills that are elevated, bulky, and require more space, this treadmill is compact, sleek, and designed lower to the floor so you can maintain balance and confidence to run at higher speeds.
Run confidently on the extra-wide 47L x 20W inches (119L x 51W cm) running treadmill designed with comfort, stability, and a low-profile deck. The extra-wide running surface supports your stride and keeps you low to the ground giving you a natural running experience without the dangers of running outside. The smooth running surface supports speeds from 0.6 – 9 MPH.
Run with Sunny Health & Fitness expert trainers on the Sunny Health & Fitness SunnyFit APP. Connect your preferred mobile device through Bluetooth and view your performance metrics speed, time, distance, calories burned, pulse, and steps.
Get the results you want with customized workout plans. First, explore 100+ workout videos that fit your schedule and goals. Then, compare your results on the leaderboard, share your fitness experiences, get workout tips, and much more!
Learn more in my complete review below!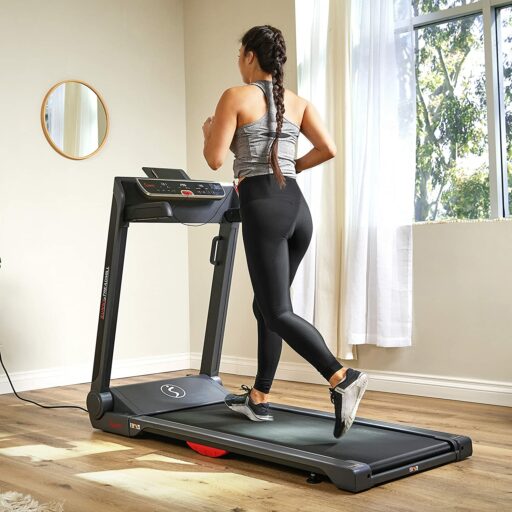 Product: Sunny SF-T7718 SMART Folding Treadmill
Price: For a great deal on this treadmill, merely go here to Sunny Health & Fitness.com
Warranty: Frame 3 years / Parts 180 days
My rating: is 9/10
Affiliate Disclosure: As a Sunny Health & Fitness Affiliate Program participant, I earn commissions on purchases made through links in the post. Full disclosure
Details and Specifications
Assembled dimensions: 63.6L x 29.3W x 47.6H inches (162L x 74W x 121H cm)
Tread belt dimensions: 47L x 20W inches (119L x 51W cm)
Assembled weight: 118 lbs (53 kg)
Supported weight: 250 lbs (113 kg)
Motor: 2.5 Peak HP
Speed range: 0.6 – 9.0 MPH
Incline: No
Console: 9 programs, USB port, Bluetooth, compatible with the SunnyFit app
Extras: Device holder
Warranty: Frame 3 years / Parts 180 days
SF-T7718 Frame Construction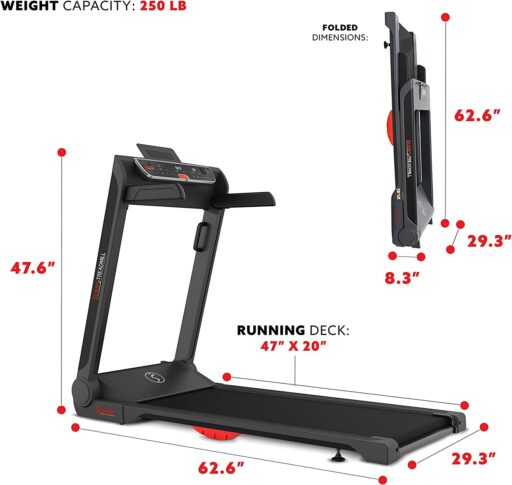 The Sunny SF-T7718 SMART folding treadmill features a rectangular tubing steel frame. Of course, the machine also integrates several plastic parts. The most notable ones are the motor cover, the side rail covers, the console casing, and the handrails. These are all various durable thermoplastic polymers.
This Sunny Health & Fitness treadmill is a fitness machine made for home use, so it's not very large. With all the parts assembled, it is approx—63.6″ (162 cm) long and 29.3″ (74 cm) wide. However, even though it doesn't take up too much floor space, it is still advisable to leave at least three feet of clearance at the rear of the deck and at least two feet at the front and on each side of the machine.
In addition, the treadmill has a folding design. With its two supporting bars, the console can fold down over the deck. In the folded position, its height is only 8.3″ (21 cm), so you can store it under a couch or bed if there is a clearance of at least 8.5″ (22 cm) underneath it. The machine can also store vertically against a wall.
Since it's a small treadmill, it is not super heavy, weighing approx—118 lbs (53 kg). Therefore, two people should carry and assemble the machine. But once removed from its box, one person can quickly move it as its front base frame features transport wheels. In addition, the rear base of the deck features adjustable levelers.
Deck Construction
Unfortunately, the Sunny SF-T7718 SMART folding treadmill does not have an incline system. Thus, you cannot change the angle of the deck in any way. The running surface is almost perfectly horizontal and has a shallow profile. In addition, the belt is approx. 3″ (8 cm) above the floor levels, so you don't have to worry about ceiling height issues.
The treadmill's running surface is not the largest. It is 47″ (119 cm) long and 20″ (51 cm) wide. Therefore, the Sunny SF-T7718 SMART treadmill may not be the best choice for users taller than 6'1″ (185 cm), at least not for running. However, for walking workouts, it should suffice even for taller users. The deck has a maximum user weight limit of 250 lbs (113 kg).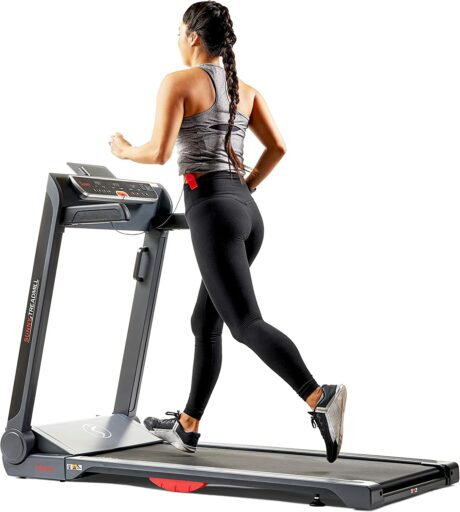 The machine has a cushioned deck. It has two large external cushions, one visible on each side of the deck. However, it also integrates several smaller rubber cushions and pads. Furthermore, the deck board has a bit of flex, so the machine's running platform delivers a more comfortable run or walks than the same type of workout on asphalt or concrete.
The multi-layered tread belt's top layer features a textured, rubberized surface to provide a superior grip for any running footwear. The bottom layer sticks better to the rollers to eliminate belt slippage. However, the exact size of the machine's rollers is not specified. In addition, they have tapering to provide better traction for the belt and to prolong its lifespan. Furthermore, they also integrate high-grade sealed bearings.
SF-T7718 Drive motor
This Sunny SF-T7718 SMART folding treadmill is electric. Thus, you'll need to connect it to a power source. It comes with a power cable featuring a U.S. standard plug. The connector for the cable is at the front of the machine, next to the On/Off switch.
The treadmill has a 2.5 HP peak power motor. Its continuous duty is approx. 1.25 CHP. Unfortunately, it's not the most potent treadmill motor, but it should withstand prolonged runs without losing performance or overheating. Furthermore, the manual advises that you should turn off the machine for 10 minutes after every two hours of continuous use.
The motor's default speed is 0.6 MPH. Its maximum speed is 9.0 MPH. In addition, the console has buttons for gradual speed adjustment and preset speed buttons for 3 MPH and 6 MPH. The speed adjustment increments are 0.1 MPH. Also, the console has several workout programs that automatically adjust the speed.
The motor doesn't create too much noise even if you set the speed up to 9 MPH. However, your cadence may generate more or less noise depending on weight, footwear, running form, floor structure, and other factors. Therefore, even if the motor is quiet, other persons in the household may still hear you using the treadmill.
Console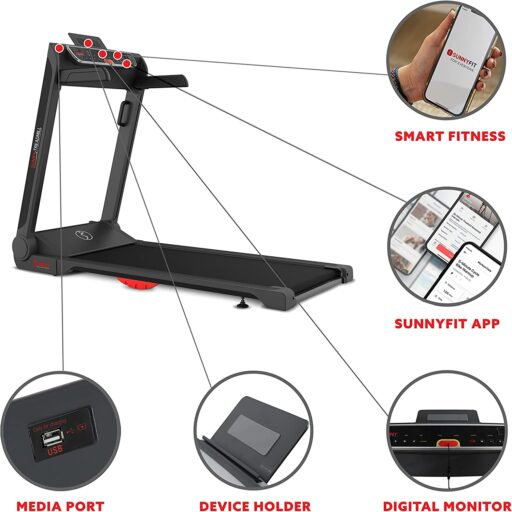 The Sunny SF-T7718 SMART folding treadmill has an LED display console featuring three windows that indicate distance/calories, time/steps, and speed/pulse. The speed and distance are in imperial units (MPH and miles). However, there is no option for setting them to metric units.
The pulse reading function consists of a sensor on the console's right side. So, to have your pulse read by the console, you must hold your finger on it for a few seconds. Unfortunately, the console cannot read your pulse from a wireless heart rate chest strap.
The console has nine preset workout programs in its memory (P1 – P9). Each program has ten workout segments and a different speed setting for each segment. The default duration of each program is 10 minutes, but you can adjust this setting.
In addition, workout target functions are available for time, distance, and calories. After choosing a workout target, the console will count down from the selected target until it reaches zero. For instance, this function can help you push your limits from one workout session to another.
The console has Bluetooth connectivity and is compatible with the SunnyFit app. The app is free for iOS and Android; you can download it from the Apple app store or Google Play. The app offers several features: scenic rides based on locations worldwide, workout videos, challenges, and a live sync with the console. Therefore, you can view the current miles traveled, speed, and calories burned on the app interface on your phone or tablet.
Among other notable console features, I count a device holder and a USB port. The device holder is at the top of the console and is foldable. The USB port is for device charging only. However, you cannot stream workout data through it.
SF-T7718 Assembly and Maintenance

One of the best aspects of the Sunny SF-T7718 SMART folding treadmill is that it comes completely assembled. Remove it from the box, unfold it, and plug it in. Consequently, this shouldn't take much of your time. In addition, the manual provides clear instructions for its usage.
For maintenance, the belt requires periodic lubrication, and a bottle of lubricant comes with the treadmill. The manual provides instructions on how and when to lubricate the belt. Other than this, you must keep the machine clean and check that the nuts and bolts remain tight and held in place.
Pros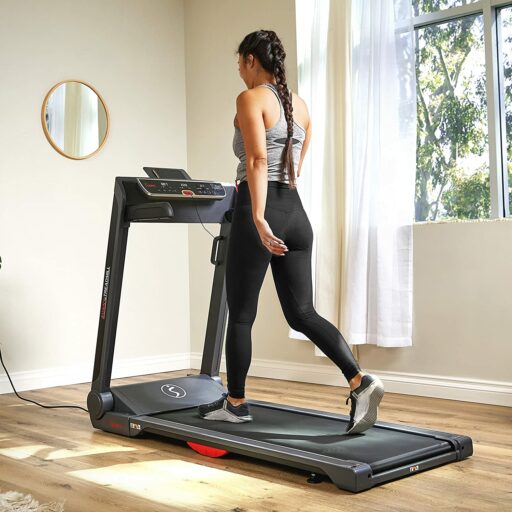 Fairly sturdy deck – can support users up to 250 lbs;
Foldable – can store folded flat or vertically against a wall;
Low deck profile (~ 3″);
Adjustable levelers on the rear base;
Transport wheels on the front base;
Shock absorption elements on each side of the deck;
Speed range up to 9.0 MPH allowing jogging sessions;
Speed increments of 0.1 MPH;
Quick speed and incline buttons for the three and 6-level settings;
Pulse sensor on the right side of the console;
LED-based console with three displays that indicate distance, calories, time, steps, speed, and pulse;
Nine preset programs;
Goal settings for time, distance, and calories;
Bluetooth connectivity and compatibility with the SunnyFit app;
Lubrication reminder function;
USB charging port included;
Folding tablet holder included;
Comes fully assembled;
Little maintenance is required;
Excellent warranty.
Cons
There is no sound system on the console;
The treadmill does not have an incline system.
Sunny SF-T7718 SMART Folding Treadmill Summary
The Sunny SF-T7718SMART is a treadmill made for home use. It has a 2.5 HP motor offering a speed range of 0.6 – 9.0 MPH, and it has a running surface of 47″L x 20″W and a console with nine preset programs.
In addition, the console also has Bluetooth connectivity, and you can connect it to the SunnyFit app for various extra features. Furthermore, it's not the most affordable treadmill in this feature range, but the Sunny SF-T7718 SMART folding treadmill offers excellent value.
I hope you found this article helpful and informative. Would you please speak up if you have anything you'd like to share on the topic or any opinions about my website? I look forward to your comments, questions, and the sharing of ideas.
Please remember that you should consult your physician to determine if you have any medical or physical conditions that could risk your health and safety or prevent you from using the equipment properly. In addition, your physician's advice is essential if you are taking medication that affects your heart rate, blood pressure, or cholesterol level.