Achieve an elite level of connected, innovative fitness with the convenient and resilient Sunny SF-RB420046 SMART Recumbent Bike. Furthermore, this Sunny packs a serious fitness punch regarding technology, flexibility, and value. In tight spaces, you can tilt and roll for use or away for easy storage with convenient transport wheels allowing easy movement of equipment.
Switching up the resistance on this in-home cardio exercise machine is easy. First, turn the resistance knob to cycle through 12-levels of smooth contactless magnetic resistance. In addition, the stand-alone fitness monitor tracks several metrics, including Body Fat%, Calendar, Calories, Clock, Distance, Pulse, Recovery, RPM, Speed, Temperature, Time, and Scan.
The all-new SunnyFit APP takes your Sunny workouts to the next level! Connect your preferred mobile device through Bluetooth and view your real-time performance metrics. Get the results you want with customized workout plans. Ride with Sunny Health & Fitness expert trainers on the Sunny Health & Fitness SunnyFit App.
Pedal for an extended time and push yourself past that extra mile with the help of the extra cushioned seat. The unique, specialized seat features a curved lumbar supporting ventilated back, which promotes airflow and enhances comfort and breathability.
Learn more in my complete review below!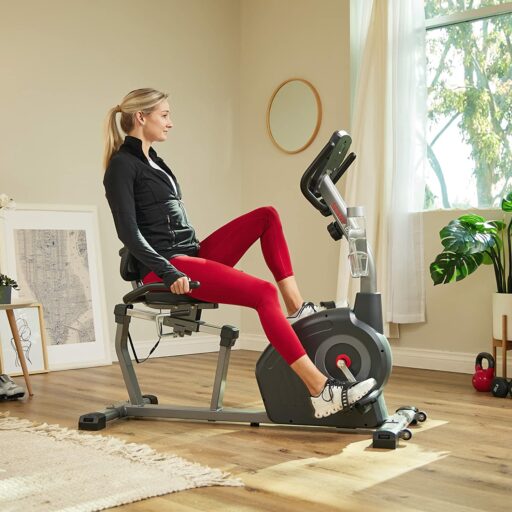 Product: Sunny SF-RB420046 SMART Recumbent Bike
Price: For a great deal on this bike, merely go here to Sunny Health & Fitness.com
Warranty: Frame 3 years / Parts 180 days
My rating: 9.5/10
Affiliate Disclosure: As a Sunny Health & Fitness Affiliate Program participant, I earn commissions on purchases made through links in the post. Full disclosure
Details and Specifications
Assembled dimensions: 56.7L x 26.4W x 46.1H inches (144L x 67W x 117H cm)
Assembled weight: 81 lbs (36.7 kg)
Weight capacity: 300 lbs (136 kg)
Inseam range: 22.1″ – 31.2″ (56 – 79 cm)
Resistance: Manual magnetic, 12 levels
Fitness Monitor: Time, speed, distance, calories, pulse, RPM, goals, scan, goals, recovery, body fat
Extras: Bluetooth, compatible with the SunnyFit app, device holder, bottle holder
Warranty: Frame 3 years / Parts 180 days
SF-RB420046 Frame Construction
The Sunny SF-RB420046 SMART recumbent bike features a durable steel frame combining rectangular and oval tubes in its construction, coated with a durable, gray paint finish. The only exception is the seat adjustment rail which has a chrome plating finish.
Of course, the bike also integrates several plastic parts. The most notable ones are the guards of the drive system, the base bar caps, the backrest frame, and the console casing. These are various durable thermoplastic polymers.
The bike is reasonably large. With all the parts assembled, it is approximately 56.7″ (144 cm) long and 26.4″ (67 cm) wide. Therefore, allowing a few feet of clearance around it is advisable for easy access and safe usage.
And speaking of easy access, the bike has a step-through design. For example, this can be quite a plus for users with specific disabilities as it allows easy entry and exit.
The bike's gross weight (while packaged) is approx—97.2 lbs (44 kg). Thus, two people should carry and assemble the bike.
However, after unboxing and assembly, its net weight is 81 lbs (36.7 kg), and its relocation is considerably more manageable. That's because its front stabilizer features transport wheels. In addition, both base bars have adjustable levelers, which is a plus.
Seat and handlebars
The Sunny SF-RB420046 SMART recumbent bike has an adjustable two-way (front-back) seat. It attaches to a durable chrome-plated rail and features a lever-based adjustment system. Therefore, you can easily adjust its position while you are seated.
The rail offers approx. 9″ (23 cm) of adjustment and the applicable inseam length for this bike is 22.1″ – 31.2″ (56 – 79 cm). Thus, it comfortably accommodates users between 44'10" and 66'3″(147 – 190 cm). In addition, it has a maximum user weight limit of 300 lbs (136 kg).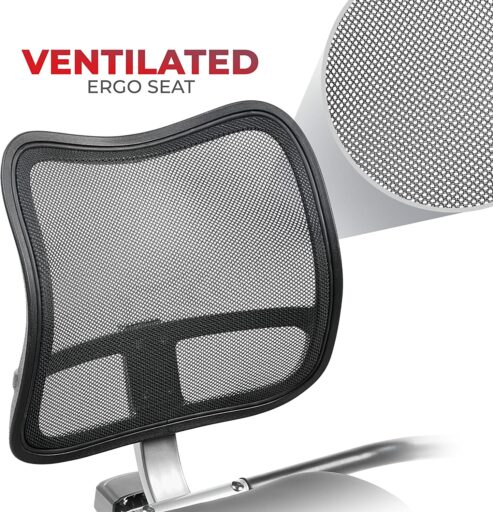 The seat provides superior comfort. The bottom pad integrates approximately 2″ (5 cm) of foam padding. Its cover is a durable vinyl material that is moisture-proof and easy to maintain.
The backrest features a mesh structure with a durable and flexible thermoplastic frame (probably polypropylene). Unfortunately, the backrest does not have a reclining feature nor adjust independently from the rest of the seat.
The bike comes with two sets of handlebars. One attaches to the front vertical bar of the machine and the other to the seat assembly. The front handlebars have a pretty simple design. In addition, they do not have any sensors or controls for the bike. Furthermore, their grips' average height is approximately 43″ (119 cm) above the floor.
The seat handlebars integrate stainless steel HR pulse sensors, and the fitness monitor can monitor your heart rate. Unfortunately, none of the handlebars are adjustable. In addition, both handlebar sets have rubber foam sleeves for an improved and comfortable grip.
SF-RB420046 Resistance system
The Sunny SF-RB420046 SMART recumbent bike has a manual magnetic resistance system. Therefore, it does not require an adapter or power cord. However, the console cannot adjust the resistance automatically and does not have pre-set workout programs.
The bike's resistance system features a magnetic brake connected to the internal flywheel and the tension knob on the front mast of the bike. For instance, when you turn the knob, the magnets move either closer or farther from the flywheel, which increases or decreases the pedaling difficulty.
There are quite a few advantages to the magnetic resistance system. First, the magnets don't touch the flywheel, so there is no friction, and the flywheel moves freely and smoothly. Second, the pedaling motion is whisper-quiet which can be quite a plus. And last, there is no friction between the magnets and the flywheel so the brake won't wear out, and you d don't have to worry about lubricating it.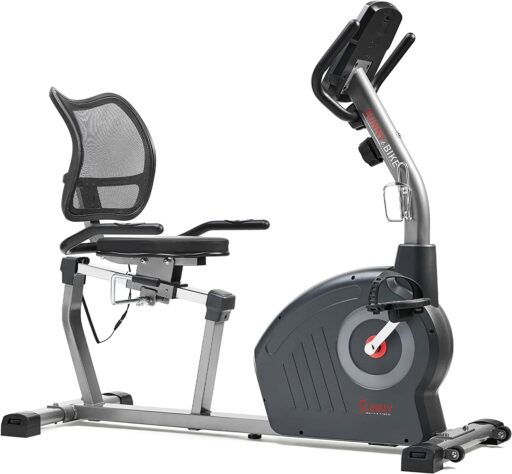 The bike makes available 12 levels of resistance, while previous Sunny Health & Fitness recumbent bike models, such as the SF-RB4905, only have eight tension levels.
The first resistance level is relatively light, providing little pedaling difficulty—however, it's perfect for recovery training or warming up before your workout. Conversely, the 12th level offers considerably more pedal tension, which is excellent for anyone who wants to improve strength and stamina.
Drive system
The exact weight of the bike's internal flywheel is not specified. But considering that the bike has a similar drive and resistance system to the Sunny SF-E320047 elliptical, its flywheel probably weighs the same (11 lbs – 5 kg). Furthermore, it is perimeter-weighted for improved inertia. In addition, it is also bi-directional, so you can pedal in reverse if you want.
The bike comes with a belt drive system. It uses a PJ390 poly-v rubber belt highly resistant to abrasion and stretching. Unlike a chain drive, the belt transmission doesn't require lubrication. It also delivers slightly less vibration than a chain, making the pedaling motion smooth.
The crankset features a large, strong thermoplastic material pulley and two solid steel crank arms. In addition, the arms are chrome-plated and have a flat structure similar to the crank components of road bikes. However, since this is a recumbent bike, it is not for standing up while pedaling.
The included pedals are made of durable ABS material. They have adjustable straps so you can secure your feet on them if necessary. Furthermore, they also have weight elements, so they self-level when you remove your feet.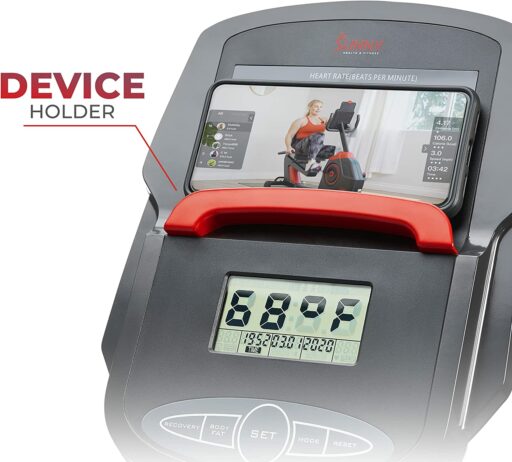 The bike's Q-Factor (spacing between the pedals) is not specified. But as a general idea, it's a pretty narrow Q-Factor. Therefore, your feet assume a naturally comfortable position on the pedals, while the pedaling motion doesn't generate extra lateral stress on your knees and ankles.
SF-RB420046 Fitness monitor
The Sunny SF-RB420046 SMART recumbent bike includes a multi-function fitness monitor. First, its display divides into several sub-sections to show as many workout metrics as possible, which is a plus.
It tracks time, speed, RPM, distance, calories, and pulse. The speed and distance are in imperial units. In addition, there is no option for setting them to metric units. Unfortunately, the pulse reading function is hand-grip only; the monitor cannot read the pulse from a wireless transmitter.
Unfortunately, the fitness monitor does not have pre-set programs. However, you can set workout goals for time, distance, calories, and pulse. In addition, it also has a pulse recovery function and a body fat function (these two have quick access keys on the console).
The pulse recovery function requires you to hold on to the HR pulse sensors integrated into the seat handlebars. It counts your pulse when you finish the workout, and based on the BPM cooldown, it rates your fitness performance (F1 – excellent, F6 – poor).
Finally, the Body Fat function will prompt you to input data such as weight, height, gender, and age; based on your input; it will calculate your body mass index.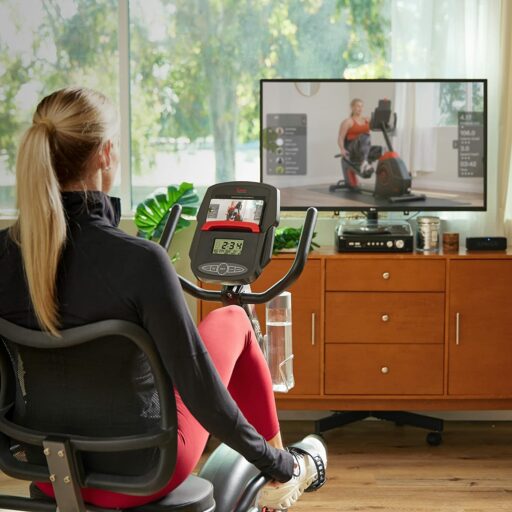 Finally, the fitness monitor is battery-powered and requires two AA batteries. It starts up when you begin pedaling or when you press one of the buttons. It also automatically turns off after 4 minutes of inactivity on the bike. The display shows the time, date, and room temperature in idle mode.
SunnyFit app
Like other fitness machines in the Elite Interactive series, the Sunny SF-RB420046 has Bluetooth connectivity. Therefore, you can sync the bike with your phone or tablet via the all-new SunnyFit app through a Bluetooth connection. The app is free and available for both iOS and Android systems.
The SunnyFit app takes your Sunny workouts to the next level! Get the results you want with customized video workout plans with expert Sunny Health & Fitness trainers. Explore 100+ workout videos that fit your schedule and goals. Then, compare your results on the exercise bike leaderboard, share your fitness experiences, get workout tips, and much more!
Please note that the Smartphone and HDTV pictured do not come with the bike and sell separately.
SF-RB420046 Assembly and Maintenance
The bike's drive and resistance system comes pre-assembled and attached to the base frame. However, the other parts require user assembly. Therefore, you will have to connect the two base bars, the pedals, the seat, the front mast, the front handlebars, and the fitness monitor.
Consequently, this may take more than one hour, but the manual provides clear, step-by-step assembly instructions and detailed schematics. In addition, tools for the assembly come with the bike.
The bike's internal mechanism doesn't require any lubrication. So once assembled, you don't have to worry too much about maintenance. All you have to do is keep the bike clean, inspect it to ensure there are no broken or loose parts, and retighten or replace them as required.
Pros
Sturdy construction – can support users up to 300 lbs;
Transport wheels on the front base;
Adjustable levelers on both base bars;
Two sets of handlebars;
Seat handlebars with pulse sensors;
Smooth and quiet belt drive system;
Oversized pedals with straps;
12 levels of magnetic resistance;
Multi-function fitness monitor – it tracks time, distance, RPM, calories, speed, and heart rate;
Goal-setting functions for time, distance, calories, and pulse;
Body Fat and Recovery functions;
Bluetooth connectivity – compatible with the free SunnyFit app;
Device holder included;
Bottle holder included;
Batteries for the fitness monitor included;
Easy to assemble;
Tools for assembly included;
Little maintenance is required;
Excellent warranty.
Cons
The fitness monitor LCD doesn't have a backlight;
A tablet placed on the device holder will cover the fitness monitor LCD.
Sunny SF-RB420046 SMART Recumbent Bike Summary
The Sunny SF-RB420046 SMART is a recumbent bike made for home use. It features a 12-level magnetic resistance system, a large, comfortable seat, and a pretty sturdy overall construction with a maximum user weight limit of 300 lbs. The bike also includes a fitness monitor that tracks the most crucial workout metrics and has Bluetooth connectivity.
The Elite Interactive Series SF-RB420046 bike is compatible with the free SunnyFit app. Connect with an ever-growing fitness community through the SunnyFit app and explore training videos, healthy recipes, fitness advice, and more!
I hope you found this article helpful and informative. Would you please speak up if you have anything you'd like to share on the topic or any opinions about my website? I look forward to your comments, questions, and the sharing of ideas.
Please remember that you should consult your physician to determine if you have any medical or physical conditions that could risk your health and safety or prevent you from using the equipment properly. In addition, your physician's advice is essential if you are taking medication that affects your heart rate, blood pressure, or cholesterol level.