The Exerpeutic Exerwork 2000i Folding Desk Exercise Bike is a bike and a highly adjustable desk in a semi-recumbent folding package. It can be used as a bike only, a desk only, a bike and desk simultaneously, or even as a standing desk. This versatility makes it an excellent option for users to get the most from their exercise equipment.
The 2000i desktop is robust, holds up to 44 lbs, and is also 4-way adjustable. You can tilt it forward and back through 3 angle adjustments and move up or down through 5 different height settings so that a user of any height can work on it. In addition, it will go high enough to be used as a standing desk when you need a break from sitting.
The Exerpeutic ExerWork 2000i is Bluetooth enabled so that you can connect to the MyCloudFitness app for tracking your progress. You can choose from 24 workout programs and three-goal settings (time, distance, and calories burned). It is also compatible with the MyCloudFitness Chest heart rate monitor if you want to get one to monitor your heart rate.
The 2000i has a large cushioned Airsoft seat that is 2.5 inches thick and 15 inches wide. The foam padding is soft, and the seat's size and shape should work well for most users. In addition, the Airsoft seat claims to have "aerodynamic healthcare technology" that allows air to breathe through the fabric to help keep you cooler for longer.
Learn more in my complete review below!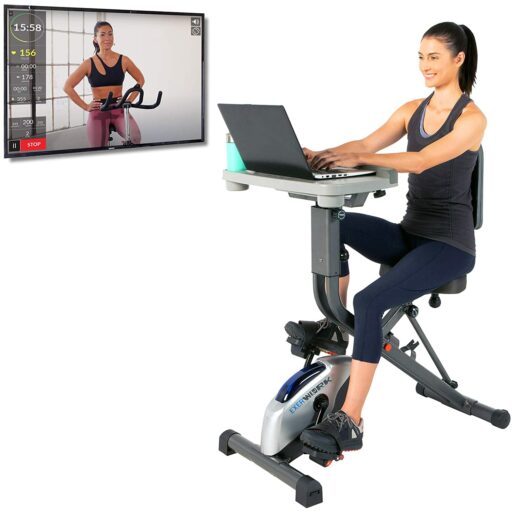 Product: Exerpeutic ExerWork 2000i Folding Desk Exercise Bike
Price: For a great deal on this hybrid, merely go here on Amazon 
Warranty: 3 years limited
My rating: 8.25/10
Affiliate Disclosure: As an Amazon Affiliate Program participant, I earn commissions on purchases made through links in this post. Full disclosure
Details and Specifications
Assembled dimensions: 43L x 25W x 50.5H inches (109L x 63.5W x 128H cm)
Desk surface: 16D x 24W inches (40D x 61W cm)
Assembled weight: 71 lbs (32 kg)
Supported weight: 400 lbs (181 kg)
Seat: Adjustable, with backrest
Resistance: Magnetic, 24 levels
Console: 24 programs, goal settings, Bluetooth
Extras: 2 cup holders, one storage drawer
Warranty: 3 years limited
2000i Frame Construction
The Exerpeutic ExerWork 2000i is a folding, semi-recumbent exercise bike. It features a heavy-duty X-type frame with two main parts connecting the middle.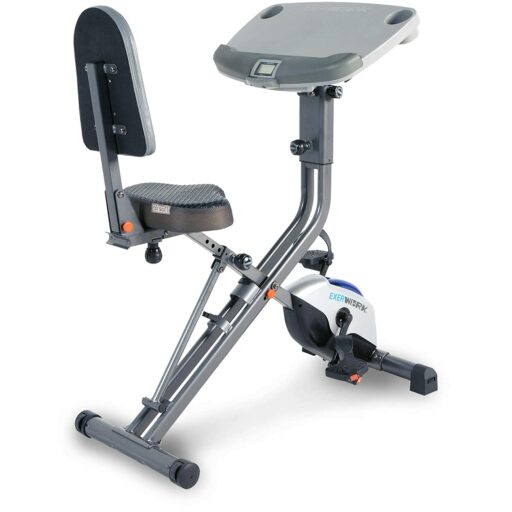 The frame section that holds the desktop consists of two parallel oval bars. The other part consists of a rectangular bar and serves as a tube for the seat assembly, while the bike's drive and resistance mechanism are attached to its bottom section.
Although it's a folding exercise bike, its frame is pretty solid. It has a maximum user weight capacity of 400 lbs (181 kg), which is impressive for a home-use trainer. In addition, all the steel parts in the frame construction come coated with a gray, rust-resistant, chip-resistant paint finish.
The Exerpeutic ExerWork 2000i is not a large fitness machine like most other exercise bikes. With all the parts assembled and with the frame unfolded and ready to use, it is approx 43″ (109 cm) long and 25″ (63.5 cm) wide. Assigning at least two feet of clearance to ease access and safe usage is advisable.
With the frame folded, the bike's footprint reduces to 30″L x 25″W (76 x 63.5 cm), while its height reaches approx—61.5″ (156 cm).
For a folding exercise bike, the ExerWork 2000i is pretty heavy. Its net weight is approx 71 lbs (32 kg). However, this weight and the low center of gravity provide excellent stability. Plus, its front base comes equipped with adjustable levelers. Once assembled, its rear stabilizer features small wheels that facilitate its relocation.
Seat
The Exerpeutic ExerWork 2000i exercise bike includes a 2.5″ (6.3 cm) thick foam padded AirSoft seat designed for superior comfort.
Its cover features a faux leather mesh on top and synthetic fabric on the sides for improved breathability. The seat pad is also pretty large, approx 15″ (38 cm) wide and 11″ (28 cm) deep, so it provides plenty of contact surface.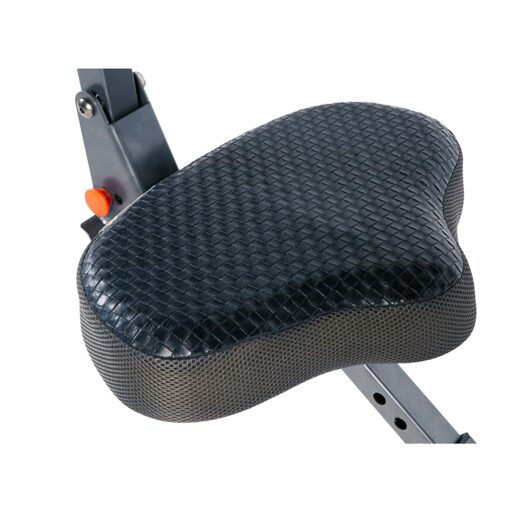 The backrest does not have the same AirSoft cushion as the bottom pad but integrates a foam padding layer—1.3″ (3.3 cm) with a vinyl cover. Its dimensions are 15.5″H x 11.3″W (39 x 29 cm).
The bike's seat assembly offers superior adjustability. Its vertical post offers five adjustment positions, while its horizontal slider adds several inches of front-to-back adjustment. Therefore, the user height range for this bike is 5'1″ and 6'3″ (155 – 190 cm).
The backrest also has two adjustment positions. First, it has a pin at the base, which can lock it vertically or be inclined backward by a few degrees.
2000i desk
The bike's desk is a durable PVC material with a weight capacity of 44 lbs (20 kg), and it has two cup holders molded in its upper corners. It offers a reasonably decent work surface of approx—24″W x 16″D (61 x 40 cm), which accommodates any laptop.
It integrates a small drawer, helping keep your smartphone, keys, earplugs, or other small accessories. In addition, the lower section of the desk assembly features a soft foam cover for extra comfort for your wrists or forearms when typing.
The desk assembly offers multiple adjustment possibilities. Its vertical post has five adjustment positions for a height between 41″ (104 cm) and 45″ (114.3 cm). Its two horizontal sliding bars allow several inches of front-to-back adjustment. And finally, the desk also offers three angle adjustment positions, for 0°, 16°, and 33°.
Resistance system
The Exerpeutic ExerWork 2000i features a motor-assisted magnetic resistance system. Therefore, you will have to connect the bike to an external power source to make resistance adjustments; an adapter with a cable comes included in the box.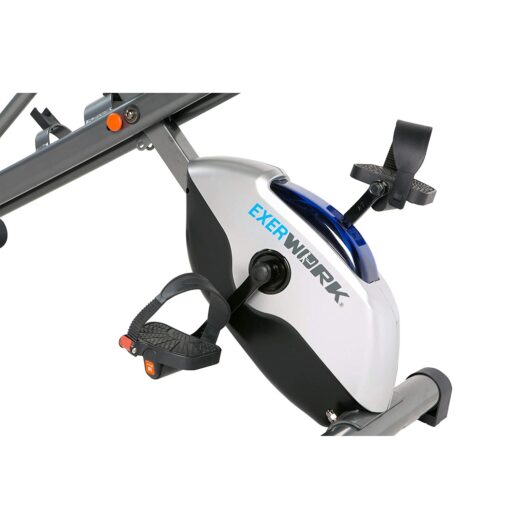 It also means that the cycle can automatically adjust the resistance. And since the brake uses magnetic fields to generate resistance, there is no contact between the brake and the flywheel, so the pedaling motion is smooth and almost entirely silent.
The bike's resistance system consists of an internal magnetic brake and a servo motor connected to the console on the bottom desk assembly. As you adjust the console's resistance, or if one of the programs is selected, the motor changes the magnetic brake position to the flywheel, increasing or decreasing the pedaling difficulty.
The bike makes available 24 levels of resistance. The lowest level delivers a relatively light pedal tension, great for warming up, tone muscles, and even recovery training. Conversely, the highest resistance level provides more pedal tension simulating a hill climb.
2000i Drive system
The bike doesn't have a super heavy internal flywheel but provides a consistent pedaling motion due to the magnetic brake. In addition, reverse pedaling is possible, and the resistance remains constant when pedaling in reverse.
However, the manual specifies not to pedal backward. This specification is probably because the pedals may unscrew and fall due to pedaling in reverse, which is incredibly loose.
The ExerWork 2000i exercise bike has two internal pulleys and a dual belt drive system. It uses two poly-v belts highly resistant to stretching and abrasion. Since the cycle uses belts, not chains, you don't have to take the front unit apart for chain lubrication. Also, a belt drivetrain generates less vibration than a chain.
Finally, the ExerWork 2000i exercise bike features a heavy-duty 3-piece crankset with solid steel arms similar to road bikes. The pedals are sturdy, thermoplastic material. They have a textured surface and adjustable straps if you need to secure your feet. They are also weighted, so they always turn face-up if you remove your feet from them.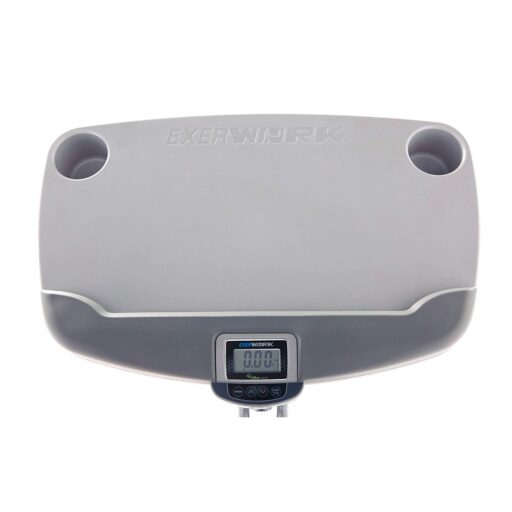 Console
Although the bike's console seems pretty basic, featuring only a 2.5″ LCD without an LED backlight, it does offer quite a few more features than the average basic model. First, it indicates time, distance, total distance, speed, RPM, resistance level, calories burned, and pulse.
The speed and distance are in English units (MPH, miles), and there is no option for setting them to metric units. Also, the bike does not integrate contact sensors for pulse reading, but the console is telemetric. Therefore, you can sync it with a MyCloudFitness Bluetooth HR chest strap. However, this accessory does not come included with the bike.
The console has 24 pre-set workout programs. If one of the programs is selected, the bike will automatically adjust the pedal resistance, depending on the program segment currently in use.
Each program has a specific segment layout. For example, several offer an interval training setup; others will progressively increase the resistance, then lower it abruptly, while others have a peak or hill layout.
The standard Quickstart workout allows you to pedal and make resistance adjustments manually from the Up/Down arrow keys. Plus, there is the possibility of setting workout goals for time, distance, and calories burned.
The console has Bluetooth connectivity and is compatible with the MyCloudFitness app. This app is free and available for iOS and Android. Therefore, if you install it on your phone or tablet, you can sync it with the console to track your workout history online and monitor your progress.
2000i Assembly and Maintenance
The bike's mainframe with the drive and resistance mechanism comes pre-assembled. However, the rest of the parts do require user assembly. You will have to install the two base stabilizers, the pedals, the whole seat assembly, and the desktop and connect the console wires.
Therefore, it may take more than an hour of your time, but it's far from being a complicated task. The manual also provides clear, step-by-step assembly instructions, and all the necessary tools come included with the bike.
For maintenance, you only have to keep the bike clean, periodically check for loose bolts and parts, and retighten if necessary. The drive and resistance mechanism don't require any lubrication.
Pros
Heavy-duty frame – can support users up to 400 lbs;
Small footprint and folding design;
Adjustable levelers on the front stabilizer;
Transport wheels on the rear stabilizer;
High-comfort AirSoft seat;
The seat is four-way adjustable (up, down, front, back);
Sizeable padded backrest with two angles of adjustment;
Large desk with drawer instead of a handlebar to serve as support for your laptop;
The desk offers up, down, front, back, and angle adjustability;
Cup/bottle holders molded into the top corners of the desk;
Armrest cushioning on the lower section of the desk;
Dual belt drive for smooth and consistent pedaling;
Motor-assisted, automatic magnetic resistance system, frictionless and completely silent;
Superior resistance micro-adjustability – 24 levels;
Bluetooth console compatible with the MyCloudFitness app and MyCloudFitness Bluetooth Heart Rate Chest Straps;
24 pre-set workout programs on the console;
Goal settings for time, distance, and calories;
Reasonably easy to assemble;
All the assembly tools come included;
Little maintenance is required;
Excellent warranty.
Cons
Bluetooth HR chest strap does not come with the bike;
The fitness monitor LCD is pretty tiny and does not have a backlight.
Exerpeutic ExerWork 2000i Folding Desk Exercise Bike Summary
The Exerpeutic ExerWork 2000i is a folding, semi-recumbent exercise bike for home use. It features a motor-assisted 24-level magnetic brake, a high-comfort AirSoft seat, a large desk with multiple adjustment positions, and a console with 24 onboard programs. The console is also compatible with the MyCloudFitness app.
Moreover, it offers an excellent way to exercise during working hours; it's ideal for light to medium-intensity cardio workouts, muscle toning, interval training, stamina development, and weight loss.
I hope you found this article helpful and informative. Would you please speak up if you have anything you'd like to share on the topic or any opinions about my website? I look forward to your comments, questions, and the sharing of ideas.
Please note that you should consult your physician to determine if you have any medical or physical conditions that could risk your health and safety or prevent you from using the equipment properly. In addition, your physician's advice is essential if you are taking medication that affects your heart rate, blood pressure, or cholesterol level.