Want to take a bike ride through Central Park but live in California? Then, take a trip on the Fitness Reality 8000R Indoor Cycling Exercise Bike without ever leaving your home. The MCF Workout Videos and Scenic workout videos allow you to take a trip without leaving the comfort of your home.
Choose which scenic route you want to ride. With a MyCloudFitness subscription, you can view hundreds of workouts with top trainers, get personalized programs, and World Tour Solo allows you to work out in Paris, Central Park, and more.
With the MyCloudFitness app, available on Android and iOS, you'll track your workouts via your mobile devices. So never lose track of your activities. The app will track RPM, and based on this, it will also show calories burned, distance, and speed of your workout effort. Unfortunately, the Fitness Reality 8000R Indoor Cycling Exercise Bike does not have a pulse reading function.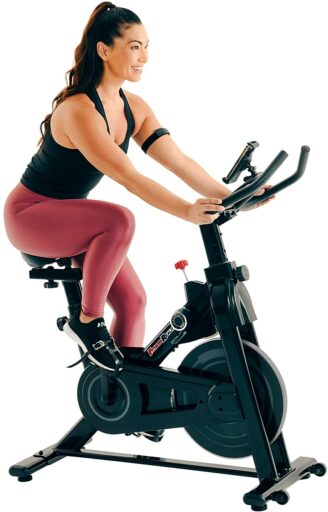 Learn more in my complete review below!
Product: Fitness Reality 8000R Indoor Cycling Bike
Price: For a great deal on this bike, merely go here to Amazon.com
Warranty: Frame 1 year / Parts 90 days
My rating: is 8/10
Affiliate Disclosure: As an Amazon Affiliate Program participant, I earn commissions on purchases made through links in this post. Full disclosure
Details and Specifications
Assembled dimensions: 43.5L x 18.5W x 47H inches (110L x 47W x 119H cm)
Assembled weight: 62.6 lbs (28.3 kg)
Flywheel weight: 6 lbs (2.7 kg)
Weight capacity: 220 lbs (100 kg)
Seat: 4-way adjustable
Drive: Belt
Resistance: Magnetic, 14 levels
Extras: Device holder, Bluetooth, MyCloudFitness compatible
Warranty: Frame 1 year / Parts 90 days
8000R Frame Construction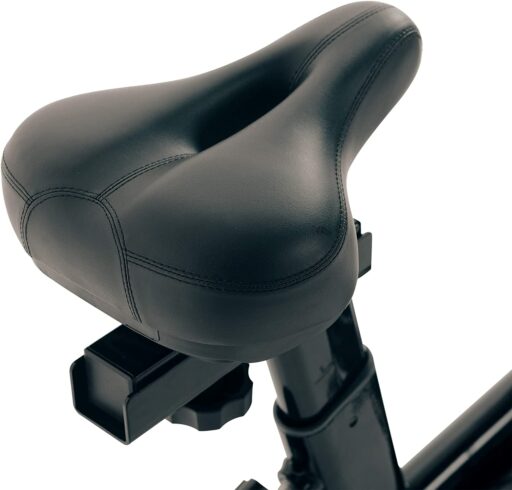 The Fitness Reality 8000R indoor cycling bike features a standard triangular frame primarily of oval steel tubing with precision-welded joints. In addition, all the steel parts come double-coated with a corrosion-resistant and chip-resistant black paint finish.
Of course, the bike also integrates several durable ABS parts. The most notable ones are the drivetrain cover, the emergency brake cover, the side panels of the flywheel, and a few other small caps. However, these have a protective and cosmetic role and shouldn't affect the bike's overall sturdiness.
The FR 8000R bike is not too large. With all the parts assembled, its footprint is 43.5″L x 18.5″W (110 x 47 cm), but it is advisable to allow at least two feet of clearance all around it for easy access and safe usage.
The bike is not too heavy, weighing only 62.6 lbs (28.3 kg). Therefore, one person can carry and assemble the bike. Also, once completed, it is even easier to relocate as its front base features transport wheels.
One last aspect to note here regards the bike's step-up bar, which is the steel tube that connects the seat tube with the main diagonal tube of the frame. It allows you to perform stretches or spin workouts that require repeated mounting and dismounting, but it also improves the overall sturdiness of the frame.
Seat and handlebars
The Fitness Reality 8000R indoor cycling bike has a saddle designed for superior comfort. Its inner shell is made of a durable nylon material. In addition, it also has a generous layer of cushioning and a double-stitched cover made of durable vinyl material. Finally, it has contouring with a sizeable median groove for improved breathability.
The saddle has two suspension springs at the rear, as well. These allow it to flex as you pedal to adapt better to your movement. In addition, it has a collar-type attachment system, making it easy to replace.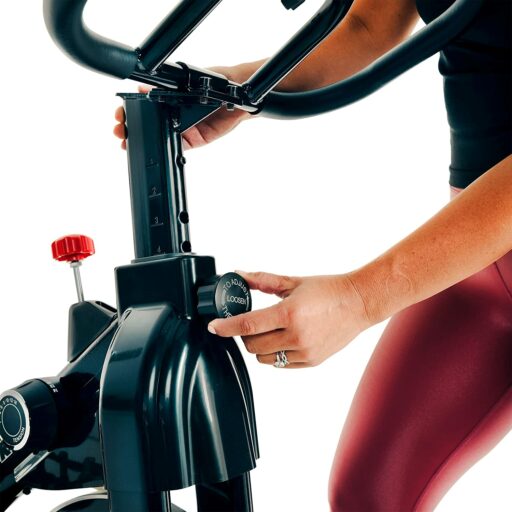 The bike's seat is adjustable (up, down, front, back). In addition, its vertical post has several adjustment positions, while its horizontal slider provides a few extra inches for front-to-back adjustment. As a result, the bike's adjustment range comfortably accommodates users between 5'1″ and 6'1″ (147 – 185 cm). Also, its user weight capacity is 220 lbs (100 kg).
The bike's handlebar does not have a front-to-back adjustment slider like the seat. It is only two-way adjustable (up, down). Its height is approx—47″ (119 cm).
The bike's handlebar features a multi-grip design. It offers the possibility to adopt an off-road grip, a climbing grip, and a standard grip. In addition, it also has a small loop bar in the middle to adopt a close parallel grip. Furthermore, its side grips have PVC foam sleeves for improved contact. Unfortunately, they do not have integrated HR pulse sensors.
8000R Drive system
The Fitness Reality 8000R has a 6-pound (2.7 kg) flywheel. Although not heavy, it is perimeter-weighted for improved stability and inertia. Even though it does not provide the super-solid momentum of a spin bike with a 40 lbs (18 kg) flywheel, the resistance is pretty decent due to the magnetic brake.
The flywheel is bi-directional. Thus, you can pedal in reverse. Therefore, you'll add diversity to your workouts and alternate forward and reverse pedaling sessions to engage more muscle groups. However, you cannot coast on this bike like a road bike. The pedals will spin for as long as the flywheel is spinning.
The bike comes with a belt drive system. It integrates a durable poly-v belt designed for superior traction. Since the transmission is a belt, not a chain, you don't need to lubricate it periodically. It also delivers smoother traction than a chain, generating slightly less vibration when the bike is in use.
Although the FR 8000R is not a commercial spin bike, it has a durable crankset featuring flattened long arms.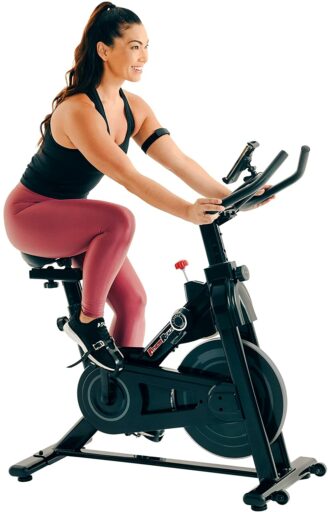 The pedals are aluminum alloy, so they can withstand pedaling while standing up with no problem if you don't exceed the 220-pound weight limit. They do not have SPD clips for spin shoes but have toe cages. Also, their threads are standard 9/16, so compatible options are widely available.
Resistance system
The Fitness Reality 8000R indoor cycling bike has a manual magnetic resistance system. Therefore, you don't need an adapter or power cord for it. But unfortunately, the cycle does not adjust the resistance automatically.
The bike's resistance system consists of a magnetic brake placed at the rear of the flywheel and concealed by the belt guard. It connects to the tension knob on the mainframe tube's right side. Therefore, when you turn the knob, the magnets move closer or farther from the flywheel, increasing or decreasing the pedaling difficulty.
The bike's magnetic brake has 14 adjustment levels. Although the flywheel is not super-heavy, the resistance is relatively decent. The first level delivers a light pedaling difficulty, great for recovery training or a workout warm-up. Conversely, the 14th level of resistance offers quite a challenge, simulating a steep climb.
The bike also comes with an emergency brake. It consists of a felt pad attached to the frame above the flywheel. The pad connects to the knob above the main frame tube. You can press this down to instantly stop the flywheel. It's pretty handy, especially if pedaling at a very high speed.
MyCloudFitness app
An important feature to note here is Bluetooth connectivity. This allows you to sync your exercise bike with your smartphone or tablet, track your progress online, or view your workout history via the MyCloudFitness app for iOS and Android. Try it free for 30 days, then $14.99 a month. The 30-day free membership gives you access to the following:
Hundreds of coaching videos led by top trainers
Bike scenic routes in Paris, Central Park, and more with World Tour Maps
Row with an Olympic champion on the water in beautiful San Diego
New Content is added monthly
The MyCloudFitness app is reshaping wellness with personalized workout programs, award-winning trainers, workout tracking, on-demand fitness classes, world tour maps for cycling and rowing, and live fitness reports.
With a MyCloudFitness subscription (free for 30 days), you can view hundreds of workouts with top trainers, get personalized programs, and World Tour Solo allows you to work out in Paris, Central Park, and more. Take a day trip or ride at night, and with Scenic workout videos, you can transport anywhere, anytime you want, without ever leaving the comfort of your home.
The Bluetooth module is battery-powered and requires two AAA batteries, which come with the.
In terms of accessories, the bike comes with an adjustable tablet holder. It accommodates tablets up to 7 3/4 inches (~19 cm) wide. It is also angle-adjustable, allowing you to perfectly position your tablet or smartphone to view your workout stats while working with the MyCloudFitness App. Unfortunately, the bike does not include a bottle holder.
Assembly and Maintenance
The Fitness Reality 8000R exercise bike requires some user assembly. Although its main body comes pre-assembled, you will still have to attach the two base stabilizers, the seat, the handlebars, the pedals, and the device holder. The task is pretty straightforward, though. The manual provides step-by-step assembly instructions and all the necessary tools for the bike.
For maintenance, you only have to keep the bike clean. It is advisable to wipe the sweat that may fall onto the frame at the end of the workout. The drive system and the brake do not require lubrication.
Pros
Pretty sturdy construction – can support users up to 220 lbs;
Transport wheels on the front base;
Adjustable levelers on both base bars;
4-way adjustable seat;
Cushioned and contoured saddle;
Multi-grip, padded handlebar;
Maintenance-free belt drive;
Aluminum alloy pedals with toe cages;
Perimeter-weighted flywheel for enhanced inertia;
Frictionless magnetic resistance (14 levels);
Bluetooth connectivity;
Free (basic) MyCloudFitness for online progress tracking and workout goals;
MCF app premium version is available for a 30-day free trial after that, $14.99 monthly with features like coaching videos, training programs led by top trainers, and virtual trails;
Angle-adjustable and size-adjustable device holders;
Easy to assemble;
All the necessary tools for the assembly come with the bike;
Batteries for the Bluetooth module come with the bike;
Little maintenance is required.
Cons
There is no bottle holder;
The handlebars do not have integrated HR pulse sensors.
Fitness Reality 8000R Indoor Cycling Bike Summary.
The Fitness Reality 8000R is an indoor cycling bike made for home use. It has a 6-pound flywheel, a 14-level manual magnetic resistance system, and a 4-way adjustable seat. In addition, it also integrates a Bluetooth module to sync it with the MyCloudFitness app.
Moreover, it's a bike for spin workouts, light to intense cardio training, stamina development, muscle toning, and weight loss.
I hope you found this article helpful and informative. Would you please speak up if you have anything you'd like to share on the topic or any opinions about my website? I look forward to your comments, questions, and the sharing of ideas.
Please remember to consult your physician to determine if you have any medical or physical conditions that could risk your health and safety or prevent you from using the equipment properly. In addition, your physician's advice is essential if you are taking medication that affects your heart rate, blood pressure, or cholesterol level.