The FitDesk FDX v3.0 Desk Exercise Bike and Office Workstation with Massage Bar is one of the many different fitness equipment designs for sedentary people. Most notably for those behind the desk for hours without time for exercises or workouts.
The FitDesk Desk Exercise Bike is available in the v2.0 and v3.0 versions. These two versions share a lot in common. However, as anyone would expect, some differences make the FitDesk v3.0 Desk Exercise Bike the upgraded version with additional features. The FDX V3.0 will be the focus of this review.
The v3.0 integrates a desk with a built-in tablet holder and an easy-access storage tray on the workstation top. The desk is for a laptop, magazine, etc. The storage tray stores your tablet, pens, MP3, and other small stuff. In addition, the innovative built-in tablet holder props you up from the desk if you wish to use your tablet instead of a laptop while working out.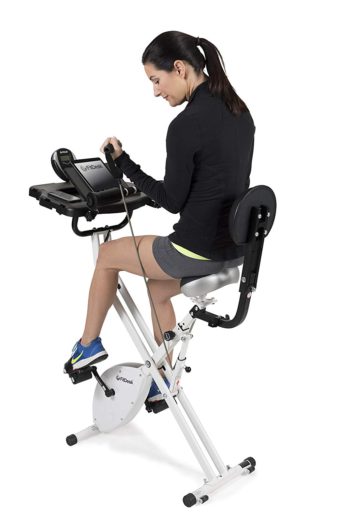 Learn more in my complete review below!
Product: FitDesk FDX v3.0 Desk Exercise Bike and Office Workstation with Massage Bar
Price: For a great deal on this desk/bike, merely go here on Amazon
Warranty: 1 Year on Parts and Labor
My rating: 8.5/10
Affiliate Disclosure: As an Amazon Affiliate Program participant, I earn commissions on purchases made through links in this post. Full disclosure
Details and Specifications
28″ Length
16″ Width
45″ Height
Supports 300 pounds (136 kg) maximum user weight
Storage kit
Non-slip adjustable desk with dimensions of 16 x 19 inches
Adjustable armrest with padded and contoured massage rollers
Weight: 45 pounds (20 kg)
Adjustable semi-recumbent seat
Resistance: Manual magnetic resistance with eight levels
Drive: Belt
Fitness Monitor: displays mileage, time, and calories
Design: Compact and foldable
Transport wheels
Built-in tablet holder
1 Year on Parts and Labor
v3.0 Frame and Construction
The FitDesk FDX v3.0 Desk Exercise Bike has a maximum user weight capacity of up to 300 pounds (136 kg)maximum user weight. The v3.0 has a space-saving design. First, it's very compact, and second, it has a foldable design. The frame is quality and robust steel.
The overall assembled dimensions for the v3.0 are 28 inches long by 16 inches wide by 45 inches tall. In other words, a workout area of 2.4 feet long by 1.5 feet wide will suffice; however, consider adding an extra clearance of at least 1 foot at the rear and on each side of the bike for safety and convenience.
The v3.0 is a lightweight machine of 45 pounds (20 kg), and its relocation is easy with the aid of the transport wheels. Thus, the weight also complements its overall stability.
They have rounded stabilizer bars at the front and rear bases with rubber caps on each end that help them sit well on the floor for maximum stability. However, you may place the bike 24 inches by 46 inches protective rubber mat to prevent wobbling caused by an uneven floor. Also, to protect the floor from being damaged.
The frame has an anti-corrosive and scratch paint that protects it from rust and scratches and makes it last longer.
Seat and Pedals
The v3.0 has a semi-recumbent seat that allows you to lean backward while working and working out. The seat is padded and contoured to provide maximum comfort, but it may not be that comfortable, especially if you are more significant.
Therefore, you may try to use a gel seat cover, which is optional. If it doesn't work, you may try replacing the saddle entirely with another of your choice.
For instance, this could be tricky since the saddle connection mechanism is slightly different from other seats. However, you could use the FitDesk Universal Saddle Adapter to fit any saddle you wish to use on the bike.
The seat on the v3.0 is adjustable; it could be adjusted vertically, i.e., upward/downward, and accommodate users between the heights of 4.10 feet to over 6 feet.
The pedals included with this bike have an anti-skid design and adjustable safety straps and can accommodate any shoe or standard gym shoes. They secure your feet while pedaling and give you better footing and total control of your ride.
If you wish to change them, they have the standard 9/16 inches threads to fit most pedals.
v3.0 Desk and Massage Rollers
Instead of a desk and a drawer, the  v3.0 features 16 inches by 19 inches nonslip desk surface that accommodates laptops, magazines, and more. It also features a built-in tablet holder and an easy-access storage tray on the desktop.
The tablet holder can prop up your device for convenience and underneath the holder is the storage kit for your tablet. The desk has enough space to accommodate a smartphone on the side.
Furthermore, the desk on the v3.0 has an adjustable armrest with padded and contoured massage rollers for relieving typing strain and providing support and comfort to the hands.
Drive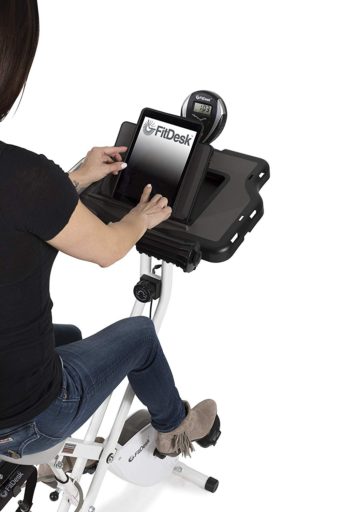 The FitDesk FDX v3.0 Desk Exercise Bike features a belt drive system. This drive provides a quiet and smooth pedaling experience and, as a result, could be used in a home with the family and neighbors living nearby without worrying about disturbing them.
The drive consists of a small high-velocity flywheel, a twin belt, the pulley, and the crank arms; they provide an outstanding riding experience.
Finally, this drive does not need any maintenance because it is pre-lubricated by the manufacturer; this does not require further lubrication.
v3.0 Resistance
The FitDesk FDX v3.0 Desk Exercise Bike features eight levels of magnetic resistance system. The workout challenge provided by the resistance may not cause a professional athlete to blink, but it is enough to keep you in shape while carrying out your task behind the computer.
It is smooth and quiet during operation because it uses a magnetic pad for resistance. The pad will not directly contact the flywheel to generate resistance, but the magnetic field does.
Resistance is adjustable via the tension knob control connected to the resistance mechanism clockwise to any level of your preference. You can also decrease the resistance by turning it counterclockwise.
The bike gives an all-around cardio workout that could stir up all the muscle groups in the body.
Fitness monitor
The FitDesk FDX v3.0 Desk Exercise Bike features a monitor on the top of the desk, a perfect position for clear viewing of the display.
The monitor allows you to track time, mileage, and calories burned. The monitor is straightforward to operate and read and has excellent readability. However, it is not backlit; therefore, its clarity could diminish when used in a poorly lit room.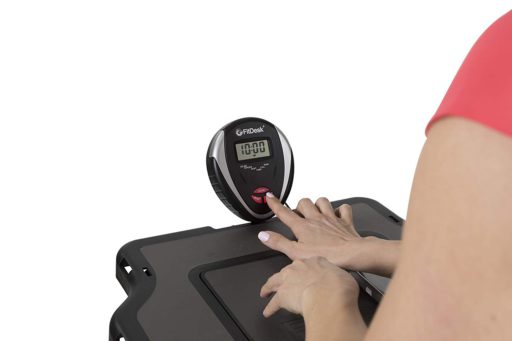 Unfortunately, it does not display heart rate data function and does not display heart rate data. However, if you wish to track your heart rate, you may purchase an external HR chest strap or use a smartwatch.
The battery-operated monitor requires 1 AA battery which comes with the bike.
Accessory
The FitDesk FDX v3.0 Desk Exercise Bike has a built-in tablet holder for placing a tablet and a storage place for small stuff like phones, earbuds, MP3, remote control, etc.
You may purchase the FitDesk extension kit, which is only compatible with v3.0. Furthermore, this increases the desk size by 2x, allowing you to use a mouse, and it includes a built-in drink holder, which is excellent. The extension kit has a comfortable clip design, and no hardware is required.
Storage
The FitDesk v3.0 Desk Exercise Bike is pretty straightforward and convenient to store. In addition, it's compact and foldable, and even lightweight with transport wheels for portability.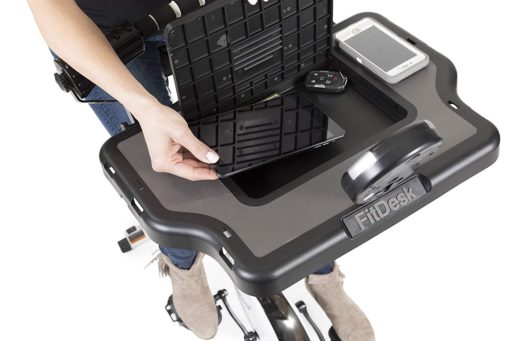 These attributes make v3.0 convenient for everyday use and storage. It provides you with convenience and a productive, healthy lifestyle, but it also occupies less space.
The space-saving design leaves you with a lot of storage options. For instance, you could prop it up against the wall, put it away in the closet, or even leave it sitting up in place.
v3.0 Assembly and Maintenance
The FitDesk Desk Exercise Bike ships in a box with dimensions of 46 inches by 20 inches by 9 inches and weigh about 59 pounds.
Free shipping for Amazon prime members who reside across the United States, and delivery is within days from the day of order.
The FitDesk FDX v3.0 Desk Exercise Bike does not come fully assembled. However, the major components are pre-assembled. First, however, you'll need to attach the stabilizer bars, the seat post, the seat, the desk, the pedal, and the fitness monitor.
The instruction manual will walk you through the process of assembly. You must also have a wrench to help with the seat bolts. Consequently, it will take about an hour to put it together, depending on how good you are with your hands.
However, expert assembly is available if you don't want to deal with the construction yourself. However, that comes with additional costs.
The FitDesk Desk Exercise Bike and Office Workstation with Massage bar are low-maintenance equipment. It features magnetic resistance and belt drive systems that do not require lubrication or adjustments.
Always examine the bike before using any loose, worn, or broken parts to avoid further damage. Fix any problem accordingly and contact the vendor/manufacturer if necessary.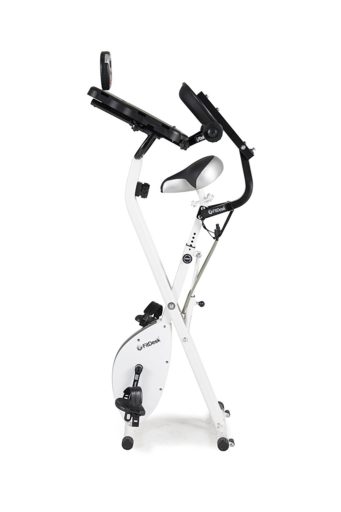 Pros
It is affordable;
Frame made of steel, thus sturdy and durable;
Supports 300 pounds maximum user weight;
Excellent stability with integrated front and rear rounded stabilizer bars;
The operation is tranquil and smooth;
A dynamic belt drive system;
A manual magnetic resistance system with eight levels provides a wide range of challenging workouts;
Resistant bands for upper body cardio;
Nonslip desk with sliding drawer and storage kit;
Space-saving design (compact and foldable);
Low maintenance;
Easy to assemble;
The seat is adjustable, thus accommodating users between 4.10 feet to over 6 feet;
Pedals have an anti-skid design and feature adjustable safety straps for securing the feet in place;
A fitness monitor that tracks mileage, calories, and time;
The pedals are interchangeable for another set of your choice.
Cons
The seat is not very comfortable;
Not heart rate compatible;
No water bottle holder.
FitDesk v3.0 Desk Exercise Bike Summary
I think this is a perfect bike considering the price. In addition, the manufacturer tried to include all the necessary features to make it valuable and enjoyable to work on the fitness monitor and perform cardio workouts.
I hope you found this article helpful and informative. Would you please speak up if you have anything you'd like to share on the topic or any opinions about my website? I look forward to your comments, questions, and the sharing of ideas.
Please remember that you should consult your physician to determine if you have any medical or physical conditions that could risk your health and safety or prevent you from using the equipment properly. In addition, your physician's advice is essential if you are taking medication that affects your heart rate, blood pressure, or cholesterol level.