Jumpstart your low-impact cardio workout with the Rear Drive Magnetic Efitment BO15 Upright Bike. Tailor this machine to your body with the four-way adjustable cycling seat, two-way adjustable handlebars, and universal cage pedals. This bike accommodates users with an inseam of 23 inches to 28 inches.
Power your workout with the smooth belt-drive mechanism that engages the covered 17.64-pound flywheel. Take advantage of the rear flywheel placement, which recuses the risk of water and sweat contact during workouts. Made out of durable steel and designed for long sessions, this upright exercise bike supports a maximum user weight of 242 lbs (110 kg).
Intensify your workouts in a flash by adjusting the eight levels of magnetic resistance. Then, track your heart rate on the fly with integrated heart-rate sensors. Then, with a straightforward button, switch through speed, distance, time, calories, and heart rate.
The integrated personal device holder enables users to create their unique workout, offering unlimited workout experiences. After your workout, transport this indoor bike from room to room using its onboard rubber transportation wheels.
Learn more in our complete review below!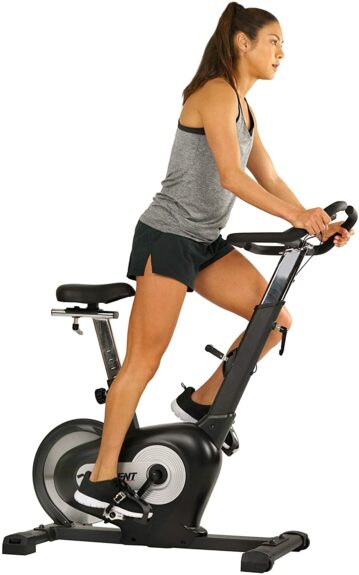 Product: Efitment B015 Upright Bike
Price: For a great deal on this bike, merely go here on Amazon
Warranty: 3 years
My rating: 8/10
Affiliate Disclosure: As an Amazon Affiliate Program participant, I earn commissions on purchases made through links in this post. Full disclosure
Details and Specifications
Assembled dimensions: 43.5″L x 21″W x 42.5H (110L x 53W x 108H cm)
Assembled weight: 73.4 lbs (33 kg)
Flywheel weight: 17.6 lbs (8 kg)
Supported weight: 242 lbs (110 kg)
Seat: 4-way adjustable
Handlebars: 2-way adjustable
Drive system: Belt
Resistance: Manual magnetic levels
Fitness console: Time, distance, speed, calories, pulse
Extras: Tablet holder, bottle holder
Warranty: 3 years
BO15 Frame construction
The Efitment B015 features a V-frame made of steel tubing with a low center of gravity, which results in superior stability. Plus, the bike's weight of 73.4 lbs (33 kg) and adjustable base stabilizers also improve its overall stability.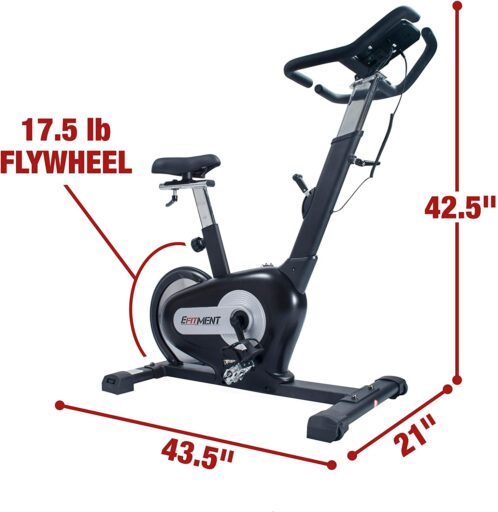 The bike's frame features a black powder coating resistant to abrasion and corrosion. The only exceptions are the seat tube and the handlebar tube, which have a chrome plating finish. Of course, the covers of the belt and flywheel are sturdy ABS material.
The fully assembled unit is not extremely large. It is only approximately 43.5″ (110 cm) long and 21″ (53 cm) wide. However, it is advisable to leave at least two feet of clearance all around it for safe access and operation.
The fully assembled unit is not extremely heavy; it weighs approximately 73.4 lbs (33 kg), considerably less than other heavy-duty spin bikes. But it still weighs more than twice the average road bike's weight, so its assembly may require two people. However, once assembled, its relocation uses the small wheels incorporated into its front base stabilizer.
Seat
The Efitment B015 upright exercise bike includes a standard saddle, which is slightly wider than the average spin seat. It does not integrate extra cushioning, but its top is high-density foam, designed to provide optimal comfort.
The seat attachment system involves a triangular metallic plate; it attaches to this plate via three screws. Therefore, you may have to improvise if you want to replace it with a different bike saddle with a collar attachment system.
But the seat is reasonably durable, delivers a pretty decent comfort, and you can improve its comfort by adding a gel seat cover if needed.
The seat offers four-way adjustability (down, up, backward, and forward). Its vertical post has six adjustment notches and offers approx. 5″ (13 cm) of adjustment for users with an inseam between 23″ and 28″ (58 – 71 cm). However, its horizontal slider also offers a few inches of front-to-back adjustment.
Therefore, the bike should be able to accommodate users between 5'0″ and 6'3″ (153 – 188 cm) with no problem, allowing a complete leg extension during pedaling and a satisfying range of motion. In addition, the bike has a user weight capacity of 242 lbs (110 kg), so the seat should handle users up to this weight with no problem.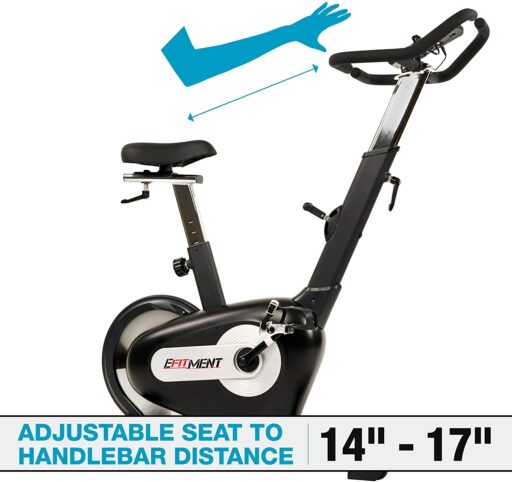 Handlebars
This Efitment exercise bike has a multi-grip handlebar. It offers the possibility to adopt a standard grip, a parallel grip, a racing grip, and a few others. A layer of high-density foam fully covers it to provide a comfortable and secure grip.
The center transversal bar of the handlebar assembly features a set of two stainless steel pulse sensors. Thus, the unit's exercise meter can track your pulse if you hold on to them.
In terms of adjustability, the handlebar only adjusts up and down. In addition, it does not have a horizontal slider like the seat. Instead, its post offers several inches of adjustment.
BO15 Resistance
The Efitment B15 indoor cycling trainer has a manual magnetic resistance system. Therefore, its braking system does not have an internal motor, and the bike does not require an external power source. Also, the console plays no role in the resistance adjustment.
The bike's resistance system consists of a magnetic brake placed close to the flywheel and attached to the lever on the bike's front tube. As you press the bar down, the brake moves closer to the wheel, which increases the intensity of the created magnetic field. Thus, it ultimately leads to increased pedaling difficulty.
The bike offers eight levels of resistance. The first level is excellent for anyone who requires recovery training or, in general, for light workouts. However, the 8th level does provide quite a bit of difficulty, simulating a steep climb.
Drive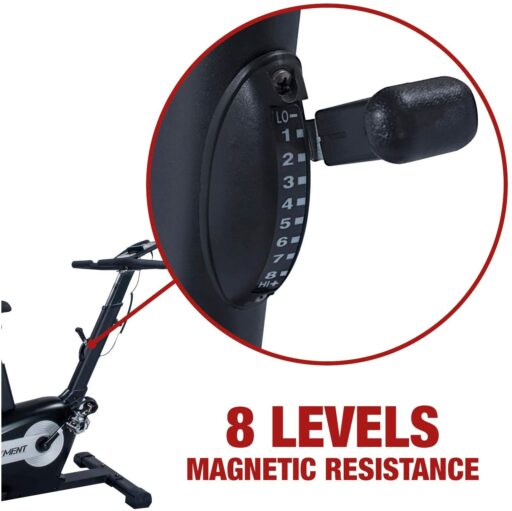 Like most other exercise bikes with a magnetic resistance system, the Efitment B015 features a belt drivetrain. It uses a poly-v rubber belt, which delivers a very smooth and quiet pedaling motion. Unlike a chain drive, it saves you the hassle of periodic lubrication. Also, it generates less vibration than a chain drive.
Compared to most indoor cycling bikes with a friction resistance system, the B015 has a balanced flywheel, not a perimeter-weighted one. This flywheel weighs 17.6 lbs (8 kg) and provides consistent momentum. It's also bi-directional. Therefore, you can pedal in reverse if you want.
But when pedaling in reverse, the bike retains its resistance. In other words, when pedaling backward, you will benefit from the same resistance as when pedaling forward, depending on the level selected by the lever. Also, when pedaling in reverse, the console still tracks your workout metrics.
The bike has a heavy-duty crankset featuring steel crank arms and metallic alloy pedals. Therefore, as long as you don't exceed the specified 242 lbs (110 kg) weight capacity, you should be able to stand on the pedals with no problem.
The pedals don't have SPD clips for spin shoes but have toe cages with adjustable straps. In addition, they have a non-slip design with side lugs. Their threads are standard 9/16, so if you want to replace them with SPD pedals or other pedals, compatible options are widely available.
BO15 Console
It's a basic fitness meter featuring an LCD that can track time, distance, speed, calories, and pulse. Unfortunately, it does not have preset programs, nor does it has any online capabilities. It uses two AAA batteries as a power source, and it starts up when you begin pedaling and turns off automatically after a few minutes of inactivity.
The console features three buttons: Set, Mode, and Reset. The Set button allows you to select a target value for time, distance, and calories. When you choose a goal target for one of these metrics, the display will show the remaining amount until you complete the goal.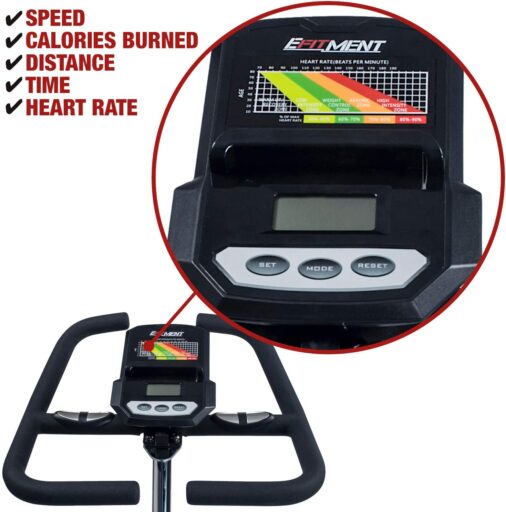 The Mode button allows you to scroll through the workout metrics and select the one you wish to view. You can choose the SCAN mode, and the console will rotate all the workout metrics, showing each one for a few seconds. The Reset button clears all the values on the meter to zero.
Pulse Reading and Heart Rate Zones
The console has a pulse reading function, but it is not telemetric. In other words, it can only read your pulse if you hold on to the sensors integrated into the handlebars. In addition, it does not work with Polar or different types of wireless HR chest strap transmitters.
The console unit integrates a tablet holder. This accessory is above the LCD, so if you put your phone or tablet on it, it won't block the view of your workout metrics.
The top section of the console features a grid with the heart rate zones. It would help if you aimed to benefit from a better aerobic output, fat burn, etc. However, as many other machines only show this grid in their manuals, this is a plus, so you usually don't have it at hand when exercising.
BO15 Assembly and Maintenance
The most important parts of the bike come pre-assembled. In other words, the flywheel, the belt, the crankset, and the brake system are pre-assembled to the mainframe. Therefore, you only have to add the base bars, the seat post, the handlebar post, the seat, the handlebar, the console, and the pedals.
Consequently, it shouldn't take more than 30-40 minutes of your time. All the necessary tools for the task come with the bike, and the manual provides clear instructions and schematics.
Maintenance does not require much. It is advisable to wipe any sweat that may drop on the frame at the end of each workout. The internal parts don't need any lubrication. You should also periodically check the bike for loose bolts or broken parts and re-tighten or replace them.
Pros
Solid V-frame – can hold users up to 242 lbs;
Aesthet adjustable stabilizers on the rear base;
Transport wheels on the front base;
4-way adjustable seat;
Multi-grip handlebar with pulse sensors;
17.6 lbs balanced flywheel for a smooth pedaling motion and solid momentum;
Heavy-duty crank made for standing up spin workouts;
Durable, metallic alloy pedals with toe cages and straps;
Frictionless, wear-free, magnetic resistance with 8 level settings;
Smooth and quiet belt drive, great for apartment use;
Fitness console that tracks time, speed, distance, calories, and pulse;
Goal settings for time, distance, and calories;
Tablet holder included;
Easy to assemble;
Little maintenance is required.
Cons
No bottle holder;
The LCD does not have a backlight.
Efitment B015 Upright Bike Summary
The Efitment B015 Upright Bike is an exercise bike equipped with an 8-level magnetic resistance system, a balanced 17.6 lbs flywheel, and a heavy-duty crank. It offers excellent ergonomics and a 4-way adjustable seat. It also includes a fitness console with goal functions for time, distance, and calories burned.
It's a reasonably decent exercise bike, great for mid-range to high-intensity cardio workouts, muscle toning, stamina development, interval training, and weight loss. It's also an affordable alternative to the more expensive, commercial-grade Keiser M3i.
I hope you found this article helpful and informative. Would you please speak up if you have anything you'd like to share on the topic or any opinions about my website? I look forward to your comments, questions, and the sharing of ideas.
Please note: Before starting any exercise program, you should consult your physician to determine if you have any medical or physical conditions that could put your health and safety at risk or prevent you from using the equipment properly. In addition, your physician's advice is essential if you are taking medication that affects your heart rate, blood pressure, or cholesterol level.