The Fitness Reality X-Class 9000 Indoor Cycling Exercise Bike provides a low-impact, high-intensity workout that will get your heart rate going. The Infinite Air Resistance system features a 19.3″ diameter steel fan that reacts instantly, with no buttons, levers, or emergency stops needed. The first-of-its-kind design allows you to high-intensity interval train while still getting spinning benefits.
The Fitness Reality X-Class 9000 is a heavy-duty air resistance exercise bike but features a different frame structure than the Body-Solid Endurance FB300 or the Schwinn AD7 Airdyne. It has a spin bike frame, but instead of having a perimeter-weighted heavy flywheel, it has a fan as a moving element. It also has no magnetic resistance system, so the fan is the only resistance generator.
The X-Class 9000 features a backlit LCD fitness monitor that provides readouts of time, distance, RPM, calories burned, calories burned/minute, speed, watts, max watts, rounds, sprint, and recovery. In addition, the monitor has 3 HIIT workout programs: 20/10 intervals, 30/90 intervals, and one custom interval. Additionally, it has three workout goal settings: time, distance, and calories, that allow you to reach any fitness goal.
The Bluetooth Smart technology allows you to control your preset workout programs. And to track your distance, time, RPM, calories burned, speed, heart rate, and watts with the free compatible MyCloudFitness App.
Learn more in our complete review below!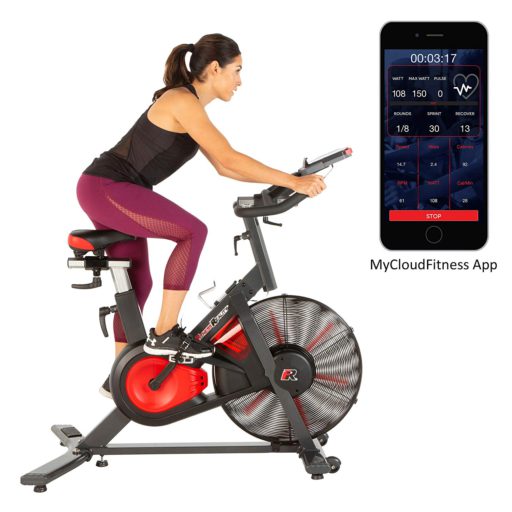 Product: Fitness Reality X-Class 9000
Price: For a great deal on this bike, merely go here on Amazon
Warranty: Frame 10 years / Parts 5 years / Electronics 2 years / Wear parts two years
My rating: 7.5/10
Affiliate Disclosure: As an Amazon Affiliate Program participant, I earn commissions on purchases made through links in this post. Full disclosure
Details and Specifications
Assembled dimensions: 54.5L x 26W x 48.4H inches (138L x 66W x 123H cm)
Assembled weight: 99.5 lbs (45 kg)
Supported weight: 300 lbs (136 kg)
Handlebars: Mobile
Seat: 4-way adjustable
Drive: Belt
Resistance: Air
Fitness Monitor: 3 interval programs, three target programs, Bluetooth
Extras: Tablet holder, bottle holder
Warranty: Frame 10 years / Parts 5 years / Electronics 2 years / Wear parts two years
X-Class 9000 Frame construction
The Fitness Reality X-Class 9000 features a heavy-duty frame made of steel tubing. It combines rectangular, hexagonal, and oval bars. The only non-steel parts are the covers of the belt and several other small caps.
The mainframe has a chip-resistant and rust-resistant paint finish. The color is dark gray, with the "Fitness Reality" logo painted red, black, and white. In addition, the seat post and the handlebar post feature a silver paint finish.
Compared to other spin bikes, the X-Class 9000 is slightly larger. It's approximately 54.5″ long (138 cm) and 26″ (66 cm) wide. However, the manufacturer recommends assigning a usage area for it of at least 100″ x 70″ (254 x 177 cm).
The fully assembled unit is relatively heavy as well. It weighs approximately 99.5 lbs (45 kg). Therefore, it provides excellent stability. Plus, the five adjustable stabilizers with rubber pads enhance its stability. The bike isn't too difficult to move. Its front base has two transport wheels which facilitate its relocation.
Seat and handlebars
The Fitness Reality X-Class 9000 HIIT air resistance exercise bike features a superior seat in terms of ergonomics. Its saddle integrates a layer of foam cushioning thicker in its rear part.
The top has a longitudinal cutout to promote breathability, and the back part has two shock absorption springs. These improve its overall cushioning. Its cover has double-stitched, highly durable faux leather.
The attachment system of the saddle to its slider is standard. Furthermore, compatible options are widely available, so if you want to replace them, you should be able to find a replacement quickly.
The bike's seat is 4-way adjustable. Its vertical post offers more than ten adjustment positions, while its horizontal slider allows several inches of front-to-back locations for the seat. Thus, the bike should be able to accommodate users between 5'0″ and 6'4″ (153 – 194 cm) with no problem.
The bike has a weight capacity of 300 lbs (136 kg), so its seat assembly shouldn't have any problem supporting users up to this weight.
The bike's handlebar also offers 4-way adjustability, just like the seat. It has a multi-grip design, with a central transversal bar and a small loop aero bar at the front, to which the console is attached.
Besides, it offers the possibility of an aero grip, rage grip, standard grip, and more. A layer of high-density foam fully covers it to provide a comfortable and secure grip.
The seat and the handlebar feature large knobs that are easy to grip and turn. Therefore, adjusting the bike to your size shouldn't take more than a minute.
X-Class 9000 Resistance and drive.
The Fitness Reality X-Class 9000 is an air-resistance bike, and it does not have any friction resistance or magnetic resistance mechanism. The only resistance generator is its flywheel. Therefore, the bike's resistance is non-adjustable. However, it does provide a dynamic response. In other words, the faster you pedal, the more resistance you will get.
Although the bike has a spin bike frame structure, spinning requires a compact and heavy flywheel.
The bike's fan is steel-made, 19.3″ (49 cm) in diameter. It provides plenty of resistance to make you sweat briefly from your workout sessions commencing if you pedal at high speed. In addition, it's bi-directional; therefore, you can pedal in reverse if you want to diversify your workout sessions.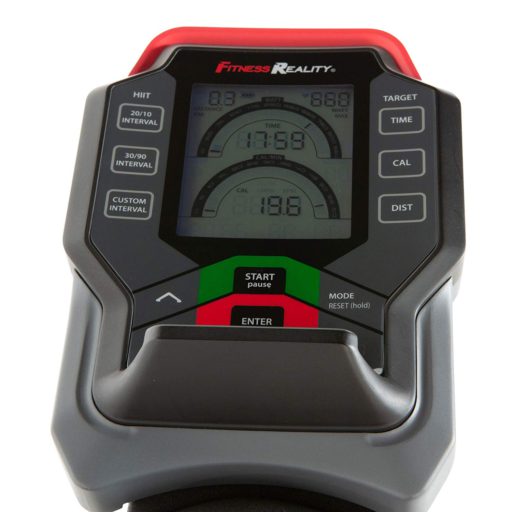 The bike uses a belt drive system featuring a durable poly-v belt. Therefore, the ride is smooth and quiet, while the vibration is almost inexistent. In addition, you don't have to lubricate it, so there is no maintenance hassle for the unit's drive system.
The unit's crankset is a heavy-duty part featuring solid steel crank arms. The bike can hold users up to 300 lbs (136 kg), which stands for the pedals and crank arms. Unfortunately, they do not have clips for spin shoes but have toe cages and straps if you want to secure your feet during pedaling.
Fitness monitor
This Fitness Reality exercise bike includes a HIIT fitness monitor. In addition, it features a multi-window display with an LED backlight, which tracks time, distance, speed, RPM, calories, watts, and pulse.
Time and distance are shown at all times, while for the speed, calories, and RPM, there is a SCAN mode that rotates them showing each one for 4 seconds. You can also press the Mode button to select any of these three workout stats to be displayed all the time.
The monitor offers both metric and imperial units for speed and distance. Unfortunately, it has no sensors integrated into the handlebars for pulse reading, but it can read your pulse via the included Bluetooth HR chest strap.
The bike is also compatible with the free MyCloudFitness app for iOS and Smart Android devices. Therefore, you can sync the monitor with your smartphone or tablet and track your progress via this app.
Last, the monitor requires 4 AAA batteries (included with purchase). It starts when you press the Mode button and have a sleep mode to enter after 4 minutes of inactivity on the bike.
Interval Programs and Target Settings
There are three interval programs and three target settings available on the console. The interval programs are 20/10, 30/90, and custom. If you select the 20/10 Interval program, the monitor will prompt you to intensely workout for 20 seconds, then rest for 10 seconds (or considerably reduce your pace). The work interval is 30 sec for the other program, and the rest interval is 90 sec. And finally, for the custom interval program, you can set up the duration of the rest and work intervals.
The target programs allow you to select a time, distance, and calorie goal. Once chosen, the monitor will show the remaining amount from the desired target and notify you when you have completed it.
X-Class 9000 Assembly and Maintenance
The mainframe of the bike comes pre-assembled. You only have to add the two base stabilizer bars, the seat post, the handlebar post housing, the handlebar post, the handlebar, the fitness monitor, and the pedals.
Therefore, it may take up to an hour; however, it's far from a complicated task. Plus, the manual provides explicit assembly instructions and an essential toolkit.
For maintenance, it's advisable to check the bike for loose bolts and parts periodically. In addition, the fan and its housing may accumulate dust and require dusting from time to time. The drivetrain does not require any lubrication.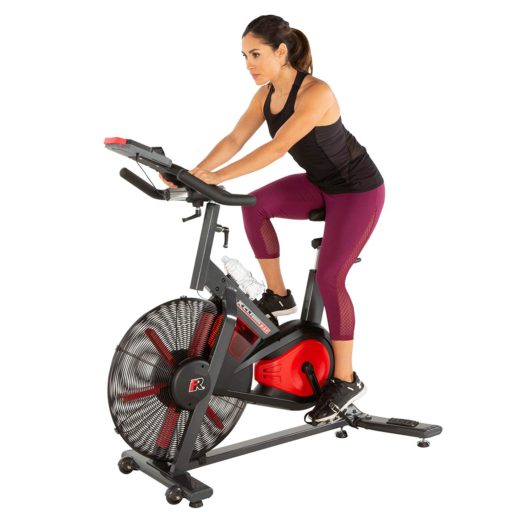 Pros
Sturdy frame, able to support users up to 300 lbs;
Adjustable levelers on both bases;
Transport wheels on the front base;
Rust-resistant paint finish;
Multi-grip handlebar;
Ergonomic, cushioned, and contoured seat, 4-way adjustable;
Air resistance system for a dynamic response, great for interval workouts;
Belt drive system for smooth operation;
Reliable steel pedals with standard threads;
Fitness monitor which can track seven workout metrics, including RPM, speed, time, distance, pulse, watts, and calories;
10 sec LED backlight on the monitor;
Three interval programs – 20/10, 30/90, custom;
Three target settings for time, distance, and calories;
Telemetric fitness monitor;
Bluetooth connectivity;
Compatible with the MyCloudFitness app for iOS and Android;
HR chest strap transmitter included;
Tablet holder included;
The bottle holder included;
Little maintenance is required;
Easy to assemble.
Excellent warranty.
Cons
A tablet placed on the tablet holder will cover the fitness monitor LCD;
It doesn't have pulse sensors in the handlebars; you can only monitor your heart rate through a wireless strap.
Fitness Reality X-Class 9000 Summary
The Fitness Reality X-Class 9000 is an air resistance exercise bike featuring a heavy-duty frame structure similar to a spin bike, a 19.3″ fan, a high-comfort seat, and a HIIT fitness monitor with pre-programmed interval workouts.
It can provide high-intensity cardio workouts for stamina development, muscle toning, and weight loss. And finally, it's not exactly one of the cheapest exercise bikes, but it offers excellent value.
I hope you found this article helpful and informative. Would you please speak up if you have anything you'd like to share on the topic or any opinions about my website? I look forward to your comments, questions, and the sharing of ideas.
Please remember that you should consult your physician to determine if you have any medical or physical conditions that could risk your health and safety or prevent you from using the equipment properly. In addition, your physician's advice is essential if you are taking medication that affects your heart rate, blood pressure, or cholesterol level.