The Xterra Fitness TR6.6 Treadmill is an excellent mid-range level treadmill. The quiet and smooth Xterra TR6.6 treadmill features a 3.0 HP motor (Continuous Duty Motor), reaching speeds up to 12 miles per hour (in increments of 0.5 mph). In addition, the treadmill can incline between 0 (flat) to a 15 percent grade (powered).
You offer various preset, manual, user, and heart rate-controlled workout programs. As a result, you can now attain the comprehensive training experience necessary to realize your health and conditioning ambitions. The Xterra TR6.6 has 13 workout programs( Manual, 8 Preset, 2 User, 2 Heart Rate).
The XTERRA Trailer Racer 6.6 is designed explicitly with user-friendly controls. The TR6.6 has quick touch controls for adjusting the speed and incline on the handlebars and the console. Thanks to the widescreen blue backlit LCD, you can easily monitor information such as pulse, speed, distance, incline, time, and calories burned. A heart rate chest strap comes included to help you achieve your optimum fitness level and maintain a healthy, safe pace.
Furthermore, the XTERRA Trail Racer 6.6 home treadmill will keep up as far as you can push yourself. Also, you can easily store the Xterra TR6.6 as it folds up. The Lift Assist Folding Deck has a hydraulic lift system to assist you when raising and lowering the deck.
Learn more in my complete review below!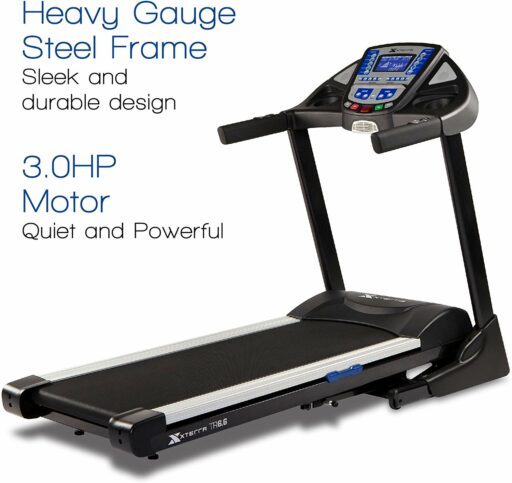 Product: XTERRA Fitness TR6.6 Treadmill
Price: For a great deal on this treadmill, merely go here to XTERRA Fitness.com
Warranty: Frame and Motor: Lifetime / Deck: 5 years / Parts: 2 years / Labor: 1 year
My rating: 8.5/10
Affiliate Disclosure: As an XTERRA Fitness Affiliate Program participant, I earn commissions on purchases made through links in this post. Full disclosure
Details and Specifications
Height: 53."
Width: 35″
Length: 79.5."
3 CHP continuous duty motor
Automatic incline, 0-15%
Running surface: 20″ x60."
Fitness console: indicates pace, calories, the time elapsed, distance, pulse, incline level, and the current speed
12 training programs
Item weight: 265 lbs
Max user weight: 350 lbs
Warranty: Frame: Lifetime / Motor: Lifetime / Deck: 5 years / Parts: 2 years / Labor: 1 year
TR6.6 Frame
A steel-made frame supports the running surface of the TR6.6 Xterra treadmill. The structure has a sleek design, sturdy, heavy, and black-dyed with an anti-corrosive powder coating. The front part of the frame is equipped with four transport wheels to ease the folded device's movement.
Given the aspects of the tread belt, the treadmill's footprint isn't precisely space-saving, as it will occupy a surface of 35″W x 79″L (89 x 200.6 cm). It also requires at least one foot of clearance on each side and about two feet at the rear for safety reasons. However, the deck has a hydraulic folding mechanism with lift-assist and soft-drop, allowing vertical folding.
There are two tiny feet with rubber levelers on the rear base of the frame. They provide maximum stability to the deck, even if the machine is on uneven flooring.
Deck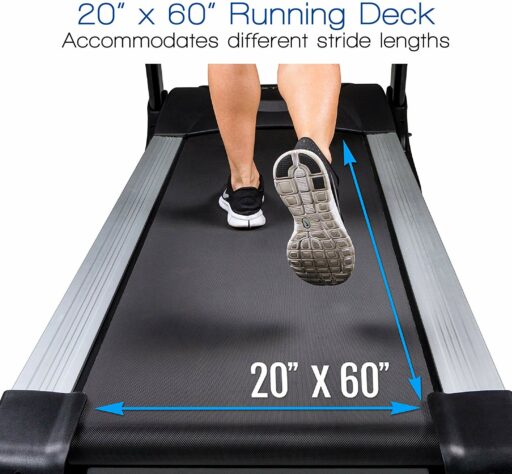 Since the deck is essential to a treadmill, we should start with its description. The Xterra Trail Racer 6.6 features a well-built, excellent deck that supports 350 lbs (159 kg) users.
It has a unique shock-absorbing system, considerably reducing the impact on your joints when running. And since running on this treadmill feels much better than running on just about any terrain, you can undergo more extended running sessions.
The running surface (or the tread belt) of this exercising machine has standard dimensions, 20″W x 60″L (51 x 152 cm), which can comfortably accommodate users up to 6'6″ (198 cm).
The deck comes with industrial-grade 2.36″ rollers with ball bearings for a smooth motion. The belt is a 2-ply Duraveave model, a heavy-duty belt that should last for many years, even daily.
Like in most superior-quality treadmills, the Xterra TR6.6 allows the user to adjust and tighten the belt. Although the belt tension isn't critical for most users, everyone wants a smooth and steady running surface.
Finally, the deck is furnished with oversized aluminum side rails, providing enough footrest surface.
TR6.6 Motor and incline
The Xterra Trail Racer 6.6 has a powerful 3 CHP continuous duty motor. Therefore, the motor can withstand long-running sessions without overheating or losing performance.
It can easily support users of the maximum weight listed without jerking or skipping. It supplies speeds between 0.5 and 12 MPH, the manual adjustment of speed increasing with increments of 0.5 MPH.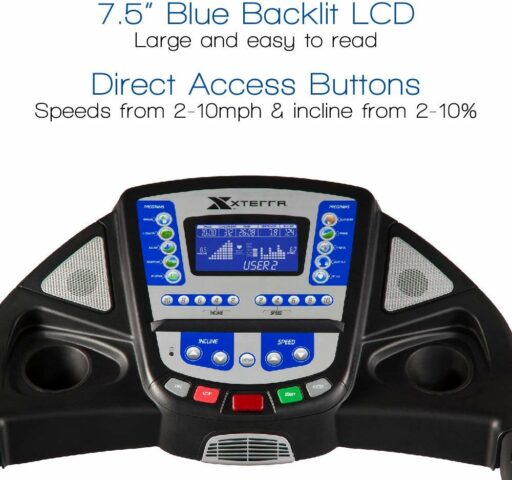 The motor is pretty silent. Even at full speed, the noise level emitted by it is negligible. So it won't interfere with your TV's sound or your music.
The treadmill is supplied with a simple power cord and does not require an adapter. However, it requires a connection to a 120V power circuit to be powered. The power cord input and ON/OFF switch are at the front of the treadmill.
The incline mechanism is fully automatic, featuring a rack & pinion gear design. It offers multiple incline levels, between 0 and 15% (a maximum of roughly 11°).
As for the speed, the incline level is adjustable from the console or handlebar digits. You can also use one of the preset programs to adjust the incline and speed automatically.
If you're wondering, at 0% incline, the deck gives the user an elevation of 8″ (20 cm), adding a couple more inches as you use the slope.
Console
The performance monitor on the console features a 7.5-inch diagonal display with an LED backlight for superior readability. It indicates pace, calories, time elapsed, distance, pulse, incline level, and the treadmill's current speed regarding its fitness-oriented functions.
The console offers 12 training programs, including six factory preset programs, three user-defined programs, two heart rate programs, and one manual program. In addition, you can customize your running routine with the user and manual programs.
Also, for a correct calorie burn count and an accurate display of the heart graph, you must insert data such as weight and age.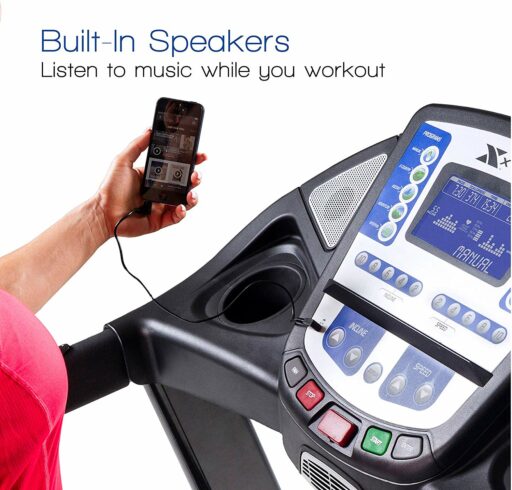 There are direct keys on the dashboard for each program. The incline and speed have arrow keys for gradual adjustment. However, there are also five keys to quick slope and quick acceleration.
The lower part of the dashboard features two STOP and START keys. So when you need to take a quick break and resume your training afterward, they are without resetting the values.
Finally, just like any top-quality treadmill, this Xterra model does feature a safety key. Thus, it is a vital feature, as you can quickly stop the machine without losing any current values. In addition, of course, the safety key should attach to your running outfit to stop the running belt if you fall quickly.
TR6.6 Amenities
This exercise machine has just about everything a runner would need in terms of accessories. For example, the dashboard has molded accessories or water bottle slots on each side.
In addition, it has a built-in sound system consisting of two speakers and a port for your MP3 player or smart device.
The lower part of the dashboard has a fan, an excellent feature during intense workout programs. The handlebars incorporate EKG grip sensors for tracking pulse, but the console is also telemetry enabled, and an HR chest strap is (supplied) with the machine.
TR6.6 Assembly and Maintenance
The assembly of this Xterra treadmill isn't complicated. However, since it's a massive exercising machine, you will need the help of another person. First, the deck is assembled, with the motor and incline mechanism attached and connected to the frame's base.
You'll have to attach the main posts to the structure. Also, connect the dashboard with the console on top of them and connect the wires. The whole thing shouldn't last more than 30 minutes. The tools required for it are (included), along with the user's manual, which guides you step-by-step through the assembly process and the use of the machine.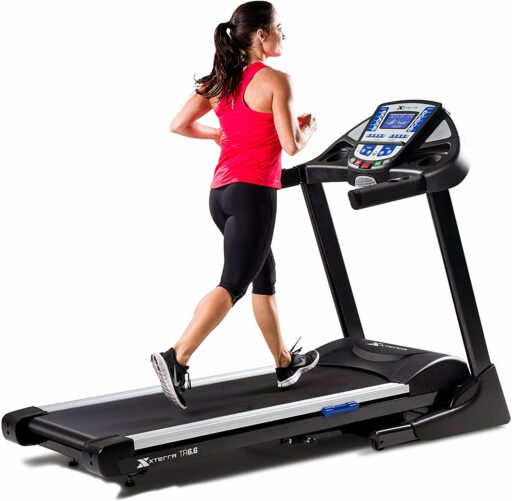 For maintenance, the belt requires lubrication after every 90 hours of use. The console will notify you when the belt needs lubrication. Silicone lubricant is necessary for this, and the box includes one tube. The extra lube is also available from XTERRA.
Other than this, you'll have to keep the belt clean. As well as re-tighten or re-align if needed and from time to time.
Pros
It's an excellent, heavy-duty treadmill built to last.
It is a heavy frame and deck assembly, rendering it very stable and supplying a secure feeling when running on it.
Foldable deck.
Maximum user weight 350 lbs.
Large running surface, accommodating tall users up to 6.6″ with no problem.
3 CHP continuous duty motor, providing maximum performance even throughout extra long-running sessions.
Automatic incline, 0-15%.
The cushioned deck significantly absorbs the impact on the user's joints.
Sound system.
Integrated fan.
Bottle/accessory holder.
Tablet tray.
12 training programs.
It has Quickstart keys for each program, speed, and incline.
EKG sensors are built into the handlebars.
Telemetry enabled console; HR chest strap included.
Start / Pause key.
Quiet machine.
Low maintenance.
Consistent warranty package.
Excellent price/quality ratio.
Cons
quite heavy
bulky machine
Xterra Fitness TR6.6 Treadmill Summary
The Xterra Fitness TR6.6 is an excellent mid-range treadmill with many latest features and an outstanding warranty. It is suitable for walking, running, and jogging. Since it folds up, it is ideal for areas where you can't leave the treadmill open at all times. Folding is easy, thanks to the Lift Assist hydraulic lift system.
The Xterra Fitness TR6.6 treadmill has a strong 3.0 HP motor, allowing a 350 lb user suitable for this price range. The treadmills features include 13 workout programs, a Power incline, a Cooling Fan, Built-in Speakers, and a large 7.5-inch backlit LCD Screen.
Therefore, this treadmill can deliver results if you lose weight, tone your muscles, build stamina, and keep an excellent cardiovascular shape.
I hope you found this article helpful and informative. Would you please speak up if you have anything you'd like to share on the topic or any opinions about my website? I look forward to your comments, questions, and the sharing of ideas.
Please remember that you should consult your physician to determine if you have any medical or physical conditions that could risk your health and safety or prevent you from using the equipment properly. In addition, your physician's advice is essential if you are taking medication that affects your heart rate, blood pressure, or cholesterol level.