Train like there's no finish line on the Efitment IC031 Indoor Cycling Bike with its Performance Magnetic Belt Drive. Discover the power of the 40-pound flywheel and shatter your cycling and cardio goals while you keep track of your fitness progress on the digital fitness monitor. Meet your training goals and shed weight– one pound at a time!
Give it all you've got with the quiet belt drive system with micro-adjustable magnetic resistance for an excellent workout. The adjustable resistance allows you to choose between informal cycling sessions, bump up the resistance, and work up your heart rate!
The integrated personal device holder enables users to create their different workouts offering pervasive workout experiences. A goal without a plan is just a wish. Start planning and recording your fitness statistics using the advanced digital monitor, which keeps track of time, distance, scan, speed, calories burned, and pulse.
Ride in style and luxury with additional accessories, including the fully adjustable seating and handlebars, water bottle holder, and device/tablet holder. Improve your health and fitness and make this exercise machine the perfect addition to your in-home gym.
Learn more in my complete review below!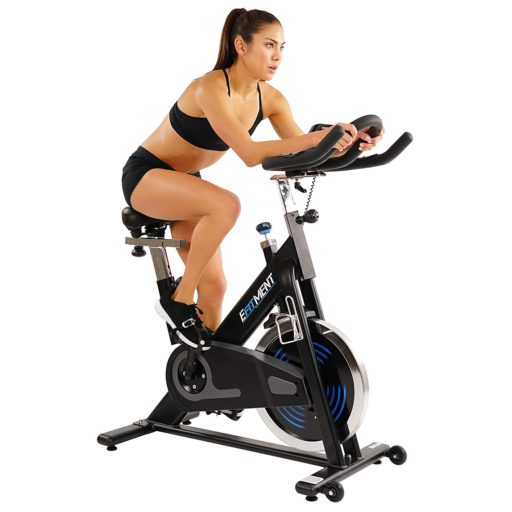 Product: Efitment IC031 Indoor Cycling Bike
Price: For a great deal on this bike, merely go here on Amazon
Warranty: 3 years
My rating: 8.75/10
Affiliate Disclosure: As an Amazon Affiliate Program participant, I earn commissions on purchases made through links in this post. Full disclosure
Details and Specifications
Assembled dimensions: 50L x 22W x 50H inches (127L x 56W x 127H cm)
Assembled weight: 104 lbs (47 kg)
Flywheel weight: 40 lbs (18 kg)
Supported weight: 275 lbs (125 kg)
Handlebars: 4-way adjustable
Seat: 4-way adjustable
Drive mechanism: Belt
Resistance: Magnetic
Fitness Monitor: Time, speed, distance, odometer, calories, pulse, goals
Warranty: 3 years
IC031 Frame Construction
The Efitment IC031 is an exercise bike designed for spinning. Although it's not an authentic Mad Dogg Athletics spinning bike, it can support any spin workout. Fortunately, its frame is built entirely out of steel bars. Unfortunately, as a result, its construction is rather heavy.
The bike weighs approximately 104 lbs (47 kg) with the frame fully assembled, which is more than twice the average road bike's weight. However, all this weight adds to the bike's stability. The adjustable stabilizers on both (front and rear) bases offer to level it flawlessly on any surface.
The bike's frame features a durable, double powder coating, which is rust-resistant and scratch-resistant. The color used for the mainframe is black, with the white-blue printed Efitment logo on the main tube. However, the flywheel's seat, handlebar posts, and peripheral section have a chrome finish.
Several parts of the bike's construction are not metallic. One of them is the belt guard; the other is the casing of the resistance pad. But these do not influence the bike's overall sturdiness.
The bike's frame does not fold. However, the front base has two large silicone-coated and ball-beared wheels. Thus, the bike's relocation shouldn't be too difficult.
Compared to other cardio fitness machines such as ellipticals or treadmills, the Efitment IC031 indoor bike is far from significant. Its maximum length is 50″ (127 cm), with the base footprint a few inches shorter. However, its width is 22″ (56 cm), so a usage area of 7′ x 4′ (213 x 122 cm) for it should suffice.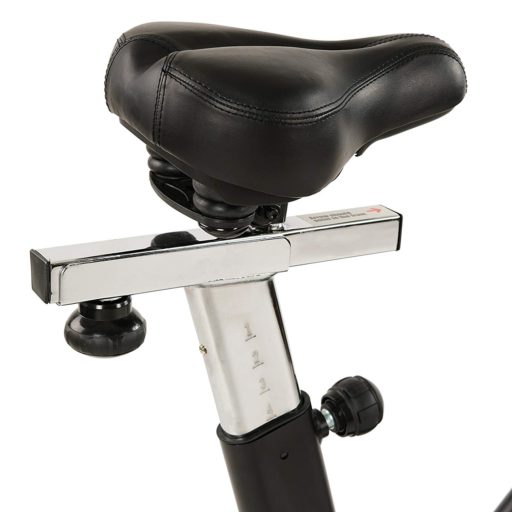 IC031 seat and handlebars
The seat supplied with the Efitment IC031 indoor bike is quite different than most spin bikes. Although it's not a large seat, it's also not the average slim spin seat. Instead, it integrates a generous layer of padding and has two springs at the rear, improving its overall cushioning and comfort.
The seat is 4-way adjustable. Its vertical post features nine adjustment positions; the spacing between the adjustment holes is approx — 1 inch. The total adjustment span offered by the upright seat post is approximately 7.5″ (19 cm).
However, the seat is also adjustable horizontally, and its horizontal slider provides a few inches. Thus, the bike can accommodate users between 5'0″ and 6'5″ (153 – 196 cm) with no problem.
The handlebar assembly is also 4-way adjustable (up, down, front, back). It doesn't offer as many positions as the seat, but this feature can help obtain the perfect fit for any user within the height range mentioned above.
The handlebar assembly offers a multi-grip design. It's dipped in urethane to provide a secure and comfortable grip. In addition, it has a large loop aero bar, which adds several grip possibilities. The lateral handlebars also incorporate stainless steel HR pulse sensors, so the bike's fitness monitor can monitor your pulse if you hold on to them.
IC031 Drive elements
The first aspect is that the Efitment IC031 indoor bike is equipped with a belt drive, using a 5pk1340 heavy-duty, poly v-belt. A belt drive comes with several advantages. For example, it doesn't generate as much vibration as a chain, doesn't require lubrication, and is tranquil.
The flywheel is relatively heavy, weighing 40 lbs (~18 kg), and designed for consistent momentum. In addition, it's bi-directional, which means you can pedal in reverse, doubling the number of workouts you can perform on this bike. The flywheel is also perimeter-weighted, which results in extra stability and smoothness for the pedaling motion.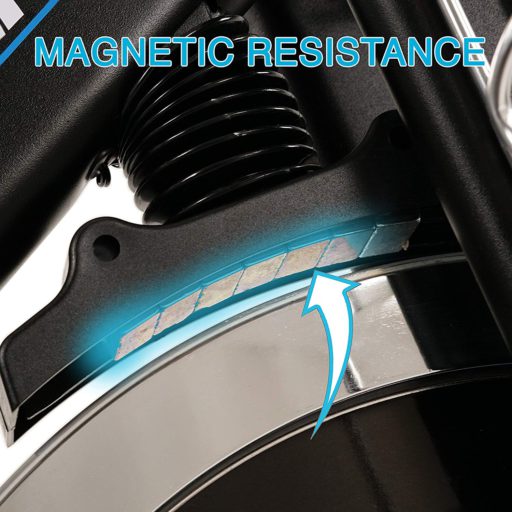 Furthermore, the crank is exceptionally durable and has two solid steel crank arms. It can support the user in pedaling routines within the maximum user weight of 275 lbs (125 kg) with no problem. The pedals are also very durable; they're metallic alloy and integrate toe cages for extra thrust.
Unfortunately, they do not have SPD clips for spin shoes, but they have standard 9/16″ threads, so you can easily find replacements.
The bike's Q-Factor (spacing between the pedals) is relatively narrow compared to other spin bikes. This Efitment bike is 5.75″ (146 mm), which means that your feet are positioned naturally on the pedals, which results in a normal pedaling motion with zero lateral stress on the knees.
IC031 Resistance system
The Efitment IC031 indoor bike has a manual magnetic resistance system consisting of a magnetic brake pad connected to the knob on top of the frame and spring for stability. As you turn the knob clockwise, the magnetic brake pad comes closer to the bike's metallic flywheel, increasing the resistance.
Conversely, turning the knob counterclockwise increases the space between the resistance pad and the flywheel, decreasing the resistance.
The bike's resistance system is manual. You don't have to connect the cycle to a power circuit for the resistance system to become functional. Also, if you're wondering, the fitness monitor has nothing to do with the bike's resistance. You can only adjust the resistance from the bike's resistance knob.
Unlike bikes with friction resistance, the resistance pad and the flywheel do not touch. Therefore, there is no wear-and-tear, and you won't have to go through the hassle of changing the brake pad due to wear. Plus, the brake doesn't generate any noise since there is no contact between the pad and the flywheel.
The resistance knob doesn't have any levels specified on it. Instead, you turn it until the generated resistance is adequate for your training. Also, it serves as an emergency brake. You can immediately stop the flywheel by pressing it down, which may be necessary, especially if you usually alternate with reverse pedaling sessions.
IC031 Fitness monitor
The fitness monitor included with this Efitment IC031 indoor bike is not advanced but offers several extra features over the average monitor. First, it has a media shelf that can serve as a tablet or magazine holder.
It can track your heart rate via the sensors integrated into the handlebars. It also has countdown functions for time, distance, and calories.
The monitor features an LCD with significant, easy-to-read digits. It monitors workout time, speed, distance, total distance (odometer), calories burned, and heart rate metrics, and it has a SCAN function that alternates all these values showing each one for 6 seconds.
The SCAN function can be toggled off, though, via the MODE button, and by pressing MODE repeatedly afterward, you can cycle through the workout metrics and select the one that interests you.
The SET button allows you to set up countdown values for time, distance, and calories and work your way down from the selected values. And finally, via the RESET button, you can clear all the metrics to zero except the odometer, which is only reset if you remove the batteries.
The monitor has a sleep mode that will enter after several seconds of inactivity. The battery-operated monitor requires 2 AAA batteries that come with the bike.
Assembly and Maintenance
Most of the bike comes pre-assembled. The flywheel, the drive belt, the crank assembly, and the brake mechanism are already attached to the mainframe. It would be best to connect the base bars to the mainframe, add the seat and handlebar posts, and then the seat and the handlebar. Lastly, connect the fitness monitor and the pedals.
Therefore, it shouldn't take more than 30 minutes of your time. The manual will guide you through the assembly steps, and the tools required are all included.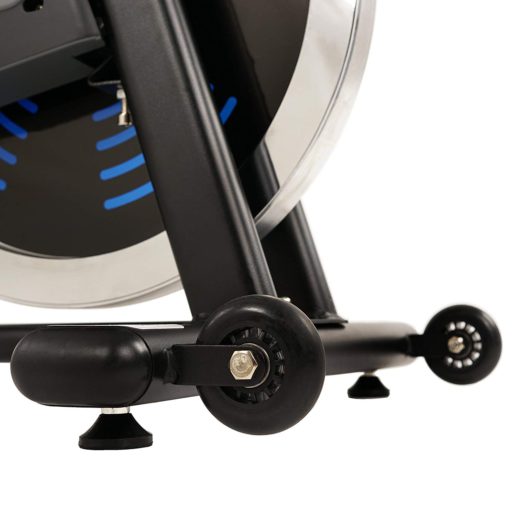 Maintenance requires lubricating the seat and handlebar posts so they can slide easier. In addition, it's advisable to make a periodic check for loose bolts and retighten them as needed. The transmission does not require lubrication as it's a belt, not a chain. It would also help to keep the bike clean and liquids away from the console unit.
Pros
Durable frame, sturdy construction for a home-use bike;
Can support users up to 275 lbs;
Adjustable stabilizers included;
Transport wheels included;
4-way adjustable seat;
4-way adjustable handlebar;
Thick cushioning and spring suspension on the seat;
Multi-grip handlebar;
Pulse sensors integrated into the handlebar;
Smooth, almost silent belt drive;
Bi-directional, 40-lbs flywheel for consistent momentum;
Manual magnetic resistance with zero friction;
Fitness monitor included – it can track time, distance, total distance, speed, calories, and pulse;
Goal settings for time, distance, and calories;
Tablet holder included;
The bottle holder included;
Easy to assemble;
Little maintenance is required.
Cons
No SPD elements on the pedals;
The fitness monitor doesn't have a backlight;
A tablet placed on the tablet holder will cover the fitness monitor LCD.
Efitment IC031 Indoor Bike Summary
The Efitment IC031 is a well-built indoor bike designed for spin workouts, with a weight capacity of 275 lbs and manual magnetic resistance. It excels in micro-adjustability; both its seat and handlebars are 4-way adjustable. In addition, it has a cushioned, comfortable seat, a multi-grip handlebar, and a fitness monitor.
It's an excellent bike for light to intense cardio workouts, endurance training, interval training, and weight loss. Although it's not the most affordable indoor bike, it's still a few $100 cheaper than most authentic spin bikes. In all, it offers excellent value for the price.
I hope you found this article helpful and informative. Would you please speak up if you have anything you'd like to share on the topic or any opinions about my website? I look forward to your comments, questions, and the sharing of ideas.
Please remember that you should consult your physician to determine if you have any medical or physical conditions that could risk your health and safety or prevent you from using the equipment properly. In addition, your physician's advice is essential if you are taking medication that affects your heart rate, blood pressure, or cholesterol level.