The Inspire Fitness IC1 Indoor Cycling Bike considers your needs and delivers a quality indoor cycling experience. Using a 45-pound (21 kg) belt-drive, friction-resistance flywheel, you are in for a quiet and sturdy ride.
The seat and handlebars are adjustable in four ways- front, back, up, and down and the polyurethane dipped handles offer a no-slip indoor cycling experience. In addition, the Inspire Fitness IC1 has 13 resistance levels to challenge beginner and experienced riders.
It supports users who weigh up to 300 pounds. The bike weighs 145 pounds, but you can quickly move it on the two transportation wheels. The frame has sweat guards to reduce wear and tear and prolong its use. You also have two water bottle holders for comfort and convenience.
The digital display monitors your time, RPM, heart rate, distance, speed, calories and displays the time. A great thing to see with the bike is that they include a heart rate strap that works with the console – that is something that most spin bikes don't offer. I like that a lot about this bike.
Learn more in my complete review below!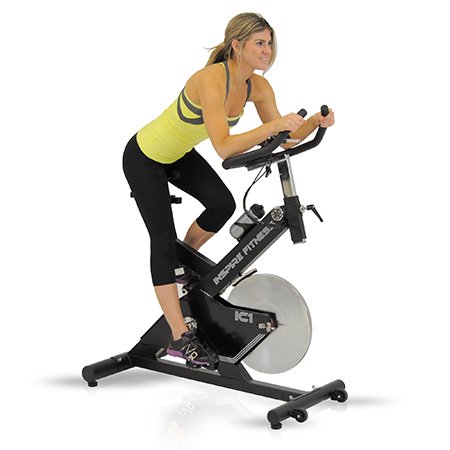 Product: Inspire Fitness IC1 Indoor Cycling Bike
Price: For a great deal on this bike, merely go here on Amazon
Warranty: Frame 10 years / Parts 3 years / Labor 1 year
My rating: 9.5/10
Affiliate Disclosure: As an Amazon Affiliate Program participant, I earn commissions on purchases made through links in this post. Full disclosure
Details and Specifications
Assembled dimensions: 46L x 22W x 57H inches (117L x 56W x 145H cm)
Assembled weight: 145 lbs (65.7 kg)
Flywheel weight: 45 lbs (21 kg)
Supported weight: 300 lbs (136 kg)
Handlebars: 4-way adjustable
Seat: 4-way adjustable
Drive mechanism: Belt
Resistance: Friction
Fitness console: Time, speed, distance, RPM, calories, pulse
Bottle holders: Included
Warranty: Frame 10 years / Parts 3 years / Labor 1 year
IC1 Frame construction
The Inspire Fitness IC1 is an exercise bike designed for spin workouts. Naturally, therefore, it features an all-steel frame with a V-shape structure. Its mid-section doesn't have a step-up pad, but the connection between the mainframe tube and the seat tube is exceptionally sturdy.
Therefore, if you want to perform spin workouts that require stepping on/off the frame, it should support you with no problem. Also, the structure is double-coated with a durable powder finish, resistant to scratching and corrosion.
The bike offers exceptional stability. Both of its bases have adjustable levelers with large rubberized pads. On top of that, the fully assembled bike weighs approx. 145 lbs (65.7 kg); this weight, plus your weight, add to the overall stability.
Even though it's relatively heavy, the bike's transport shouldn't be a problem. The front base has a set of wheels that facilitate its relocation. Using these wheels, you won't have to handle more than 1/2 of the bike's total weight.
The Inspire Fitness IC1 isn't a large fitness machine. Its total length is 46″ (117 cm), and its width is approx — 22″ (56 cm). The base is slightly shorter, being approx. 44″. The highest point of the bike stands at approx. 57″ (145 cm) above floor level when the handlebar is at its most elevated position.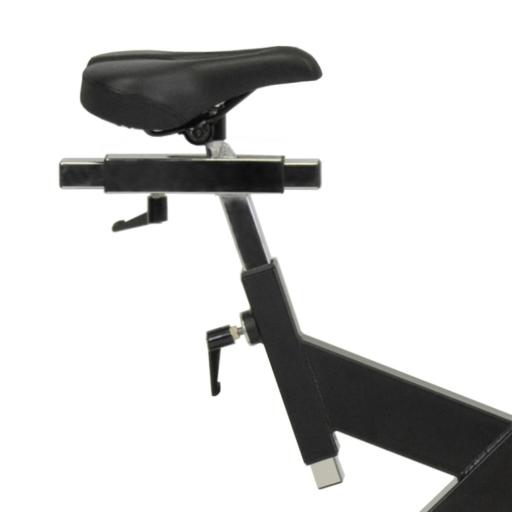 Seat and handlebars
The Inspire Fitness IC1 indoor cycling bike is equipped with a spin seat. In other words, the seat does not provide the utmost comfort; since it's a bike for spin workouts, the user shouldn't be seated all the time.
However, the seat does have a layer of padding. It has a standard design; compatible models are widely available in case you want to replaceable.
The seat can be adjusted up, down, forward, and back. Due to its adjustment span, the bike can accommodate users between 5'0″ and 6'5″ (153 – 196 cm). It also has a very durable construction and can support users up to 300 lbs (136 kg) with no problem.
The handlebar features a multi-grip design, and it integrates two bottle holders, one on each side. It also has a loop aero bar to promote the racing posture. In addition, it is urethane dipped to deliver a sure grip and minimize abrasion during long workouts.
Just like the seat, the handlebar is 4-way adjustable. In addition, both the handlebar and seat have large knobs, so their adjustment is quick without taking more than one minute.
IC1 Drive system
The three main elements of a spin bike's drive system are the flywheel, the crankset, and the transmission. The IC1 exercise bike is has a reasonably heavy wheel; it weighs 45 lbs (21 kg), which means that it delivers a very consistent momentum.
It's also balanced so that the pedaling motion feels very smooth. Regarding the flywheel's weight, many other commercial-grade bikes don't have one this heavy.
The bike's flywheel is bi-directional. Differently put, you can pedal backward if you want. Some spin workouts require the user to pedal both forwards and backward for a more consistent burn.
For transmission, this indoor cycling trainer uses a durable poly-v belt. Therefore, you won't have to worry about lubricating it or locked links, as in the case of a chain drive. It's also quieter and generates less vibration. So, in terms of noise generated by the bike's operation, we can safely say that it's almost entirely silent.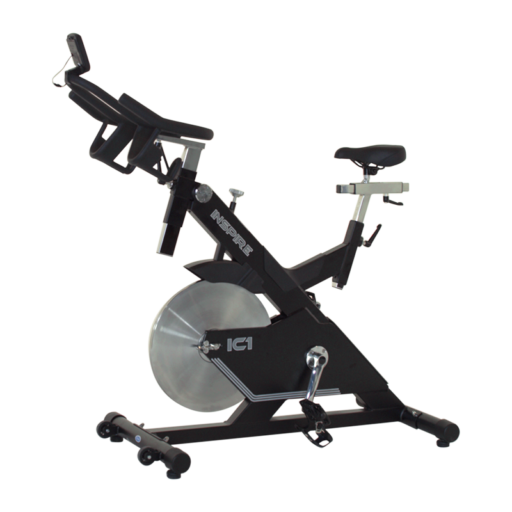 The Inspire IC1 bike has a very solid crankset. It can hold the user while standing up with no problem, as long as they exceed 300 lbs (136 kg). The pedals are also metallic, highly durable, and have toe cages.
They don't have SPD clips for spin shoes; however, they have standard 9/16 threads, so compatible replacements for them are widely available.
Resistance system
This exercise bike features a friction resistance system, so you don't have to connect it to a power source. Its brake consists of a small felt pad attached to the tension dial on top of the mainframe tube. The pad tightens onto the flywheel by turning the dial clockwise, generating friction and extra resistance on the pedals.
Unlike exercising bikes with a magnetic tension system, this bike doesn't have any markings on the resistance dial. Instead, you tighten it until you get adequate resistance for your training. You can tighten the pad onto the flywheel up to the point you can barely pedal.
IC1 Console
Although it's a small unit, the fitness console included with the Inspire Fitness IC1 exercise bike offers quite a bit more than a basic one without online connectivity. To begin with, it features a large LCD, divided into three main sections.
The top part indicates RPM; the midsection shows the heart rate and calories burned, while the bottom shows speed, time, and distance. Thus, you can see multiple workout metrics at once without the need to use a SCAN function.
The unit has two buttons. The left one serves for alternating between different displays. Simultaneously, the right button allows you to input personal settings, such as weight, or change the units from imperial to metric and vice-versa.
The bike doesn't have EKG sensors, but the console is telemetric; it can read your pulse via an HR chest strap transmitter, which comes included with the bike.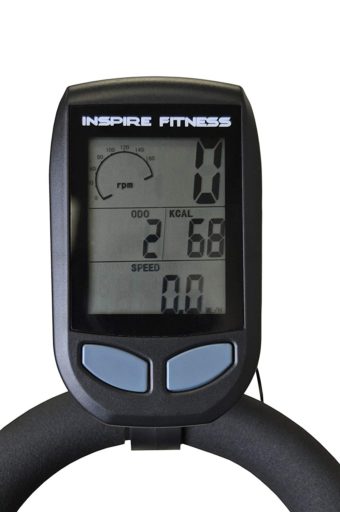 The console is battery-powered. It starts up when you begin pedaling or when you press one of the buttons. It also has a sleep mode that will enter after several minutes of inactivity to save battery life.
IC1 Assembly and Maintenance
The Inspire Fitness IC1 is easy to put together. Most of it comes pre-assembled. You only have to add the base tubes, the seat post, the handlebars post, the seat, the handlebars, the console, and the pedals.
Therefore, it shouldn't take longer than 30 minutes of your time, and the manual provides clear step-by-step assembly instructions. Also, all the tools required for the assembly come with the bike.
Maintenance requires keeping the bike clean. For example, the brake pad may require lubrication, and when worn out, it will need replacement. Other than this, you should periodically check the bike's integrity, look for loose bolts and parts, etc. and retighten if necessary.
Pros
Extremely sturdy construction, able to support users up to 300 lbs;
Aesthetic design;
Bases with adjustable, rubber levelers;
Transport wheels;
4-way adjustable seat and handlebars;
Multi-grip handlebar, polyurethane dipped for a secure and non-abrasive grip;
Standard friction resistance;
Extra-heavy, 45 lbs flywheel for a consistent momentum and a smooth pedaling motion;
Heavy-duty crank, able to support any user up to the maximum listed weight, in upright pedaling position;
Narrow Q-Factor to eliminate lateral stress on the knees and ankles;
Durable, metallic pedals with toe cages for extra thrust;
Silent, maintenance-free belt drive;
Fitness console included – can track time, speed, RPM, distance, calories, and pulse;
The Telemetric console can read pulse via an HR chest transmitter;
HR chest belt included;
Bottle holders included;
Little assembly required;
Little maintenance required;
Excellent warranty.
Cons
The pedals do not have SPD clips.
Inspire Fitness IC1 Indoor Cycling Bike Summary
The Inspire Fitness IC1 is a heavy-duty, indoor cycling bike featuring a friction resistance system, an extra-heavy 45 lbs flywheel, and 300 lbs. In addition, it has 4-way adjustable handlebars and a seat, and a telemetric fitness console.
It's a bike made to support any spin workout. It's perfect for medium to intense cardio workouts, interval training, stamina, leg strength development, and weight loss. And finally, even though it's not one of the most affordable spin bikes, it does offer excellent value for the price.
I hope you found this article helpful and informative. Would you please speak up if you have anything you'd like to share on the topic or any opinions about my website? I look forward to your comments, questions, and the sharing of ideas.