The HARISON B5 Upright Bike is made of heavy and refined steel and supports a maximum user weight capacity of up to 300 lbs. Also, the surface comes coated with special baking paint, which is environment protecting and anti-rust and anti-corrosion.
The B5 comes equipped with eight levels of manual magnetic resistance for a smooth and nearly silent workout.  Levels 1 through 3 are cardio exercises for your heart and lungs. While levels 4 through 6 are for advanced aerobic exercise and to burn calories. Lastly, levels 7 and 8 are high-intensity resistance to strengthen your leg muscles.
The HARISON B5 upright bike is fully adjustable. It features a 360-degree adjustable handlebar and a 4-way adjustable seat to accommodate users of different body sizes. Thus, improving your form during exercise and allowing your body to conform precisely to the equipment, giving your workouts the maximum effect on your targeted areas.
The B5 comes equipped with a multi-function console. The LCD tracks time, speed, distance, calories, RPM, odometer, and heart rate. The heart rate function works via the integrated pulse sensors in the handlebars. However, the console is not telemetric and does not communicate with wireless HR chest straps.
Learn more in my complete review below!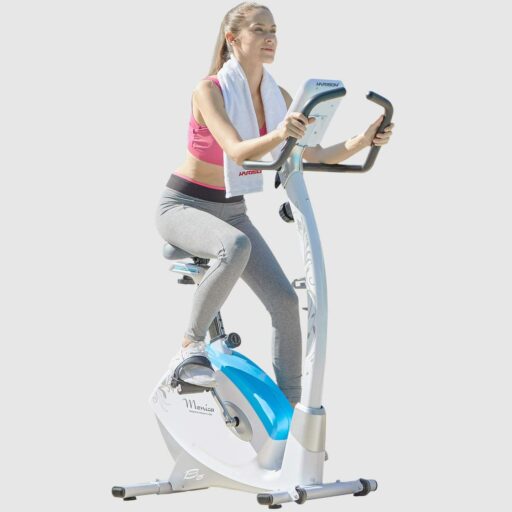 Product: HARISON B5 Upright Bike
Price: For a great deal on this bike, merely go here on Amazon
Warranty: 1 year limited
My rating: 8/10
Affiliate Disclosure: As an Amazon Affiliate Program participant, I earn commissions on purchases made through links in this post. Full disclosure
Details and Specifications
Assembled dimensions: 38″L x 21″W x 52″H (96L x 52W x 152H cm)
Assembled weight: 65 lbs (29.5 kg)
Flywheel weight: 13 lbs (6 kg)
Weight capacity: 300 lbs (136 kg)
Seat: 4-way adjustable
Resistance: Manual magnetic, eight levels
Console: Time, speed, distance, watts, calories, pulse, and recovery
Extras: Bottle holder, tablet holder
Warranty: 1 year limited
B5 Frame construction
The HARISON B5 upright exercise bike features a steel frame combining ovalized tubing with rectangular tubing for improved aesthetics. However, like most other upright bikes, its drive and resistance elements feature durable ABS covers. In addition, all the steel parts come coated with a thick, corrosion-resistant, and chip-resistant paint finish. The color used is light gray, and the ABS covers feature matching colors with a floral print. The only exception is the seat post, which is chrome-plated.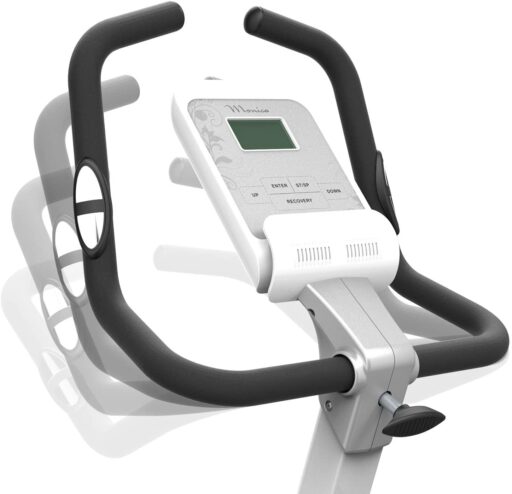 The bike has a pretty compact design. Its footprint is approx. 38″L x 21″W (96 x 52 cm). However, its full length with the seat extended to the back and the handlebar adjusted forwards is approx 43.3″ (110 cm). Therefore, the bike can fit pretty well even into a small room, but it still is recommended to leave at least two feet of clearance all around it for safe usage.
The fully assembled bike isn't hefty but does have a net weight of 65 lbs (29.5 kg), which is more than the average weight of a road bike. This weight provides excellent stability. Plus, the bike has a low center of gravity and adjustable levelers with rubberized pads on both base bars.
Although it's not a heavy fitness machine, the HARISON B5 has transport wheels integrated into its front stabilizer. Thus, its relocation is easy once you have finished your workout.
One last important aspect to mention here is the bike's step-through design. Not all upright bikes offer this feature. This can be quite a plus for users with specific disabilities or elderly users as they don't have to step over the base frame of the bike; the small gap between the front mast and the drive unit is just enough to provide an easy entry-exit.
Seat and handlebars
The HARISON B5 exercise bike comes equipped with a standard saddle. Its top is a polyurethane material. It's not super-cushioned but does offer optimal comfort, and it's also slightly wider and longer than the average race saddle, so it provides plenty of contact surface.
It's important to mention here that the seat's attachment system is standard (collar-based). Therefore, it's easily removable from its slider, and you can find compatible replacements for it in any bike shop in case you will ever need to replace it.
The seat is 4-way adjustable (up, down, front, back). Its vertical post offers enough adjustment holes to accommodate users between 4'7 ″ and 6'3 ″ (140 – 190 cm). Its horizontal slider allows several inches of front-to-back adjustment, and since the seat's connection system is collar-based, you can slightly tilt it forward or backward. Also, the seat assembly is durable enough to support users up to 300 lbs (136 kg).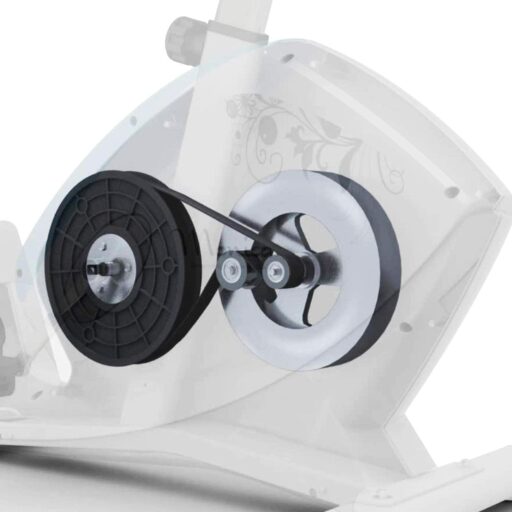 The HARISON B5 features an adjustable handlebar. Unfortunately, its vertical post doesn't allow any adjustment, as is the case for the seat. However, the handlebar attaches to it via a knob, allowing you to change its angle. In addition, it has a 360-degree swivel, so you can choose the angle that fits you best.
The handlebar has a multi-grip design. A layer of PU material fully covers it for a secure grip. It also integrates pulse sensors, and the included console has a pulse reading function.
B5 Drive system
The HARISON B5 upright bike has a mid-range internal flywheel that weighs 13 lbs (6 kg). It has a perimeter-weighted structure to add a bit of inertia to the ride. But since this is an upright bike, it doesn't offer spin bike inertia, which usually has a 35-40 lbs (16-18 kg) flywheel.
The flywheel allows reverse pedaling. However, since the bike has a simple drive system, you cannot coast on it. Therefore, when pedaling in reverse, you will benefit from the same resistance.
The bike's transmission uses a durable poly-V belt. This type of drive comes with several advantages. First of all, you don't have to go through the hassle of lubricating it, as is the case of a chain drive. Second of all, it generates less vibration than a chain. And third of all, the pedaling motion is very smooth and quiet.
The bike's crankset features long steel crank arms similar to road bikes. However, it's not for spin workouts. So, even if it can hold your entire weight, standing up while pedaling is not recommended as it may damage internal parts.
The pedals have a counter-weight, so they always turn face up if you remove your feet from them. Unfortunately, they don't have clips for spin shoes, but they do have adjustable straps. This feature can be a plus for users with specific disabilities as it can help them secure their feet on the pedals.
Resistance system
The HARISON B5 exercise bike comes equipped with a manual magnetic resistance system. It offers eight levels of resistance. The first one provides a very light pedaling difficulty, making the bike an excellent choice for recovery training. Conversely, the 8th tension level simulates a hill climb, offering the possibility to perform a more intense workout.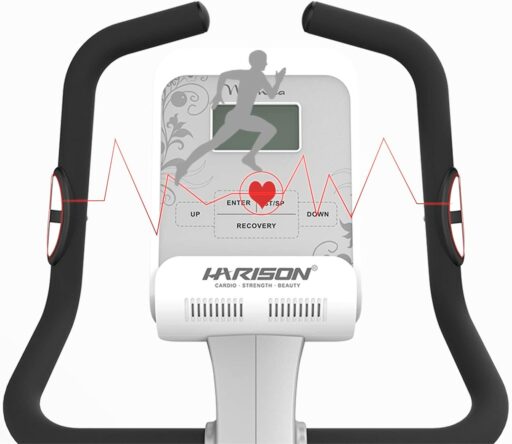 The bike's brake system is magnetic, with manual action. It doesn't integrate a servo motor, so the console can automatically adjust the bike's resistance. Instead, the brake is attached to the tension knob on the front mast through a steel cable. So, when you turn the knob, the brake changes its position to the flywheel, increasing or decreasing the load.
B5 Console
As I've mentioned earlier, the HARISON B5 has a manual magnetic brake system. Therefore, the console doesn't have preset programs and cannot adjust the resistance automatically.
It features an LCD that tracks time, distance, total distance, speed, calories, RPM, and pulse. It's important to mention that the pulse feature only works via the sensors integrated into the handlebars. The console unit is not telemetric and cannot communicate with wireless HR chest straps.
The console unit is relatively easy to use. It has five buttons – Enter, Start/Stop, Up, Down, and recovery. The Enter button allows you to access its setup mode to assign time, distance, or calories goals.
The Up/Down buttons allow you to increase or decrease the values or scroll through the workout metrics and select the one you want to view.
The Start/Stop buttons allow you to pause and resume your workout, great to have if you're going to alternate cycling workouts with other types of exercises. And finally, the Recovery function counts your pulse at the end of your training and, based on the cooldown recovery, gives you a fitness rating between F1 (excellent) and F6 (poor).
The bike's console is battery-powered. It starts up when you begin pedaling or when you press one of the buttons. It also automatically shuts off a few minutes after the last pedal input to save battery life.
B5 Assembly and Maintenance
The central unit of the bike comes pre-assembled. In other words, all the drive and resistance elements are already attached to the base frame and covered by the ABS guards. Therefore, you only have to connect the two base bars, the front mast, the seat post, the seat, the handlebars, the console, and the pedals. In addition, the manual provides all the necessary instructions, and all the tools you'll need for it are (included) with the bike. Thus, the task shouldn't take more than an hour.
Maintenance doesn't require much. All you have to do is keep the bike clean and periodically check for loose parts and joints. The internal mechanism doesn't require any lubrication.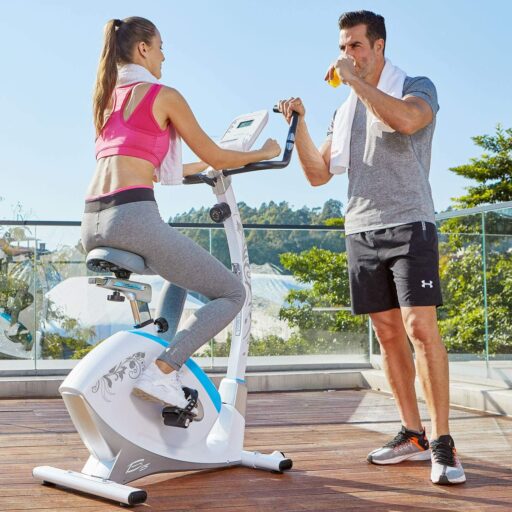 Pros
Sturdy, steel frame, can support users up to 300 lbs capacity
Adjustable stabilizers on the rear base;
Transport wheels on the front base;
Angle-adjustable handlebar;
Four-way adjustable, padded, and contoured seat;
Quiet magnetic resistance system;
Eight levels of resistance are available for superior micro-adjustability;
Weighted pedals with adjustable straps;
Exercise meter that can track time, distance, total distance, speed, calories, RPM, and pulse;
Goal setting functions for time, distance, and calories;
Tablet holder included;
Bottle holder included;
Reasonably easy to assemble;
Little maintenance is required.
Cons
The LCD doesn't have a backlight;
No workout programs.
HARISON B5 Upright Bike Summary
The HARISON B5 is an upright exercise bike designed for home use. It has sturdy construction with a maximum user weight capacity of 300 lbs (136 kg), superior micro-adjustability, magnetic resistance (8 levels), and a console that can track all the important workout metrics, goals, and recovery functions.
It's an excellent stationary bike for light to medium-intensity cardio, recovery training, muscle toning, weight loss, and stamina development. In all, it offers exceptional quality for the price.
I hope you found this article helpful and informative. Please speak up if you have anything you'd like to share or any opinions about my website. I look forward to your comments, questions, and the sharing of ideas.