Escape into your workout from the comfort of home with the Schwinn 230 Recumbent Bike MY20. It's a practical, affordable, low-impact fitness solution providing the ultimate indoor adventure. In addition, it connects with world-class app experiences like Explore the World and Zwift. (Separate subscriptions required.)
The 230 is a fun, comfortable ride offering 16 levels of resistance, a contoured seat with a vented back, and smooth magnetic resistance. Immerse yourself in scenic destinations that match your cycling speed and interact with others in a virtual world that motivates you at every mile.
The Schwinn 230 recumbent bike has a 5.5″ LCD fitness monitor that tracks time, distance, total distance, speed, RPM, calories, and pulse. The monitor is telemetrically enabled (HR chest strap required). In addition, the seat handlebars have ergonomically placed heart rate sensors for a relaxed riding position when using a heart rate program.
The 230 features a large ergonomic seat that contours with a ventilated design for improved breathability. In addition, it features a lever-based rail adjustment system, which means you can adjust it while seated. However, the backrest does not adjust independently from the seat and does not have a reclining feature.
Learn more in my complete review below!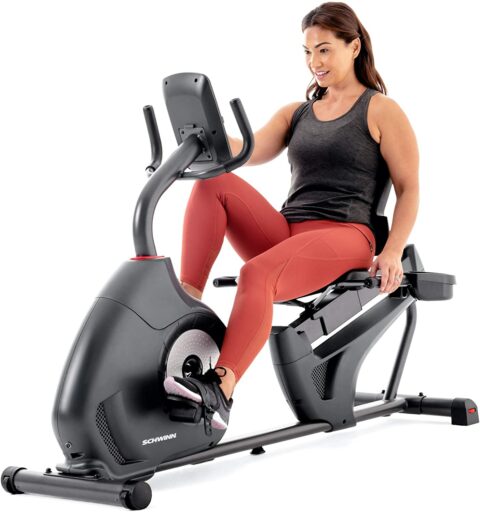 Product: Schwinn 230 Recumbent Bike MY20
Price: For a great deal on this gym, merely go here to Schwinn Fitness.com
Warranty: Frame 10 years / Mechanical two years / Electrical one year / Labor 90 days
My rating: is 8/10
Affiliate Disclosure: As a Nautilus and Schwinn Partner Program participant, I earn commissions on purchases made through links in the post. Full disclosure
Details and Specifications
Assembled dimensions: 64L x 27.7W x 44H inches (162L x 70W x 112H cm)
Assembled weight: 81.5 lbs (37 kg)
Supported weight: 300 lbs (136 kg)
Seat: Contoured, ventilated, rail adjustment
Resistance: Motorized magnetic, 16 levels
Fitness Monitor: 13 programs, goals, Bluetooth, Explore the World App compatible.
Extras: Device holder, bottle holder
Warranty: Frame 10 years / Mechanical two years / Electrical one year / Labor 90 days
230 Frame construction
The Schwinn 230 MY20 recumbent exercise bike features a steel frame combining oval and cylindrical tubes to construct improved aesthetics and sturdiness. In addition, it has a maximum user weight capacity of up to 300 lbs (136 kg), which is not bad for a home-use recumbent bike.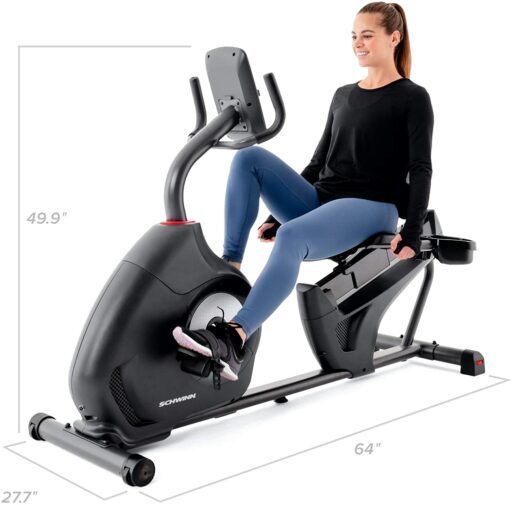 In addition, the cycle also integrates several thermoplastic parts. The most notable ones are the seat base covers, the drive system covers, the seat bottom, and the backrest.
All the steel parts in the frame construction come coated with a corrosion-resistant and abrasion-resistant black paint finish.
The fully assembled bike is relatively large. It is approx 64″ (162 cm) long and 27.7″ (70 cm) wide. Leaving at least two feet of clearance all around it is advisable to ease access. Thus, it may not fit too well in a small room or apartment.
The bike is also pretty heavy. Its net weight is 81.5 lbs (37 kg). Therefore, the transport of the packaged unit requires two persons. However, once completed, one person quickly moves the bike via the integrated two small transport wheels. Also, the rear stabilizer features two adjustable levelers.
The bike has a step-through design, which is quite a plus for users with disabilities. That's because it allows you to easily pass through the middle of the bike and take a position on the seat.
Seat and handlebars
The Schwinn 230 MY20 comes equipped with a large ergonomic seat. Its frame is steel-made, while its backrest and bottom sections are made of durable thermoplastic material. In addition, they're contoured and have a ventilated design for improved breathability.
It is adjustable; you can quickly move it closer or farther from the pedals on its rail. In addition, it features a lever-based adjustment system, which means you can adjust it while seated.
However, it is essential to note that the backrest does not adjust independently from the seat. Thus, it attaches to the seat frame with several screws, so you cannot change its height. Unfortunately, it also does not have a reclining feature.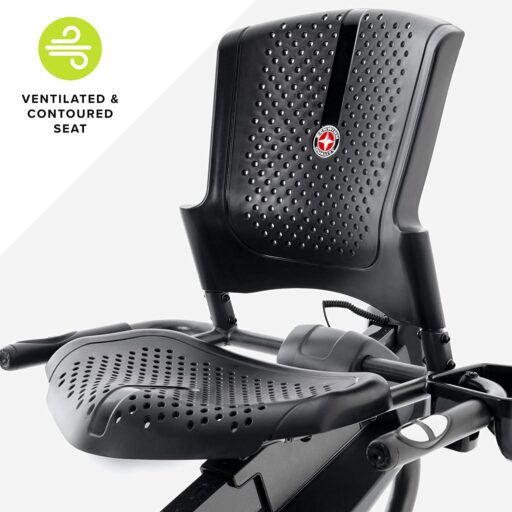 The bike comes with two sets of handlebars. One connects to the seat frame, and the other to the front mast of the bike. Neither of the handlebars is adjustable. However, they both have foam sleeves for an improved grip.
The seat handlebars integrate metallic HR pulse sensors. The fitness monitor can track your heart rate by holding on to them. The front handlebars do not have sensors. Due to the curvature of the front mast, they are pretty close to the user.
230 Drive system
The Schwinn 230 MY20 comes equipped with a perimeter-weighted internal flywheel. This type of flywheel design improves inertia and provides superior motion stability. Therefore, the bike offers consistent momentum and a smooth pedaling motion.
The flywheel's exact weight is not specified. However, its net weight is probably between 15 and 25 lbs (6.8 – 11.3 kg). In addition, it is also bi-directional, so you can pedal reverse if you want. However, coasting is not possible, and when pedaling in reverse, you will get the same resistance as pedaling forward.
The bike comes equipped with a belt drive system. It uses a durable poly-v belt resistant to stretching. Since the drivetrain uses a belt, not a chain, you don't have to worry about its periodic lubrication. Also, another advantage of a belt drive system is that it generates less vibration than a chain.
This Schwinn exercise bike features a durable crankset featuring cylindrical long solid steel arms. The pedals are made of durable thermoplastic material and have a metallic center.
In addition, they have straps so you can secure your feet in place if necessary. Furthermore, they're also weighted and will always turn face-up when you remove your feet from them.
Resistance system
The Schwinn 230 MY20 recumbent bike has a motorized magnetic resistance system. Unfortunately, this requires an external power source and an adapter to adjust the resistance.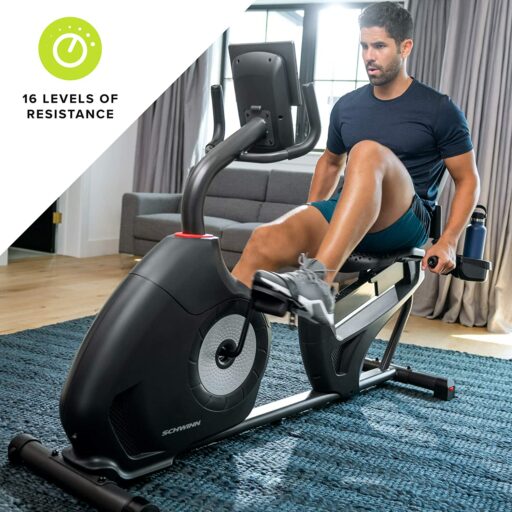 A 110V-120V, 60Hz AC input / 1.5A output adapter comes included with the bike. Also, since the resistance is motorized, the cycle automatically adjusts the pedaling difficulty depending on the current program settings.
The bike's resistance system consists of a magnetic brake connected to a servo motor connected to the console. As the resistance adjusts, the motor moves the brake closer or farther from the flywheel, increasing or decreasing the workout load.
The bike makes available 16 levels of resistance. The first few levels deliver a relatively light pedaling difficulty, great for warm-ups, recovery training, or muscle toning. On the other hand, the highest levels provide considerably more pedaling difficulty simulating a hill climb.
Fitness monitor
Unlike the older Schwinn 230 model's monitor, the MY20 version lacks a smaller bottom LCD. Instead, it only has one 5.5-inch LCD that tracks time, distance, total distance, speed, RPM, calories, and pulse.
The speed and distance can either be Imperial or Metric units. In addition, you can use the sensors integrated into the seat handgrips or a Bluetooth HR chest strap for the pulse reading function.
The Bluetooth connectivity also allows you to sync the bike with your smartphone or tablet via apps such as Zwift or Explore the World. These apps provide a virtual cycling experience, including various training courses, allowing you to compete with friends, track your progress online, and more. However, it is essential to note that they require an active subscription, which sells separately.
Workout programs
The fitness monitor still covers you if you don't want to use any fitness apps. It has 13 built-in workout programs that divide into three categories. These are: Manual, Interval, and Challenge, and each program category have its quick-access key on the monitor.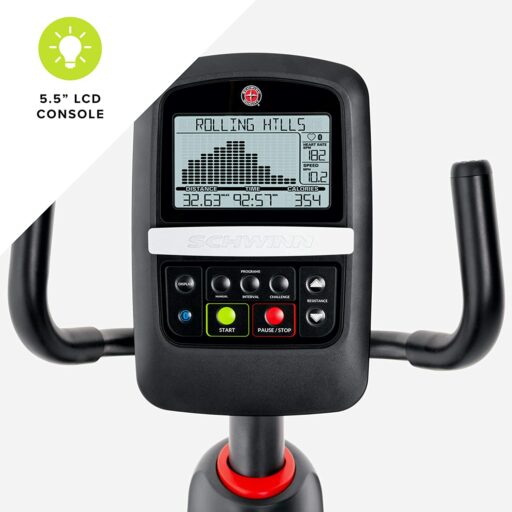 The Manual category includes only one program, the Manual program. It merely enables the monitor to record your calories burned, distance, speed, etc., during your workout. It also requires you to make manual adjustments to the resistance.
The Interval program category also has one program. It has a default duration of 12 minutes and "sprint" periods of 30 seconds, alternated with "rest" periods of 90 seconds. The program increases in increments of 12 minutes.
The Challenge program category includes 11 programs. They have various segment layouts. Some progressively increase the resistance; then they progressively lower it. Others are great for losing weight, while others have a random segment layout.
The 11th program is the HRC (Heart Rate Control) program. To use this program, you must either hold on to the integrated HR pulse sensors or wear an HR chest strap (not included). The monitor will automatically adjust the resistance when using the HRC program, depending on your BPM.
The default BPM setting of the program is 125. So, if your heart rate exceeds this value, the bike will reduce the resistance. Conversely, if your HR falls under this value, the cycle will increase the resistance.
It's essential to note that the bike's fitness monitor lacks some of the features in the previous versions. For example, it does not have a USB port, a sound system, or a workout fan. However, it does include a device holder.
230 Assembly and Maintenance
The main body of the bike comes pre-assembled. You only have to attach the two base bars, the seat, the pedals, the front mast, the handlebars, and the fitness monitor.
Therefore, it shouldn't take more than one hour of your time. The manual provides clear, step-by-step assembly instructions with illustrations, and the necessary tools for assembly come with the bike.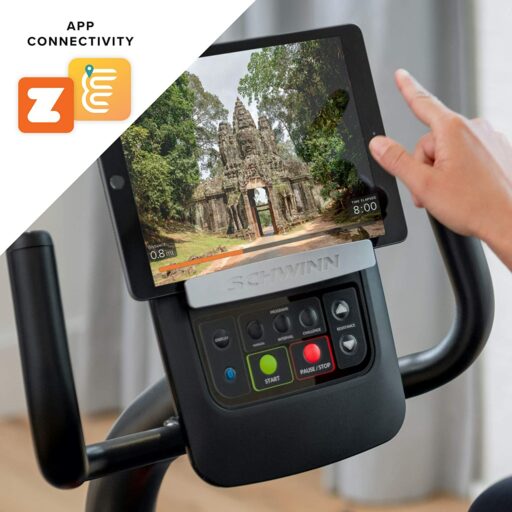 You only have to keep the bike clean and wipe the sweat that may fall on the frame at the end of your workout for maintenance. The internal parts do not require lubrication. It is also advisable to periodically inspect the bike to ensure that all the nuts and bolts are tight.
Pros
Sturdy construction – can support users up to 300 lbs;
Elegant design;
Large, contoured seat with a ventilated design;
Two sets of handlebars;
Grip pulse sensors;
Weighted pedals with adjustable straps for extra stability;
Motorized magnetic resistance – 16 levels;
Multi-function fitness monitor with a 5.5″ LCD;
13 workout programs;
Goal settings for time, distance, and calories;
Bluetooth connectivity;
Compatible with various apps such as Zwift, Explore the Worlds, and Schwinn Toolbox;
Bluetooth HR chest strap or armband compatible;
Device holder included;
Maintenance-free;
Easy to assemble;
All the necessary assembly tools come with the bike;
Excellent warranty.
Cons
Zwift and Explore the Worlds subscriptions do not come with the bike;
The Bluetooth HR chest strap does not come with the bike;
A tablet placed on the device holder will cover the fitness monitor LCD.
Schwinn 230 Recumbent Bike Summary
The Schwinn 230 MY20 is a recumbent exercise bike made for home use. It has a heavy-duty construction, a 16-level automatic magnetic resistance system, and a fitness monitor with 13 workout programs. In addition, the monitor is also Bluetooth enabled and compatible with Zwift, Explore the World, and Schwinn Toolbox apps.
Moreover, it's a tremendous recumbent bike for home use, perfect for light to medium-intensity cardio workouts, interval training, muscle toning, stamina development, and weight loss. It's also an affordable recumbent bike and offers excellent value for the price.
I hope you found this article helpful and informative. Would you please speak up if you have anything you'd like to share on the topic or any opinions about my website? I look forward to your comments, questions, and the sharing of ideas.
Please remember that you should consult your physician to determine if you have any medical or physical conditions that could risk your health and safety or prevent you from using the equipment properly. In addition, your physician's advice is essential if you are taking medication that affects your heart rate, blood pressure, or cholesterol level.