The Stamina 1346 Recumbent Bike provides all the lasting muscle-toning, cardio-boosting benefits of cycling-friendly to users of all mobility levels. In addition, the ergonomic recumbent frame offers a relaxed sitting position that's easier on your back than traditional upright bikes. In addition, the step-through design makes getting on and off the bike much more accessible.
Take your fitness routine further with the Stamina 1346 Recumbent Bike by tracking workout metrics on the large, easy-to-read LCD fitness monitor. The monitor allows you to view time, speed, calories, distance, and total distance. Additionally, you can place your hands on the handlebar sensors to see your pulse.
Stream three expert-guided video workouts using your device of choice to get the most out of your new 1346 bike. The Getting Started Routine (approximately 5 minutes long) demonstrates how to use your bike to burn calories, boost heart health, and improve strength.
The Active Aging Workout (approximately 26 minutes long) shows you how to improve your metabolism and mobility in a gentle, joint-friendly way. Lastly, the Circuit Style Workout (about 37 minutes) guides you through timed periods of high-intensity intervals followed by slower, quiet periods of low-intensity cardio to maximize fat loss.
Learn more in my complete review below!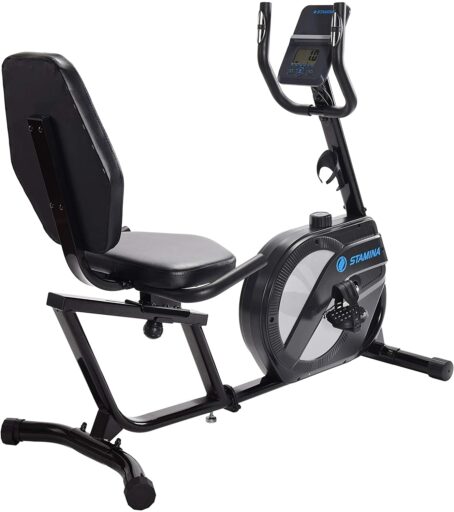 Product: Stamina 1346 Recumbent Bike
Price: For a great deal on this bike, merely go here on Amazon
Warranty: Frame 1 year / Parts 90 days
My rating: is 8/10
Affiliate Disclosure: As an Amazon Affiliate Program participant, I earn commissions on purchases made through links in this post. Full disclosure
Details and Specifications
Assembled dimensions: 50L x 20.25W x 42H inches (127L x 51W x 107H cm)
Assembled weight: 58 lbs (26.3 kg)
Max. user weight: 300 lbs (136 kg)
Seat: Adjustable
Drive: Belt
Resistance: Magnetic, eight levels
Fitness Monitor: Time, distance, speed, calories, pulse, scan, goals
Warranty: Frame 1 year / Parts 90 days
1346 Frame construction
The Stamina 1346 recumbent bike features a steel frame combining ovalized, rectangular, and cylindrical tubes in its construction. The only exceptions are the flywheel covers and other drive elements, which are durable ABS materials.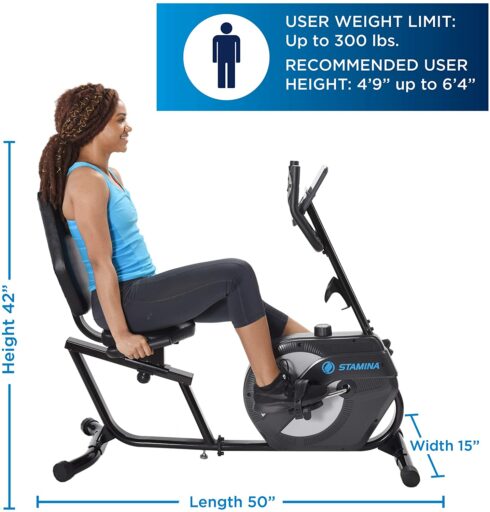 All the steel bars come coated with a thick, corrosion-resistant, and chip-resistant paint finish. The color used is black, the only color available for this model.
The bike's frame consists of two main pieces, the rear section that supports the seat and the front with the drive and resistance elements and the monitor mast. These two pieces connect in the middle via three screws.
Unlike other recumbent bikes with a two-piece frame, its seat has an adjustment bar rather than requiring adjusting the whole rear frame section.
The bike has a step-through design. Therefore, it's quite a plus for users with specific disabilities as it facilitates entry and exit without stepping over the bike's drive system.
Since it's a home-use recumbent bike, the Stamina 1346 is not an extremely large fitness machine. With the frame fully set up, it is only 50″ (127 cm) long and 20.25″ (51 cm) wide. However, Stamina recommends a usage area of at least seven feet x four feet (213 x 122 cm).
The bike isn't too heavy, weighing approximately 58 lbs (26.3 kg). Therefore, it can be carried and assembled by one person. Its front base bar integrates transport wheels, while its rear base features polygonal caps that rotate to stabilize.
Seat and handlebars
The Stamina 1346 recumbent bike has a seat designed for optimal comfort. Its backrest and bottom pads feature two inches of foam padding, durable vinyl upholstery and are also sweatproof. The bottom cushion is approx—14″ (35.5 cm) wide, offering plenty of contact surfaces.
The whole seat assembly is adjustable. In addition, its base rail offers an adjustment span of several inches. Therefore, the bike should accommodate users between 5'4 ″ and 6'4 ″ (162 – 193 cm). It is also durable enough to support users up to 300 lbs (136 kg).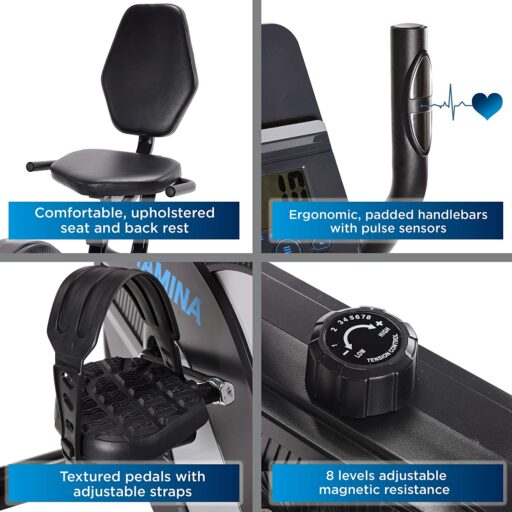 It's important to note that the bike's backrest does not adjust independently from the rest of the seat. Instead, it attaches to the seat's metallic frame via four screws and cannot be adjusted up or down. Unfortunately, it also does not have a reclining function.
This Stamina exercise bike comes equipped with two handlebars; one connects to the seat frame, the other to the front mast. The seat handlebars have short grips slightly inclined upward. Their grips are at the approximate height of the bottom pad of the seat to provide optimal hand positioning.
The front handlebars feature extended grips and integrate stainless steel HR pulse sensors. They're also non-adjustable as the seat handlebars. In addition, both handlebars' grips have a thick layer of rubber foam material for optimal comfort.
1346 Resistance system
The Stamina 1346 recumbent bike comes equipped with a magnetic resistance system. It consists of a metallic flywheel that integrates a magnetic brake via the tension knob on top of the bike's front unit. For example, when turning this knob clockwise, the brake moves closer to the flywheel, increasing the pedaling resistance.
The bike makes available eight resistance levels. The first level is relatively light and great for recovery training or muscle toning. The 8th level does not provide a super severe pedal tension but offers more resistance than the first level, simulating a hill climb.
Since the bike's resistance system is manual, you don't need to connect the cycle to a power source or an adapter. But on the other hand, the included performance monitor cannot adjust the resistance automatically.
The exact weight of the flywheel is not specified. However, considering that the bike's total weight doesn't exceed 60 lbs, its wheel is probably around 20 lbs (9 kg), give or take. In addition, it has a balanced structure designed to provide a smooth and stable pedaling motion. It is also bi-directional, allowing you to pedal backward if you want to add diversity to your workouts.
Drive system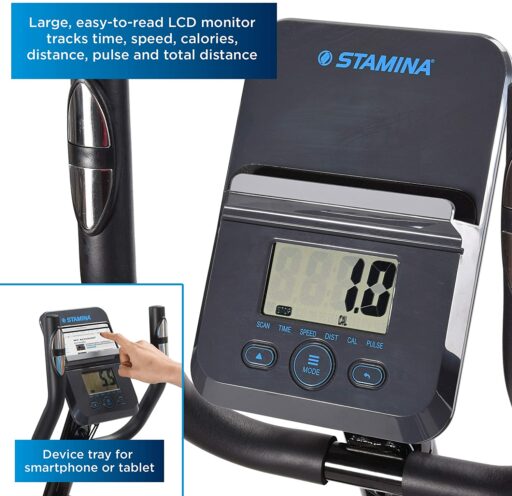 The bike's drivetrain uses a poly-v belt. This type of drivetrain comes with a few advantages. First, the pedaling motion is smooth as the belt generates less vibration than a chain. And second, you don't have to lubricate it periodically, as is the case for just about any chain drive.
This Stamina recumbent exercise bike comes equipped with a three-piece crankset with a large pulley, almost the same diameter as the flywheel. The crank arms are solid steel with a chrome finish. However, since it's a recumbent bike, they're not intended for standing up while pedaling.
The bike includes standard exercise bike pedals made of durable thermoplastic material with a textured, anti-slip surface. In addition, they have a weighted design to turn face-up if you remove your feet from them. Furthermore, they also come equipped with adjustable straps.
Console
The fitness monitor included with the Stamina 1346 recumbent exercise bike offers a few extra features than the average basic unit. Unfortunately, it still doesn't have pre-set programs or online connectivity. Instead, it features an LCD that tracks time, distance, speed, calories, and pulse.
The speed and distance are in miles per hour and, respectively, miles. However, the monitor does not offer the possibility of metric units.
Also, the fitness console is not telemetric, which means it can only read your pulse if you hold on to the integrated sensors. It cannot read your pulse from an armband or chest strap.
In addition, the monitor is battery-powered and requires two AAA batteries (not included). It starts up when you begin pedaling or press one of the buttons. It also automatically turns off if it doesn't detect any flywheel movement for more than four minutes.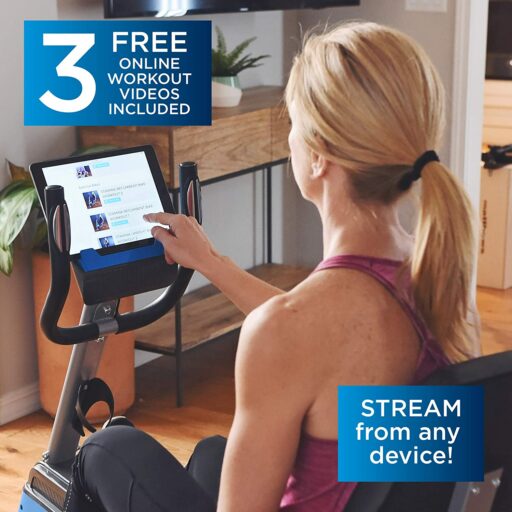 The fitness monitor is straightforward to operate. The Mode button allows you to select the workout metric you want to view or set the Scan Mode. During Scan Mode, all the parameters rotate on the screen, each appearing for six seconds.
The Set button allows you to set up a workout goal for time, distance, and calories burned. If a goal for these metrics is selected, the monitor will show the remaining value until you reach your goal. And finally, the reset button clears all the values on the monitor to zero.
Amenities
One last notable feature regarding the bike's fitness monitor is the device holder. It has a small shelf above the LCD, supporting your smartphone or tablet. However, it's essential to note that the monitor does not have USB ports to connect your device.
1346 Assembly and Maintenance
The drive and resistance unit of the bike comes pre-assembled. However, the rest of the parts do require user assembly. You will have to connect the two main components of the frame, attach the front and rear base bars, the front mast, the fitness monitor, and the handlebars, assemble and attach the seat to its slider, and finally connect the pedals.
Therefore, it shouldn't take more than one hour of your time. In addition, the manual includes clear instructions and all the necessary tools for the bike.
Maintenance doesn't require much. All you have to do is keep the bike clean and periodically check for loose parts. After that, the internal components shouldn't need any maintenance for an extended time.
Pros
Sturdy construction – can support users up to 300 lbs;
Adjustable stabilizers on the rear base;
Transport wheels on the front base;
Padded seat with a large and firm backrest;
Adjustable seat – can accommodate users up to 6'4″;
Pulse sensors integrated into the front handlebars;
Quiet magnetic resistance system with eight distinct levels;
Self-leveling pedals with straps;
Fitness monitor that can track time, distance, speed, pulse, and calories burned;
Goal settings for time, distance, and calories;
Device holder included;
Bottle holder included;
Reasonably easy to assemble;
Little to no maintenance is required.
Cons
The fitness monitor LCD does not have a backlight;
Users shorter than 5'2 ″ may not reach the pedals properly.
Stamina 1346 Recumbent Bike Summary
The Stamina 1346 is a recumbent bike made for home use. It features an adjustable, cushioned seat, eight levels of magnetic resistance, and a fitness monitor that tracks time, distance, speed, pulse, and calories burned and goal functions for time, distance, and calories.
Moreover, it's a decent bike for light to medium-intensity cardio workouts, recovery training, interval training, muscle toning, and weight loss.
I hope you found this article helpful and informative. Would you please speak up if you have anything you'd like to share or any opinions about my website? I look forward to your comments, questions, and the sharing of ideas.
Please remember that you should consult your physician to determine if you have any medical or physical conditions that could risk your health and safety or prevent you from using the equipment properly. In addition, your physician's advice is essential if you are taking medication that affects your heart rate, blood pressure, or cholesterol level.