The Merax L501C Folding Treadmill is a compact and reliable folding treadmill for home use. It comes equipped with a 1.5 HP motor; the Merax L501C has a 0.5 – 8 MPH speed range. So it was a bit surprising to me that the L501C doesn't have an incline feature. I found that the programs increase speed as you work through them but not an incline.
The running belt surface size is 43.3L x 15.7W inches (110L x 40W cm), which provides enough walking/jogging space for users under 6'2″. In addition, the Merax L501C running belt has a PVC layered coating on top, giving the treadmill a springy feeling. Thus, reducing the impact on your joints as you walk or jog against the shock-absorption-equipped running deck.
Equipped with a 5″ LED display, the Merax L501C tracks time, distance, speed, calories, and pulse. The console features 12 preset workout programs and three goal-setting functions designed to address a specific workout type. The integrated HR pulse sensors monitor your heart rate so that you'll achieve optimal intensity levels.
As far as affordable options go, the Merax L501C Folding Treadmill is a decent one. It does have quite a few different programs that can be very challenging, depending on your fitness level. The L501C features a sleek and streamlined design that is easy to fold up, and you don't have to worry about whether or not it's going to fit. Overall, you can't go wrong with the Merax L501C.
Learn more in my complete review below!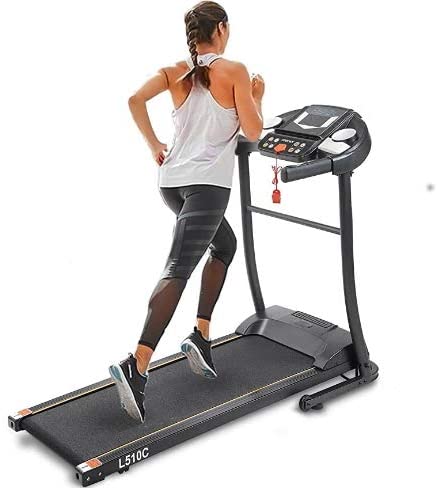 Product: Merax L501C Folding Treadmill
Price: For a great deal on this treadmill, merely go here on Amazon
Warranty: 1 year limited
My rating: 8/10
Affiliate Disclosure: As an Amazon Affiliate Program participant, I earn commissions on purchases made through links in this post. Full disclosure
Details and Specifications
Assembled dimensions: 56.3L x 25.2W x 42.1H inches (143L x 64W x 107H cm)
Tread belt dimensions: 43.3L x 15.7W inches (110L x 40W cm)
Assembled weight: 73 lbs (33 kg)
Supported weight: 240 lbs (109 kg)
Motor: 1.5 HP
Speed range: 0.5 – 8 MPH
Incline: No
Console: 12 programs
Warranty: 1 year limited
L501C Frame construction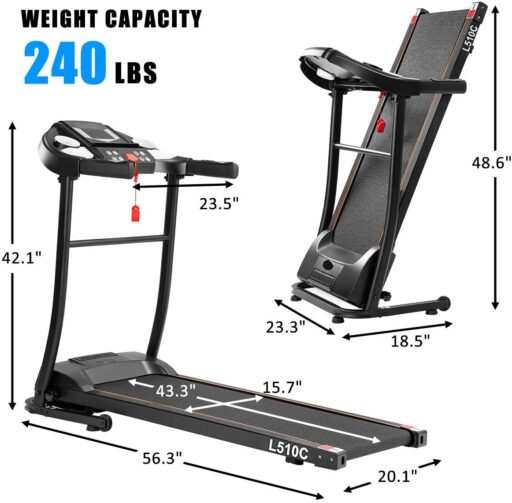 Even though it's not a heavy-duty treadmill, the Merax L501C still offers a pretty decent construction. It features a durable steel frame with slightly curved front upright masts for improved aesthetics.
Also, an additional bar connects the two vertical bars for extra reinforcement. This bar can also serve as support for your workout towel.
All the steel parts in the machine's construction come coated with a chip-resistant and corrosion-resistant paint finish. The color used is black, with the "Merax" logo painted white.
Of course, the machine also incorporates several ABS parts in its construction. For example, the motor cover, the side rail covers, and the console dashboard are durable ABS plastic.
The fully assembled machine is not extremely large compared to other treadmills. It is only 56.3″ (143 cm) long and 25.2″ (64 cm) wide. It is advisable, though, to leave at least two feet of clearance on each side of the deck, and at least three feet of clearance at its rear, for safe usage and ease of access.
This treadmill has a foldable frame. With the deck folded up, its footprint becomes approx 23.6″D x 25.2″W (60 x 64 cm), but you'll still need a slightly larger area than that because the deck only folds at an angle, not in a completely vertical position.
The treadmill is not extremely heavy, either. It only weighs approx. 73 lbs (33 kg), so it can be assembled by only one person. Also, once completed, it quickly moved via the small wheels integrated into its front base bar.
Deck and running surface
To begin with, the Merax L501C doesn't have a super large running platform. It is only 43.3″ (110 cm) long and 15.7″ (40 cm) wide.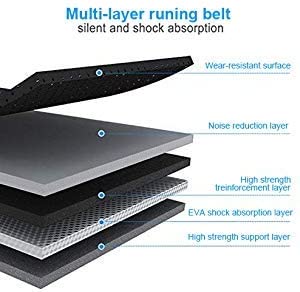 Thus, it may not be the best fit for taller users than 6'2 ″ (188 cm). In addition, the tread belt is multi-layered. Its top layer is rubberized to provide a superior grip and prevent slippage.
The machine does not have an incline system. Therefore, you cannot adjust the incline of the deck. However, it is essential to mention that its deck is not fully horizontal. As a result, it has 1-2 degrees of incline, which adds a bit of extra difficulty to your workouts.
Although the machine's deck doesn't have visible cushions, it has several internal shock absorption elements. They're all concealed by the side rail covers, and they're placed at crucial points on the side of the deck to alleviate the impact generated during each footstrike.
The machine's walking platform has a pretty low profile. It is approx 5″ (13 cm) from the floor at the front. Therefore, stepping on and off the track can be done with ease. However, it is advisable to place and use the unit in a room with a ceiling that is at least 10″ – 12″ (25 – 31 cm) higher than your height.
L501C Drive motor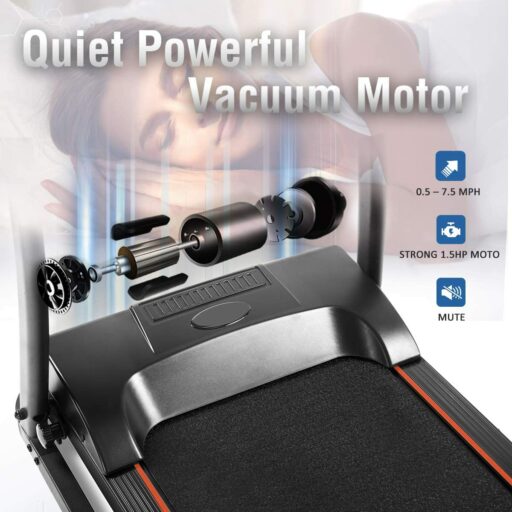 The Merax L501C is a light-capacity treadmill designed for walking and jogging workouts. Therefore, it doesn't have a super powerful motor. However, its engine does offer a 1.5 horsepower output, which is not bad for a trainer made for home use. In addition, a flywheel element integrates into the motor to improve stability and reduce vibration.
The unit's drive motor offers a speed range between 0.5 MPH and 8.0 MPH, but it's important to mention that its console is in metric units (km/h and kilometers). The speed adjustment increments are approx. 0.1 MPH, so the transition from one-speed level to another is done smoothly, without jerks or belt slips.
The unit's console does not have quick selection speed increments. Therefore, you can gradually adjust the speed from the console's controls or those integrated into its right handgrip.
Since the machine's motor only offers a peak power output of 1.5 HP, its power consumption is minimal. Therefore, even if you use it daily, it shouldn't add more than a few dollars to the electricity bill. In addition, the motor itself doesn't generate a lot of noise when in use, but your cadence may create more or less noise.
Console
The Merax L501C does have a slightly better console than other treadmills in this price range, as it can change speed automatically and has several workout programs. In addition, it features an LED display that tracks time, distance, speed, calories, and pulse.
It is not telemetric, though. Thus, it can only track your pulse if you hold on to the sensors integrated into its side grips. In addition, it is not compatible with any ANT or Polar HR chest bands.
The console makes available 12 preset workout programs. The segment layouts of the programs are on each side of the LED display. Each program addresses a specific type of workout. For example, some programs are interval-based; others aim to help you burn more calories, while others progressively increase speed and then gradually reduce it.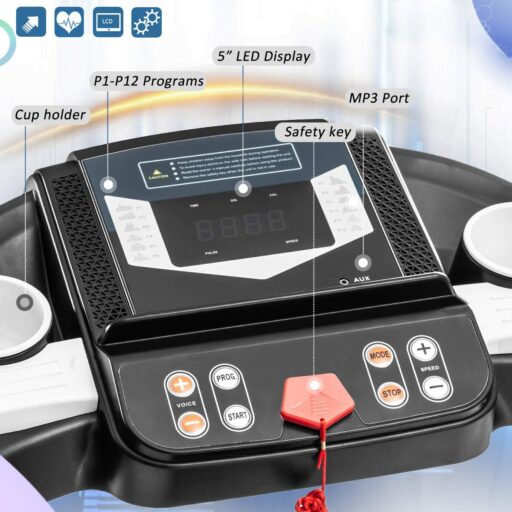 The console also has three goal-setting functions. First, you can select a workout goal for time, distance, and calories burned. Second, after establishing a goal, the console will count down from the specified value until it reaches zero, notifying you that you have completed your goal.
We can count the sound system, the device holder, and the two bottle holders, among other console features. The sound system consists of two speakers placed on each side of the unit's LED display and an AUX port on the bottom left corner.
Therefore, you can connect your smartphone or tablet to the console and play your music through the integrated speakers.
The device holder consists of a small shelf at the base of the LED display. And finally, the two bottle holders are molded into the console dashboard, placed one on each side of the console.
L501C Assembly and Maintenance
The machine's deck comes pre-assembled and attached to the frame's front part with the motor, belt, rollers, and other elements. Then, you only need to connect the two upright bars and the console. Therefore, it shouldn't take longer than 30-40 minutes of your time. All the necessary tools are (included) with the machine, and the manual provides precise assembly instructions.
The belt requires periodic lubrication (typically every few months if used daily). A bottle of lubricant is (included) with the treadmill. In addition, the belt needs cleaning to prevent debris from being caught into the motor or the rollers. Other than this, it's also advisable to check the machine's joints periodically and re-tighten any loose bolts if it's the case.
Pros
Sturdy deck for a walking treadmill – can support users up to 240 lbs;
Folding design;
Transport wheels;
Adjustable levelers on the front base;
Shock absorption elements integrated into the deck;
the deck is (inclined) 1 – 2 degrees by default;
Speed settings up to 8.0 MPH;
Pulse reading function available;
Start/Stop and speed controls integrated into the handlebars;
Low power consumption;
LED display console which tracks time, distance, speed, calories, and pulse;
12 preset workout programs;
Three workout goals for time, distance, and calories burned;
Tablet holder included;
Accessory trays included;
Sound system included;
Very easy to assemble;
Little maintenance is required.
Cons
No incline system (manual or automatic);
No online connectivity.
Merax L501C Folding Treadmill Summary
The Merax L501C is a folding treadmill made for home use. It is equipped with a 1.5 HP motor, offering a speed range between 0.5 – 8.0 MPH. In addition, its console provides 12 programs and three workout goals for time, distance, and calories.
Although it's not a heavy-duty machine, it still allows tone muscles, build stamina, improves your overall cardiovascular health, and lose weight. It's also one of the most affordable electric treadmills.
I hope you found this article helpful and informative. Would you please speak up if you have anything you'd like to share or any opinions about my website? I look forward to your comments, questions, and the sharing of ideas.
Please note: Before starting any exercise program, you should consult your physician to determine if you have any medical or physical conditions that could put your health and safety at risk or prevent you from using the equipment properly. In addition, your physician's advice is essential if you are taking medication that affects your heart rate, blood pressure, or cholesterol level.