The Sunny Synergy Power Motion Rowing Machine engages nearly all the body's muscle groups to work together. The synergistic effect produces a powerful workout to maximize efficiency and calorie burn. In addition, it's packed with features for a complete and total fitness experience.
Switch up the intensity of your workout with the tension knob on the Sunny Synergy SF-RW5801 rowing machine. With a simple twist, you can change resistance so your training can remain challenging and effective throughout your fitness journey.
The Sunny Synergy rowing machine has a fitness monitor with an LCD to track time, count, total count, calories, distance, and RPM. Unfortunately, there is no pulse reading function, so you'll have to use a separate device to monitor your pulse.
The SF-RW5801 has oversized textured pedals with safety straps. These provide users with a non-slip surface and the security of high-quality belts. Thus, your feet remain in place throughout your rowing routine. Tilt and roll out of the way for storage; no need for heavy lifting or muscle strain. The wheels in the front allow the user to move their rower around quickly.
Learn more in my complete review below!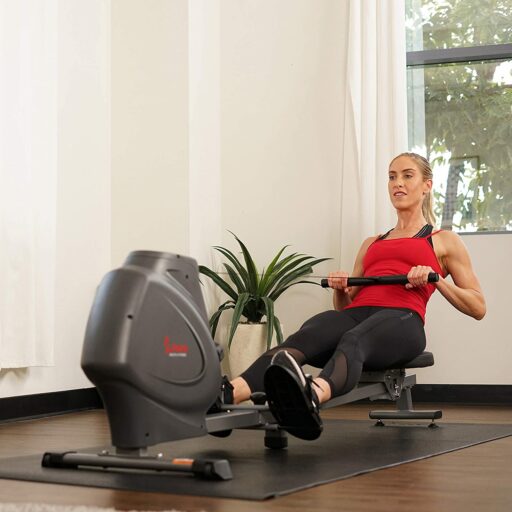 Product: Sunny Synergy Power Motion Rowing Machine SF-RW5801
Price: For a great deal on this rower, merely go here to Sunny Health & Fitness.com
Warranty: Frame 3 years / Parts 90 days
My rating: is 9/10
Affiliate Disclosure: As a Sunny Health & Fitness Affiliate Program participant, I earn commissions on purchases made through links in the post. Full disclosure
Details and Specifications
Assembled dimensions: 72″L x 22″W x 23″H (183L x 56W x 58H cm)
Assembled weight: 46.2 lbs (21 kg)
Weight capacity: 285 lbs (130 kg)
Frame: Steel
Resistance type: Magnetic, 16 levels
Fitness Monitor: Time, count, total count, calories, distance, RPM, SCAN
Extras: Tablet holder
Warranty: Frame 3 years / Parts 90 days
SF-RW5801 Frame & parts
The Sunny Synergy Power Motion Rowing Machine features an all-steel frame with a reasonably durable rail and seat assembly, supporting a maximum user weight limit of up to 285 lbs (130 kg).
In addition, its rail offers approx. 34″ (86 cm) of travel for the seat, so the machine comfortability accommodates users up to 6'2″ (187 cm) with no problem, promoting a full leg stretch.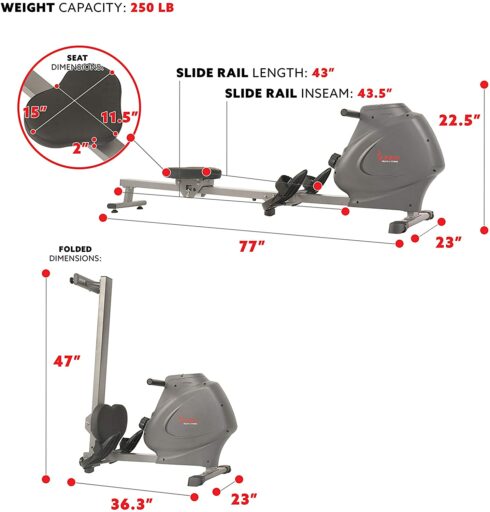 The fully assembled unit is approx—72″ (183 cm) long and 22″ (56 cm) wide. Also, a usage surface of at least 90″ x 50″ (228 x 127 cm) is advisable for it. However, the frame is foldable; the rail with the seat can fold into an upright position, and with the rail folded up, the unit's dimensions become 32″L x 22″W x 47″H (81 x 56 x 119 cm).
This Sunny magnetic rower is not extremely heavy, weighing approximately 46.2 lbs (21 kg). Thus, one person can transport, unbox, and assemble the machine without problems. Plus, the front base has transport wheels that facilitate relocation when you have finished your workout.
The rower's base contact points feature rubberized pads. Therefore, the unit provides an excellent grip on the floor; it doesn't slide or move during exercise. In addition, these rubber pads are non-adjustable.
Last but not least, this magnetic rower features a rust-resistant gray paint finish. However, the machine is for indoor use only despite the resistant paint finish. Other non-painted parts may still catch rust if stored or used outside.
Seat, footrests, and the pulling handle
The footrests have a pivoting design, similar to the Xterra ERG200. Therefore, their angle adjusts slightly during each part of the rowing motion, providing the perfect positioning for the feet at all times. In addition, they feature a ribbed and non-slip surface, heel guards, and adjustable straps to keep your feet secure during your workout.
The pulling handle is a simple, straight bar featuring rubberized grips. It's attached to a nylon strap which is highly resistant to abrasion. It also doesn't require any lubrication as some other rowers with a chain drive would.
The Sunny Health & Fitness SF-RW5801 comes equipped with a reasonably large seat. It's approx 14″ (35 cm) wide and 11″ (28 cm) deep, providing plenty of contact surface. Its top is a high-density foam for optimal comfort; while its surface provides high adherence, it's ribbed and concaves to prevent you from sliding off the seat during rowing.
The seat integrates six wheels, four at the top and two underneath. The high-grade wheels have tiny ball bearings that deliver a smooth motion. In addition, the concealed wheels prevent your clothing from being caught under the seat, which increases the machine's overall safety.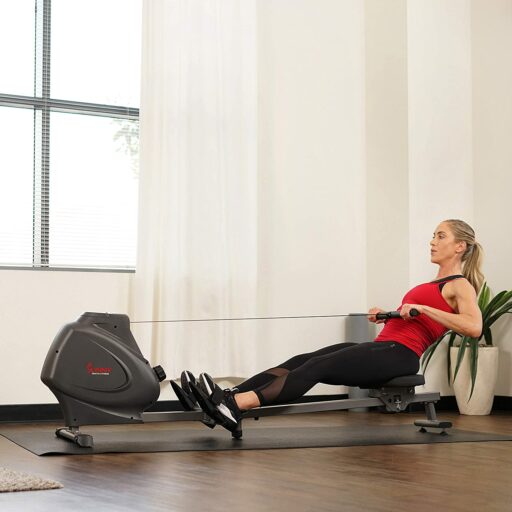 SF-RW5801 Resistance system
The Sunny Synergy Power Motion Rowing Machine has a full-magnetic resistance system. But unfortunately, it doesn't have any air resistance or water resistance elements.
Its main resistance element is a small magnetic brake attached to the tension dial on top of the machine's front part via a steel cable. For example, when turning the dial clockwise, the brake pad moves closer to the flywheel, increasing the internal magnetic field and tension during rowing.
The resistance system doesn't require a power source; it's completely mechanical and manually adjusted. If you're wondering, the integrated fitness monitor doesn't play any role in the rower's resistance adjustment.
The rower offers sixteen distinct resistance levels. If you're wondering, the highest resistance level doesn't supply the resistance required by a professional athlete. However, it does deliver light to intense cardio workout possibilities, which is excellent for anyone who wants a full-body workout.
Since the rower has no air resistance elements, its operation generates almost no noise and makes the machine suitable for apartment use. The internal flywheel is not extremely heavy, but this weight is enough to deliver consistent rowing momentum. In addition, it is also perimeter weighted, resulting in a smooth and steady motion.
Like any other full-magnetic rowing machine, this model doesn't provide a dynamic response during rowing. Thus, the resistance doesn't vary with how hard you pull, such as an air or water resistance rower. Instead, it remains constant, given by the selected tension level.
Therefore, the rowing feel is not entirely "natural," so it may not be the best choice for a professional athlete. However, the rower does offer the possibility to undergo quite a consistent cardio workout.
Fitness monitor
Although the Sunny Synergy Power Motion Rowing Machine is simple, its fitness monitor has goal-setting functions. Accordingly, you can set up target values for time, calories, and stroke count.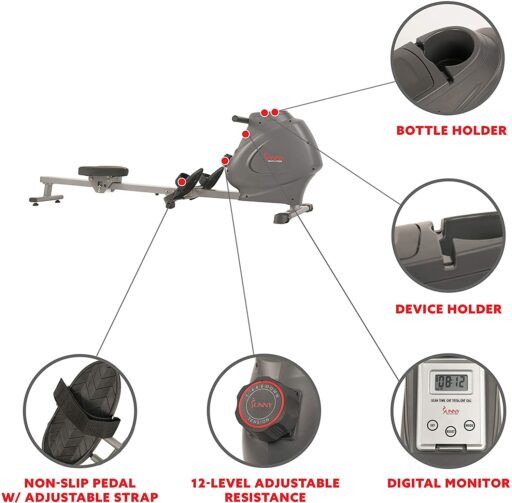 After setting a value for any of these, the monitor will count down from the selected value until zero. This way, you can keep better track of your progress.
The LCDs distance, total count, RPM, time, stroke count, and calories. Unfortunately, it does not have a pulse-tracking function. Unfortunately, it's also not telemetric, so it cannot read your pulse through an HR chest strap transmitter.
The fitness monitor is relatively easy to operate. It has a SCAN function which you can toggle ON/OFF from the MODE button. With the SCAN mode ON, the display shows all the workout metrics in a sequence, each appearing on the screen for six seconds.
By toggling the SCAN mode OFF, you can select any metrics to appear on display all the time. The SET button allows you to choose countdown values for time, calories, and count. And finally, the RESET button clears all the values to zero.
The battery-operated monitor requires two AAA batteries which come with the machine. It starts when it detects activity on the device and shuts down after four minutes of inactivity.
SF-RW5801 Assembly & Maintenance
The front part of the rower comes pre-assembled. Thus, the drive and resistance elements are pre-assembled, attached to the front part of the frame, and protected by the ABS shrouds.
So, in terms of assembly, you'll need to add the front stabilizer and the footrests, attach the seat to the rail, attach the rail to the front part of the frame, and close with the rear base.
Therefore, it shouldn't take more than 20-30 minutes of your time. All the tools required for the assembly come with the rower, and the manual provides step-by-step assembly instructions and clear schematics.
Maintenance doesn't require much. However, keeping the unit's rail clean is advisable; periodically check for loose bolts and parts and retighten or replace them as needed.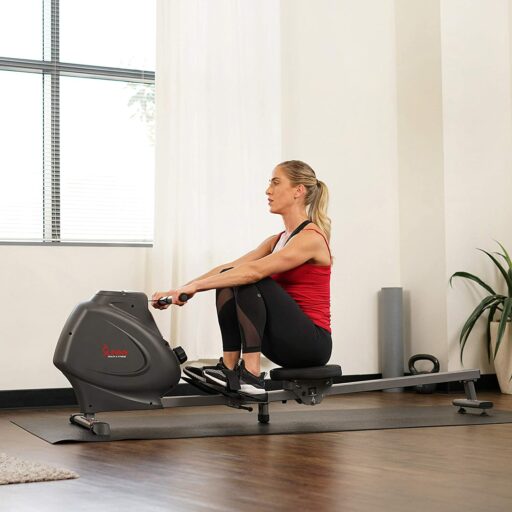 Pros
Sturdy frame for a light rower – can support users up to 285 lbs;
Space-saving design;
Transport wheels integrated into the front base;
Rubberized stabilizers on all bases;
Quiet and smooth magnetic resistance system;
Sixteen levels of resistance for light to intense workouts;
Ergonomic, padded seat for optimal comfort;
Pivoting footrests for a perfect foot position with each stroke;
The sliding beam can accommodate users up to 6'2″;
Fitness monitor included – it can track time, count, total count, calories, distance, and RPM;
Goal setting functions for time, count, and calories;
Tablet holder included;
Batteries for the monitor included;
Easy to assemble;
Little maintenance is required.
Cons
The fitness monitor LCD does not have a backlight;
The fitness monitor does not have a pulse reading function;
A tablet placed on the device holder will cover the fitness monitor LCD.
Sunny Synergy Power Motion Rowing Machine SF-RW5801 Summary
The Sunny Synergy rowing machine is an entry-level, full-magnetic machine featuring a fitness monitor. It has a sturdy frame that supports users up to 285 lbs. In addition, its frame is also foldable, offering better storage possibilities if necessary.
Even though it's not a professional rowing machine, it can still provide a consistent full-body cardio workout. As a result, it's a great trainer for muscle toning, stamina development, and weight loss. Moreover, it offers excellent value at a low price.
I hope you found this article helpful and informative. Would you please speak up if you have anything you'd like to share on the topic or any opinions about my website? I look forward to your comments, questions, and the sharing of ideas.
Please remember that you should consult your physician to determine if you have any medical or physical conditions that could risk your health and safety or prevent you from using the equipment properly. In addition, your physician's advice is essential if you are taking medication that affects your heart rate, blood pressure, or cholesterol level.