The Marcy NS-40502R Recumbent Bike with eight magnetic resistance levels is an affordable solution to your fitness problems. This bike is a convenient and easy way to lose unwanted fat and enhance cardiovascular endurance.
The variable resistance levels will provide you with a new challenge every day. With its adjustable parts, you can exercise efficiently and comfortably. You can take your exercise routine to the next level using this premium-level fitness bike from Marcy.
The fitness monitor LCD on the magnetic Marcy NS-40502R recumbent bike body uses batteries as a power source. This LCD tracks the time, distance, calories burned, and speed readings. When you start to exercise, the scan mode automatically turns on the monitor and begins to track your performance.
According to your leg inseam, you can adjust the seat's height so that your legs can easily reach the pedals. In addition, you can set the Marcy NS-40502R Recumbent Bike seat to five different positions according to your comfort level. The handles of the bike come with cushioned pads that prevent slip-off. This foam covering on the handlebars reduces fatigue even after using the bike for hours.
Learn more in my complete review below!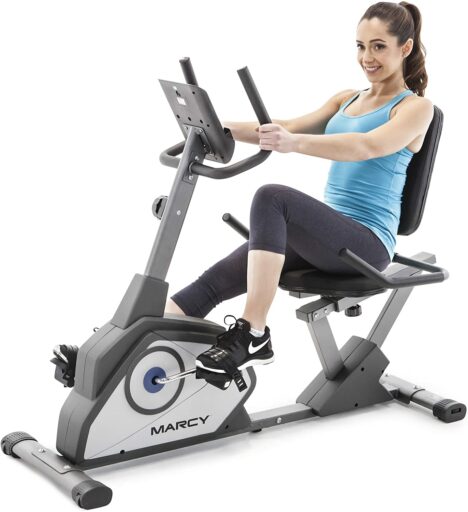 Product: Marcy NS-40502R Recumbent Bike
Price: For a great deal on this bike, merely go here on Amazon
Warranty: 2 years limited
My rating: 8.25/10
Affiliate Disclosure: As an Amazon Affiliate Program participant, I earn commissions on purchases made through links in this post. Full disclosure
Details and Specifications
Assembled dimensions: 56.7L x 24.8W x 43.3H inches (144L x 63W x 110H cm)
Assembled weight: 69 lbs (31.2 kg)
Weight capacity: 300 lbs (136 kg)
Seat: Adjustable
Pedals: With adjustable straps
Resistance: Magnetic, eight levels
Drive: Belt
Fitness Monitor: Time, distance, speed, calories, ODO, SCAN, goal settings
Warranty: 2 years limited
NS-40502R Frame Construction
The Marcy NS-40502R recumbent bike has a durable steel construction that supports 300 lbs (136 kg) users. In addition, its frame has ovalized and rectangular steel tubing, which improves the bike's overall sturdiness and stability and offers an aesthetic, professional-looking aspect.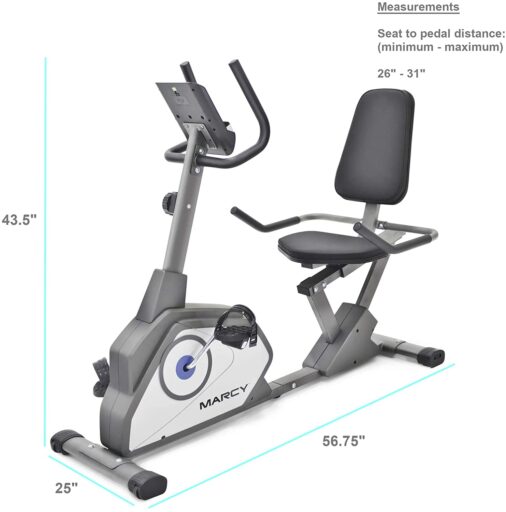 The bike's frame consists of two main parts: the front section with the flywheel, the driving mechanism, and the rear with the seat. The two pieces connect in the middle with several screws. Also, the connection point comes equipped with a small adjustable stabilizer.
All the steel parts within the bike's construction have a rust-resistant and scratch-resistant gray paint finish. In addition, there is an option for a blue paint finish.
Of course, several ABS parts are within the bike's construction, such as the flywheel cover and the seat base frame covers. However, these don't affect the machine's overall sturdiness as their role is protective and cosmetic.
Like most recumbent bikes, the Marcy NS-40502R is not exactly a tiny fitness machine. However, with all the parts assembled, it is 56.7″ (144 cm) long and 24.8″ (63 cm) wide.
The frame of this Marcy exercise bike features a step-through design. Thus, it considerably improves seat, entry, and exit access. As a result, it's an ideal feature for users with specific disabilities or elderly users.
The assembled bike is not extremely heavy, weighing approx—69 lbs (31.2 kg). Therefore, one person can carry and assemble the bike. In addition, the small wheels are integrated into its front base to facilitate its relocation.
Seat and handlebars
This Marcy NS-40502R recumbent bike comes equipped with an adjustable seat. The whole seat assembly connects to an oblique bar and has a sliding mechanism with a pop-pin at the bottom. Thus, it allows you to lock it in the desired position.
It offers several adjustment positions and can accommodate users between 5'0″ and 6'2″ (153 – 188 cm), promoting a complete leg extension.
In terms of comfort, the seat is pretty much a standard one. It's approx. 16″ (40 cm) wide; it's padded with 2″ (5 cm) of foam material and has a durable vinyl upholstery.
The backrest features the same padding as the seat. Unfortunately, it doesn't recline or offer other adjustment features independently from the seat. However, its backbone is quite sturdy and does provide excellent lumbar support.
As I've noted, the bike's maximum user weight limit is 300 lbs (136 kg). However, users up to 350 lbs (159 kg) have reported that they have been using the bike without any issues. I don't advise this as it would void the warranty.
The Marcy NS-40502R has two handlebars, one attached to the monitor mast and the other to the seat assembly. A layer of rubber foam material covers both handlebar sets to provide a sure grip.
An important aspect is that the fitness monitor mast slants towards the user, and using the front handlebars isn't awkward like some recumbent bikes. Furthermore, seat handlebars do not integrate HR pulse sensors. So, if you require a pulse function, you'll need a separate device.
NS-40502R Drive and resistance
The Marcy NS-40502R recumbent bike comes equipped with a reasonably light flywheel. Its exact weight is not specified, but considering that the whole bike weighs only 69 lbs (31.2 kg), its flywheel shouldn't be more substantial than 20 lbs (9 kg). In addition, it's perimeter-weighted and provides a smooth pedaling motion.
The bike's transmission is made available by a durable rubber belt. Unlike a chain drive, this belt drive produces less vibration during pedaling, leading to a smoother pedaling experience and almost no noise. Also, a belt drive doesn't require lubrication.
The pedals included with the bike have a weighted design and a non-slip surface. In addition, they're equipped with adjustable straps to secure your feet for each workout.
The crank arms are solid steel; however, standing upon them is not advisable if you're wondering. Since it's a recumbent bike, standing up while pedaling would result in a very awkward, unhealthy posture.
This Marcy exercise bike features a manual magnetic resistance system. It integrates a small magnetic brake attached to the knob on the monitor mast through a steel wire. Furthermore, the brake will adjust its position closer or farther from the flywheel by turning the wire, increasing or decreasing the resistance.
Since the machine's resistance is manual, it doesn't need a connection to a power source. In addition, the fitness monitor doesn't play any role in the resistance adjustment.
There are eight resistance levels available. The overall resistance provided by this exercise bike is not extreme. It can supply light to medium workouts, and the lower levels deliver a very light pedal tension, great for recovery training. The 8th resistance promotes a more intense exercise with a higher muscle burn.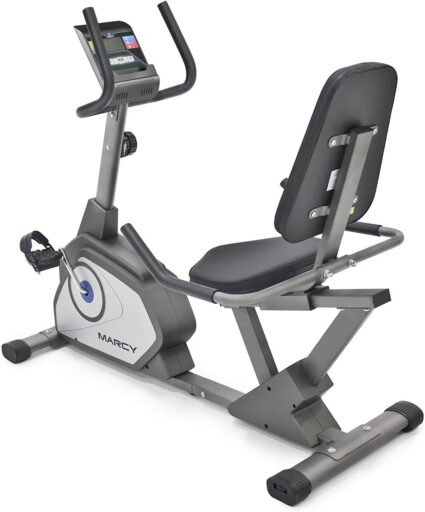 Fitness monitor
This Marcy NS-40502R recumbent bike includes a simple fitness monitor. In addition, its LCD displays the time, distance, speed, and calories burned. It also has an odometer function, indicating how many miles you have traveled on the bike.
Unfortunately, the bike doesn't have a pulse reading function addition, The monitor is not telemetric, and there are no HR pulse sensors integrated into the handlebars. Therefore, if you need to monitor your pulse, you must use a separate device.
The speed and distance are in imperial units (mph and miles). In addition, there is not a metric setting available.
Since it's a simple monitor there are no built-in preset programs. However, it does offer goal settings for time, distance, and calories. You can select a value for any of these metrics, and it will begin to count down from the specified value until it reaches zero.
The fitness monitor is relatively easy to operate. There are three main buttons: MODE, SET, and RESET. The MODE button lets you toggle the unit's SCAN function ON/OFF. When the SCAN function is ON, the display shows each workout metric for 4 seconds. The SET button allows you to set up time, distance, and calories goals. And the RESET button clears all the values to zero.
The monitor uses two 1.5V (AA) batteries, which do not come with the bike. It starts up when you begin to pedal or press a button. It also has a sleep mode to enter if there is no bike activity for 4 minutes.
Lastly, the bike's monitor integrates a tablet holder. This accessory is large enough to accommodate any tablet. However, the tablet has no USB or connection port on the monitor.
NS-40502R Assembly and Maintenance
The unit's drive elements and internal brake come pre-assembled, connected to the frame's front part, and sealed by the ABS covers.
Therefore, all you need to do for assembly is join the structure's two main components and add the base bars, the seat, the backrest, the console mast, the handlebars, the pedals, and the fitness monitor. Therefore, it shouldn't take more than an hour of your time. The manual provides clear assembly instructions and schematics, and the bike includes the tools.
Since the bike has a belt drive system, you don't have to lubricate its internal parts. Therefore, you don't have to do much for maintenance. However, a periodic check of its joints, bolts, and nuts is advisable.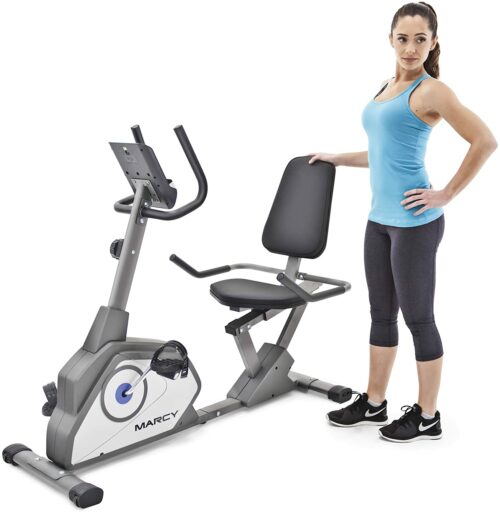 Pros
Sturdy, steel frame, capable of supporting users up to 300 lbs;
Adjustable base stabilizers;
Transport wheels;
Step-through frame design for easy access to the seat;
Both front and seat handlebars;
Padded seat and backrest for optimal comfort;
Quiet magnetic resistance system;
Adjustable resistance offering distinctive eight levels;
Weighted pedals with adjustable straps;
Fitness monitor that tracks time, distance, total distance, speed, and calories;
Goal setting functions for time, distance, and calories;
Tablet holder included;
Lightweight, easy to handle;
Reasonably easy to assemble;
Little to no maintenance is required.
Cons
The fitness monitor does not have a pulse reading function;
There is not a bottle holder;
Batteries for the monitor do not come with the bike;
A tablet on the media holder will cover the monitor controls and LCD.
Marcy NS-40502R Recumbent Bike Summary
The Marcy NS-40502R is a recumbent exercise bike built for home use. It offers eight levels of manual magnetic resistance and comes with a simple fitness monitor. Furthermore, it has a sturdy construction and an adjustable, padded seat with a large backrest.
It's perfect for light to medium cardio workouts, stamina training, recovery training, and weight loss. And finally, it's one of the most affordable recumbent bikes available now, a fitness machine with an excellent price/quality ratio.
I hope you found this article helpful and informative. Would you please speak up if you have anything you'd like to share or any opinions about my website? I look forward to your comments, questions, and the sharing of ideas.
Please note you should consult your physician to determine if you have any medical or physical conditions that could put your health and safety at risk or prevent you from using the equipment properly. In addition, your physician's advice is essential if you are taking medication that affects your heart rate, blood pressure, or cholesterol level.