The SereneLife SLFTRD25 Treadmill is an excellent choice for fitness enthusiasts who have little time to go to the gym; with this home treadmill, you will be able to achieve your dream body in the comfort of your own home! With this treadmill, your home becomes an ideal gym to stay in shape.
It features a 1.5 HP quiet motor that is strong enough for long workout sessions and versatile to meet your family member's needs. It's also equipped with a helpful fitness console display to help you track time, calories, distance, speed, and heart rate.
It also pairs with your device via Bluetooth and is compatible with the 'FitShow app.' Get connected to record and review training data, display training stats, challenge friends, and share fitness data on social media. The app works with iPhone and Android phones.
SereneLife SLFTRD25 Treadmill features a stylish contemporary space-saving folding design with a reliable, sturdy frame for easy storage. In addition, this compact electric folding treadmill is portable and has a convenient hydraulic folding style for easy setup and storage.
Learn more in my complete review below!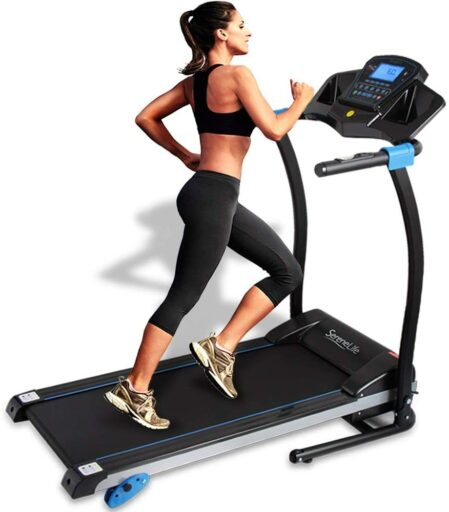 Product: SereneLife SLFTRD25 Treadmill
Price: For a great deal on this treadmill, merely go here on Amazon
Warranty: 1 year limited
My rating: is 8/10
Affiliate Disclosure: As an Amazon Affiliate Program participant, I earn commissions on purchases made through links in this post. Full disclosure
Details and Specifications
Assembled dimensions: 54.78L x 26.78W x 49.61H inches (139L x 68W x 126H cm)
Tread belt dimensions: 43.3L x 15.75W inches (110L x 40W cm)
Assembled weight: 70.5 lbs (32 kg)
Supported weight: 265 lbs (120 kg)
Motor: 1.5 HP, 0.6 – 7.5 MPH
Incline: Manual, three levels
Console: 16 programs, Bluetooth
Extras: Sound system, USB port, SD card port, device holder, accessory holders
Warranty: 1 year limited
SLFTRD25 Frame Construction
The SereneLife SLFTRD25 treadmill features a steel frame combining oval, rectangular, and cylindrical tubing in its construction. In addition, all the steel parts come double-coated with a corrosion-resistant black paint finish, except for the deck frame, which is gray.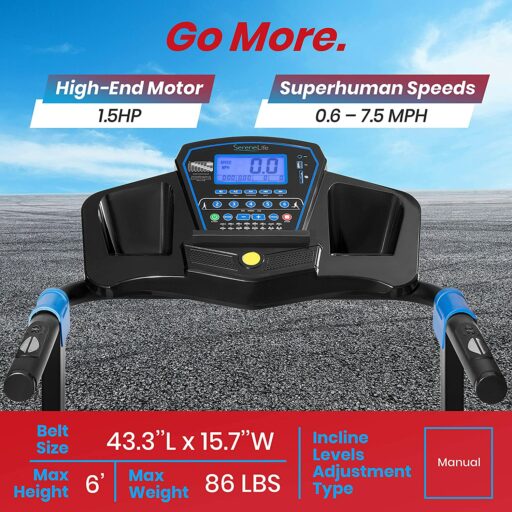 The treadmill is not too large. With all the parts assembled, it is approximately 54.78″ (139 cm) long and 26.78″ (68 cm) wide. It is advisable to leave at least two clearance feet on each side of its deck and at least three clearance feet at the rear for safe usage.
The deck has a folding design, which is a plus because it can save you some space when the machine is not in use, but it can also be beneficial when you need to clean under the deck. The folding mechanism involves a small hydraulic cylinder that lets the deck lower slowly to prevent damage when unfolding it.
This SereneLife treadmill is not extremely heavy compared with other models. However, it still weighs approx—70 lbs (32 kg). Therefore, two people should carry the packaged unit. However, once assembled, it is easily relocated by only one person as its front base bar comes equipped with small wheels.
Deck construction and incline
The SereneLife SLFTRD25 treadmill offers a reasonably decent running surface of 43.3″L x 15.75″W (110L x 40W cm). Thus, it should accommodate users up to 6'1″ – 6'2″ (185 – 188 cm).
Of course, taller users may still use this machine, but they may not benefit from a complete range of motion during running. Also, the deck has a maximum user weight capacity of 265 lbs (120 kg).
The belt is multi-layered with its thick rubber material top layer with a textured surface for an improved grip. The internal rollers that move the belt integrate high-grade sealed bearings smoothly. They are also crowned for enhanced traction and prolong the belt's lifespan.
Although the deck doesn't have extra-large shock absorption elements, it does integrate several small cushions to reduce impact. Also, the deck board has a bit of flex itself. Thus, a jog or walk on this treadmill will significantly less affect your joints and less workout-related joint and back pain.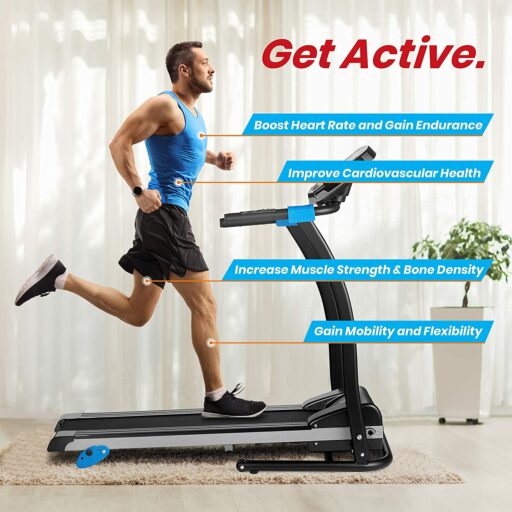 The SereneLife SLFTRD25 treadmill comes equipped with a manual incline system. Therefore, you cannot adjust the incline as you walk or jog on the treadmill. Also, the console cannot automatically adjust the incline.
The unit's incline system consists of two adjustable "feet" at the rear of the deck. They have three adjustment positions each. Therefore, you can lock them in the desired position via a removable metallic pin.
There are three incline positions available. These are 1.5°, 2.5°, and 3.5°. Thus, on the first option, the deck is not perfectly horizontal. Although this shouldn't affect your workout much, it still adds difficulty to the training.
The step-up deck height is approx. 6.5 (17 cm) when the rear stabilizers are unfolded (or locked in the highest position). Therefore, using this treadmill in a room with a ceiling at least 10″ (25 cm) higher than the tallest user's height is advisable.
SFLTRD25 Drive motor
The SereneLife SLFTRD25 treadmill comes equipped with a 1.5 HP motor. Although this is not the most potent treadmill motor, it still allows you to jog without overheating for a relatively long time. Therefore, it is advisable to pause your treadmill and let it rest for at least 10-20 minutes after every few hours of use.
This SereneLife treadmill offers a speed range between 0.6 MPH and 7.5 MPH. The speed adjustment increments are 0.1 MPH. In addition, there are controls for gradual speed adjustment on the console and integrated into the machine's right handgrip.
The console also comes with quick selection speed controls for 2 MPH, 3 MPH, 4 MPH, 5 MPH, and 6 MPH. Therefore, if you adjust the speed from one of these buttons, the belt will gradually increase or decrease until it reaches the selected speed setting.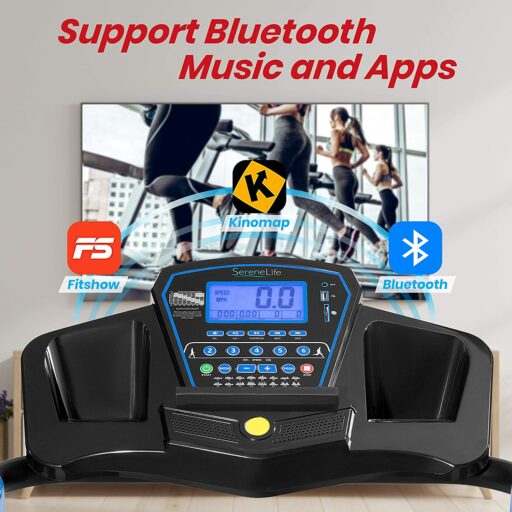 Since the treadmill's motor is not super powerful and only offers a peak output of 1.6 HP, its power consumption is minimal. Therefore, even if you use it daily, it shouldn't add more than a few dollars to the electricity bill.
Also, the motor doesn't generate much noise when used, but your cadence may create more or less noise depending on how fast you go.
Console
The SereneLife SLFTRD25 treadmill comes equipped with a mid-range console. To begin with, it features an LCD with a blue LED backlight for improved readability. In addition, the display divides into five sub-sections to show multiple workout metrics at once.
It tracks time, speed, distance, calories, and pulse—the speed and distance displayed in MPH and miles. Unfortunately, the pulse reading function is handgrip only. Therefore, the console cannot read your pulse from a wireless device.
The console makes available 16 preset workout programs. Each program has its segment layout engraved on the console. Some feature an interval layout; others gradually increase speed to a certain level, then gradually decrease it to the program's end. In contrast, others focus on helping you burn more calories.
Of course, there is also the Manual mode, which can adjust the speed you like throughout your workout. You can also select workout targets for time, distance, and calories burned.
The console is Bluetooth-enabled. In addition, it is compatible with the FitShow app. Therefore, if you install this app on your smartphone, you should track your workout history and progress online, along with several other features.
The console offers several other notable features. Among them, I count the sound system, the USB port, the SD card port, the device holder, and the accessory holders. The sound system consists of two small speakers integrated at the bottom of the console.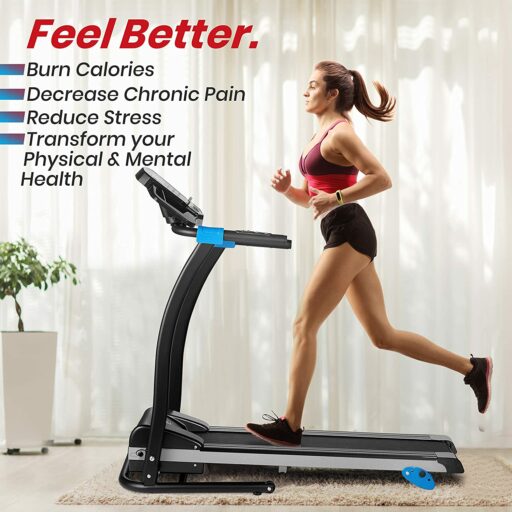 It comes equipped with an AUX port to connect devices to the console. Thus, you can listen to your music through the integrated speakers. They're not super powerful, but they offer better sound quality than the integrated speakers of smartphones or tablets.
The USB port offers the possibility to charge your device as you exercise. The device holder consists of a small shelf integrated above the speakers. It can serve as support for any smartphone or tablet.
And finally, the accessory holders come molded into the console's dashboard, one on each side; they are large enough to hold a hydration bottle or other accessories you might need to exercise.
SLFTRD25 Assembly and Maintenance
The machine's deck with the motor, the rollers, and the belt comes pre-assembled. Next, you only need to attach the handlebars, two upright bars, and the console.
Consequently, it shouldn't take more than 30-40 minutes. In addition, the manual provides clear assembly instructions, and all the necessary tools come with the machine.
Once assembled, maintenance doesn't require much. The deck needs lubricating periodically with treadmill lubricant. It would help clean the belt to prevent debris or textile fibers from being caught in the motor. It would also help regularly inspect the machine to ensure everything works accordingly.
Pros
Compact design;
Folding deck with soft-drop mechanism;
Transport wheels included;
Manual incline, three levels (1.5°, 2.5°, 3.5°)
Speed range between 0.6 and 7.5 MPH;
Speed adjustment increments of 0.1 MPH;
The side grips have built-in speed and start/stop controls;
Quick selection speed controls for 2, 3, 4, 5, and 6 MPH;
Low power consumption;
LED-backlit display;
16 preset workout programs;
Target settings for time, distance, and calories;
The sound system included;
Bluetooth connectivity and compatibility with the FitShow app for workout history tracking;
USB charging port;
SD card port;
Tablet holder included;
Bottle holders built into the dashboard;
Pulse reading function;
Easy to assemble;
All the necessary tools for assembly included;
Little maintenance is required.
Cons
The integrated speakers are not exactly the best.
SereneLife SLFTRD25 Treadmill Summary
The SereneLife SLFTRD25 is a treadmill designed for home use. It has a 1.5 HP motor with a speed range of 0.6 – 7.5 MPH. In addition, it features a manual incline system, a console with 16 preset programs, and Bluetooth connectivity. In addition, it is compatible with the FitShow app for online workout history tracking.
Moreover, it's a reasonably decent treadmill for the price, great for intense cardio training, stamina development, weight loss, and interval training.
I hope you found this article helpful and informative. Would you please speak up if you have anything you'd like to share on the topic or any opinions about my website? I look forward to your comments, questions, and the sharing of ideas.
Please remember that you should consult your physician to determine if you have any medical or physical conditions that could risk your health and safety or prevent you from using the equipment properly. In addition, your physician's advice is essential if you are taking medication that affects your heart rate, blood pressure, or cholesterol level.