The HMC Athlete 5006 Indoor Cycling Bike is designed for an inexperienced cyclist, providing gentle practice and a stable base for building your cycling abilities. Versatile, sturdy, and portable, the HMC 5006 is a perfect at-home exercise bike that fits right in with any home gym or personal workout space.
The Athlete 5006 features a varied adjustment knob on the magnetic resistance. Implementing personalized resistance levels is a piece of cake with the knob system. It's effortless to customize the resistance to fit your needs and your workout without struggling against pre-sets or factory defaults.
The digital monitor that comes with the HMC 5006 is straightforward yet effective. It tracks time, distance, total distance, speed, RPM, and calories. However, its simple design brings some negatives: you can't export or sync ride data, and the console doesn't have a pulse reading function. So, to monitor pulse, you'll need a separate device.
With the combination of the 4-way adjustable seat and handlebars, the HMC 5006 bike is exceptionally adaptable to just about any cyclist. The handlebars come coated with no-slip durable coverings, so you have a good grip on them during any workout. However, the handlebars do not have integrated pulse sensors to monitor heart rate.
Learn more in my complete review below!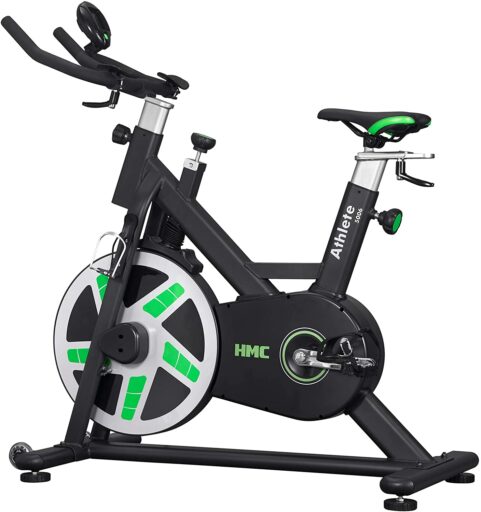 Product: HMC Athlete 5006 Indoor Cycling Bike
Price: For a great deal on this bike, merely go here on Amazon
Warranty: 1 year limited
My rating: 8/10
Affiliate Disclosure: As an Amazon Affiliate Program participant, I earn commissions on purchases made through links in this post. Full disclosure
Details and Specifications
Assembled dimensions: 42.5L x 21W x 48.5H inches (108L x 53W x 123H cm)
Assembled weight: 134 lbs (60.7 kg)
Flywheel weight: 44 lbs (20 kg)
Weight capacity: 330 lbs (150 kg)
Seat: 4-way adjustable
Drive: Belt
Resistance: Manual magnetic
Fitness console: Time, distance, total distance, speed, RPM, and calories
Extras: Elbow supports, bottle holder
Warranty: 1 year
5006 Frame construction
The HMC Athlete 5006 indoor cycling trainer features a durable frame of steel tubing. In addition, the structure has a triangular design for maximum sturdiness. Also, all the bars in the bike's construction are oval for a smooth, professional aspect.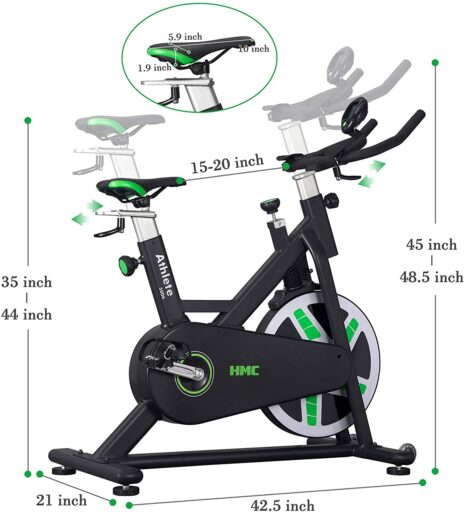 It also integrates a step-up bar. This small horizontal bar connects the main oblique tube of the frame with the seat post.
Not only that, this bar can help to get up on the bike, it can also serve as a support point for stretching or as a critical element in specific spin workouts that require you to mount and dismount repeatedly. Not all spin bikes have this feature, so it's quite a plus.
The bike's mainframe is double-coated with a corrosion-resistant matte black finish. The only exceptions are the seat and handlebar posts, which have a chrome finish. However, the bike also integrates several ABS plastic parts. For example, the drivetrain covers and the flywheel side covers are plastic-made.
The fully assembled bike is not extremely large compared to other fitness equipment. It is only 42.5″ (108 cm) long and 21″ (53 cm) wide. Also, the handlebar extended to its maximum point, the bike's height reaches 48.5″ (123 cm). Although it has a small footprint, it is advisable to leave at least two clearance feet all around it for easy access and unhindered usage.
The bike weighs over 100 lbs with all the parts assembled. This weight provides superior stability. Plus, its base bars come equipped with adjustable stabilizers.
Although the bike is heavy, it is pretty easy to move once assembled. Its front base integrates a set of large wheels, which facilitate its relocation. Using the wheels to relocate it, you won't be handling more than 35% of its total weight.
Seat and handlebars
The HMC Athlete 5006 indoor cycling bike comes with a race-type saddle. It is approximately 10″ (25.4 cm) long and 5.9″ (15 cm) wide, providing plenty of contact surface. Although it is not too thick, it does integrate two parallel layers of foam cushioning. It also has a longitudinal groove for improved breathability.
The saddle features a standard collar-type attachment system. Therefore, you should be able to find a compatible replacement in just about any bike shop if you ever need to replace it.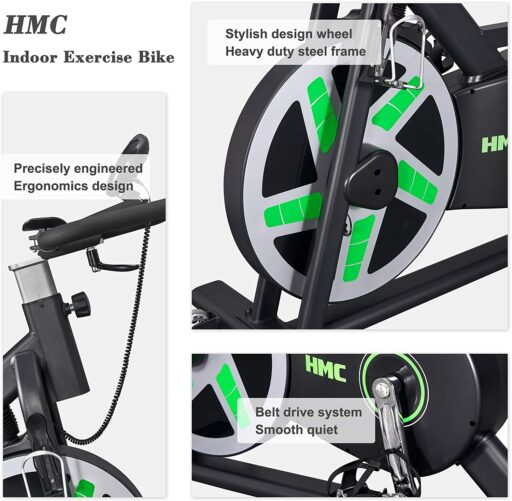 The bike's seat assembly is four-way adjustable (up, down, front, back). Its vertical post has an adjustment span of approx 9″ (22.8 cm), from 35″ (88.9 cm) above floor level to 44″ (111.7 cm). Also, its horizontal slider offers approx 5″ (12.7 cm) of adjustment.
Thus, the bike should accommodate users up to 6'5 ″ (196 cm). It also has a maximum user weight capacity of up to 330 lbs (150 kg).
The bike's handlebar is also four-way adjustable. Its upright post has an adjustment span of approx. 3.5″ (8.8 cm), while its front-to-back slider adds approx. 2″ (5 cm) of extra adjustment.
The handlebar features a multi-grip design with an aero riser feature and a small loop bar in the center. However, they do not integrate pulse sensors like other bikes, and the fitness console does not have a pulse reading function.
A layer of EVA material fully covers it for an improved and comfortable grip. Plus, the package also includes two elbow rests.
5006 Drive system
The HMC Athlete 5006 exercise bike comes equipped with a heavy-duty crankset with chrome-plated arms and aluminum alloy pedals. The cycle has a maximum user weight capacity of 330 lbs (150 kg), and this weight should also apply to the crankset and pedals.
The pedals do not have SPD elements for spin shoes, but they have toe cages with adjustable straps. They also have standard (9/16) threads, so replacements for them are widely available.
The bike comes equipped with a belt drivetrain. It uses a poly-v PK5 belt resistant to stretching. This type of drive system comes with a few advantages. For example, as opposed to a chain drive, you don't have to lubricate it. Also, it contributes to the overall quietness and smoothness of the ride.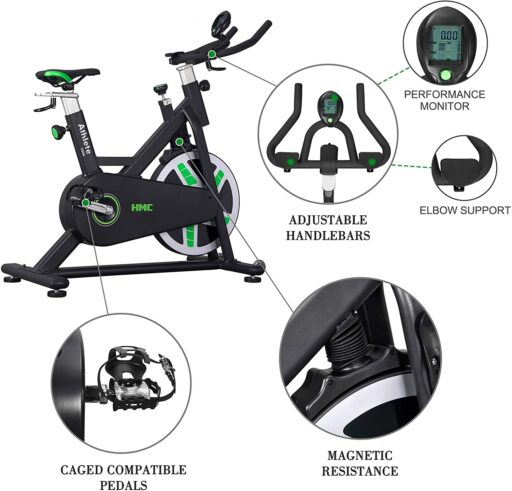 The HMC Athlete 5006 indoor cycling bike features an extra-heavy, 44-lbs (20 kg) flywheel with a perimeter-weighted design for improved inertia. The flywheel is also bi-directional. Therefore, you can pedal in reverse if you want to diversify your training.
However, coasting or "free-wheeling" is not possible on this bike. While pedaling in reverse, you will benefit from the same resistance.
Resistance system
The HMC 5006 exercise bike comes equipped with a manual magnetic resistance system. Therefore, you don't need an adapter or an external power source for it. But on the other hand, the bike cannot automatically adjust the resistance, like the NordicTrack S15i.
The resistance system consists of a magnetic brake connected to the tension knob on top of the frame's top tube. By turning the knob clockwise, the magnetic brake pad moves closer to the flywheel, which increases the pedaling difficulty. The tension knob also acts as an emergency brake to stop the flywheel from spinning, if necessary, instantly.
The bike's resistance system does not have pre-determined tension levels. Instead, you turn the knob until you get the desired pedaling difficulty. But as a general idea, with the brake pad very close to the flywheel, the bike delivers a pretty high test simulating a steep climb.
5006 Console
The fitness console included with the HMC 5006 indoor cycle covers the necessary metrics. However, as opposed to other units, its display is divided into five sub-sections to show up to 5 workout metrics at once, which is quite a plus. It tracks time, distance, speed, RPM, and calories burned. It also has an odometer function.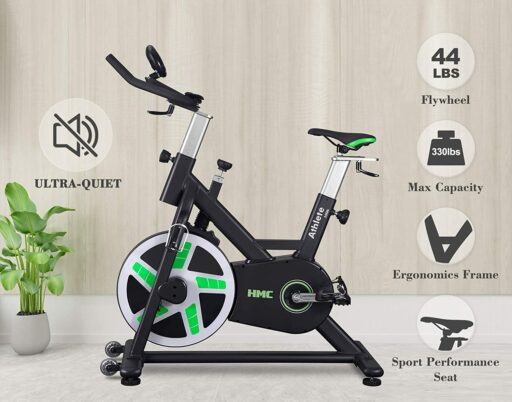 But as I've mentioned earlier, it does not have a pulse tracking function and cannot communicate with a wireless HR chest strap.
The fitness console is relatively easy to use. It only has one button. You can press this button to change between speed/RPM and distance/odometer. It also has a reset function. By pressing and holding it for a few seconds, you can clear all its values to zero. It does not have pre-set programs or goal functions.
The console is battery-powered. It starts up when you begin pedaling or when you press the button. It also automatically turns off if it does not detect any bike activity for a few minutes.
5006 Assembly and Maintenance
The bike's mainframe with the flywheel, crankset, drivetrain, and magnetic brake, comes pre-assembled. You only have to attach the two base bars, the seat and handlebar posts, the saddle, the handlebar, the elbow rests, the fitness console, and the pedals.
The task is pretty straightforward; it shouldn't take more than 30-40 minutes, and the manual provides pretty clear assembly instructions. All the necessary tools for the assembly come included with the bike.
Since it's a belt-drive bike, its transmission does not require lubrication. Therefore, all you have to do for maintenance is periodically check for loose bolts and parts. Also, since the bike uses a magnetic brake, you don't have to worry about its wear and tear or replace the brake pad.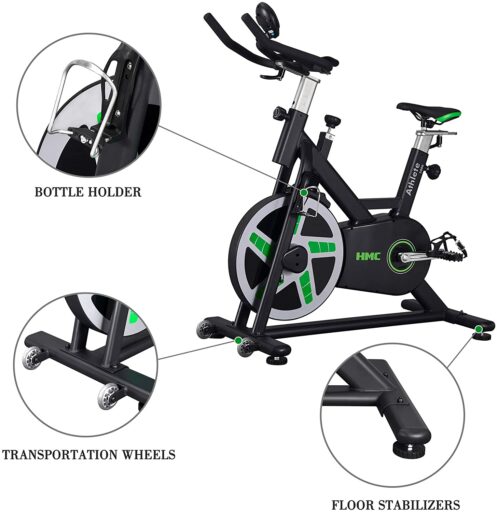 Pros
Heavy-duty steel frame – 330 lbs weight capacity;
Aesthetic design;
Adjustable stabilizers on both bases;
Transport wheels included;
4-way adjustable seat;
Cushioned saddle with a median groove for breathability;
Multi-grip handlebar with an aero riser feature and with EVA coating;
Elbow rests included;
Smooth and silent belt drive;
Extra-heavy, 44-lbs, perimeter-weighted flywheel;
Magnetic resistance, with zero friction;
Fitness console included – it can track time, distance, total distance, speed, RPM, and calories burned;
The bottle holder comes included;
Easy to assemble;
Little maintenance is required.
Cons
No pulse reading function;
The LCD doesn't have a backlight.
HMC Athlete 5006 Indoor Cycling Bike Summary
The HMC Athlete 5006 is a heavy-duty indoor cycling bike designed for spin workouts. It comes equipped with a manual magnetic resistance system, a 44-lb flywheel, and a fitness console. It offers superior micro-adjustability, and it has a weight capacity of 330 lbs, which is not bad for a home-use bike.
Moreover, it's an excellent exercise bike, great for high-intensity cardio workouts, muscle toning, stamina development, intervals, and weight loss.
I hope you found this article helpful and informative. Would you please speak up if you have anything you'd like to share on the topic or any opinions about my website? I look forward to your comments, questions, and the sharing of ideas.
Please note: Before starting any exercise program, you should consult your physician to determine if you have any medical or physical conditions that could put your health and safety at risk or prevent you from using the equipment properly. In addition, your physician's advice is essential if you are taking medication that affects your heart rate, blood pressure, or cholesterol level.