The Ativafit Air Resistance Exercise Bike is sturdily built with a heavy-duty steel frame for long-lasting durability and supports a user weight capacity of up to 250 lbs. As they are sometimes called, Fan or air bikes are a great way to keep fit as they provide a very effective cardio workout, burning calories, toning your body, and strengthening muscles.
The Ativafit exercise bike utilizes a fan air resistance system that works on the premise that the faster you pedal, the harder the resistance becomes, effectively offering infinite resistance and putting you in total control of your workout intensity.
The Ativafit Air Resistance Exercise Bike comes with a digital LCD monitor that displays real-time workout data to keep you motivated, including time, speed, distance, scan, and calories burned. There's also a handy device holder above the display to place your mobile phone or tablet so you can keep yourself entertained as you exercise and still see your workout data at the same time.
Learn more in my complete review below!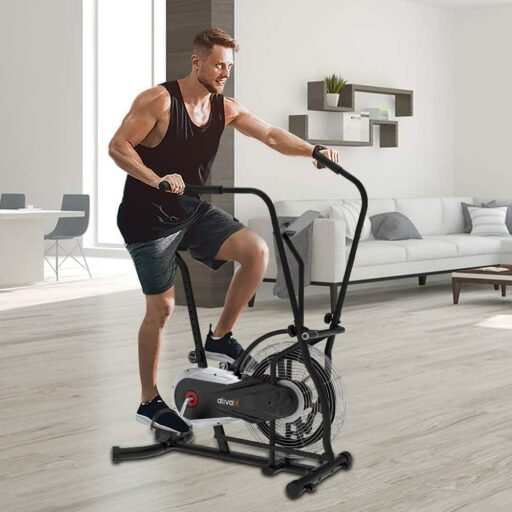 Product: Ativafit Air Resistance Exercise Bike
Price: For a great deal on this bike, merely go here on Amazon
Warranty: 90 days limited
My rating: 8/10
Affiliate Disclosure: As an Amazon Affiliate Program participant, I earn commissions on purchases made through links in this post. Full disclosure
Details and Specifications
Assembled dimensions: 39L x 20W x 54H inches (99L x 51W x 137H cm)
Shipping weight: 66 lbs (30 kg)
Supported weight: 250 lbs (113 kg)
Drive: Belt
Resistance: Air
Fitness Monitor: Time, speed, distance, odometer, calories burned, scan
Extras: Device holder
Warranty: 90 days limited
Frame construction
The Ativafit exercise bike features a steel tubing frame. It combines cylindrical and oval tubes in its construction. Although it's not precisely a gym-grade bike, it still offers a relatively decent maximum user weight capacity of 250 lbs (113 kg).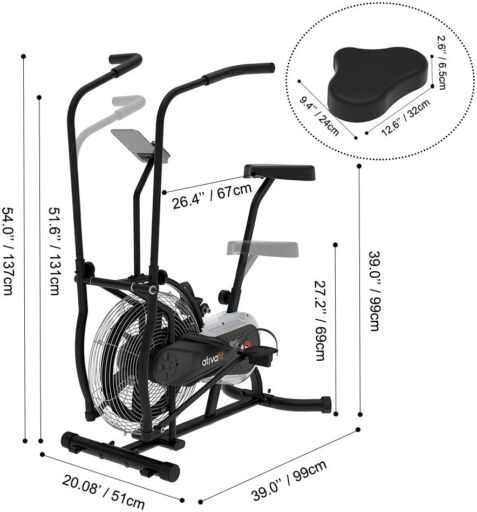 All the steel bars in the bike's construction come double-coated with a corrosion-resistant and chip-resistant paint finish. The color used is either black or dark gray. The covers of the drivetrain are durable thermoplastic material, as well as several other small parts.
The bike is relatively small compared to other fitness equipment. It is only 39″ (99 cm) long and 20″ (51 cm) wide. Therefore, it is advisable to leave a few clearance feet all around it to ease access and safe usage.
Although it's not an extremely heavy fitness machine, it still weighs over 60 lbs (27 kg). Therefore, two people should transport the packaged bike. However, one person can quickly relocate the bike once assembled as its front base bar has two small wheels. Also, its rear base bar has polygonal caps that rotate to act as floor levelers.
Seat and handlebars
The Ativafit air resistance bike includes a reasonably large saddle; it is approx. 12.6″ (32 cm) wide and 9.4″ (24 cm) long, so it provides plenty of contact surface. In addition, its shell is a durable nylon material, while its top cover consists of a thick layer of high-density foam. Differently put, the seat is not super soft, but not too hard either.
The seat is two-way adjustable (up, down). It does not have a horizontal slider for front-to-back adjustment. Its upright post has several adjustment positions; the applicable inseam range for this exercise bike is 28″ – 39″ (71 – 99 cm).
Therefore, it should comfortability accommodate users between 5'2″ and 6'0″ (157 – 183 cm). Furthermore, as I've mentioned earlier, the seat supports users up to 250 lbs (113 kg).
Like most other air resistance bikes, this Ativafit model comes equipped with a set of moving arms instead of a conventional bike handlebar. The two moving components connect to the pedals through a set of metallic bars. Therefore, they will continue to move for as long as you pedal. However, they do not lock to remain stationary.
The two moving arms of the bike feature small standard grips with rubber foam sleeves for improved comfort. They do not have pulse sensors, and the included fitness console does not have a pulse reading function. They have two height adjustment positions. Their highest point above the floor is approx. 54″ (137 cm), while the lowest point is 51.6″ (131 cm)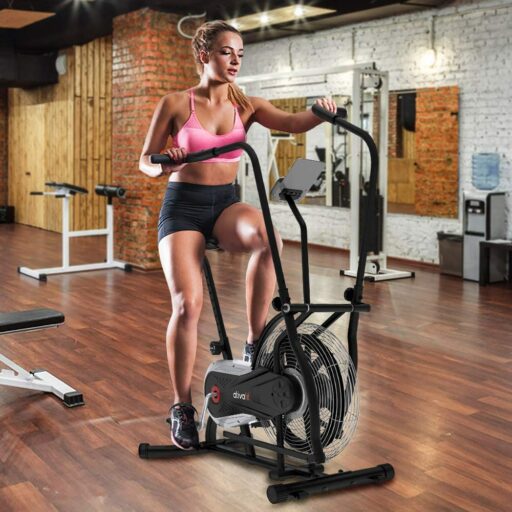 Drive and resistance
This Ativafit air resistance exercise bike comes equipped with an air resistance system. The main resistance-generating element is the large fan visible at the front of the bike. The fan connects to the bike's crankset and begins to spin when you pedal, generating resistance.
The bike does not have any other resistance elements. It does not have an extra magnetic brake, an adjustable damper, or a tension band similar to some other bikes. The fan is the only resistance element.
Like any other fitness machine with an air resistance system, the bike provides a dynamic response. The resistance delivered by the fan is variable, depending on your RPM. Thus, the faster you pedal, the more resistance you will get.
Just like other bikes with a fan resistance system, it does generate some noise when in use. However, the noise is not extremely loud; therefore, it shouldn't cover a TV's sound at moderate volume, even if you pedal at a high-speed rate. It is comparable to the noise generated by a large electric fan.
The bike comes equipped with a belt drive system. It uses a poly-v rubber belt resistant to abrasion and stretching. This type of transmission comes with a few advantages.
For example, you won't have to go through the hassle of removing the guard and lubricating the drivetrain, such as the case with a chain-driven bike. Also, the belt generates less vibration than a chain.
The bike features a pretty sturdy 3-piece crankset with cylindrical arms similar to upright bikes. The pedals have a metallic body covered by a layer of durable thermoplastic material. They are weighted, so they always turn face-up when you remove your feet from them.
They have adjustable straps so you can secure your feet on them, if necessary. However, they are not meant for pedaling while standing up. So, if you want to perform a standing-up workout, you should opt for a more durable air bike, such as the Assault Air Bike.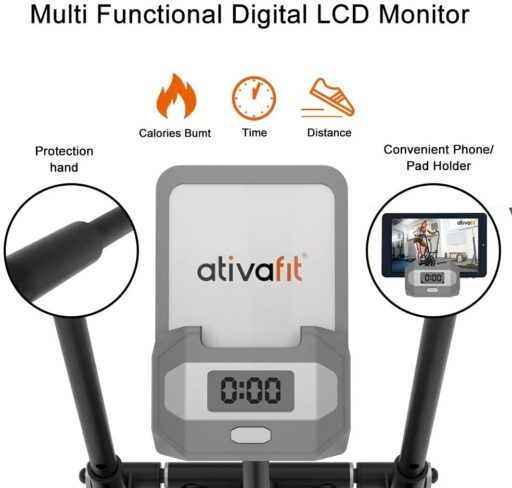 Fitness Monitor
The Ativafit air resistance exercise bike comes equipped with a simple fitness monitor. It doesn't have pre-set workout programs, target settings, or online connectivity. Instead, it features an LCD that indicates time, distance, total distance, speed, and calories burned.
The speed and distance display in metric units. It does not have an imperial metric option. Also, the monitor does not have a pulse reading function.
The fitness monitor unit is straightforward to use. It only has one button. By pressing this button repeatedly, you can select the workout metric that you want to view. There is also a Scan Mode; if the Scan Mode is used, the monitor rotates all the metrics automatically, showing each one for a few seconds.
The button also covers the unit's reset function. You can press and hold it for a few seconds to clear all its values to zero.
The monitor unit is battery-powered. It starts up when you begin pedaling or when you press the button. It also automatically turns off if it does not detect any bike activity for more than four minutes.
Last but not least, the fitness monitor integrates a device holder. This consists of a large backrest and a small shelf above the display, supporting your smartphone or tablet. However, the unit does not have a USB port or any other ports for connecting your device to it.
Assembly and Maintenance
The main body of the bike, with the crankset, the fan, and the belt, comes pre-assembled. However, the rest of the parts do require user assembly. You will have to attach the two base stabilizers, the seat post, the seat, the two moving arms, the pedal bars, the pedals, and the fitness monitor with its supporting bar.
This shouldn't take more than an hour, and the task is far from being difficult. Plus, the manual provides clear assembly instructions, and all the necessary tools come with the bike.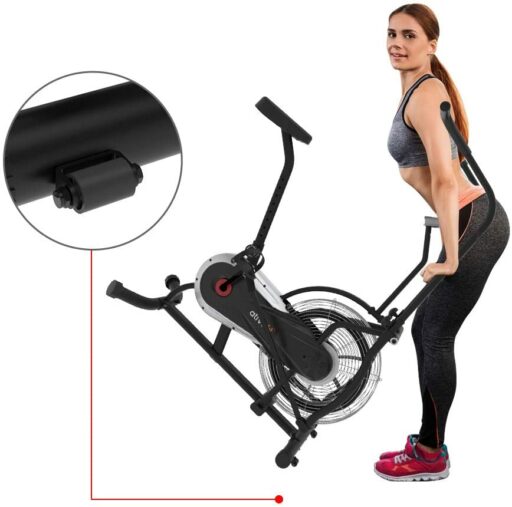 Once assembled, maintenance doesn't require much. All you have to do is periodically check for loose or broken parts and re-tighten them or replace them for safe operation. In addition, if the fan accumulates dust, you can vacuum it from the outside without removing its metal casing.
Pros
Sturdy construction – can hold users up to 250 lbs;
Adjustable levelers on the rear base;
Transport wheels on the front base;
Height-adjustable handlebars for arms workouts;
Large, padded seat;
Air resistance system for a dynamic response;
Fitness monitor included – it can track time, speed, distance, total distance, and calories burned;
Device holder included;
Little maintenance required;
Fairly quiet operation;
Easy to assemble.
Cons
No pulse reading function;
No bottle holder;
The LCD does not have a backlight.
Ativafit Air Resistance Exercise Bike Summary
The Ativafit air resistance exercise bike is for home use. It comes equipped with a large padded seat, weighted pedals, 2-position adjustable moving arms, and a fitness monitor that tracks time, distance, speed, and calories burned. Although it's a light-capacity bike, it still offers the possibility to perform a high-intensity cardio workout. It's great for stamina development, muscle toning, interval training, and weight loss.
I hope you found this article helpful and informative. If you have anything you would like to share or any opinions about my website, please speak up. I look forward to your comments, questions, and the sharing of ideas.