The UREVO Indoor Cycling Bike comes equipped with a 22 lbs (10 kg) flywheel that helps simulate a real road bike ride. The momentum of a flywheel keeps the spin bike steady and stable, even during an intense workout. So enjoy the outdoor sports experience at home and perform intense aerobic exercise in a stable position.
This bike features continuous infinite resistance adjustment to simulate actual road riding. Then, when you want to finish, pull the emergency brake lever and stop it immediately. In particular, this UREVO cycle uses pure wool, which reduces noise, does not produce an odor, and is more durable.
The UREVO Indoor Cycling Bike has a fitness monitor with an LCD monitor for tracking your time, speed, distance, odometer, calories burned, and pulse to help you keep track of your progress. In addition, the handlebars integrate metallic HR pulse sensors to monitor your pulse while exercising. There's also a phone/tablet holder to keep you entertained while exercising.
The ergonomically designed seat cushion provides a comfortable riding experience. The cushion size: is 10.43 "×8″ ×2" (L×W×H). In addition, the included spring buffer improves riding comfort. Thus, making it suitable for long rides. Furthermore, the solid metallic alloy pedals will prevent feet from slipping and give more support while pedaling.
Learn more in my complete review below!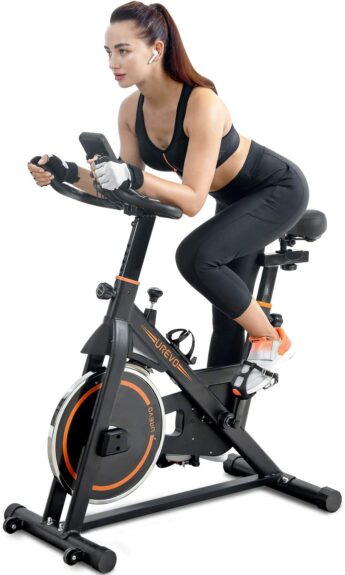 Product: UREVO Indoor Cycling Bike
Price: For a great deal on this bike, merely go here on Amazon
Warranty: 1 year limited
My rating: 8.75/10
Affiliate Disclosure: As an Amazon Affiliate Program participant, I earn commissions on purchases made through links in this post. Full disclosure
Details and Specifications
Assembled dimensions: 39.4L x 19.7W x 47.2H inches (100L x 50W x 120H cm)
Flywheel weight: 22 lbs (10 kg)
Supported weight: 260 lbs (118 kg)
Seat: 4-way adjustable
Drive system: Belt
Resistance: Friction
Fitness Monitor: Time, speed, distance, total distance, calories, pulse, scan
Extras: Device holders, bottle holder
Warranty: 1 year limited
Frame Construction
The UREVO indoor cycling bike features a sturdy triangular steel tubing frame. It combines oval, rectangular, and cylindrical tubes in its construction.
The structure, including the seat and handlebar posts, is coated with a corrosion-resistant black paint finish. However, there is also a white bike version with the same features. The only exception is the flywheel, which is chrome-plated.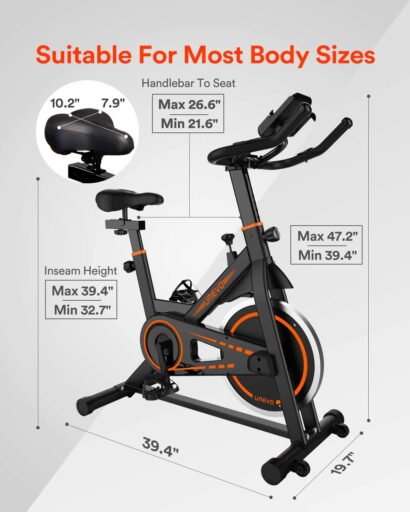 The bike comes equipped with a step-up bar element, the short horizontal tube that connects the main tube of the frame with the seat tube. For example, it can be used either for an easier mount and dismount or as support for stretched and other exercises during a spin workout. Furthermore, not all spin bikes have this feature, so it is a plus.
Of course, the bike also integrates several parts made of ABS thermoplastic material. The most notable ones are the drivetrain casing, the flywheel's side covers, and the brake cover.
The fully assembled bike is not too large. It is approximately 39.4″ (100 cm) long and 19.7″ (50 cm) wide. Thus, it can fit pretty well even in a small room. However, leaving at least a few feet of clearance around it is advisable for easy access.
Finally, the bike isn't too heavy. Its exact weight is not specified, but it should be around 60-70 lbs (27 – 32 kg). Therefore, it can be carried and assembled by only one person. Once completed, you can relocate it if necessary via the small transport wheels integrated into its front base bar.
Seat and handlebars
The UREVO indoor cycling bike comes with a saddle designed for superior comfort. First, it is a bit larger than the slim race seat. It is approximately 10.2″ (26 cm) long and 7.9″ (20 cm) wide with a thick layer of cushioning. Furthermore, its top cover is durable high-density EVA foam material or vinyl. In addition, it integrates a thick layer of foam padding, and it also has a median groove for improved breathability.
The seat is four-way adjustable (up, down, front, back). Its vertical post has several adjustment positions, while its horizontal slider offers several inches of front-to-back adjustment. The applicable inseam length range for this bike is 32.7″ – 39.4″ (83 – 100 cm); thus, it accommodates users between 5'1″ and 6'2″ (155 – 188 cm). It has a maximum user weight capacity of 260 lbs. (118 kg).
The bike comes equipped with a multi-grip handlebar that provides five grip possibilities. These are standard, climbing, racing, aero, and a close parallel grip. In addition, a layer of foam padding covers its side grips for improved comfort. Furthermore, they also integrate metallic HR pulse sensors.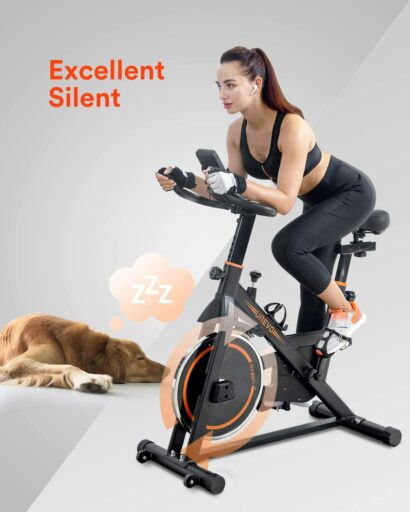 The bike's handlebar is two-way adjustable and lacks the horizontal slider for front-to-back adjustment. Instead, its vertical post offers an adjustment span of approximately 8″ (20 cm), between 39.4″ – 47.2″ (100 – 120 cm) above floor level.
Drive system
The first aspect to note is the UREVO indoor cycling bike flywheel, a 22 lbs (10 kg) flywheel with a perimeter-weighted structure for improved inertia. Although it's not as heavy as other bikes with 40 lbs (18 kg) flywheels, it still provides consistent momentum due to its perimeter weighting.
The flywheel is bi-directional, meaning it can pedal in reverse. Therefore, you can alternate forward with backward pedaling sessions for extra diversity. However, coasting is not possible; the pedals continue to spin for as long as the flywheel is spinning.
The UREVO indoor cycling bike comes equipped with a belt drivetrain. It uses a durable poly-v belt (its exact specs are not specified). The main advantage of a belt drive system is that you don't have to lubricate it. It also generates slightly less vibration than a chain.
The bike features a standard 3-piece crankset with long arms similar to road bikes. The pedals are made of metallic alloy. They don't have SPD elements for spin shoes, but they do have toe cages if you need to secure your feet on them. In addition, the whole crankset assembly should be durable enough to support up to 260 lbs (118 kg), the maximum weight limit specified for the bike.
Resistance system
The UREVO indoor cycling bike features a standard friction resistance system with manual action. Therefore, you don't need an adapter or an external power source. But it also means that the fitness monitor cannot adjust the resistance automatically.
The resistance system consists of a wool felt pad connected to the tension dial visible on top of the diagonal frame tube. For example, by turning the knob clockwise, the brake applies more friction to the flywheel, which increases the pedaling difficulty.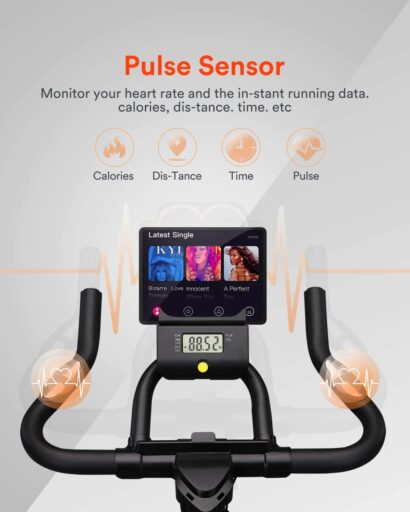 Like most other spin bikes with a friction resistance system, the UREVO bike doesn't have pre-determined tension settings. Instead, turn the knob and tighten/untighten the brake until you get the desired pedaling difficulty. Also, the tension knob can function as an emergency brake. For example, you can press it down to instantly stop the flywheel from spinning.
Fitness monitor
Since it's an inexpensive exercise bike, the UREVO indoor cycling bike has a simple fitness monitor without a backlight. As a result, it does not have workout programs or online connectivity. Instead, it features an LCD that displays the time, distance, total distance, speed, pulse, and calories burned.
Unfortunately, the pulse reading function only works if you hold on to the integrated sensors. Furthermore, the monitor cannot read your pulse from a wireless transmitter or smartwatch.
Furthermore, the fitness monitor does not have pre-set programs or target settings. It only has one button with two functions, selection, and reset. You can select the desired workout metric to view on display by pressing it repeatedly.
This way, you can also set the Scan Mode, which automatically rotates all the metrics showing each one for a few seconds. By pressing and holding the button for a few seconds, you can clear all the display values to zero.
The monitor is battery-powered. It starts when you pedal or press the button and automatically turns off after a few minutes of inactivity on the bike to save battery. In addition, it also integrates a device holder. Its top section features a large backrest and a small shelf to place your smartphone or tablet.
Assembly and Maintenance
The bike's main body comes pre-assembled with the attached flywheel, crankset, belt, and braking system. After that, you only need to add the two base stabilizers, the seat, the handlebars, the pedals, and the fitness monitor.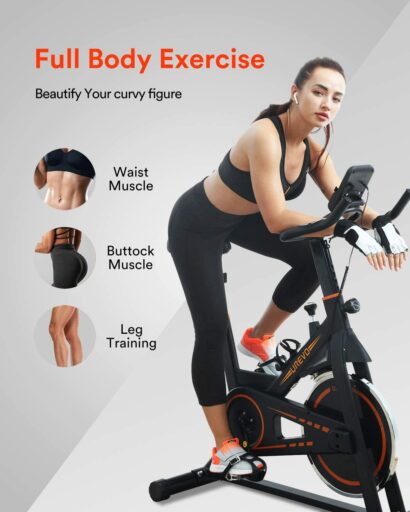 Consequently, it shouldn't take more than 30-40 minutes. All the necessary tools for assembly come with the bike, and the manual provides pretty clear assembly instructions.
For maintenance, the brake pad may require lubrication. However, a few drops of silicone lubricant applied on the flywheel's edge should cover it. In addition, you only have to clean the bike, periodically check for loose nuts or parts, and retighten them if necessary.
Pros
Sturdy construction – can support users up to 260 lbs;
Small footprint;
Four-way adjustable seat;
Comfort saddle with foam padding and a median groove for extra breathability;
Multi-grip handlebar;
Pulse sensors integrated into the side grips of the handlebar;
Solid crankset can support just about any spin workout;
Metallic pedals with toe cages and standard threads;
Friction resistance is virtually limitless;
Smooth and quiet belt drive;
Fitness monitor included – it tracks time, distance, total distance, speed, pulse, and calories burned;
Little maintenance is required;
Device holders included;
Bottle holder included;
Easy to assemble;
All the assembly tools included;
Little care is needed.
Cons
The fitness monitor LCD does not have a backlight;
The fitness monitor does not have a goal-setting function;
The fitness monitor's pulse reading function is not too accurate.
UREVO Indoor Cycling Bike Summary
The UREVO indoor cycle is an exercise bike designed for home use equipped with a 22-lb, perimeter weighted flywheel, a standard friction resistance system, and a heavy-duty crankset with caged metallic pedals and a fitness monitor.
In addition, it's a pretty sturdy bike, rated for up to 260 lbs for users. Moreover, it supports any spin workout, great for high-intensity cardio training, intervals, muscle toning, stamina development, and weight loss.
I hope you found this article helpful and informative. Would you please speak up if you have anything you'd like to share on the topic or any opinions about my website? I look forward to your comments, questions, and the sharing of ideas.
Please remember that you should consult your physician to determine if you have any medical or physical conditions that could risk your health and safety or prevent you from using the equipment properly. In addition, your physician's advice is essential if you are taking medication that affects your heart rate, blood pressure, or cholesterol level.