Exceptional for its price class, the Bowflex Treadmill 22 will make an excellent addition to any home gym. It's the top machine of Bowflex for a reason. This high-end machine delivers all the features and connectivity anyone could want out of a home treadmill.
Some high-end features include a 4.0 CHP drive motor for serious running, a robust variable cushioning system, a three-ply workout belt, and a large workout surface. The workout belt is extra roomy at 22″ wide and 60″ long, giving any user enough room to run at top speed in comfort.
The 22″ LCD color touchscreen is backlit for easy viewing and is Bluetooth enabled. The Bluetooth connectivity lets users export data to other mobile apps for tracking fitness activity. It tracks time, distance, speed, incline, total calories burned, average calories burned per minute, and heart rate.
The Bowflex JRNY digital fitness platform also has Bowflex Treadmill 22 (Subscription required). Hike, walk, or sprint through 50+ scenic destinations worldwide. First, take an adventure through these destinations from around the planet. Then, explore them at your speed from the comfort of your home.
Learn more in my complete review below!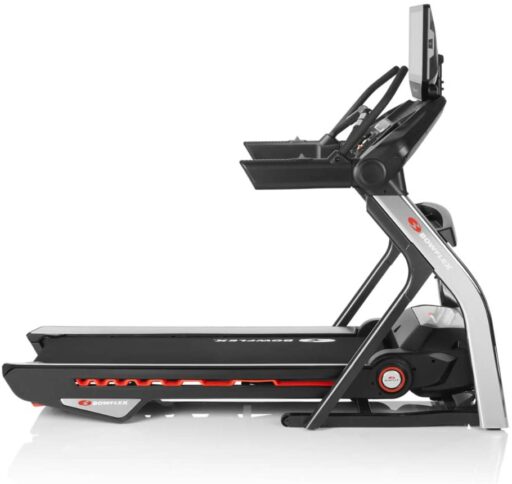 Product: Bowflex Treadmill 22
Price: For a great deal on this treadmill, merely go here to Bowflex.com
Warranty: Frame 15 years / Motor 15 years / Parts 5 years / Electronics 1 year / Labor 2 years
My rating: 9.4/10
Affiliate Disclosure: As a Bowflex Affiliate Program participant, I earn commissions on purchases made through links in this post. Full disclosure
Details and Specifications
Assembled dimensions: 85L x 39.6W x 70H inches (215.8L x 100.5W x 177.7H cm)
Tread belt dimensions: 60L x 22W inches (152.4L x 60W cm)
Assembled weight: 336 lbs (152.4 kg)
Max. weight capacity: 400 lbs (181.4 kg)
Comfort Tech Cushioning
Real-Time Auto-Adjusting
Motor: 4.0 CHP
Speed levels: 0-12 MPH
Incline/Decline: -5% – 20% motorized
JRNY Subscription optional with curated playlists, supplemental training content
Standard non-JRNY programs are available via offline guest mode
Amenities: HR armband, sound system, cooling fan, USB charging port, 2x bottle holder, an accessory tray with towel support
Warranty: Frame 15 years / Motor 15 years / Parts 5 years / Electronics 1 year / Labor 2 years
T22 Frame
Like the Bowflex Treadmill 10 model, the Bowflex Treadmill 22 features a folding frame. In addition, it integrates the SoftDrop™ hydraulic folding mechanism, which helps you lower the deck to prevent damage to its components. With the deck folded up, the unit's length is approx—44.5″ (113 cm).
This fitness machine is relatively large, with the frame fully assembled and the deck operational. It takes 85″L x 39.6″W (215.8 x 100.5 cm) of floor space. Additionally, it's advisable to assign at least three clearance feet at the rear and at least two feet of clearance on each side for safe and unhindered operation.
This Bowflex treadmill is considerably heavy. The fully assembled unit weighs over 300 lbs (336 lbs – 152.4 kg). Therefore, its transport, assembly, and unboxing require two people. But on the other hand, all this weight plays a significant role in the unit's overall stability and sturdiness.
You can be sure it won't wobble even if you run on it at full speed. Plus, the front metallic base of the frame integrates four adjustable stabilizers. This treadmill isn't too difficult to relocate once assembled despite its weight. Its front base frame has transport wheels to move the treadmill to a storage location.
The base frame and the console mast of the machine are heavy-duty, precision-welded steel bars. All the steel tubing within the unit's construction comes double-coated with a corrosion-resistant and chip-resistant powder finish. The colors used are black for the base frame and silver for the console masts.
Deck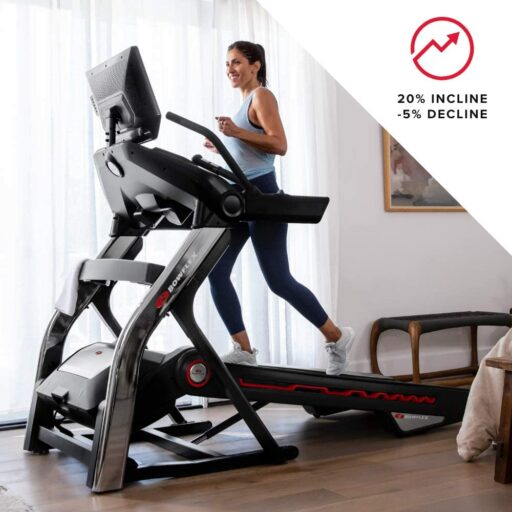 The Bowflex Treadmill 22 features a highly durable deck, rated for a maximum user weight capacity of 400 lbs (181.4 kg). It starts with the Comfort Tech cushioning, which acts as a suspension when running on the top surface.
Therefore, this is key because many runners complain of ankle or knee pain while running. In addition, having the extra support makes it possible to find relief even when running a long distance on the new treadmill.
Bowflex has taken the time to focus on and emphasize its latest design improvements. As a result, the new cushioning is robust and refined and offers the type of protection needed for modern users.
This treadmill offers a 60″ (152.4) long and 22″ (60 cm) wide running path. Thus, it comfortably accommodates users up to 6'6″ (198 cm) with no problem, promoting a natural, healthy stride.
The large, 2.75″ rollers are precision-machined, crowned, and integrate top-quality, sealed ball bearings to deliver a smooth belt motion and improve lifespan.
T22 Incline & step-up height
Something you don't find often, the new Bowflex Treadmill 22 gives you incline training capability and decline training. You get up to a 20% incline and down to -a 5% decline.
This Bowflex treadmill automatic incline/decline system has a slight lift at the front of the deck, powered by the incline motor. However, since the incline system is motorized, it's only adjustable from the console, handrails, and hand grips. Therefore, the machine requires a connection to a power source to adjust the incline.
Incline and decline training allow you to ramp up your cardio and target different muscle groups in your lower body that you couldn't hit otherwise. So it adds another dimension to your routine, allowing you to walk, jog or run uphill and downhill, so it's closer to an outdoor running experience.
The incline adjusts in increments of 1%. The console features quick incline controls for the -5, 0, 3, 6, 9, 12, 15, and 20 incline settings, but toggle keys for gradual incline adjustment are also available on the handrails and hand grips.
Additionally, some programs control incline and speed. Finally, the machine will auto-adjust the deck's slope according to the current workout segment.
The running surface of the machine is approx. 12″ (30.5 cm) above floor level with the incline set at 0%. Conversely, with the slope up to 20%, the deck's highest point reaches a height of 21″ (53.3 cm). Therefore, placing and using the machine in a room with a ceiling at least 21″ (53.3 cm) higher than your height is advisable.
Motor
The Bowflex treadmill 22 integrates a high-performance 4.0 CHP motor. As a result, it can withstand prolonged workout sessions even if the user is close to the machine's 400 lbs (181.4 kg) weight capacity without losing performance or overheating.
It also has a small flywheel, reducing vibration and improving motion stability, resulting in a smooth running experience.
The unit's speed range is 0.5 – 12 MPH. The console has speed adjustment controls, the right handrail, and a right-hand grip. The speed is adjustable in increments of 0.5 MPH or 0.1 MPH, and the console has quick adjustment keys for the speed settings of 1, 2, 3, 4, 5,  7, 9, and 12.
The machine comes with a standard U.S. 3-prong plug, not an adapter. It requires a 120V 15A power circuit. Connecting the treadmill to a power circuit without other devices is advisable to avoid surges.
Using a surge suppressor is not a bad idea to prevent any damage to the motors or console if a surge happens.
T22 Console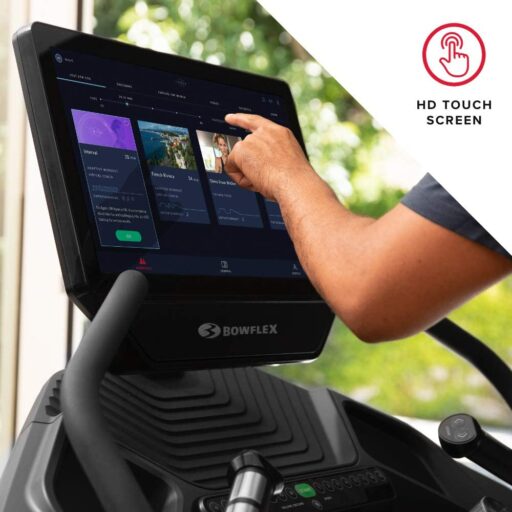 This Bowflex treadmill has a high-performance console featuring a 22″ color LCD touchscreen with significant digits and an LED backlight for excellent readability. It tracks all the important workout metrics, including incline, time, speed, interval, distance, calories burned, average calories burned per minute, and heart rate.
It also has a multi-color Burn Rate Display, which shows the calories burned for a minute at the current workout levels. Additionally, it has a Sprint Display section for the remaining sprint segment during an interval program.
Both standard and metric unit settings are available for the speed and distance readings. The front grips of the machine integrate pulse sensors, and the console is telemetric. It can read your pulse via the included HR armband transmitter or any similar transmitter operating within 4.5kHz – 5.5kHz.
JRNY™ Experience
Meet the digital fitness platform that gets to know you. It assesses your fitness level and recommends workouts based on your abilities, available time, mood, and the workout experiences you like best. Follow along with clever, structured coaching that guides you through the highs and lows of every workout.
You can stick to one routine or explore something new and personalized every day of the week. No matter your choice, the JRNY® digital fitness platform keeps you on track for long-term success in health and fitness. This app tracks your goals, gives you awards for reaching those goals and maintains a journal of your progress.
Binge-watch your existing Netflix, Hulu, Amazon Prime Video, and Disney+ accounts from the adjustable HD touchscreen. (However, JRNY Membership is required to stream these shows, and your Subscription to the entertainment app is also required.)
Hike, walk, or sprint through 50+ scenic destinations worldwide. First, take an adventure through these destinations from around the planet. Then, explore them at your speed from the comfort of your home.
The JRNY experience assesses your fitness level, creates daily workouts that adjust as you improve, and provides coaching and feedback. (JRNY app subscription is required.) 1-year JRNY membership ($149 value) included with purchase—paid membership after the free period (approximately $12.00 monthly).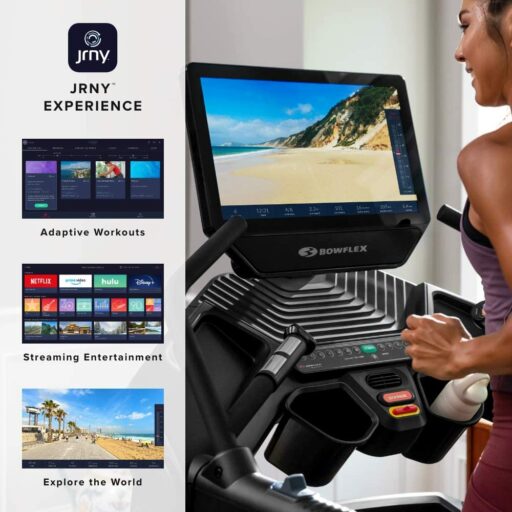 T22 Preset Workout Programs
Suppose you prefer not to subscribe to the JRNY app. The T22 offers standard non-JRNY programs via offline guest mode without a Wi-Fi connection. These are Manual, Fat Burn, Calorie Burn, Calorie Goal, Target Heart Rate, 5k Distance, Varied Interval, 8 Min. Interval, 16 Min. Interval, Strength, and Custom.
The Manual program allows you to freely exercise on the machine freely, adjusting the incline and speed you like during your session. The Custom program gives you the possibility to design your workout. The rest of the programs are preset, but you can constantly adjust them.
The console unit offers four user profiles. Each user can have their settings. Also, for each profile, the user can input age, weight, or gender data so that the console can provide a more accurate calorie reading.
Amenities
The Bowflex Treadmill 22 console is Bluetooth-compatible and features a cooling fan, a sound system, a tablet holder, and several accessory trays in terms of extras. The cooling fan is at the bottom of the console; it has 3-speed low, medium, and high settings.
The T22 sound system consists of two speakers at the touchscreen's bottom. This sound system is compatible with most MP3 players, tablets, or smartphones, so you can play your music through it anytime you exercise. Or, with JRNY, discover an ever-changing lineup of new playlists to blast through the built-in Bluetooth speakers.
And finally, the tablet holder is just above the unit's speakers. It has an anti-slip surface and is just below the touchscreen display. So, if you place a tablet on it, it blocks the view of your workout stats. However, the treadmill is Bluetooth compatible and can sync with your tablet or smart device so you can stay on track with your workout stats.
T22 Assembly and Maintenance
The unit's deck and motors are pre-assembled. Therefore, you only need to attach the console masts, the accessory tray, the console, and the handlebars. Consequently, it shouldn't take more than 45 minutes of your time. The manual provides excellent step-by-step assembly instructions, and the required tools come with the machine.
It is advisable to lubricate the deck after every 25 hours of usage for maintenance. For this, 100% pure silicone lubricant is advisable. In addition, the belt and the surface underneath the deck should be vacuumed and cleaned periodically to prevent any objects, textile fibers, or dust from being dragged into the motor or clogging the air vents. It's also advisable to regularly inspect the machine for loose or damaged parts and retighten them as needed.
Pros
Substantial deck – can hold users up to 400 lbs;
Professional-looking design;
Adjustable stabilizers with rubber caps;
Transport wheels;
Extended Handlebars;
Folding deck, equipped with a soft-drop hydraulic cylinder;
Comfort Tech™ deck cushioning system;
The 3-ply light commercial belt for a prolonged lifespan;
4.0 CHP, heavy-duty motor;
Speed range between 0.5 and 12 MPH, offering the possibility to perform a wide array of workouts;
The belt speed adjusts in increments of 0.1 and 0.5 MPH;
Automatic decline/incline, -5% – 20%;
The console is Bluetooth enabled, allowing you to use the JRNY™ digital platform or connect to the Zwift virtual training app;
1-year JRNY membership ($149 value) included with the purchase (Paid membership required after the first year);
Standard non-JRNY programs are available via offline guest mode without a Wi-Fi connection;
The USB port for charging your tablet or phone and for workout data transfer;
Various amenities, such as sound system, tablet holder, 3-speed fan, bottle/accessory holders;
Pulse sensors and telemetry enabled console;
An HR armband transmitter included;
Easy to assemble;
Smooth and relatively quiet operation;
Little maintenance is required;
Consistent warranty plan.
Cons
JRNY app requires a membership;
The cooling fan is not too overpowering.
Bowflex Treadmill 22 Summary
The Bowflex Treadmill 22 is a heavy-duty treadmill featuring a 4.0 CHP motor, automatic decline/incline, and an advanced 22″ touchscreen console with Bluetooth connectivity, allowing you to use the JRNY™ digital platform or connect to the Zwift virtual training app (subscriptions required).
It has a highly sturdy deck can hold users up to 400 lbs. It comes with the ComfortTech cushioning system, and the deck can fold up. Moreover, it's a solid piece of equipment and offers outstanding value for the price.
I hope you found this article helpful and informative. Would you please speak up if you have anything you'd like to share or any opinions about my website? I look forward to your comments, questions, and the sharing of ideas.
Please remember to consult your physician to determine if you have any medical or physical conditions that could put your health and safety at risk or prevent you from using the equipment properly. In addition, your physician's advice is essential if you are taking medication that affects your heart rate, blood pressure, or cholesterol level.