Engage in a low-impact cardio routine at home with the Sunny SF-RW5854 Rowing Machine. Condition your back, shoulders, and core muscles as you produce powerful rowing motions on the exercise machine. Challenge yourself with the rower's dual resistance by pulling against the 11-pound flywheel and adjusting the 16 levels of magnetic resistance.
Avoid sliding noises on the SF-RW5854 with the aluminum slide rail. The soft-touch metal on the fitness equipment allows for a soft slide as you produce powerful rowing strokes. In addition, the aluminum build is rust-resistant and lightweight. It can also support up to 300 lb.
Pivot the fitness monitor on the Sunny SF-RW5854 rowing machine to get the best view of your workout data. First, use the digital fitness monitor to track workout duration, rowing strokes, and calories burned. Then, enjoy an optimized workout with the fitness monitor's program mode with seven workouts, four customizable presets, two challenge modes, and one recovery mode.
Keep your momentum and feet moving safely with the SF-RW5854 foot pedals. Textured non-slip foot pedals will accommodate all sizes, while the textured non-slip grip will ensure safe footing during the most demanding and vigorous workouts! In addition, foot straps keep you secured so you can focus on the exercise without feeling unbalanced.
Learn more in my complete review below!
Product: Sunny SF-RW5854 Rowing Machine
Price: For a great deal on this rower, merely go here to Sunny Health & Fitness.com
Warranty: Frame 3 years / Parts 180 days
My rating: is 8/10
Affiliate Disclosure: As a Sunny Health & Fitness Affiliate Program participant, I earn commissions on purchases made through links in the post. Full disclosure
Details and Specifications
Assembled dimensions: 92L x 20.5W x 32H inches (234L x 52W x 81H cm)
Assembled weight: 79.5 lbs (36 kg)
Weight capacity: 300 lbs (136 kg)
Frame: Steel & aluminum
Footrests: Pivoting, with straps
Resistance type: Eddy current, 16 levels
Fitness Monitor: 10 programs, Recovery function, goals
Warranty: Frame 3 years / Parts 180 days
SF-RW5854 Frame Construction
The Sunny SF-RW5854 rower features a heavy-duty frame, combining steel, aluminum, and ABS parts in its construction.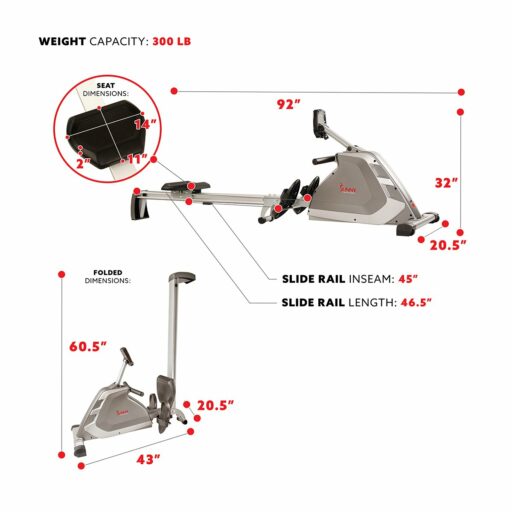 Its slide rail is an aluminum alloy; the rest of the structure is steel-made for extra sturdiness, while the covers of the resistance system and several other small covers are durable ABS plastic.
Compared to other similar rowers made for home use, this Sunny rowing machine is considerably larger. With all the parts assembled, it is approx—92″ (234 cm) long and 20.5″ (52 cm) wide.
It also has a more extended rail which provides 45″ (114 cm) of travel for the seat. Therefore, the machine can accommodate users up to 6'7″ (201 cm) as long as they don't exceed the capacity of 300 lbs (136 kg).
Considering its length, this magnetic rower may not be the best choice for a small room or apartment. Therefore, it is advisable to leave at least one foot of clearance at the front of the machine and at least two feet on each side and the rear for safe usage and access.
On the other hand, the unit has a folding design. As a result, the sliding rail can fold up and lock in an upright position. And with the rail folded up, the machine's length is reduced to 43″ (109 cm), while its height becomes approx—60.5″ (154 cm).
The rower is also relatively heavy, weighing approximately 79.5 lbs (36 kg) with all the parts assembled. However, this weight is a plus because it provides extra stability. Also, once completed, it is relatively easy to relocate as its front base comes equipped with small wheels.
Seat and other parts
The Sunny SF-RW5854 rowing machine has the same type of seat as the Sunny SF-RW5856 model. The top of the seat is high-density foam; it is firm but not extremely hard. In addition, its surface has contouring and textures to provide extra comfort and adherence.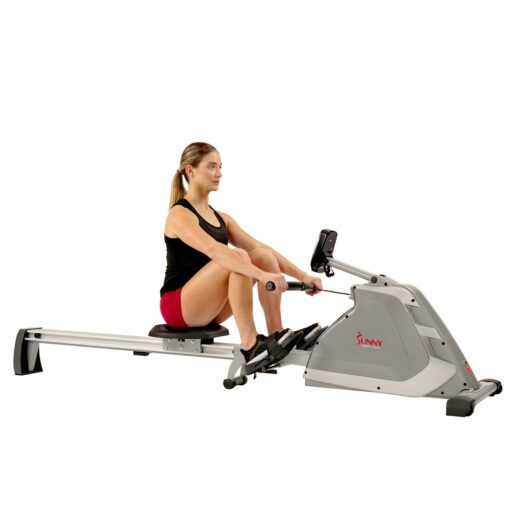 The seat is relatively large as well. It is 14″ (35.5 cm) wide and 11″ (28 cm) deep, providing plenty of contact surface. If you're wondering, the seat is approximately 10″ (25.4 cm) above floor level.
The seat's base is highly durable steel-made, just like the front of the frame. The rail and the seat have a maximum user weight capacity of 300 lbs (136 kg). Also, considering that the machine's rail is more comprehensive than other rowers, it provides extra stability for the seat.
The seat base features three wheels with internal, sealed ball bearings for smooth motion. They also have an outer rubberized layer which considerably reduces the noise generated by the movement of the seat on the rail.
The rower's pulling handle consists of a slightly curved bar with rubber foam grips for maximum comfort. It connects to a heavy-duty nylon mesh strap which provides smooth operation. The pulling handle does not integrate HR pulse sensors or resistance adjustment controls.
The Sunny SF-RW5854 comes equipped with two pivoting footrests. This design allows them to tilt as you apply pressure on them during each rowing motion, adopting the most suitable angle.
The rower's footrests are made of durable ABS material. In addition, their surface comes textured for extra adherence. They also have heel guards and adjustable straps, so you can perfectly secure your feet on them if needed.
SF-RW5854 Resistance system
The Sunny SF-RW5854 is a full-magnetic rower. Thus, it does not have air resistance or water resistance elements. Instead, its resistance system is automatic. You must connect the rower to a power source to use the resistance settings (a power adapter comes with the rower).
Also, the fitness monitor adjusts the resistance exclusively. Also, the monitor has preset workout programs, so it will auto-adjust the rower's resistance if one is in use.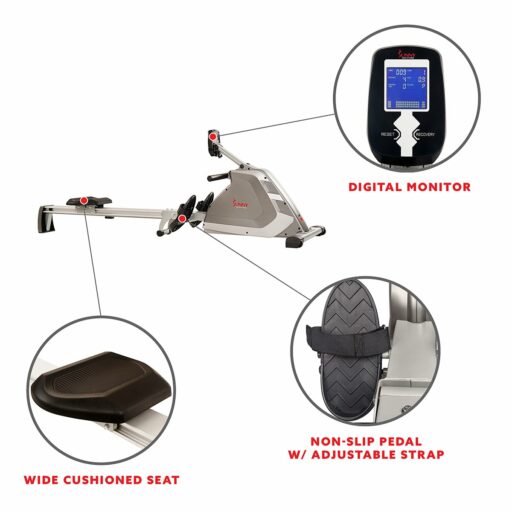 The unit's resistance system consists of an internal servo motor and a magnetic brake integrated into the flywheel. As you select a certain tension level from the console, the motor will adjust the magnetic pull of the brake, increasing or decreasing the rowing difficulty.
There are 16 resistance levels available. The lowest one delivers a relatively light resistance, which is excellent for beginners or users who require recovery training or warming up. Conversely, the top resistance settings provide a high difficulty level, perfect for anyone who wants to improve strength or train professionally.
Like most full-magnetic rowers, the Sunny SF-RW5854 does not provide a dynamic response during rowing. Accordingly, the resistance is not determined by how hard you pull the handle, as for air or water rowers.
The selected tension level strictly determines it, so it remains constant, regardless of the strength you put behind each stroke. Nonetheless, the machine does provide quite a consistent, full-body workout.
On the other hand, since the unit's resistance system is full-magnetic, the tension-generating elements do not touch. As a result, there is no friction and no generated air current inside the mechanism housing of the machine. Thus, the rowing motion is tranquil.
Fitness monitor
The Sunny SF-RW5854 rowing machine features an advanced fitness monitor. First, it connects to an adjustable mount to tilt it at the desired time. Second, it has a multi-window LCD with an LED backlight, providing excellent readability.
It tracks all the important workout metrics, including time, distance, count (total strokes), strokes per minute (SPM), calories burned, and pulse. The distance displays in miles. Unfortunately, there is no time/500m reading function. Also, to benefit from a pulse reading, you must use a wireless HR chest strap with a transmission frequency range between 4.5 and 5.5 kHz.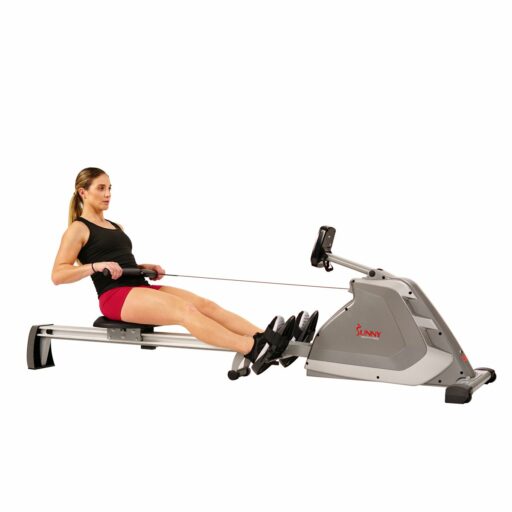 The fitness monitor has ten workout programs. The first seven programs have preset resistance settings, but you can always set time, distance, calories, and pulse targets. The 8th program is the Race Mode. Thus, it gives you the possibility to compete against the computer.
The 9th program is the Heart Rate program. This program allows you to select a specific heart rate value, and the monitor will auto-adjust the resistance to keep you within the chosen heart rate.
Finally, the 10th program is the User Program. There are four user profiles available. Therefore, you can save a custom program that you can quickly select every time you want for each one.
The monitor's Recovery function measures your heart's time to return to an average BPM after the workout. The monitor will give you a fitness rating between F1 (excellent) and F6 (poor). Of course, you will need a heart rate chest strap to use this function.
SF-RW5854 Assembly and Maintenance
The machine's drive and resistance unit come pre-assembled. After that, you only need to attach the front base stabilizer to the footrests, connect the rail to the main unit, add the seat, the rear stabilizer, and finally, the fitness monitor.
Therefore, it shouldn't take more than 30-40 minutes of your time. The manual provides clear assembly instructions; an essential toolkit comes with the rower.
The internal components of this rower do not require any maintenance. You only have to keep the sliding rail clean to prevent damage to the seat or rollers. It's also advisable to periodically check for loose parts and retighten them.
Pros
Solid frame – can support users up to 300 lbs (136 kg);
Extra-long sliding rail – provides 45″ (114 cm) of travel for the seat;
Folding design;
Transport wheels integrated into the front base;
Padded and contoured seat for optimal comfort;
Pivoting footrests for a perfect foot position with each stroke;
Quiet and smooth magnetic resistance system;
16 levels of resistance for light to medium workouts;
Automatic resistance adjustment;
Fitness monitor included – it can track time, distance, count, SPM, calories, and pulse;
Goal-setting functions for time, distance, calories, and pulse;
Seven preset programs;
One race program;
1 HR program;
One user program with four user settings;
Recovery function;
The fitness monitor has an LED backlight for superior reading possibilities;
Angle-adjustable mount for the monitor;
Easy to assemble;
Little maintenance is required.
Cons
No adjustable stabilizers;
An HR chest strap does not come with the rower.
Sunny SF-RW5854 Rowing Machine Summary
The Sunny Health & Fitness SF-RW5854 is a full-magnetic rower for home use. It offers 16 levels of automatic resistance and a fitness monitor with ten workout programs and goal functions. It has a long rail, offering approx. 45″ of travel for the seat, but it is also foldable.
Moreover, it's an excellent machine for a full-body cardio workout, stamina development, interval training, and weight loss. In all, it's a well-made rowing machine, offering excellent value for the price.
I hope you found this article helpful and informative. Would you please speak up if you have anything you'd like to share or any opinions about my website? I look forward to your comments, questions, and the sharing of ideas.
Please remember to consult your physician to determine if you have any medical or physical conditions that could put your health and safety at risk or prevent you from using the equipment properly. In addition, your physician's advice is essential if you are taking medication that affects your heart rate, blood pressure, or cholesterol level.